TimeTuesday, September 12, 2017 | 11:00 AM
Unadilla Round 10 of the GNCC took place this weekend in New Berlin, New York where weather was near perfect at 70 with no humidity. This round was a shorter loop at ten miles with lap times at about a 19-minute average. Conditions were slick with embedded rock and the short track was cause for a lot of lappers.
Rockstar Energy Husqvarna Factory Racing's Josh Strang started off the line, rounding the first corner mid-pack. Strang was able to ride strong with the top five racers being so close to each other, battling for positions. Course conditions caught up to him during the first few miles of the second lap. Strang fell in a mud hole, covering his FX 450 and himself with so much mud that he had to pull off course in order to clean off his hands, grips, and other essentials, putting him outside of the top 10. For the next three laps, Strang would work his way up through the pack back into 6th and 7th place. During lap six, a lapper cut over on Strang, and the collision took them both downhill, twisting and cracking the radiator. He was able to limp back to the pits where he called it a race due to the damage sustained in the collision and that he was far behind with little time remaining in the race.
Husqvarna supported rider, Tayla Jones claimed the 2017 GNCC Women's Pro class overall championship. Jones finished nine out of the ten GNCC rounds in first place overall. She is looking to also capture the Women's Elite championship in the Kenda National Enduro this year as well.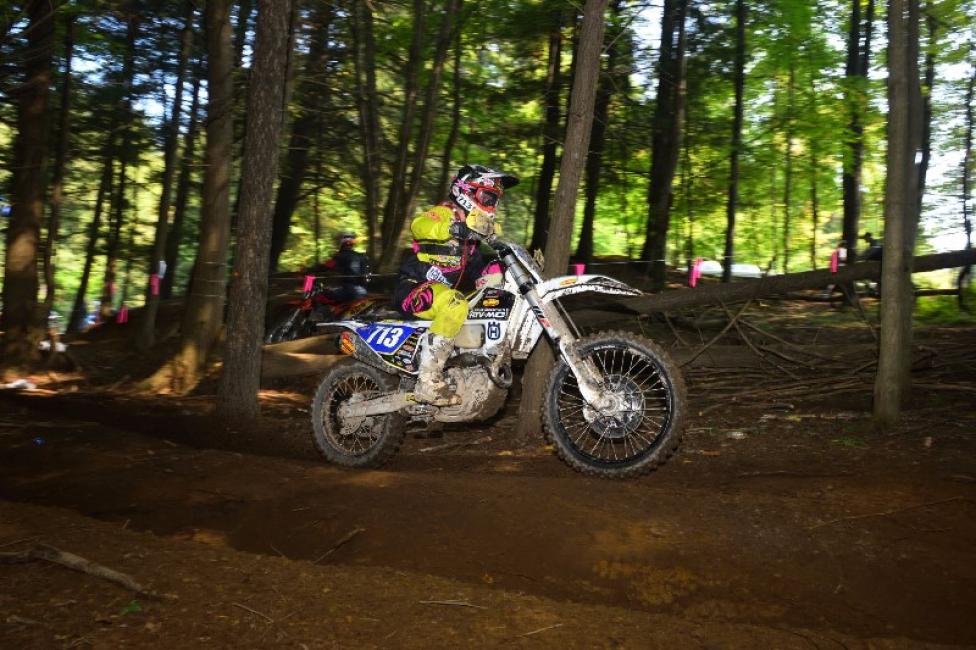 Unadilla GNCC Round 10 XC1 Results:
1. Kailub Russell (KTM)
2. Steward Baylor Jr. (KTM)
3. Ricky Russell (YAM)
...
9. Josh Strang (HUS)