Jared Bolton
TimeThursday, February 16, 2017 | 4:15 PM
Welcome to Quick Fill.
Another week has flown by and we're fast approaching the opening round of the 2017 GNCC Racing season. This time next week a good chunk of the GNCC Track Crew will already be heading south to get things rolling. A few will head on down to Florida to get an idea of a few things for round two, while I'll actually be heading straight to Big Buck to get a jump start on everything for round one there.
Speaking of which, just a reminder, we ARE going to Big Buck for round one! I rode my dual sport bike up to last weekend's NECXC event and there still seemed to be a lot of people think we were still on the traditional start to the season. So, I just wanted to extend a friendly reminder that we are starting the season at Big Buck and then heading to Florida.
We're full swing into getting everything prepared for the new GNCC Racing season. Just this week we've received new KTM 300XCWs for the Track and RacerTV Crews to use, have been getting our semis loaded up, been installing shelves and racks in the new Amsoil trailer, and all of this is on top of taking part in a ten hour OSHA training course earlier this week. It's a pretty fun part of the year but not near as much fun as racing, so here's to hoping the next 16 days fly by!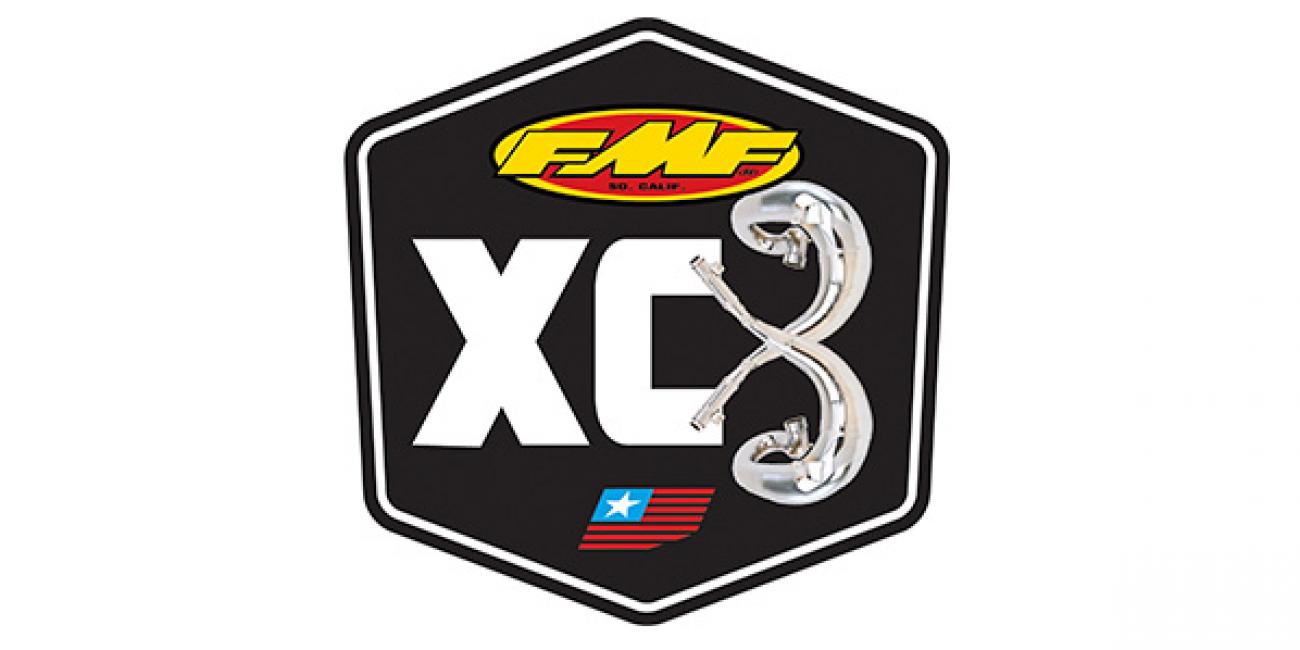 Weekly Updates (Chelsea Taylor)
Final preparations are well underway in Morgantown this week. The workdays have become busier and longer as we make the last-minute preparations for Big Buck. Just today we made two big announcements regarding new partnerships.
After 22 years of supporting GNCC Racing, FMF has stepped up to be the class sponsor for the brand-new FMF XC3 125 Pro-Am division. Anyone who knows about FMF can agree that this is a perfect fit! Get all the details on the official press release.
HiPer Technology has also teamed up with us as the newest feature level sponsor. They will be on-site at each of the 13 rounds with their ATV and UTV wheel products. To find out more click HERE.
RacerTV headed down south a little early and caught up with Craig Delong and Josh Strang about their plans for this season. Both are top contenders in the respective divisions so to hear their insight and goals for this year head check out their videos.
After you watch those videos, they will probably motivate you to go ride. I doubt you needed help with that, but just in case you were, they will help! While you're prepping yourself pre-register for Big Buck through Steele Creek! Pre-registration through Ironman will be open soon.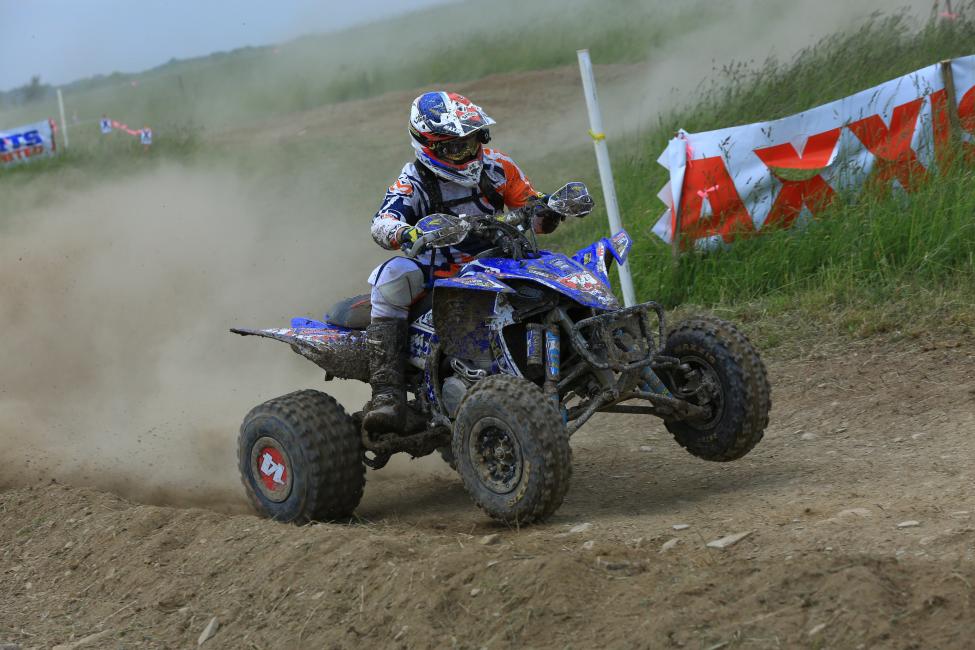 The Countdown Rolls On! (Rodney Tomblin)
Things seem so different as the countdown rolls on until the Big Buck GNCC. The tradition of the opening round being in Florida has varied little since the racing became part of the Bike Week program. Aside from the couple of years we started in Texas in February, I personally can't recall any time recent that Florida has not been the opening round. So in sense, it could be a somewhat historic opener that could lead to many scenarios as time wears on. Will it be a new tradition? Time shall tell I suppose.
In the recent weeks we have heard about several of the contenders heading into the new season. A couple we have not heard much from recently include Josh Merritt and Greg Covert. Josh has been busy on social media with a video series that has been keeping him busy and might just be the ticket to relieve preseason stress while Greg has been bagging and building.
Josh Merritt, who will sport the number 10 this season, quite possibly may be about to live up to all the expectations that he had upon him. He and his sister have both been successful in their endeavors so far but each hope to reach even higher levels. Kara will soon begin to focus on schooling and other aspects of life while Josh seems to have a new dedication and focus since reaching the new elite status.
Josh told me "The videos are a little fun for me. I get to capture parts of my life and show people. It makes it easy to video when you're with a good group of fun, outgoing people! We have a lot of videos to come. I'm thinking all the GNCC's, before and after interviews, and what I have to do to prepare for each race. And I better be a contender this year because I've put a lot of hard work in so far so I know I should be battling for top 5 and possibly top 3!" This was so inspiring to hear and really makes me feel even more excited at the year ahead.
Another note about Josh is that this may be the most prepared I have ever known Josh to be since reaching XC1 status a few years ago. Josh learned a lot this past season and seems ready to apply the knowledge to his racing. The aspect of adding video reports and will only help further his focus on the task at hand.
Greg Covert has been busy as well. I spoke with him earlier in the off-season and the New Yorker is super stoked about the upcoming challenges that he is about to face. Greg said "Everything is really good! I have been real busy working full time at a local grocery store and fitting in training at the gym four to five times a week. I haven't ridden a quad much since Ironman so I am missing that part of it but it is nice taking a break so I don't get burnt out with it all. We have been working on snowmobiles to get them ready so when there are a few feet of snow up here in New York, we can tear them up! In a good winter we can rack up well over 1000 miles so that in itself is good training. My brother and I have been working hard getting new sponsors on board and sticking with many of the same ones as last year. There is no sense to change up our program much because what we had worked really well. We are working on building up a couple new/used bikes we bought for our GNCC bikes next year as we are trying to sell some of our used equipment. The past couple years we as a team have been trying hard to make it as fun as possible and not make it seem like such a job week in and week out and I think that is a major part of why we were so successful."
As far the start of the season is concerned, it is something on his mind. The major thing is the change up in the opening round. Greg told me, "It's cool to see a shake up in the in the schedule but for us northern folk it makes for a bit more traveling but that is alright, I'm looking forward to it." He also says he knows the challenges ahead defending the XC2 Pro Am title and is said "I still have lots of work to do before round one but you better believe I am going to be there with everything I need to defend for another championship!!"
So all in all things are moving forward to the new year of racing. The excitement from the masses this season lends me to believe that this is going to be another great year. The truth in this statement lies in the next 13 rounds ahead of and how we reach it will be a long road traveled leaving lots of great memories of battles on and off the track.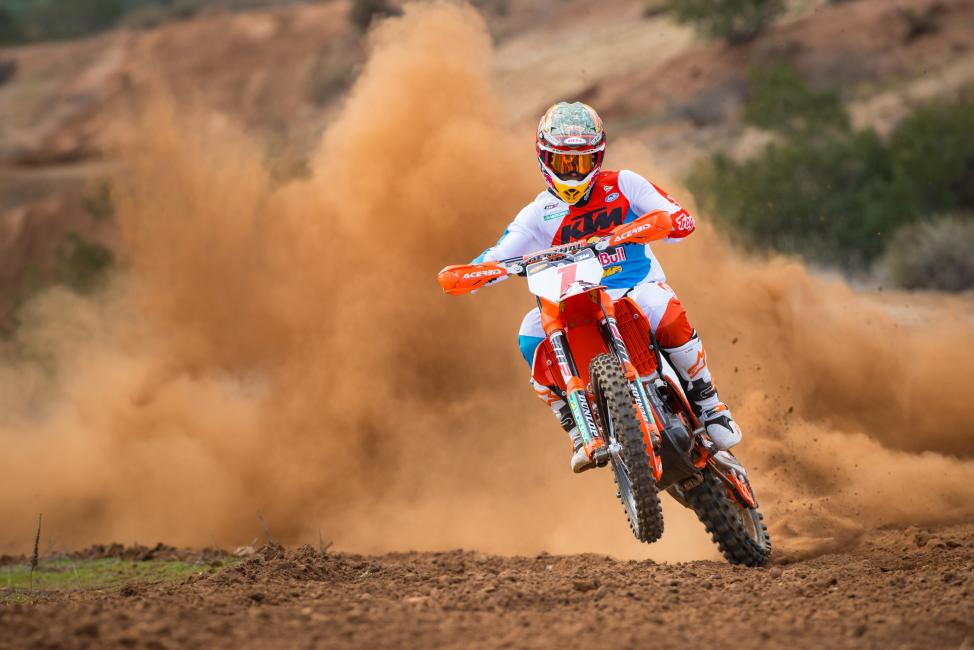 Fun Facts On 2017 (Jared Bolton)
While there has been a bunch of off-season racing, photoshoots and all sorts of other fun things taking place over the past few weeks, things still seem eerily quiet. There's not a whole lot of action happening right now outside of those races and fresh photos, but the buzz is coming very soon. Until that time comes, I do have a few things to keep in mind about the 2017 GNCC Racing season.
First off, this year will mark the 43rd season for GNCC Racing. This 43 goes all the way back to the first year of the Blackwater 100 in 1975. We've grown from one single motorcycle only event back then to thirteen rounds of racing featuring bikes, quads and UTVs. We've gone from long, grueling, 100-mile long events to fast-paced but still very enduring two or three hour races. We've evolved from machines with about four inches of suspension travel, to long travel, full suspension machines. The first ever events were won by riders on Ossa, Penton, Maico, KTM and Husqvarna machines. These days, KTM and Husqvarna are still winning races, which goes to show that some things never change.
This season, Walker Fowler will be looking to claim his third consecutive GNCC ATV National Championship. The last time an ATV racer didn't claim a third consecutive title was back in 1992 when Bob Sloan stopped Chuck Dellulo's championship streak after two titles. Bob Sloan and Teddy Trey are the only ATV champions to never win more than two titles, while Dellulo and Tom Tokay are the only former champions to never claim more than three titles. When Barry Hawk came along to claim his first title in 1993, it began a new trend of GNCC ATV Champions; winning out for a number of years.
Barry would make it seven in a row from 1993 through 1999 then Bill Ballance would claim nine in a row from 2000 through 2008. Chris Borich would become a six-time champion claiming titles from 2009 through 2014, while Walker Fowler has claimed the previous two titles. This puts a big amount of pressure on Walker this season, as he ultimately wants to continue this trend. At the same time, Adam McGill is looking to be the one to re-write history and play spoiler to Fowler, much like Bob Sloan did to Chuck Dellulo some 25 years ago!
On the bike side, Kailub Russell has shot to make history once again as well. This year will be Kailub's "Drive for Five" as it will be his hunt for a fifth consecutive title. A fifth title would have a historical significance as only one rider has ever claimed five consecutive titles on the bike side and that was Ed Lojak who claimed the first five GNCC titles from 1980 through 1984. Now you may read that and wonder why there wasn't a champion until 1980. While we mark 1975 as the start of GNCC Racing, the first few seasons only saw one single event, the Blackwater 100, until 1980 when more rounds were added and it became the Hi-Point 100 Miler Series.
Since Lojak's 1984 title, no other rider has ever claimed more than four consecutive titles on the bike side. Actually, the only other time a rider has even claimed four consecutive titles were Ed Lojak once again from 1986 through 1989. Since then, only Scott Summers has claimed three consecutive titles. Back in 2015 Kailub Russell made history as the first rider to ever claim a GNCC and National Enduro title in the same season. After sitting out his title defense of the National Enduro Series in 2016, Kailub returns this season with the hopes of once again claiming both titles. Of course, this will be no easy task as there are a number of challengers in both series. Steward Baylor won the opening National Enduro a few weeks ago but just over one second ahead of Kailub.
Josh Strang will be hungry for a second GNCC title as well! We saw Strang contend for multiple race wins the past few seasons and has been the strongest threat to Kailub for the title. At the same time, Thad Duvall has really come on strong as of late and could also set himself up as someone to challenge for a championship in both the GNCC and National Enduro Series. Kailub Russell broke the record for most bike wins in a season last year with ten wins, which is nearly unheard of. In fact, that's only ever been done once before and that was by Chris Borich on the ATV side. Currently sitting second on the all-time bike wins list, Kailub only needs six wins to tie with Scott Summers and a seventh win will make him the all-time bike winner in GNCC Racing. This is a pretty amazing feat considering that Kailub is only seven seasons into his XC1 career!
With crazy stats like this, it just goes to show that the 2017 GNCC Racing season could very well be one for the ages. We've got a chance to see one of the greatest seasons GNCC Racing has ever seen and it's going to be a blast to watch it unfold. Stay tuned!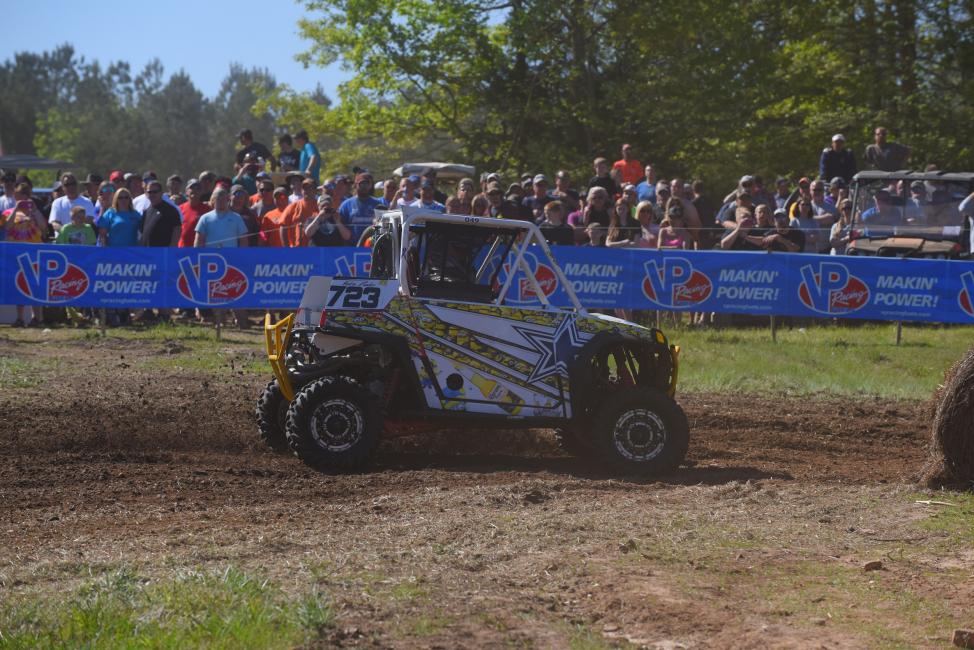 An All-New Era (Chelsea Taylor)
After a decade of UTV racing, GNCC Racing finally introduced a class just created for Women. If you've ever been on a start line of a UTV race, you will notice there are quite a few women dressed in fire suits and ready to race. However, majority of them are co-pilots for their husbands or boyfriends instead of drivers. Now don't get me wrong, because I think it's awesome that couples can come together and enjoy the sport! In my opinion that is one of the most unique aspects of UTV racing is that is provides a bonding experience that can't compare.
Last season we witnessed two women tackle the circuit – Vickie Fowler and Veronica Whitesell. With only two women you might be wondering why there was a class created just for them. It's our experience that UTV racing is one of the fastest growing disciplines, and there is great promise that more women are to come this year.
With off-road racing being a male-dominated sport, the all women's class houses an encouraging place for females who are thinking about starting UTV racing. Look at the bike side of things for a second… at first there was a single women's class offered. Girls with various skill levels were competing in the class and then we saw a need to split the division into Women Amateur and WXC. In 2017, the WXC class will be accompanied by Women B and C.
With the new class, and the growing interest in UTV racing, it won't take long until we see multiple lines of cars with ponytails hanging out of the helmets on the start lines. Vickie and Veronica have both paved the way for female UTV racers with their results. They have proven that men can hang with the boys and give them a run for their money. Although the season hasn't even started yet, it's for sure to be one to remember.
Headlines
HiPer Technology Joins GNCC Racing as Feature Level Sponsor
Preseason Update with Craig Delong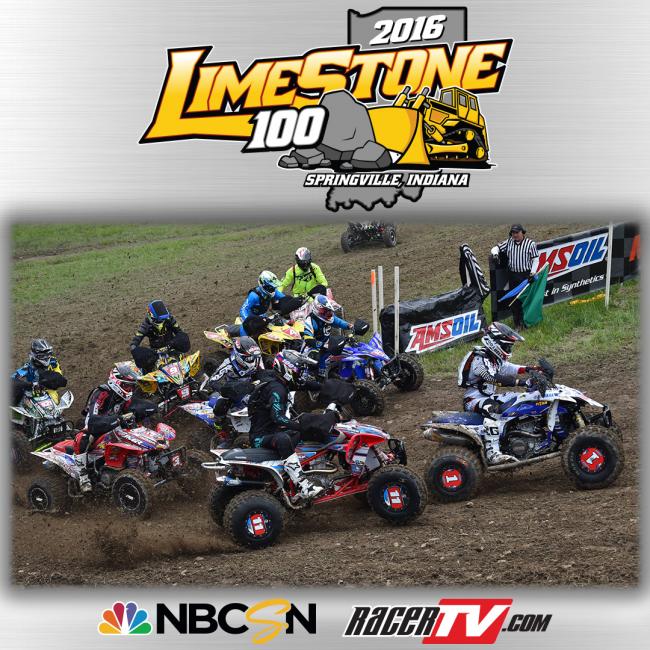 What's New on RacerTV.com?
Check out the 2016 season's NBCSN shows online now! These highlight shows are in addition to the GNCC LIVE coverage, now entering its fifth season, that features nearly 100 hours of all 32 pro race events. Filmed and produced on-site by the West Virginia-based RacerTV crew, GNCC LIVE brings live streaming video coverage from all 13 rounds of the GNCC series, allowing fans from all over the world to follow Pro ATV, Pro Bike and Side-by-Side racing all season long. To view the GNCC LIVE archived footage, click HERE.
2017 GNCC on NBCSN
| | | | |
| --- | --- | --- | --- |
| Event | Air Date | Day | Time |
| VP Racing Fuels Big Buck | 4/1/17 | Saturday | 06:30 PM |
| VP Racing Fuels Big Buck | 4/12/17 | Wednesday | 04:30 PM |
| Moose Racing Wild Boar | 4/29/17 | Saturday | 05:00 PM |
| Moose Racing Wild Boar | 5/3/17 | Wednesday | 04:30 PM |
| Maxxis Cannonball | 5/28/17 | Sunday | 05:30 PM |
| Maxxis Cannonball | 5/31/17 | Wednesday | 04:30 PM |
| FMF Steele Creek | 6/4/17 | Sunday | 03:00 PM |
| FMF Steele Creek | 6/7/17 | Wednesday | 04:30 PM |
| CST Camp Coker | 6/11/17 | Sunday | 05:00 PM |
| CST Camp Coker | 6/14/17 | Wednesday | 04:30 PM |
| X Factor | 6/17/17 | Saturday | 12:00 PM |
| X Factor | 6/21/17 | Wednesday | 04:30 PM |
| Wiseco John Penton | 6/25/17 | Sunday | 04:00 PM |
| Wiseco John Penton | 6/28/17 | Wednesday | 04:30 PM |
| Dunlop Tomahawk | 8/26/17 | Saturday | 12:30 PM |
| Dunlop Tomahawk | 8/30/17 | Wednesday | 04:30 PM |
| Amsoil Snowshoe | 10/14/17 | Saturday | 02:30 PM |
| Amsoil Snowshoe | 10/18/17 | Wednesday | 04:30 PM |
| Parts Unlimited Unadilla | 10/28/17 | Saturday | 04:30 PM |
| Parts Unlimited Unadilla | 11/1/17 | Wednesday | 04:30 PM |
| Rocky Mountain ATV*MC Mountaineer Run | 11/11/17 | Saturday | 06:30 PM |
| Rocky Mountain ATV*MC Mountaineer Run | 11/15/17 | Wednesday | 04:30 PM |
| Polaris Powerline Park | 12/2/17 | Saturday | 12:30 PM |
| Polaris Powerline Park | 12/6/17 | Wednesday | 04:30 PM |
| Amsoil Ironman | 12/10/17 | Sunday | 05:00 PM |
| Amsoil Ironman | 12/20/17 | Wednesday | 04:30 PM |