Monday, June 9, 2014 | 6:45 AM
MILLFIELD, Ohio (June 9, 2014) – Through the first seven rounds of the 2014 AMSOIL Grand National Cross Country Series presented by Maxxis, an AMA National Championship, it's been a head-to-head battle for the XC1 National Championship between Factory FMF/KTM teammates Kailub Russell and Charlie Mullins. However, with Mullins removed from championship chase due to a recent injury, the reigning champ Russell was poised to take over the points lead on Sunday and he did so in a dominant fashion at the 25th running of the Wiseco John Penton GNCC.
The stage was set at Sunday Creek Raceway in Millfiled, Ohio for a beautiful and dry day of racing. The day began with sunny skies and warm temperatures but a few rain showers in the hour leading up to 1 p.m. start made for an interesting afternoon of racing.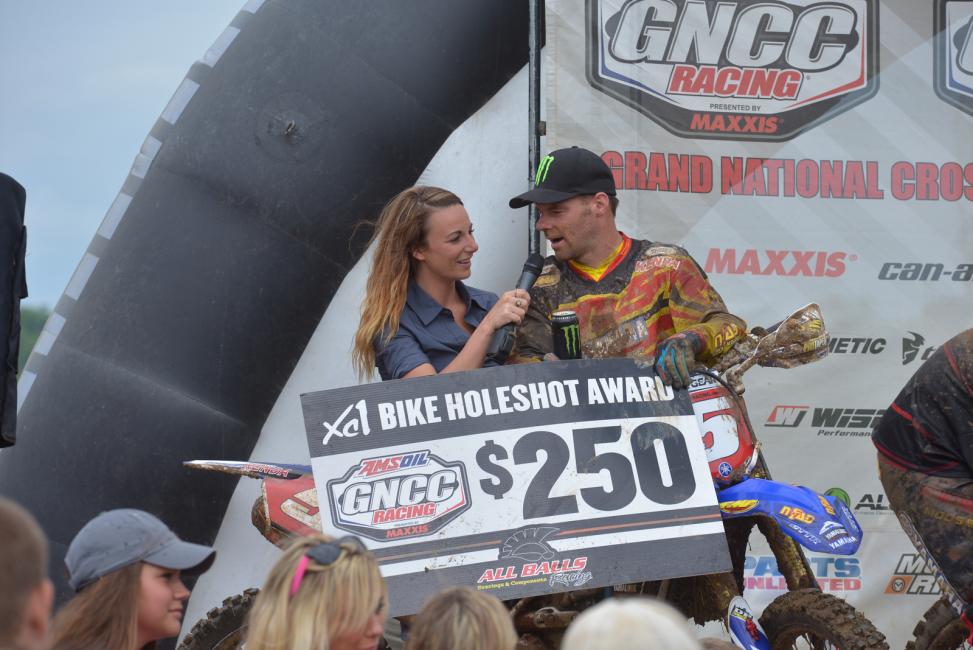 It was the N-Fab AmPro Yamaha ride of Paul Whibley (pictured above) who got off to a great start with the $250 All Balls Racing XC1 Holeshot Award but the two-time champ quickly fell back to eighth place on the opening lap. Russell capitalized on a mistake by Whibley and took control of the pace right away, where he led flag to flag of the three-hour race.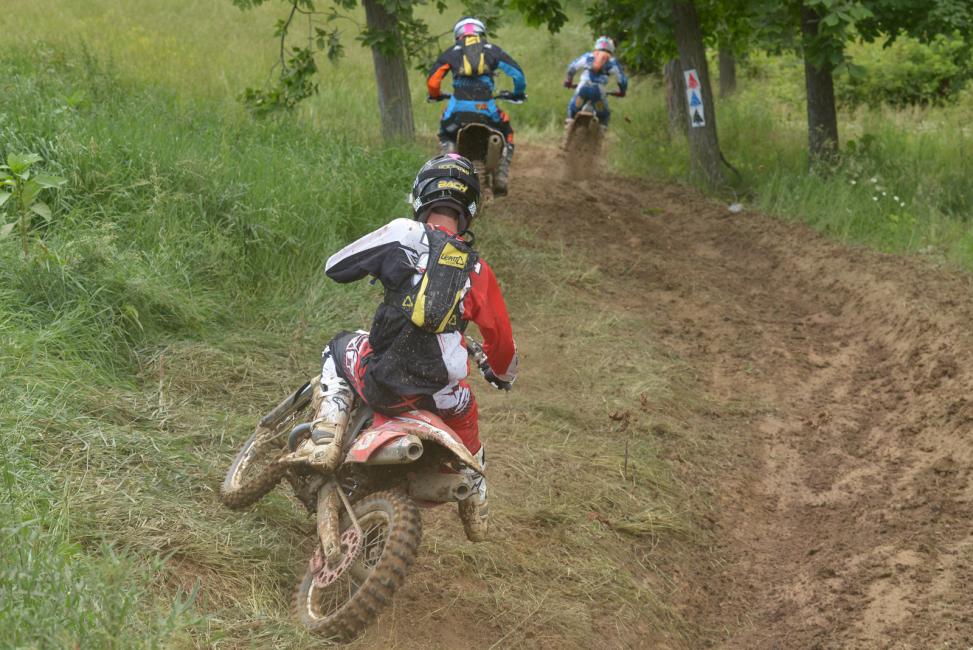 While Russell seemed to have the lead position on lock, it was an all-out battle for second place all afternoon. N-Fab AmPro Yamaha's Jordan Ashburn (pictured in middle) put himself in a favorable position early on, as he jumped in behind Russell for the second place position. Johnny Campbell Racing Honda's Chris Bach (pictured above) joined the battle, with Rocky Mountain ATV*MC/N-Fab AmPro Yamaha's Josh Strang close behind. The trio exchanged places several times throughout the three-hour battle, making for an exciting spectacle for the race fans in Ohio.
But the battle didn't come only from the front row, as reigning XC2 Pro Lites Champion Grant Baylor joined the front-runners on the adjusted time clock where he threatened a spot on the overall podium all afternoon. Not only were the physical battles full of excitement, but the adjusted time came down to the final moments, where the young Baylor finished nine seconds ahead of Strang to capture second overall for the day.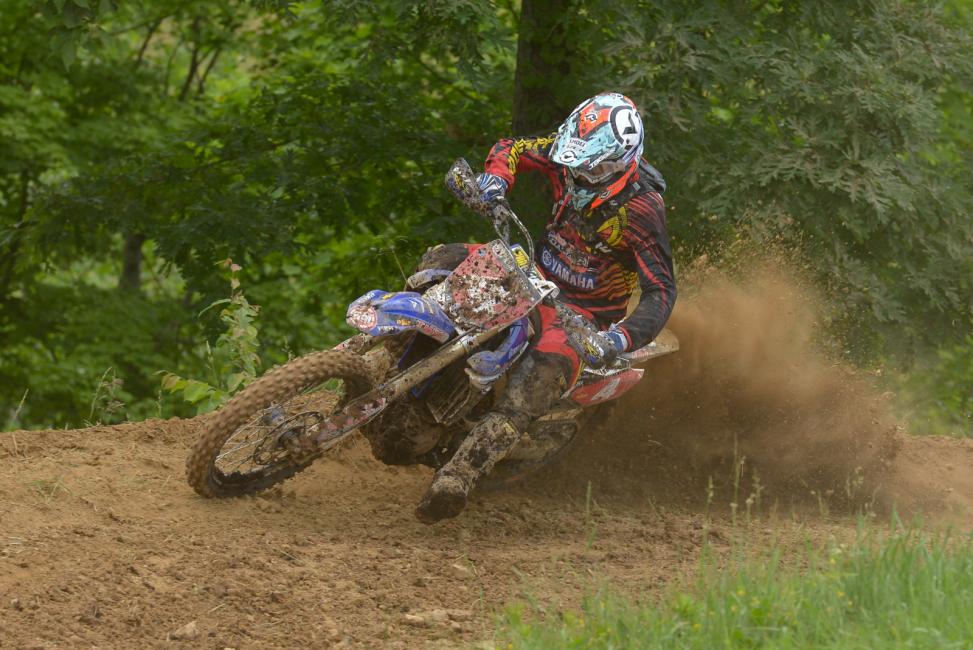 Strang (above), who was forced to come from behind on the opening lap, pushed through to second at the end of the five-lap race, where he led a three-way battle into the final moments of the Sunday Creek motocross track. Despite a valiant effort by Ashburn, and also Whibley in the final moments, the 2010 GNCC Champion was able to hold them off to capture a season-best second place finish in the XC1 Pro Class and third overall for the day.
Whibley and Ashburn (below) were bar-to-bar in the final turns but this time it was Ashburn who edged out the two-time champ of Whibley to take third place in the XC1 Class and fourth overall for the day.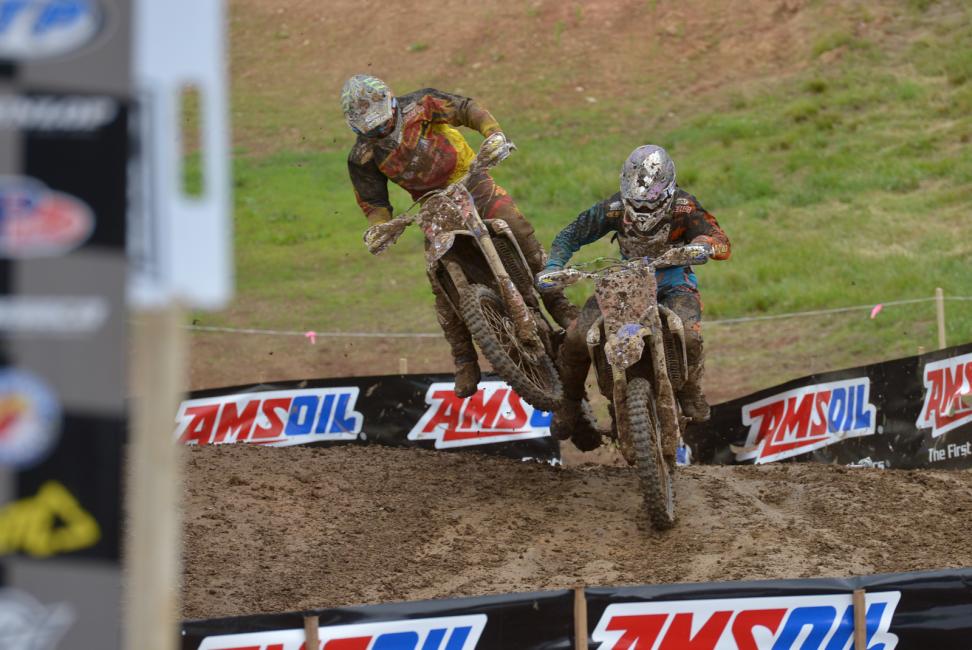 Factory FMF/KTM's Steward Baylor Jr. struggled on the opening lap but the South Caroina native slowly picked up the pace as the race went on. After missing the last round due to injury, Baylor fought his way back to a fifth place finish in the XC1 Class.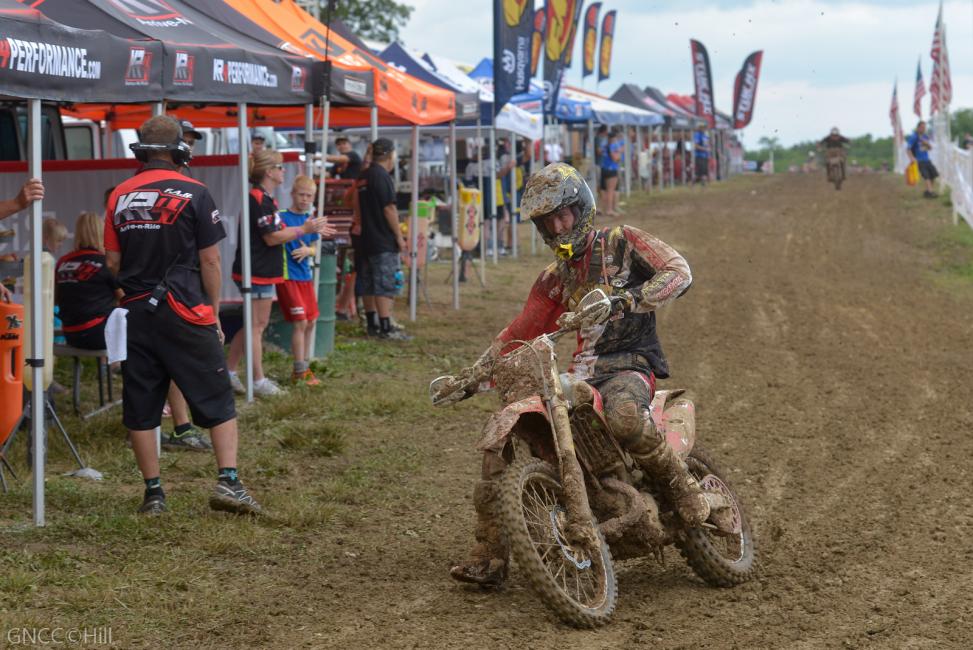 After running inside the top three for a majority of the afternoon, Bach (pictured above) lost a substantial amount of time when he crashed on the final lap while running second. Bach ended up just three seconds behind Baylor for sixth place in the class.
RideMPS.com/AMSOIL/Honda's Thad DuVall returned to action after missing the previous round with injury. DuVall managed a seventh place finish in the class as he continues to recover.
Factory Husqvarna's Andrew Delong finished in seventh, followed by HR Motorsports-backed Takeshi Koikeda, and Maxxis/KLIM/DirtWise KTM Race Team's Jason Thomas rounded out the top ten.
In the XC2 Pro Lites action, Grant Baylor (pictured below) got off to a great start to kick off the afternoon and things only got better for the KTM Support rider as he continued to pick his way through the overall pack on time adjustment. In his quest for an overall position, Baylor put a sizable gap on the rest of the XC2 Pro Lites field.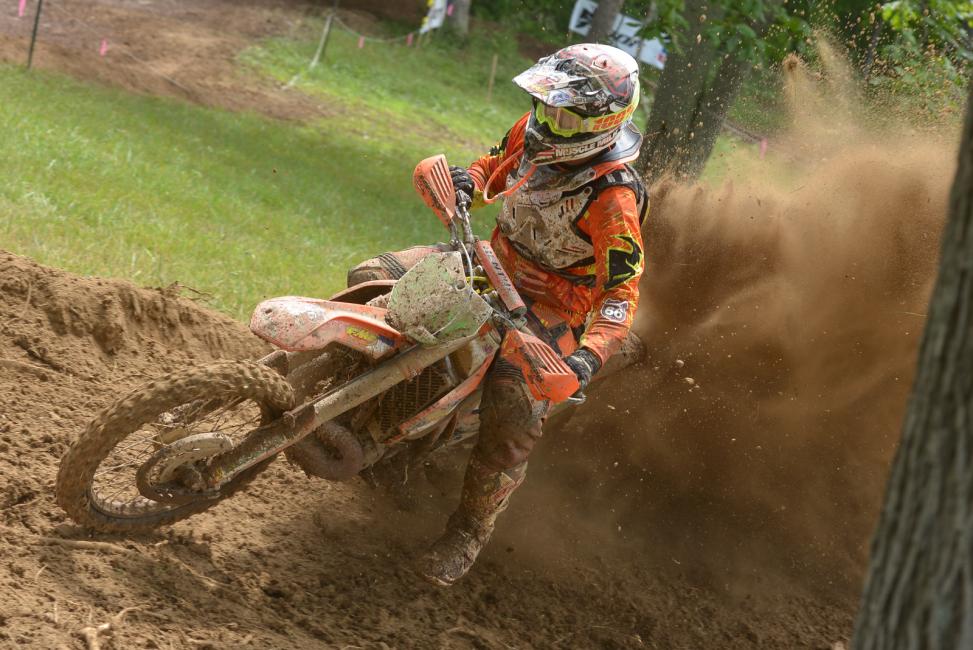 In just his third XC2 race of this season, KR4 Performance-backed Nick Davis put forth an impressive ride at the eighth round. Davis overcame a couple of big crashes early on to secure a season-best second place finish in the XC2 Class.
Raines Riding University/Atlas Cycles' Ricky Russell began the afternoon outside the top ten but was quickly made his way into podium contention. Russell got into the third place position on the final lap, where he finished third place in the class. Baylor now holds a three-point lead over Russell in the XC2 Pro Lites championship standings.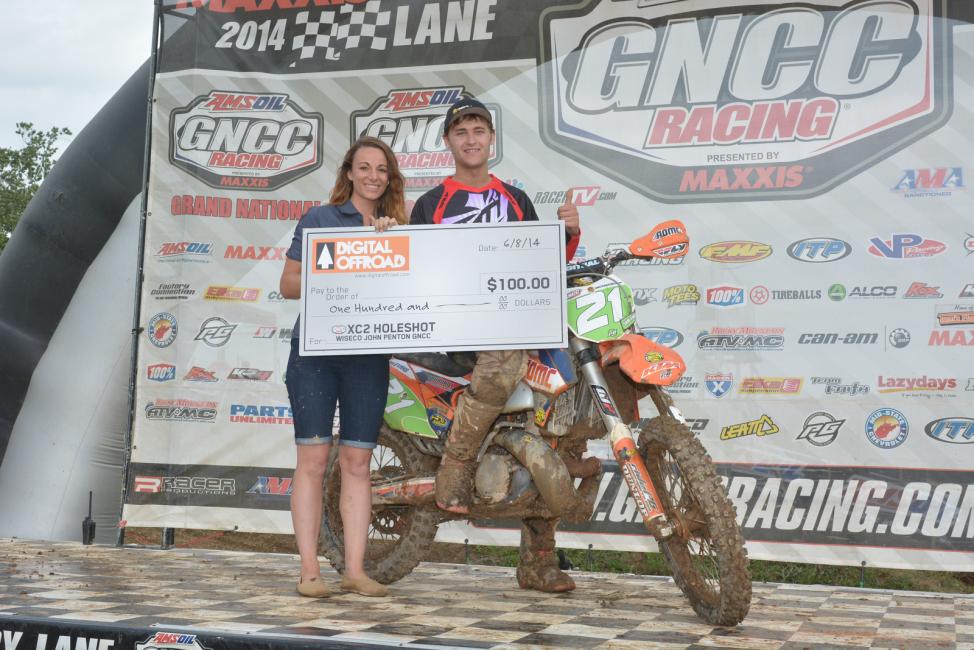 Sam Evans (pictured above) grabbed the $100 DigitalOffroad.com Holeshot Award, finishing sixth place in the XC2 Pro Lites Class.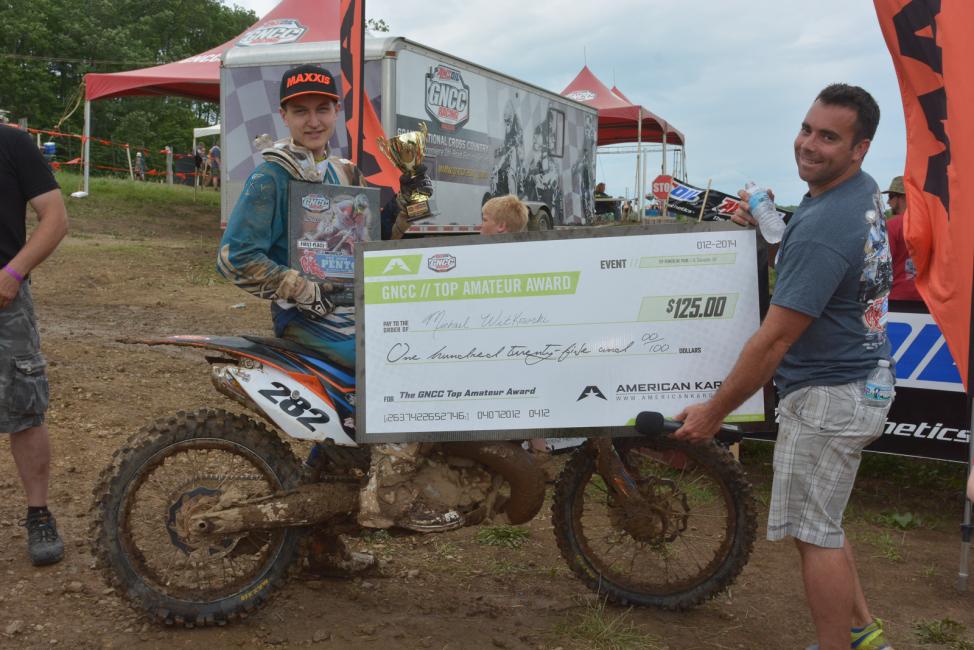 Indiana's Mike Witkowski (pictured above) battled it out for the 250 A Class win$125 American Kargo Top Amateur Award with fourteenth overall for the day.
Just two days after securing a Gold Medal at X Games Austin in Women's Enduro X, Factory FMF/KTM's Kacy Martinez captured the overall victory at the Wiseco John Penton GNCC. Martinez was joined on the overall podium by Master's 50+ winner Vance Earl, who finished second overall, and Super Senior A 45+ winner Ricky Mattison, who rounded out the overall podium.
Virginia's Ashley Copeland finished second in the WXC Class, while N-Fab AmPro Yamaha's Becca Sheets rounded out the class podium.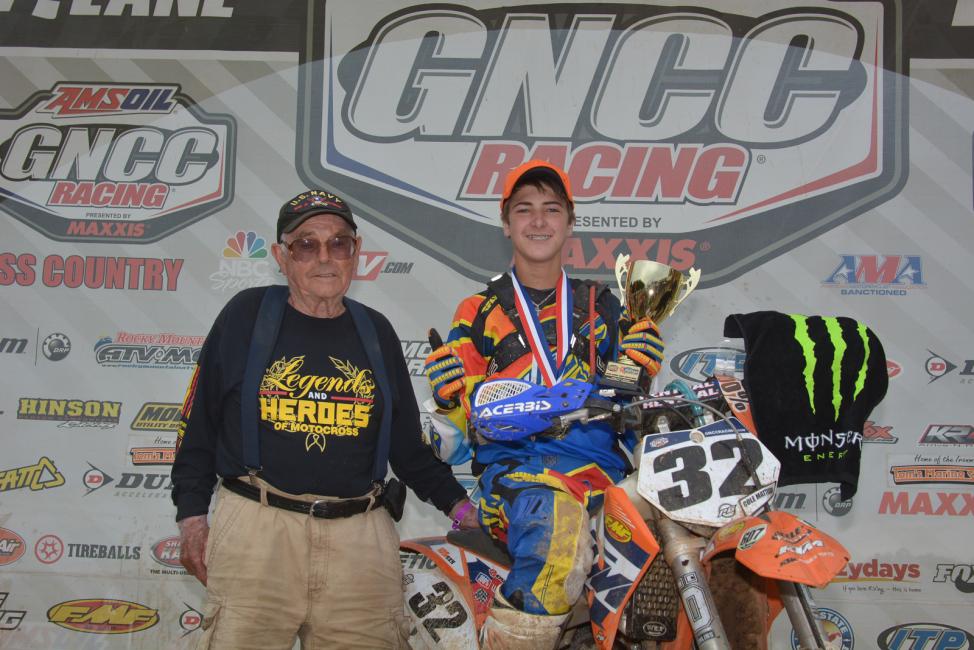 South Carolina's Cole Mattison (pictured above with the great John Penton) kept his winning streak alive at round eight with yet another overall victory in the Youth division. Mattison also topped the Super Mini (14-15) class, followed by Alabama's Kyler Godwin in second and Tennessee's Sam Thurman rounded out the overall podium with a third place finish in the Super Mini (14-15) class.
The 2014 AMSOIL Grand National Cross Country Series resumes June 21 and 22 with the AMSOIL Snowshoe GNCC on Snowshoe Mountain Resort in West Virginia. For more information on the series, visit www.gnccracing.com.
Stay up-to-date with exclusive content from the AMSOIL GNCC Series by following the series Facebook, Twitter and Instagram.
Wiseco John Penton GNCC
Millfield, Ohio
Round 8 of 13
Sunday, June 8
XC1 Event Results:
Kailub Russell (KTM)
Josh Strang (YAM)
Jordan Ashburn (YAM)
Paul Whibley (YAM)
Steward Baylor (KTM)
Chris Bach (HON)
Thad DuVall (HON)
Andrew Delong (HSQ)
Takeshi Koideka (HON)
Jason Thomas (KTM)
*Overall National Championship Standings:
Kailub Russell (203)
Charlie Mullins (180)
Josh Strang (153)
Jordan Ashburn (129)
Grant Baylor (116)
Paul Whibley (115)
Ricky Russell (99)
Andrew Delong (98)
Steward Baylor (86)
Chris Bach (79)
*Indicates that the Overall National Championship Standings will determine the 2014 National Champion.
XC2 Event Results:
Grant Baylor (KTM)
Nick Davis (KTM)
Ricky Russell (YAM)
Trevor Bollinger (HON)
Layne Michael (HON)
Sam Evans (KTM)
Michael McGinnis (KTM)
Derrik Allen (KAW)
Chris Douglas (KTM)
Ryan Lojak (YAM)
XC2 Series Standings:
Grant Baylor (202)
Ricky Russell (199)
Trevor Bollinger (160)
Layne Michael (116)
Shane Hufford Jr (105)
Callan May (93)
Jesse Groemm (90)
Sam Evans (88)
Chris Douglas (84)
Jedediah Haines (74)
About GNCC Racing
The AMSOIL Grand National Cross Country series presented by Maxxis is America's premier off-road racing series. Founded in 1975, the 13-round championship is produced exclusively by Racer Productions. Cross-country racing is one of the most physically demanding sports in the world. The grueling three-hour GNCC races lead as many as 1,500 riders through tracks ranging in length from eight to 12 miles. With varied terrain, including hills, woods, mud, dirt, rocks and motocross sections, GNCC events are tests of both survival and speed. The series draws talent from all over the U.S., Europe, Japan, Australia and New Zealand. GNCC Racing is televised weekly on NBC Sports and RacerTV.com. For more information, please visit www.gnccracing.com.