Jason Weigandt
Quick Fill #10: We're Racing!
Thursday, March 5, 2009 | 8:15 PM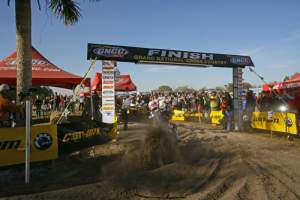 Welcome to Quick Fill. We're off and racing.

Well, what a great weekend it was. In these uncertain times, perhaps no GNCC season opener had as much riding on it at this one. All weekend, everyone was asking, "How is the crowd? Are people here? Does it look pretty big?"

Just how big it was hard to gauge since we were in an entirely different facility than ever before, the West Gate River Ranch is big so everyone was spread out. But it seemed like trucks and trailers were laid out for a mile, literally, on that runway strip. And they were. The airstrip that ran down the center of the facility is 5000 feet long, and we had trailers and trucks and campers and pits running all the way down both sides. That's a mile of pits!

And the numbers don't lie. Last year's Triton GNCC in Melbourne, Florida, drew 1291 riders. This year's Parts Unlimited River Ranch GNCC drew 1287. In a year like this, I like to say that when you don't get fired, it's like getting a raise. For our sport to just stay even with last year is a major, major gain.
We also had huge numbers on our Live Results page. On Tuesday, we drew over 9300 unique users, with almost 1200 simultaneously connected users solid for over a four-hour span.

And the River Ranch people were very, very happy with the event. Said Leroy Mason, the River Ranch General Manager: "We were impressed with the event and the GNCC families that came to race. We're already looking forward to 2010."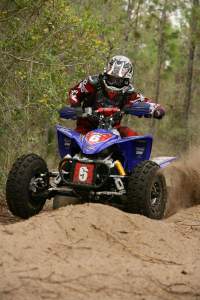 And that's the key. Positive thinking about the future. We know the last few years have been difficult in Florida, as we raced in different facilities in 2006, 2007, 2008 and 2009. But we're confident we have found a home for the future of this series here at the River Ranch.

How did your race go? Like any Florida GNCC, this one was rough and tumble, with big sand whoops and deep sugar sand. Luckily the track didn't have quite as many tree roots as last year, and temperatures were cooler than we normally have down here. I talked to some ATV riders this week, and they didn't seem as worse for wear as usual. And the three-hour bike race usually pushes riders to the absolute brink of exhaustion, but the pack didn't look nearly as beat on the podium on Tuesday.

So how about Taylor Kiser taking the home-state win on Sunday? The Florida man waited and waited to make his charge while Chris Borich and Adam McGill did their thing out front, and when some small mechanical issues set in for the leaders, we was ready to roll past and keep that pace going all the way to the finish. Taylor looked awfully strong at the end, and even though he's a Florida guy, he has proven himself fast on any terrain, so look out this weekend. I heard that all Taylor did to celebrate his win was get dinner at Outback Steakhouse, and then it was back in the shop working the next day. Johnny Gallagher told me the boys worked 14-hour days on Monday and Tuesday getting their equipment rebuilt. Team Yamaha is hungry for more.

A few stories to pick up: Congrats out to Bryan Cook and Don Ockerman, who logged quiet, but solid, top five finishes. Heartbreaker to Brandon Sommers, who was running up front and no doubt had the strength to last to the end, but he had engine troubles kick end to end his day early. It was good to see Duane "The Rock" Johnson back in action and running around the top ten. Jarrod McClure looked fast and aggressive on his new ATVRiders.com backed Yamaha. And William Yokley got a good start but had trouble hanging on. I talked to William, and he sprained his wrist on Monday before the event, and was unable to ride or test before the race. He hopes to get the setup closer soon.

And then there's Bill Ballance. Ballance's rib troubles from last year's injury just wouldn't go away, and he finally had to go back to the doctor to had things checked out again a few weeks ago. Turned out the rib problem was worse than he imagined, and doctors had to REMOVE ribs from his side to fix the problem. So, Bill showed up in Florida three weeks removed from having ribs removed. The hero that he is, he saddled up and tried to race anyway, and put in four laps before finally saying uncle. By the way, hurt and all, Bill and Chris Bithell competed in the barrel race against the horses on Saturday night at the sold-out Americom Pro Rodeo, and Bill came up about a second short of the horse.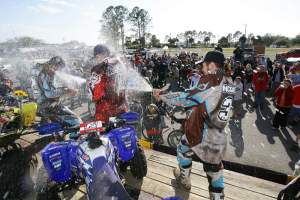 And, Bill was back on his own horse, riding today in Georgia. He still thinks he can put his machine on the podium at the General. You can never, ever bet against the man.

Nice job by Angel Atwell to take the win in the morning race, the newly-named GT Thunder Morning Race Overall Award. Her boy Josh Kirkland looked good on his new KTM ride, too, on way to winning the XC2 Class.

Let's congratulate all of our award winners right here:
MotorcycleUSA.com ATV XC1 Holeshot Award: Chris Borich
Rekluse ATV XC2 Holeshot Award: Brian Wolf
GT Thunder Morning Race Overall Award: Angel Atwell
MotorcycleUSA.com Bike XC1 Holeshot Award: Charlie Mullins
Cometic Bike XC2 Holeshot Award: Kailub Russell

And, this just in, Ohlins is going to step up and bring the bike AM race holeshot award, which was invented by AXA advisors. The rotating holeshot award will be back in Georgia. And if any other companies would like to get on board with this, send me an email [email protected] Times are tough and money is tight, but we appreciate the companies that have stepped up to give the riders some loot.

By the way, the top ATV amateur was Walker Fowler, who scored 23rd overall on his way to winning the College A class. This was Walker's first GNCC on a 450. People, get ready.
Another GNCC amateur ATV racer is showing her skills...with a pen! Women's Class rookie Jesi Stracham wrote an excellent report on the race for ATVRiders.com.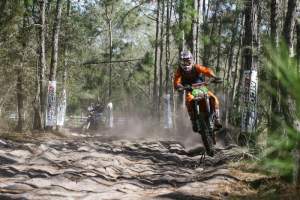 Onto the bikes. After watching practice on Monday, I really thought Shock Doctor's KTM's surprise entrant Mike Brown would romp to the win. 'Ole Brownie is as tough as they come; he's as fast as they come, and he's as fit as they come. Plus, Brown is a humble Tennessee boy, so he wasn't going to waste all of his energy on the first lap just trying to prove something. As it turned out, Brown was fast and strong, but he actually did the opposite of what most motocrossers do. He went too slow early and had too big of a hole to dig out of. He finished fourth, and by the end of the race, GNCC Announcer Rodney Tomblin and I had a new name for Mike: The Shark. He was just out there in the water in the last few laps, attacking people, eating them up, and spitting them out. And when he saw blood-like tired riders, he started moving faster.

Usually in Florida, the Mike Brown type guys go really fast and show some stuff, but that wasn't the case this time. This race was fully under the control of the traditional GNCC guys-Mullins, Whibley, Kanney, Hawk, even Watts. The West Coast guys and the motocrossers never really made an impact. Why? My guess is the dust. There's a certain mentality needed to pin it through trees in the dust, and only guys racing GNCC full-time are comfortable with it.

Man is this field deep. EVERYONE looked good. At the start, I asked Watts what he tough he would do, and he gave a giant, long, rambling answer. He had no clue how he would do. After the race, he sent me a text with this info: "Told you I didn't really know how I would do. Nearly Holeshot, up front for some, then fade back. Was that like Travis Pastrana?"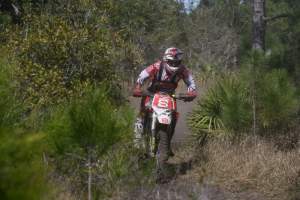 Watts is awesome, and he says he'll race the first five rounds this year. Cool.

While Charlie Mullins controlled the race out front, I saw plenty of potential in everyone else, too. Barry Hawk looked as ready and comfortable up front as ever-maybe the best I've ever seen him ride the sand. Nate Kanney was good. I thought Strang and Whibs were out of it but they showed ridiculous strength down the stretch. Strang was really, really bummed after the race when his bike ran out of gas for no real reason-he thinks the o-ring on his dry break was leaking.

Hawk was also bummed. He was waiting to put on his charge at the two-lap board when his shock gave out, just like it did last year in Georgia. He crashed hard once, but Barry said he did not get hurt at all in the crash. He told me a great story after the race:

Barry's son Talon is two years old. He likes to take bungee cords and lasso the hooks onto things. He calls them hookers. After the race, Barry was so mad that he was in his trailer trying to get paper towels to wipe his face with, and he ended up ripping the entire roll off of the wall in his anger. He was fuming. But then, Talon came walking up and said "Hey dad, where are those hookers we had last night?" Barry started laughing and the anger went away. Very funny.

Who was probably the maddest after the race? Thad DuVall, easily. Thad was trucking along around the top five, following Whibley, when his front tire snagged something and sent him into a tree. The result? Broken wrist. Today I heard from Thad that he will have a cast on for a week, and he's seeing a doctor who works with Olympic athletes. The doc thinks he can get Thad back to racing in North Carolina with a heavy dose of therapy. We'll see!

In case you missed it, Husky's main man Glenn Kearney raced with a spiral fracture of his fubula (leg), and he managed to hang on through those whoops and finish 13th overall! Those Aussies are tough. And veteran Terry Cunningham rode as part of the Husky Guest Rider program and finished 14th overall in the AM race. Another legend, Mark Melton, is coming to race in Georgia, and then Husky will have a few members of the U.S. Armed Forces racing at the next few GNCCs.

Big thanks to Masami Hoshino, the President of the Japan National Cross Country Series (JNCC) for bringing a massive pack of riders and bikes and staff over from Japan to race. They even brought their own umbrella girl!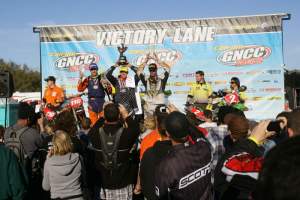 In XC2, there was no stopping Kailub Russell, who must have been training like mad at the WTF (Welborn Training Facility) in North Carolina, because he was hauling all the way. KR even stopped for a filter change and lost his front brakes with a bent rotor, and he still won by a minute and a half. During the race, our TV crew ran down the airstrip next to KR while he was riding down a long straight over some whoops, and they clocked him at 54 miles and hour! Through whoops! These XC2 kids are on it.

I saw Cory Buttrick after the race and he was bummed, he lost his rear brakes early and was never really in the hunt. Cory B is always consistent, though, and you can bet he'll be in the title hunt all season long. Jason Thomas did a good job riding his own race and taking second-place points, and yet another young star is born with Jake Korn taking third.

In the bike morning race, it was good to see New Jersey enduro legend Fred Hoess out there. I've heard Fred's name forever, but I've never seen him at a GNCC before. He won, so that's always good. Kevin "nicest guy in the world" Foley, who works for Yamaha, finished second. Marcus Pedrero finished third.

Last night in DeLand, Florida, some friends held the Dick Burleson Tribute Dinner. DB is still alive, yes, but some old friends wanted to honor his great career. Our own Jeff Russell and Carrie Coombs Russell drove the Racer Productions water truck and trailer, complete with two bulldozers, to the event. A ton of off-road legends were on hand, and by all accounts it was a fun night. That's cool.

The Alligator Enduro took place today, and old GNCC friend Mike Lafferty romped to the win. Jason Raines has moved on from GNCC racing is now racing the enduro series for Am-Pro Yamaha, he took sixth today.

Check it out, the people in New Zealand are pumped on Paul Whibley.

Okay, as expected from round one, this was on long Quick Fill. This is a crazy week for us, since we have to work from the road instead of the plush Racer Productions office. Look for all kinds of new photos and videos on our site next week as we recap our first two rounds.
Have fun in Georgia, folks. It's good to be racing again!