Est: 1995

Admission:
$20 Adult (12+)
$10 Kids (6-11)
5 & under free
Special Information:
Race for the Cure
Parts Unlimited Hospitality Dinner on Saturday, October 29 at 6 pm.
Trick-or-Treating Saturday 5pm - 6pm: Look for the Pink and Black balloons.
Costume Contest Saturday 6pm - 7pm: Located at Team Faith pit area.
Live Music Saturday 7pm - 11pm: Stone Senate and The Davisson Brothers.
This event is co-sanctioned with our friends at Indiana Cross Country Racing (IXCR).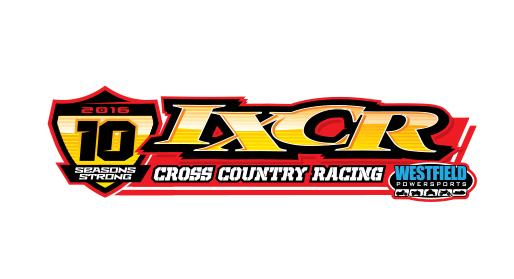 Indiana Cross Country Racing
Contact: Tim Bowman
Series Est. 2007 – 10th season
8th year as a co-sanctioned partner
http://www.ixcr.com/
The AMSOIL Ironman GNCC is always a special round on the calendar each season. To celebrate, GNCC created a commemorative poster that every pre-registered rider will receive at the event. These 3 foot tall posters will be a piece of memorabilia that will be a great addition to your shop, man cave or family room! Get pre-registered today HERE!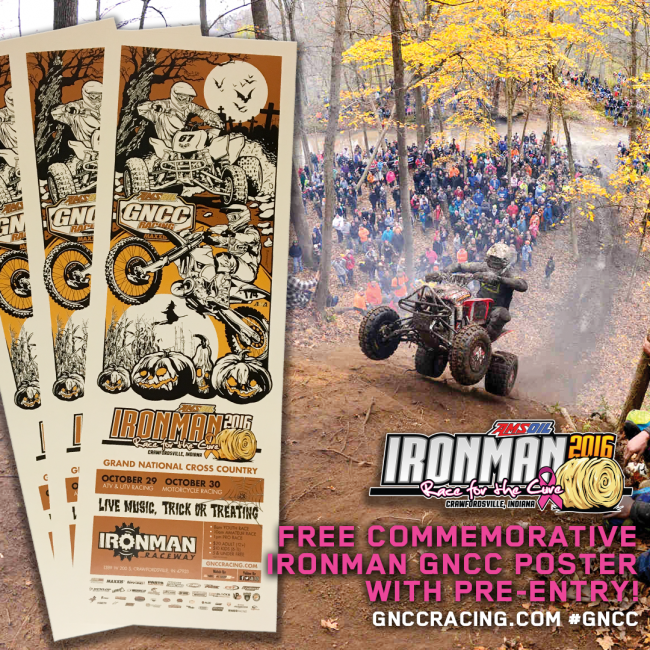 The Ironman GNCC is one of the most popular races on the circuit. Tom's Marine Sales, the local Polaris dealership hosts the event, and their large farm offers plenty of land for the track. Community support for this race is amazing. Ironman GNCC banners hang downtown, and the spectator count is incredible. The event has grown so much that it's overflowing from race to full-on industry trade show with many companies displaying the next year's models.
As far as the track, many riders call this one their favorite on the whole tour. The track has it all. The land in this area is totally flat, but the course runs near riverbanks, which means there's still plenty of elevation change. In fact, the hills here are some of the steepest on the circuit. If it rains, the hills will be the toughest part, as the course will be routed around the creeks. If it doesn't rain, the riders will hit the creeks, and they're rocky. Be careful not to cut a tire there. Also, since the race runs in October, it can get cold. Try to stay dry in those creeks.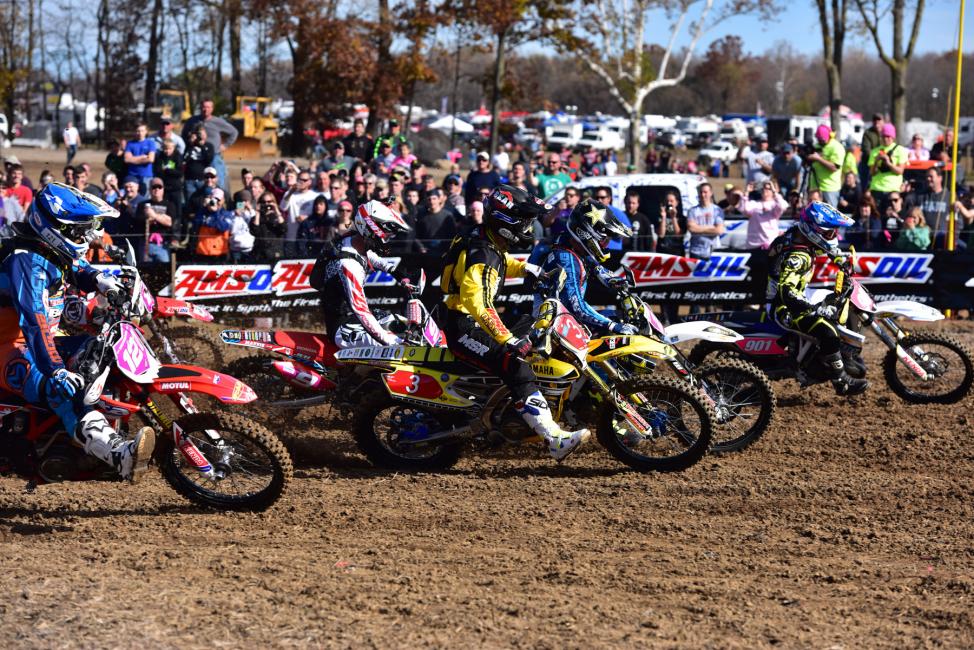 Outside of the woods, the course routes across harvested cornfields. You'll have your machine pegged at its absolute top-speed several times here. From tight trails, to technical hillclimbs, gullies, rock sections and creeks, all on top of great dirt, this track is a true test for a cross-country racer's all-around skills.
The Ironman event is named after the late GNCC ATV Champion Bob "Ironman" Sloan, who hailed from Indiana and dreamed for many years of seeing a GNCC event in his homestate. We lost Bob in 1994. Godspeed, Bob.
IRONMAN® is a registered trademark of World Triathlon Corporation, used by permission.