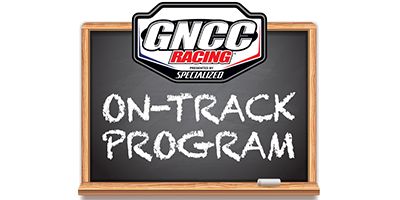 ON-TRACK PROGRAM:
Every Friday before GNCC race weekends the GNCC Media Team and select racers head to local elementary and middle schools, less than 30 minutes away from each track, geared up and equipped with their machines for the On-Track School Program. The GNCC Racing On-Track Program is a free school program that focuses on goal setting, perseverance, motorcycle safety and anti-bullying. The presentation is centered around the ideas taught in school, but the message is delivered to students in a new and unique way making it a hit with the crowd! At the end of the assembly each student gets to meet the racers and receive a FREE admission ticket to the race! If you're interested in booking your school email Dana Papanicolas.
WHAT IS GNCC?
The Grand National Cross Country Racing Series (GNCC Racing) is the premier off-road racing series in the world, gathering the largest crowds of spectators and racers, the largest cash awards and contingency programs and the most comprehensive media coverage. All events are produced by Racer Productions, Inc., a West Virginia based motorcycle & ATV race production company. The series is sanctioned by the AMA (American Motorcyclist Association).
The series started in 1975 with the legendary "Blackwater 100" motorcycle race in Davis, W. Va. ATVs were added in 1983, and the series has since experienced phenomenal growth in racer participation, fan attendance, media coverage and overall popularity. The 2017 season marks the 43rd year of championship GNCC Racing.
OUR MISSION:
To entertain and educate youth by presenting positive role models with a passion for what they do. Our professional racers know first hand the value of hard work, positive thinking/acting and goal setting, and serve as positive role models while traveling throughout the country racing.
OUR PROGRAM INCLUDES 4 MAIN TOPICS:
Dream Big
Short term vs. long term goal setting
Step Up, Not On
How to deal with bullies in and out of school
Winners Never Quit and Quitters Never Win
Why it's important to never give up
Safety First
How to safely dress to ride a motorcycle or ATV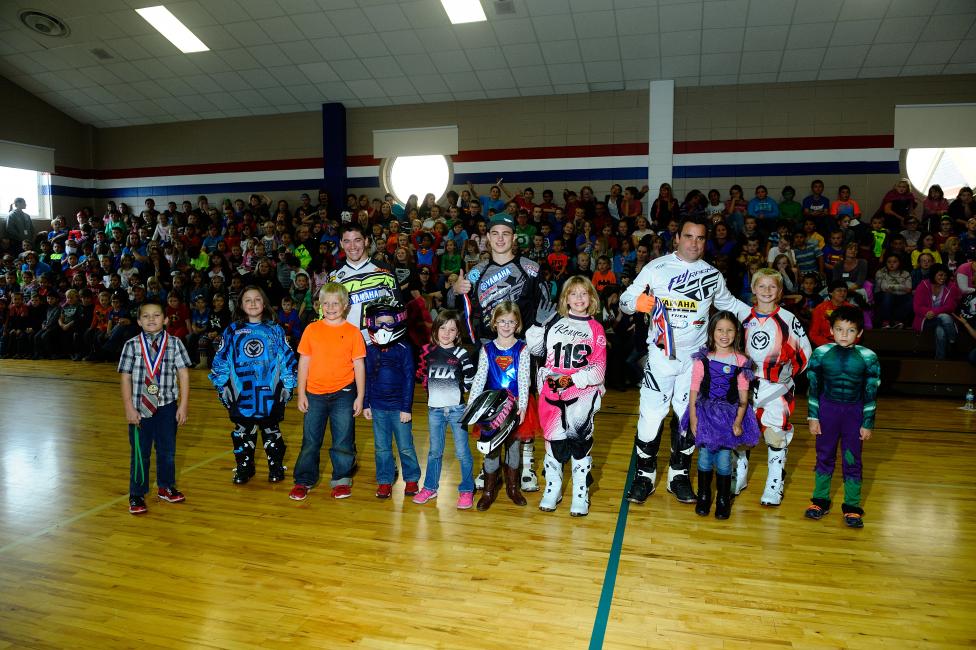 WHO WE ARE:
Our group will consist of approximately 3-5 professional off-road motorcycle and ATV athletes who have extensive experience working with youth, in both academic settings and at the race track. Our racers are credible in the aforementioned subjects for the following reasons:
1. Goal Setting - Throughout their journey to becoming one of the best in their sport, our athletes have learned how to set personal goals--both long term and short term--in order to outline their career path and lifestyle.
2. Anti-Bullying - Our athletes most likely were not involved in school sponsored activities growing up, as they participated in racing outside the community. They can help students realize that everyone has a niche and through relatable experiences, show the importance of tolerance and acceptance of others.
3. Never give up - In cross-country racing, these athletes compete for 2-3 hours at a time, battling through fatigue, difficult obstacles and tough competition. Mental toughness is a must and with a few key tips, the racers will relate their experiences on-track to education and life situations.
4. Safety - Racing motorcycles and ATV's is undoubtedly dangerous compared to most sports, but our racers want to stress the importance of safety gear and awareness while riding any type of machinery.
WHAT IS THE SET UP?
Our goal is to speak to students as a group, preferably in an auditorium or gym setting. To visualize what our racers actually do, we would like to bring an ATV and motorcycle to display on the floor. The machines will not be started or used, but will provide a good visual.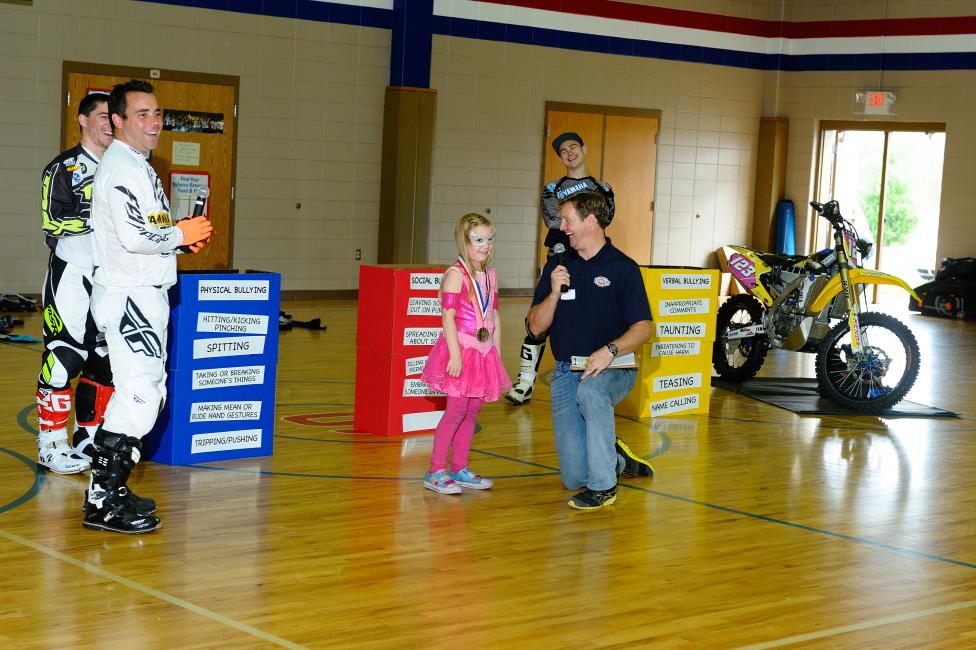 HOW LONG WILL THE PRESENTATION LAST?
The presentation will last for 40-45 minutes total. As athletes speak to the students, they will also take time to conduct interactive activities with the crowd. This may require volunteers to come in front of the group for a contest or game.
WHAT IS THE COST?
There is no cost for this program. GNCC Racers will use this opportunity to not only create a positive impact on students, but to inform them of the upcoming GNCC race in your community. In doing so, the athletes will give away promotional items such as FREE admission tickets and other special prizes.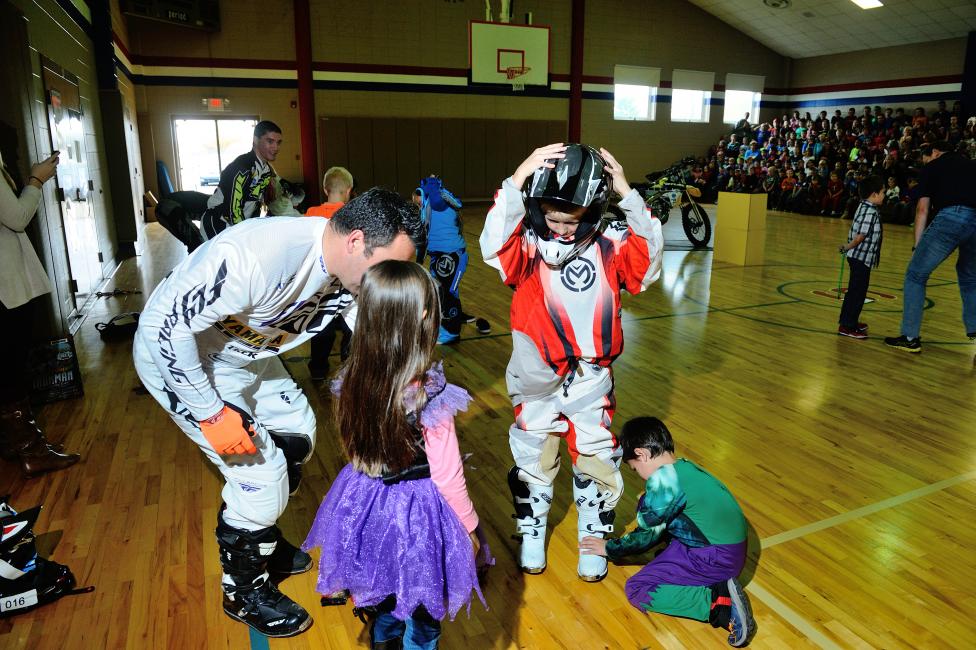 SCHOOL TESTIMONIALS:
"So thank you to the GNCC Racing network and the team members who went to Buffalo Elementary School to deliver such a powerful and uplifting message. While the successes you enjoy in racing are impressive, your willingness to support efforts to make a positive impact in the lives of our children is even more impressive and even more worthy of celebration."
- The Union Times Newspaper, Buffalo Elementary School
"My students can't stop talking about the presentation, and it was a powerful message. Thank you for bringing this program to us!"
- Jessica Cooper, Guidance Counselor, Mount Markham Central School
"I really enjoyed the fact that the program relates to real life situations, and that it intertwines anti-bullying with a fun and interesting sport. The program reinforces many of our school's beliefs."
- Mark Smith, Guidance Counselor, Berlin Brothersvalley Middle School
"The message was great for our students, and it reinforces a lot of our beliefs. It showed our students that you have to work hard to chase your dreams, and that no matter what education is still important."
- Dawn Yerkie, Principal, Mount Markham Central School
CONTACT:
Please see the information below to contact Dana with specific questions about the presentation anytime. For general questions and to get your school signed up for the program, please contact Dana Papanicolas at the information below.
Dana Papanicolas
304.284.0084 | [email protected]
Check us out on the web!
www.gnccracing.com
www.facebook.com/gnccracing
www.twitter.com/gnccracing