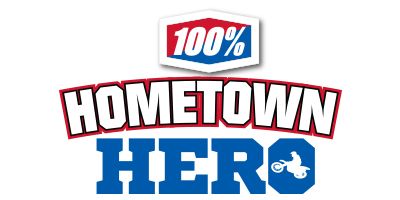 The "Hometown Heroes" program was established in 2015 to allow local GNCC racers to promote and grow their favorite sport to a new audience by participating in local grassroots marketing campaigns.
Participants hang up posters at various local hangouts such as restaurants, bars or grocery stores, and then use social media outlets and the official hashtag #GNCCHometownHero #GNCCRacing for proof of involvement and to receive their free race entry at their hometown event.
Returning for 2020, Ride 100% will be giving a pair of goggles, along with a free race entry, to each Hometown Hero who uses the official hashtags mentioned above as well as tagging @gnccracing and @lildeb55. To receive your goggles you must show proof of participation. You will need to see Debby Hawk at Rider Registration under the red tent to receive your free entry form.
Four (4) riders chosen for each round.
A packet will be sent to the address on file with a special letter along with 10-15 posters.
If you would like to be chosen as a Hometown Hero please email Debby Hawk at [email protected].
Congratulations and thank you to all our participating Hometown Heroes, please see below to view the list of 2020 GNCC Hometown Heroes as each round becomes available:
Round 1 - Big Buck - Union, SC
Name
ATV/Bike
Harrison Lindsey
ATV Youth
Haile Fowler
ATV Youth
Caleb Wood
Bike Youth
Kane Martin
Bike Youth
Round 2 - Wild Boar - Palatka, FL
Name
ATV/Bike
Kaden Wilson
ATV Youth
Avery Collins
ATV Youth
Noah Slocum
Bike Youth
Ryder Bischoff
Bike Youth
Round 3 - The General - Washington, GA
Name
ATV/Bike
Connor Thomas
ATV Youth
Bentley Saxon
Bike Youth
Carson Baggett
Bike AM
Gracie Gooch
Bike Youth
Round 4 - 8 the hometown hero program was suspended due to COVID-19 Protocols.
Round 9 - Mountaineer - Beckley, WV
Name
ATV/Bike
Kody Buckhannon
ATV Micro
Aryanna Neville
ATV Micro
Karson George
Bike Micro/Youth
Stiles Steele
Bike Micro
Round 10 - Burr Oak - Millfield, OH
Name
ATV/Bike
Bryson Dickerson
ATV Micro
Jacob Smallwood
ATV Micro
Kennedy Rogers
ATV Micro
Wesley Cunningham
Bike Micro
Round 11 - Mason-Dixon - Mt. Morris, PA
Name
ATV/Bike
Ryder Waggett
ATV Youth
Nicholas Dearing
ATV Youth
Ryland Kuniyoshi
Bike Youth
Lex Swisher
Bike Youth
Round 12 - Ironman Raceway - Crawfordsville, IN
Name
ATV/Bike
Dawson Lane
ATV Micro/Youth
Adeline Nicely
ATV Micro
Sam Cline
Bike youth
Rylan Huckstep
Bike Youth
Round 13 - Buckwheat 100 - Newburg, WV
Name
ATV/Bike
Cruz Steele
Micro ATV
Michael Hovatter
Bike Micro
Diesel Farris
ATV Micro
Amber Hannah
Bike AM
Colt Dezzutti
ATV Micro