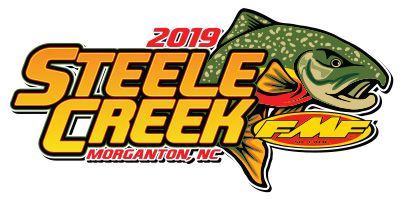 2019 Campground Fees:
$25 per night for non-hookup spots.
$40 per night for hookup spots (first come, first serve).
Admission:
$20 Adult (12+)
$10 Kids (6-11)
5 & under free
Special Information:
Friday, March 29: 6:00 pm Team Faith Micro Track Walk. Meet at starting line for guided tour of the micro course. Families welcome!
Round 2 - Specialized Turbo eMTB GNCC National Championship
Pro Row Party: 11-11:30am: Saturday - ATV Pro Row / Sunday - Bike Pro Row
This event is co-sanctioned with our friends at the Southeastern Enduro and Trail Riders Association (SETRA).
Southeastern Enduro and Trail Riders Association
Contact: Chris Doran
Series Est. 1973 - 46th year
3rd year as a co-sanctioned partner
setra.org/
This may be the nicest-looking GNCC of all. The picturesque Steele Creek Campground hosts this one, and the Blue Ridge Mountains in the background make this a nice place to be even if we weren't racing. Campers will appreciate the hookups and the small country store located on the premises.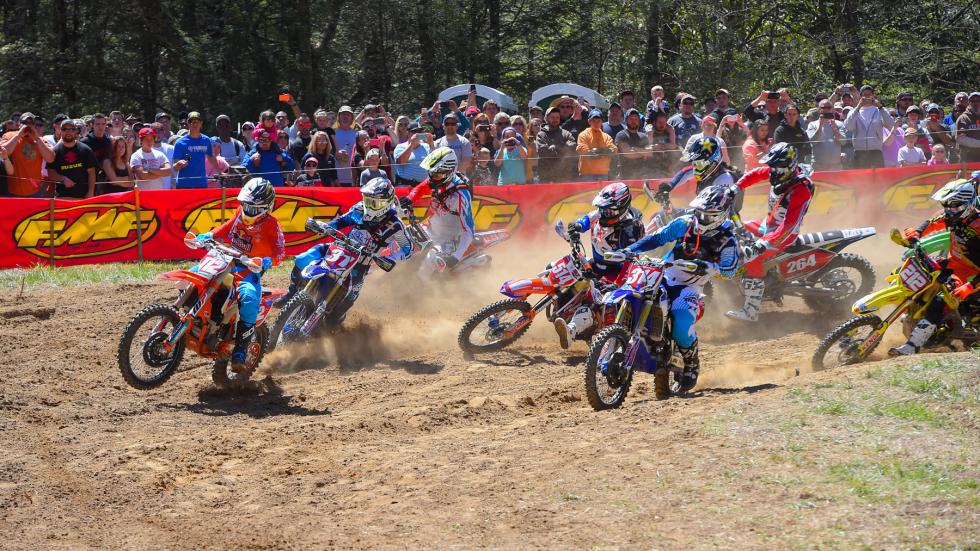 This is a classic cross-country track too, with plenty of creek crossings, mud bogs and rocks. The track is flowy and fun, but rugged. And the hills, going both up and down, are long and steep. As the race goes on, a lot of tree roots become exposed. This makes for a rough ride when it's dry and a slick track when it rains. The course also gets faster and faster as more lines open up throughout the weekend.
The soil here can range from brown top soil, to red clay, to sand and back, all in a span of 5 minutes. The sections along the creek can get sandy and rough, while the base of the mountains see loamy brown dirt. However, as you make your way up the hills, it begins to turn into red clay.
The coolest part of the track is the creek crossing near the pits. The track weaves around next to the actual Steele Creek before eventually plunging into it. Then the riders have to duck their heads to get under a concrete bridge before a ton of fans. The weather at Steele Creek can be just as unpredictable as the racing. Being early in the year, it can get cold, so be prepared to dress warm. However, it can also offer up a teaser to the spring days that are just around the corner, so be prepared for all types of weather.
Steele Creek is an actual campground. Hook-ups are available, but separate fees apply for camping. For more information check out Steele Creek Campground's web page.
Dining Opportunities:
Village Inn Pizza
1016 Burkemont Ave, Morganton, NC
Village Inn is a small pizza buffet chain located throughout western North Carolina. Village Inn offers up a full pizza and salad buffet at great prices. One of the owners is also GNCC racer Will Lackey, who claimed the 2013 Super Vet-C class championship!
Fatz Cafe
2111 S Sterling St, Morganton, NC
Fatz Cafe offers many choices, ranging from seafood and chicken to pasta, steaks, and more more.
www.fatz.com
Las Salsa's Mexican Restaurant
2113 S Sterling St, Morganton, NC
Las Salsa's is a traditional Mexican restaurant with a few twists. The salsa bar is always a big hit, and the food is always prepped with freshness in mind!
Kin Kin Japanese Restaurant and Sushi Bar
103 S. Green St, Morganton, NC
Kin2Kin is located in the heart of downtown Morganton and offers authentic Japanese cuisine and hibachi, as well as fantastic sushi. A favorite of the GNCC staff, check it out!
www.kin2kinrestaurant.com
Brown Mountain Bottleworks
115 E. Union St, Morganton, NC
Featuring craft beer, cider and wine, Brown Mountain is where the hipsters hang. Located across the street from Kin2Kin in downtown Morganton, Brown Mountain offers a large selection of IPA's and local foods. OK, not so much on the food, but the beer is great!
www.brownmountainbottleworks.com
Grind Café Coffeehouse
136 W. Union St., Morganton, NC
Located at the corner of N. King Street and West Union, this cozy café offers an extensive espresso selection, smoothies and frappes, breakfast, lunch and dinner. Stop on your way to the races for a morning cappuccino and New York bagel and on the way back for a Flying Monkey and Carolina Chicken.
www.thegrind.cafe
1 1 Grill (Showing GNCC some love!)
2372 NC Rt 181, Morganton, NC | (828) 433-1159
You will most likely pass this gem on the right way to the track. The Grill shows it's love for GNCC with a cool 'Welcome Racers' sign roadside. Terrific breakfast and lunch spot. Local hangout which means great food. Stop in and say hi! You won't regret it.
Italian Pizza & Pasta
2855 Linville Falls Hwy, Pineola, NC | (828) 733-1401
Left on 181 N. for 17 mi, then left on 221 West ½ mi. (worth the drive)
Great family atmosphere to compliment the great Italian cuisine. Affordable and fun. And they love GNCC!