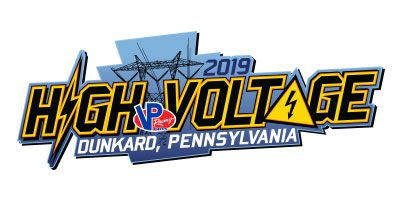 Admission:
$20 Adult (12+)
$10 Kids (6-11)
5 & under free
Special Information:
ePeeWee (STACYC) Racing: Saturday 6:30 p.m. location TBD.
Click HERE to view the 2019 VP Racing Fuels High Voltage Track Map
Located in a familiar area for GNCC racers, not far from High Point Raceway, the new High Voltage GNCC is no stranger to off-road racing. Landowner Warren Lilly is a long-time GNCC competitor, dating back to the early days of the Blackwater 100. His family farm will make an excellent addition to the series as it has previously hosted several local racing events, in addition to some large private ride days. With large fields and numerous sections of woods, the venue will see great parking and some really fun woods.
You can expect similar terrain to that of the Mason-Dixon GNCC given its close proximity to this location. Some fun rolling hills and a bit of black dirt mixed with some gray clay will be found around the racecourse, in addition to some rocky areas as well. There's a good mix of existing trails including some fast and flowing trails, along with tight and technical sections. The big field sections you park in means you can expect some fast grass track sections as well. Additionally, the GNCC crew will ultimately add in some new sections as well, making for what is sure to be a fun racecourse. Overall this promises to be a great event on a true cross country course!
Our Favorite Dining Opportunities:
Oliverio's
52 Clay St, Morgantown, WV 26505
(304) 296-2565
Known as one of West Virginia's most respected restaurants for fine Italian cuisine and top notch service, Oliverio's on The Wharf, established in 2001, is located in Morgantown's newly renovated Wharf District. The tuscan inspired eatery, with it's big city feel and small town charm is within walking distance from area hotels and downtown.
Black Bear Burritos (2 locations)
132 Pleasant Street, Morgantown, WV (Downtown) 304-296-8696
3119 University Ave, Morgantown, WV (Evansdale) 304-777-4867
With a menu ranging from burritos, to wraps, chili and much more, Black Bear is one of the most popular restuarants in Morgantown. It's so popular that they even have 2 locations in Morgantown!
Iron Horse Tavern
140 High Street, Morgantown, WV
(304) 296-6230
Morgantown's Iron Horse Tavern hosts a variety of menu items ranging from burgers, pasta, steak, seafood and more. Located near the heart of downtown, the Iron Horse is definitely a must-stop for anyone.
Two Rivers Restaurant (Campground & Marina)
Dilliner, PA 15327
(724) 943-3745
Good food for a good price. There are two sides to the restaurant-one has a bar atmosphere and the other a more formal dining room.