Jared Bolton
Time
Thursday, July 22, 2021 | 3:10 PM
Welcome to Quick Fill.
Another off week is in the books and we're rolling steady through the summer break. This off-time always seems to be pretty similar each year in that some folks spend their entire break continuing to ride and race, while others actually take some time off to try out some other activities. What seems to change each year is those who choose either of those options, almost seem to switch it up the following year. It's a bit rare to see the same people continue to ride, ride, ride and race every single summer break.
Everyone needs that change in pace every few years, and speaking from personal experience, no matter what route you choose during the summer it really seems like it makes you appreciate getting back to GNCC Racing once the summer break ends. I've been working at the GNCCs for 11 years now and been here on a full-time basis for seven years and each summer seems to be a smidge different than the last. Years ago when GNCC went on summer break, I would spend my summer attending every local race I could, whether I showed up to ride or just hang out. Then a couple years into working with the company, Loretta Lynn's became part of my summer.
Things have changed more and more since coming to Morgantown to work full-time. A few years ago, I used every free weekend I could prior to Loretta's to go riding or racing. This year, I haven't been on a motorcycle since Snowshoe! Not that I wouldn't like going riding, we've just stayed wide open since Snowshoe with attending some additional Pro Motocross events and staying busy with Loretta's prep. In a flip of the coin Ryan Echols, who usually doesn't get to ride very much actually spent last weekend racing the Bad Medicine Hard Enduro in Ohio. Ryan's pretty good in that stuff and ended up a solid third place in the A class and 18th overall. He also tried really hard to talk me into racing it, and once I saw it rained on top of the already gnarly terrain, I was pretty content with spending a weekend at home.
What hasn't changed is the fact that a large majority of the faces you see at GNCC are either getting ready to head down to Loretta Lynn's, are on their way today, or are already there. Whether its running equipment, running computers, or just simply working to make it happen the majority of the people who make the Loretta Lynn's event happen are the same folks who make a GNCC happen, so it's almost like a GNCC event without the trees, or roots, or rocks, etc. That GNCC feeling is always accelerated by some familiar names who will be participating in the racing side of things and this year is no different.
The rider roster became official last week and just a quick scroll through the various classes sees a number of GNCC racers who will be down at the ranch. Some of these include Nathan Dulaney who will be racing in the 125 (12-17) B/C and Schoolboy 1 (12-17) B/C classes, Toby Cleveland in the Schoolboy 1 (12-17) B/C, Grant Davis in Schoolboy 2 (12-17) B/C, Phoneix Honda's Heath Harrison in the Open Pro Sport and Junior 25+ classes, Trevor Barrett in the Junior 25+, Jimmy Jarrett in the Senior 40+, Scott Phelps in the Senior 45+ and Tayla Jones, Korie Steede and Shelby Rolen in the Womens class. On mini bikes, Daxton Mullins is racing the Mini E, and Thor Powell is in the Mini Sr 1 (12-14) and Mini Sr 2 (13-15) classes.
In addition to these riders, there's a few others who have made a few GNCC appearances in the past. There's a number of former Pro Motocross racers who have also tried their hand at GNCC and will be racing Loretta's including Robby Marshall out of Massachusetts who is racing the Open Pro Sport and Junior 25+ classes. One of the most stacked classes of the week will actually be the Senior 45+ class which will feature Mike Brown, Barry Carsten, Jeff Emig, Keith Johnson, Kurt Nicoll, and Kevin Walker (who has more Loretta's titles than anyone!). It's also cool because most of these guys have raced a GNCC in the past. I know for sure Brownie, Emig, Nicoll, and Walker all have, and I wouldn't be surprised to find out Carsten and Johnson tried a GNCC out too.
So, continuing last week's discussion of how points battles are shaping up in GNCC, let's take a look at a few other premier classes this week. We'll start with the ATV side and the 4x4 Pro class which sees defending champion Landon Wolfe leading the way yet again with a 49-point lead over Cody Collier. Landon has been the most consistent rider in the class with a total of five wins so far, and has not been off the podium all season with three additional second place finishes and one third place. Cody Collier has been his biggest challenge and has actually claimed four wins of his own as a second place but Collier has also been plagued by bad luck with some issues leaving him well outside of the top five at four events which has ultimately hurt his standings to as closely challenge Wolfe as he had hoped.
Third place in the 4x4 Pro class is Robbie Pecorari, who has actually landed on the podium five times this season and currently sits 21 points behind Collier. 4x4 Pro newcomer Brandon Frazier currently holds the fourth place spot by finding himself on the podium six times, but a DNF at Snowshoe and a seventh at round one have him sitting six points behind Pecorari. Haedyn Mickelson holds down the fifth place position and has landed on the podium twice in 2021, and will ultimately be looking to add more podiums to his resume in the final rounds.
The battle for the WXC ATV class championship has really heated up this year as Hannah Hunter and Katelyn Osburn currently sit tied with 227 points each. Hunter has more wins so far with five compared to Osburn's three wins, but Hannah has also finished off the podium three times (but never worse than fifth!) while Katelyn has been inside the top three all but one round. Jessica Elioff holds the third place spot, 64 points behind the lead duo. She also has a win to her credit this year and four additional podium finishes but a 13th at round three and missing round four has kept her just out of reach of that lead duo so far. After racing the boys in the afternoon for a number of years, Emily Wise has moved to the WXC class this season and sits fourth place with four third-place finishes and sits just five points behind Elioff. Arguably the "GOAT" of the WXC class is Traci Pickens, who is still hanging in there having loads of fun. Traci rounds out the top five and has still landed on the podium twice in 2021, even with a little bit of bad luck throughout the year.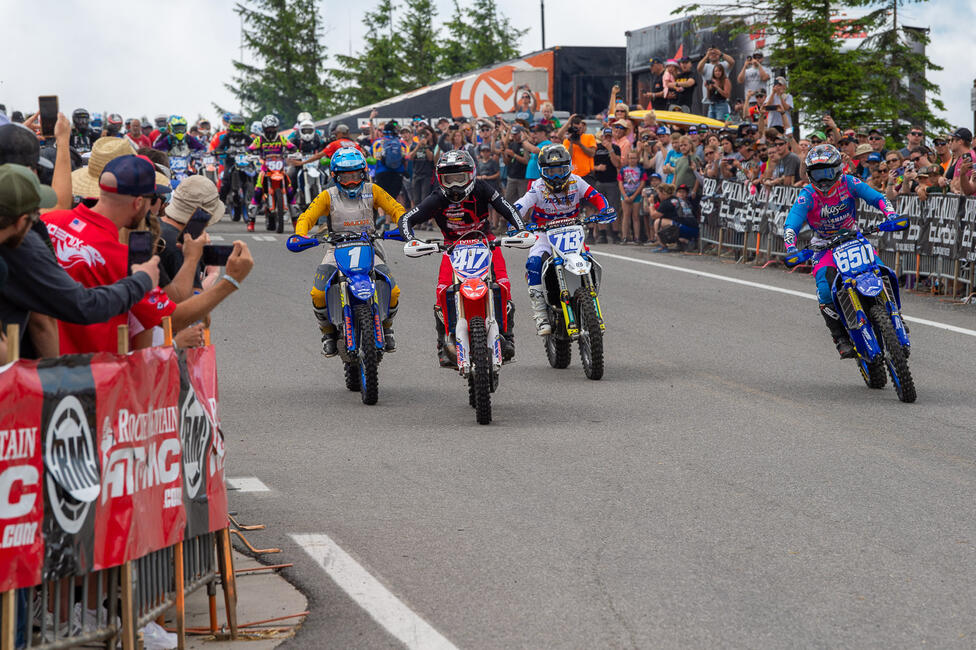 Moving over to the WXC class on the bike side, Becca Sheets has already said this will be her final year racing at this level, and what better way to put a cap on things than to put together the season she has so far. Her and Rachael Archer have traded wins throughout the season with Becca taking five wins so far and Rachael taking four. These two ladies are really making this class exciting as neither has finished worse than fourth place and they currently sit just two-points apart with Becca leading the way. At the same time, Tayla Jones is still incredibly competitive as she sits third place in the WXC standings. While Tayla hasn't claimed a win yet this season, she's still been a consistent podium threat with five top-three finishes and has not finished worse than fifth place so far. Korie Steede has also really come into her own in 2021 as she sits fourth place and while she's missed two rounds and had an 11th place finish at round one, she's been on the podium three times and inside the top five two additional times. Rachel Gutish currently rounds out the top five with a number of top five finishes. Rachel did announce that she has parted way with Beta, so right now not only is the question is what we will see her on when the series returns, but a bigger question is that if the program change will be a help, or produce a learning curve?
The FMF XC3 class has pretty well been dominated by Johnathan Johnson so far in 2021. Johnson has claimed seven wins, with six of those being consecutive in the first six rounds. He holds a solid 47-point lead over Chase Colville, who has not finished worse than fourth place all season. There's also Ben Parsons, who is the only rider to topple Johnson so far and did it two races in a row. Parsons sits third place ten points behind Colville while Jake Froman and Noah Clark round out the top five of the FMF XC3 class. All of these guys have the speed and talent to not only contend for podiums in this XC3 class but also contend for race wins as well. This should be pretty exciting to see how the final four rounds play out for these guys.
That's actually all I have for this week. The next few weeks might be a little slow on the Quick Fill front as we'll be down at Loretta Lynn's preparing for and running the event, then preparing for and running the ATVMX event on the following weekend as well. This is an exciting time but also an incredibly busy one, but hopefully we can keep the Quick Fill goodies rolling and keep you updated on how the members of the GNCC Racing Nation are doing at Loretta's. Until then, enjoy your weekend and we'll see you here next week!