Kayla Bolton
Time
Monday, May 3, 2021 | 10:20 AM
FOR IMMEDIATE RELEASE
Hoosier GNCC: Motorcycle Race Report
Baylor, Girroir and Johnson Clinch XC1, XC2 and XC3 Victories
CRAWFORDSVILLE, Ind. (May 3, 2021) – Round six of the 2021 Grand National Cross Country (GNCC) Series presented by Specialized, an AMA National Championship, took place at the iconic Ironman Raceway as the series made its first stop in Crawfordsville, Indiana for the season. This weekend's race saw some exciting battles throughout the top premier classes as the weather and conditions were near perfect for the entire race weekend.
Earning his fourth-straight win of the season after three hours of intense racing was AmPro Yamaha's Steward Baylor. As the green flag waved, Baylor would get off to a good start and move into the lead position on lap one. Baylor and his teammate, AmPro Yamaha's Layne Michael would battle for the first half of the race with Michael moving into the number one spot briefly. Baylor made his way back into the lead and would begin to place a gap over the rest of the field. As the checkered flag flew, it was Baylor with a 35 second lead. Baylor now sits second in the points standings.
Battling his way back to a podium finish was FMF/KTM Factory Racing's Benjamin Kelley. At the start of the race, Kelley found himself running back in the seventh place position at one point. Kelley would put his head down and push his way to the front, moving into third on the fifth lap. Kelley and Michael would battle as the white flag came out, but it would be Kelley making the pass for second overall and coming through to take the checkered flag right ahead of Michael.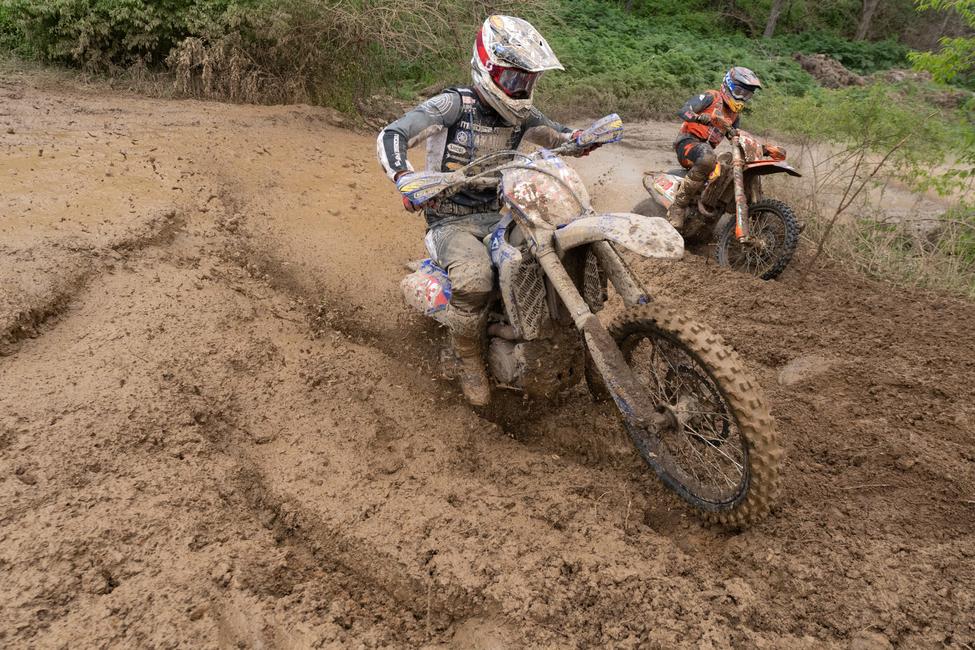 AmPro Yamaha's Layne Michael had an outstanding ride at round six in Indiana, as he came through to finish third overall. Michael would begin his day battling with his teammate at the front of the pack, but as the race wore on Baylor would pull away from his competitors. Michael would then be faced with a battle from a hard-charging Kelley for the second half of the race. Michael would be unable to hold off Kelley but would still earn his first overall podium finish of the 2021 season.
Making his way back towards the front of the XC1 Open Pro class was Rockstar Energy Factory Husqvarna Racing's Thad Duvall. At just his second race back after an injury earlier in the season, Duvall would continue to gain momentum throughout the three-hour race and eventually make the pass for fourth place.
Magna1 Motorsports/Husqvarna's Jordan Ashburn found himself running in the third place position at the beginning of the race, after grabbing the $250 All Balls Racing XC1 Holeshot Award. As the race wore on Ashburn would find himself battling with Kelley and then Duvall. As the white flag flew Ashburn would be unable to hold off Duvall any longer, coming through in the fifth place position. Ashburn was still able to end the day strong with a top five overall finishing position.
Crossing the line sixth overall on the day was KLM Milwaukee GASGAS' Grant Baylor. As the race got underway Baylor would find himself buried deep in the pack, coming through timing and scoring 11th on the opening lap. Baylor would continue to push and make the necessary moves towards the front of the competition. When the two-lap card came out, Baylor knew he had to dig deep to try and get into the top five. After moving into sixth on the second-to-last lap, Baylor would be unable to reel in fifth but would still have an impressive ride as he finished sixth overall.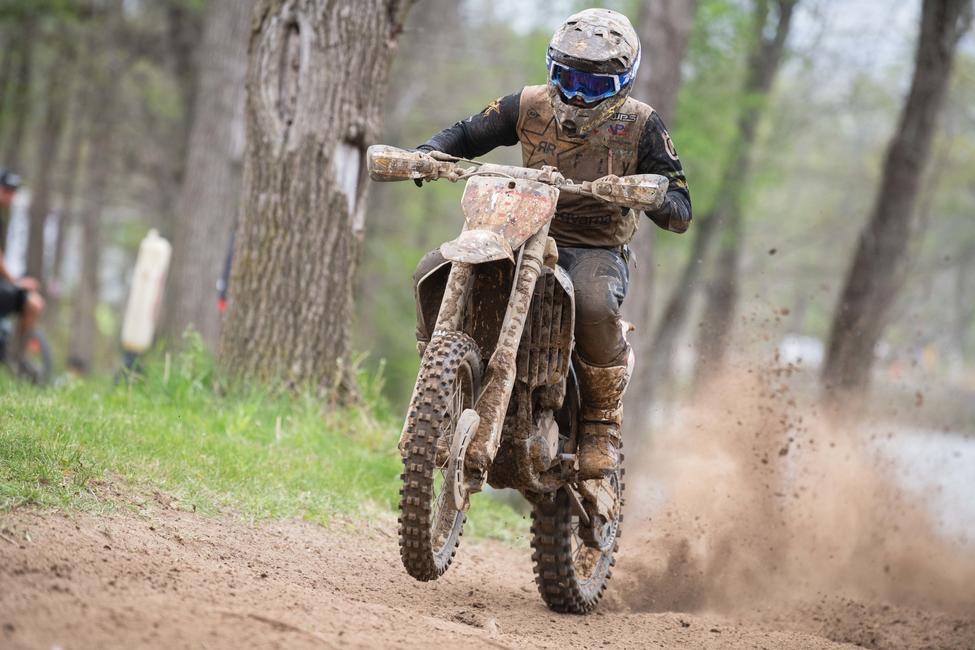 Another rider working his way back from an injury is Rockstar Energy Factory Husqvarna Racing's Trevor Bollinger. As the race got underway Bollinger would get a top-10 start in the XC1 Open Pro class and continue to push his way up through the competition. Bollinger found himself running sixth by the halfway point, but during the last hour of the race he would drop back to seventh, ultimately finishing out the day in that position.
Coastal GASGAS Factory Racing's Ricky Russell found himself running inside the top five throughout the first three laps of racing. However, Russell seemed to be out of his groove as the race wore on, as he continued to descend back to sixth. For the last three laps Russell would run in the eighth place position, where he would finish for the day.
Coming through to earn ninth was FMF/KTM Factory Racing's Josh Toth. Toth was able to get off to a mid-pack start but would struggle early on. Toth continued to ride his own race as he settled into his riding technique, crossing the finish line ninth overall.
After a decent start to the race, Babbitt's Online/Monster Energy/Kawasaki Team Green's Josh Strang found himself running in the fourth place position. However, just as soon as Strang was running inside the top five disaster would strike and Strang would be forced to head into the pits for an unwanted pit stop to change out his chain guide. Strang would get back to racing, coming through 29th overall then up to 16th overall and as the race continued on, he would dig deep and continue on pushing. Strang would work his way up to 10th in the XC1 class, and 12th overall on the day.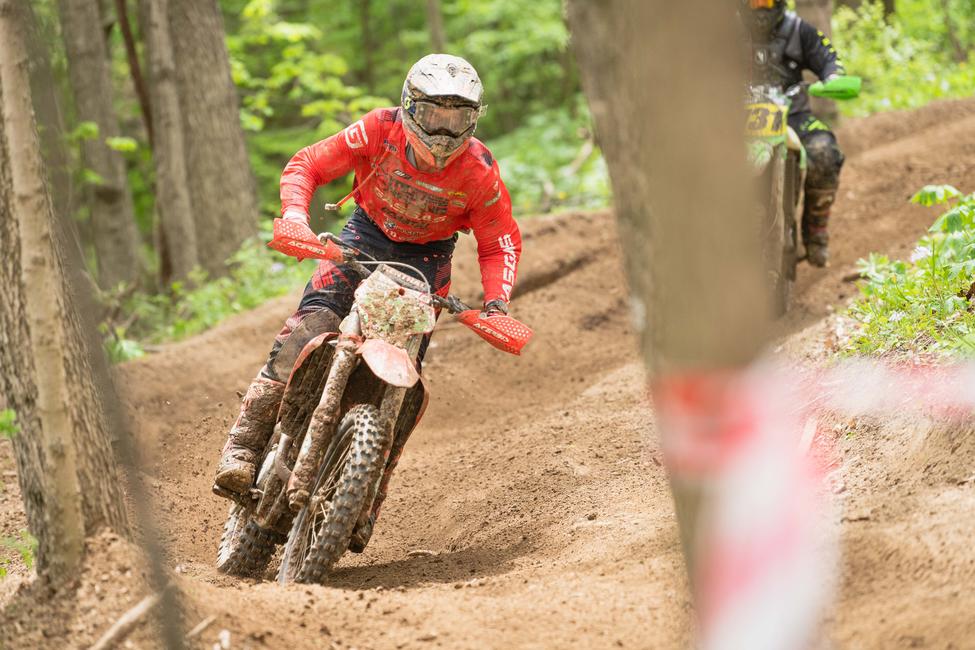 In the XC2 250 Pro class it was Coastal GASGAS Factory Racing's Johnny Girroir battling back to clinch his fifth-straight win of the season. Girroir was off to a top-five start to the day, working his way into second by the halfway point. Girroir would set his sights on AmPro Yamaha's Mike Witkowski, who held the early lead. Girroir and Witkowski would swap the lead position multiple times, before battling down to the checkered flag where Girroir would finish 0.984 seconds ahead of Witkowski.
Phoenix Racing Honda's Cody Barnes did not get the start he wanted as he came through 13th on the opening lap. Still, as the race Barnes would continue to push himself to get to the front of the XC2 class. Barnes said he considers the Indiana event his home race as he hails from Illinois. In front of a lot of family and friends, Barnes made the pass for third on the last lap, earning his first podium finish of the season.
760Motosports/Husqvarna's Benjamin Nelko grabbed the $100 Hot Cams XC2 Holeshot Award.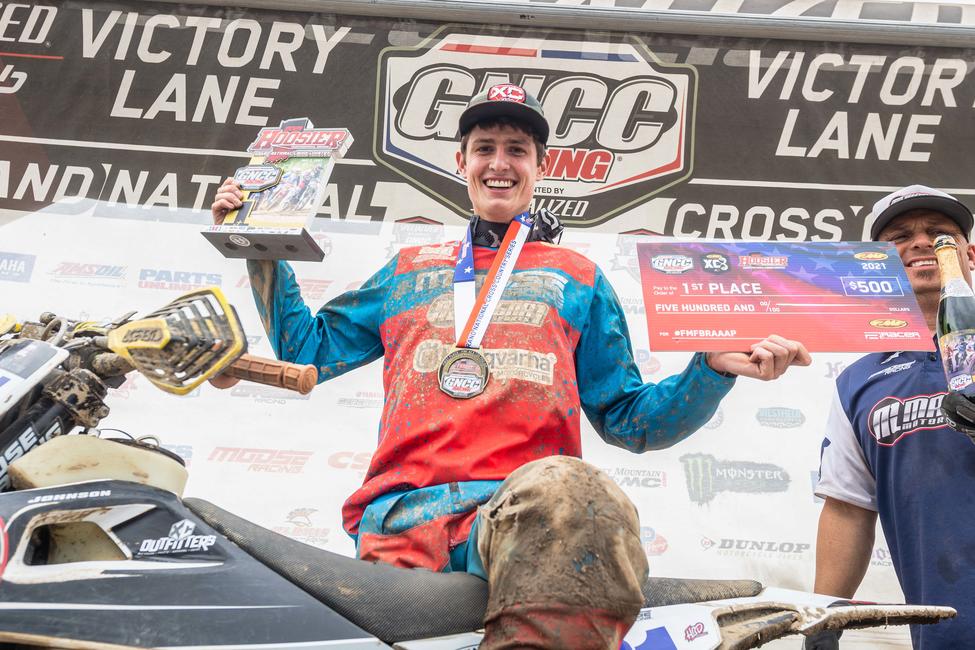 The FMF XC3 125cc Pro-Am class saw Magna1 Motorsports Jonathan Johnson continue his winning ways by earning his sixth-straight win of the season. However, this win would not come as easy as some have. Lojak Yamaha Cycle Sales' Chase Coleville would hold the early lead and continue to battle with Johnson down to the last lap of racing. Colville would come through to earn second, while Coastal GASGAS Factory Racing's Ben Parsons had a consistent day in the third place position.
The Top Amateur honors from the Hoosier GNCC would go to 250 A's Joseph Cunningham as he earned his class win and finished 20th overall. Will Sievenpiper was second on the top amateur podium with a win in the Open A class and a 26th overall finishing position. Third on the podium was the 250 A second place finisher, Tanner Collins with his 28th overall finish.
In the morning race, it was on between the WXC competitors, RedBull KTM's Travis Pastrana and RedBull/Troy Lee Designs GASGAS' Ryan Sipes who raced in the Sportsman A class.
As the green flag waved, it was Preston Raines earning the $100 Trail Jesters WXC holeshot award, but it would soon be AmPro Yamaha's Rachael Archer taking over the lead for a brief moment before Kawasaki Team Green's Korie Steede made her move into the number one spot.
However, it would soon be the No. 1 of BABS Racing Yamaha/Fly/Maxxis/Pro Circuit's Becca Sheets striking for that lead position. As Sheets made her way into the lead, she would begin to place a gap over the rest of the field to ensure her overall win. Sipes was lurking behind her as he would move into second overall on adjusted time. Sheets was able to hold off the competition, and come through to earn her fourth WXC win, and third overall in of the season. Sipes would finish second overall on the day. While Archer came through to take third overall, second in WXC, and Steede rounded out the WXC top three.
As for Pastrana after running second early on in Sportsman A, he said that he had two gnarly crashes, ran out of gas for about 15 minutes, did a front flip and hit a tree third gear pinned.
In the 8 a.m. youth race it was Cole Forbes battling back to earn his fourth overall and YXC1 Super Mini Sr. class win of the season. Thor Powell would come through to finish second overall and in the YXC1 class, with Nicholas DeFeo rounding out the top three overall and in the YXC1 class. Ryan Amancio earned his first YXC2 Super Mini Jr. class win of the season just ahead of Robert Weiss and Van Adams, who rounded out the top three. Canyon Richards came to try his hand at GNCC Racing, earning the win in the 85cc (12-13) class, while Jiggs Fustini earned the 85cc (7-11) class win. Richard's sister, Brighton Richards also earned a win in the Girls (8-15) class. Caleb Wood and Hunter Hawkinberry also earned class wins in the 65cc (10-11) and 65cc (7-9) classes.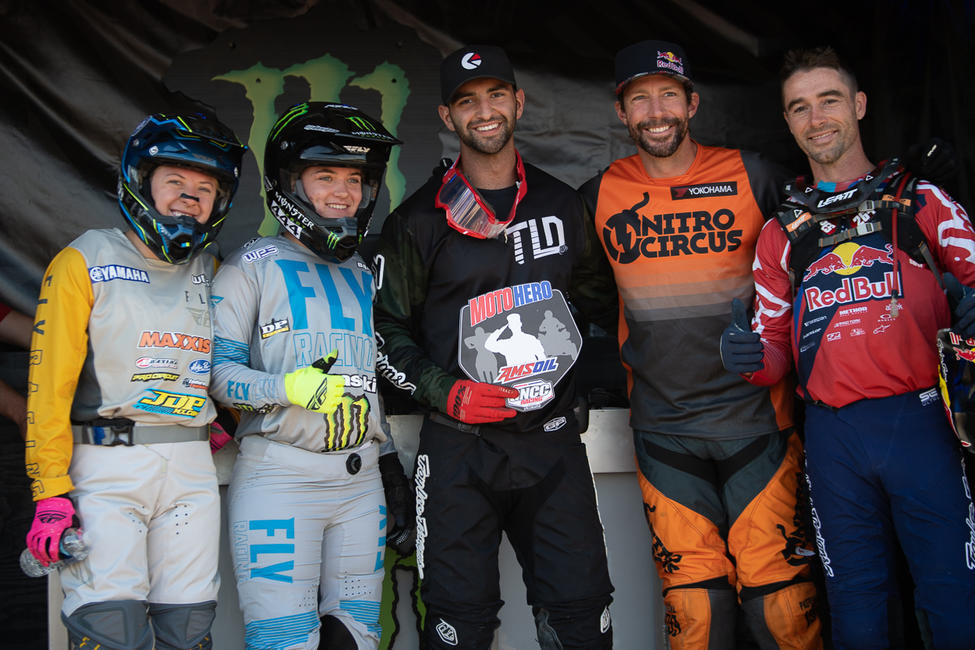 The Hoosier AMSOIL Moto Hero was awarded to Pittsburgh, Pennsylvania's Angelo Sciarretti. Angelo served in the United States Navy as a Petty Officer 3rd E4. He was deployed to Japan from 2014 until 2018. Angelo served in the West Pacific and was part of The Valiant Shield in 2016. He served on the USS Stethem. He races in the Warrior class, which is a new championship class this year and is for active or retired military. He goes home with a $250 AMSOIL Shopping Spree, Kanati Truck Tires from GBC, a Commemorative American Flag from Columbia Flag & Sign Co. plus a gift certificate for their online store. He also earned a pair of 100% military appreciation goggles and an ARMA Black Edition Box full of supplements and gear.
The next round of racing, round 7, The John Penton GNCC will take place on May 22 and 23 in Millfield, Ohio at Sunday Creek Raceway. For more information head to the event page on gnccracing.com.
For more information on the GNCC series, visit the official website at www.gnccracing.com or call (304) 284-0084. Join the conversation on the series Facebook page, follow us on Twitter and Instagram, and be sure to always hashtag #GNCC.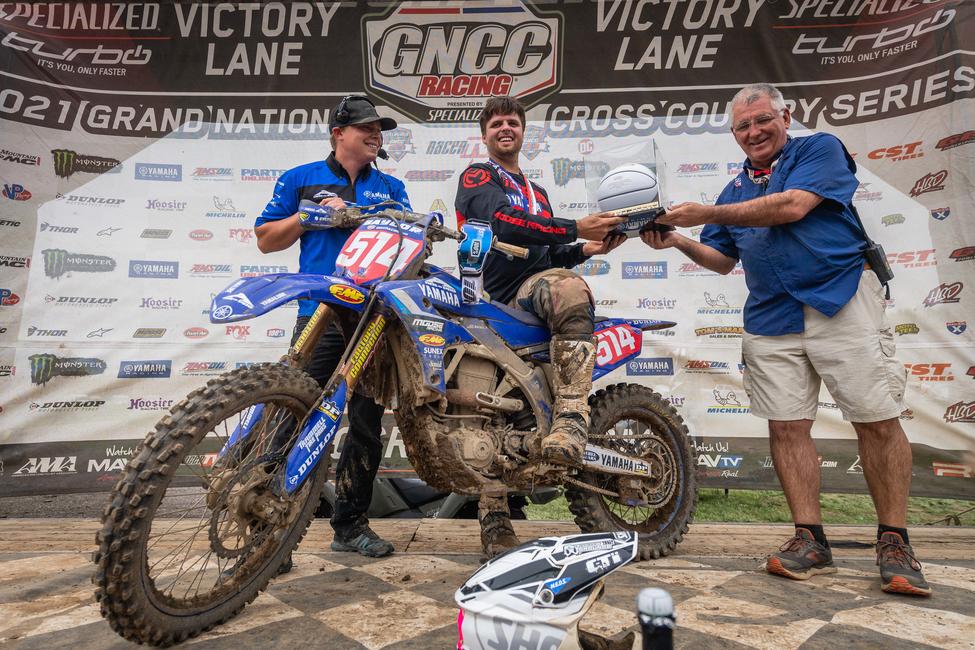 Hoosier Results and Points Standings
Crawfordsville, Indiana
Round 6 of 13
Sunday, May 2, 2021
XC1 Pro Event Results:
Steward Baylor (YAM)
Benjamin Kelley (KTM)
Layne Michael (YAM)
Thad Duvall (HQV)
Jordan Ashburn (HQV)
Grant Baylor (GAS)
Trevor Bollinger (HQV)
Ricky Russell (GAS)
Joshua Toth (KTM)
Josh Strang (KAW)
*Overall National Championship Standings:
Benjamin Kelley (132)
Steward Baylor (127)
Grant Baylor (113)
Jordan Ashburn (101)
Josh Strang (92)
Ricky Russell (88)
Jonathan Girroir (82)
Joshua Toth (78)
Craig DeLong (65)
Layne Michael (62)
*Indicates that the Overall National Championship Standings will determine the 2021 National Champion.
XC2 250 Pro Event Results:
Jonathan Girroir (GAS)
Michael Witkowski (YAM)
Cody Barnes (HON)
Liam Draper (KTM)
Thorn Devlin (BET)
Craig DeLong (HQV)
Angus Riordan (KTM)
Simon Johnson (KTM)
Ruy Barbosa (HON)
Brenden Poling (KAW)
XC2 250 Pro Series Standings:
Jonathan Girroir (165)
Craig DeLong (132)
Michael Witkowski (116)
Cody Barnes (102)
Liam Draper (92)
Thorn Devlin (81)
Ruy Barbosa (79)
Lyndon Snodgrass (76)
Evan Smith (73)
Jesse Ansley (58)
To get the latest GNCC Racing clothing and merchandise visit https://www.mototees.com.
How to Watch
Racer TV and MAVTV are the official homes for coverage of the Grand National Cross Country (GNCC) events. All 13 rounds, from the season opener in South Carolina to the finale, will air in taped-delayed telecasts on MAVTV, while Racer TV provides live streaming coverage of the 2 p.m. ATV and 1 p.m. motorcycle races from each event. Catch all the action at http://www.mavtv.com/ and http://www.racertv.com/.
About GNCC Racing
The Grand National Cross Country Series presented by Specialized is the World's premier off-road racing series. Founded in 1975, the 13-round championship is produced exclusively by Racer Productions. Cross-country racing is one of the most physically demanding sports in the world. The grueling two and three-hour GNCC races lead as many as 2,400 riders through racetracks ranging in length from eight to 12 miles. With varied terrain, including hills, woods, mud, dirt, rocks, and motocross sections, GNCC events are tests of both survival and speed. The series draws talent from all over the U.S., Central America, South America, Europe, Japan, Australia and New Zealand. GNCC Racing is televised live on RacerTV.com. For more information, please visit www.gnccracing.com.
About the American Motorcyclist Association
Founded in 1924, the AMA is a not-for-profit member-based association whose mission is to promote the motorcycle lifestyle and protect the future of motorcycling. As the world's largest motorcycling rights and event sanctioning organization, the AMA advocates for riders' interests at all levels of government and sanctions thousands of competition and recreational events every year. The AMA also provides money-saving discounts on products and services for its members. Through the AMA Motorcycle Hall of Fame in Pickerington, Ohio, the AMA honors the heroes and heritage of motorcycling. For more information, visit www.americanmotorcyclist.com. Not a member? Join the AMA today: www.americanmotorcyclist.com/membership/join.
###
Media Contact:
Kayla Bolton
(304) 284-0084
[email protected]