Kayla Bolton
Time
Friday, April 30, 2021 | 10:45 AM
FOR IMMEDIATE RELEASE
Round Six of GNCC Racing Invades Ironman Raceway
Neal and Baylor Aim For Victories
MORGANTOWN, W.Va. (April 30, 2021) – This weekend, May 1 and 2, the Grand National Cross Country (GNCC) Series presented by Specialized, an AMA National Championship, will invade Crawfordsville, Indiana for round 6, Hoosier, of the 2021 season. This weekend will mark the first of two GNCC events being held on the Ironman Raceway property. ATV racing will kick off Saturday, with eMTB racing on Saturday evening followed by Motorcycle racing all day Sunday.
Saturday's Pro ATV race will begin at 2 p.m. with everyone wondering who will take the overall win after two-hours of intense racing. Last round it was, Bneal Motorsports/CST Tires/Houser Racing's Brycen Neal coming through to earn the overall win in South Carolina. Neal will once again look to battle for his third overall win and give him a slight boost in the points standings for the season.
After coming through second overall at the previous round, Action Off-Road/Kenda/Tely Energy Racing's Cole Richardson is hopeful he can make his way to the center of the box this weekend in Indiana. Richardson remains third in the points standings but is only nine points out from second in points.
WFR/GBC Tires/Fly Racing/Yamaha's Walker Fowler had to battle his way back towards the front after a crash put him back a bit at the last round of racing. Fowler is aiming to get back to the front and stay there on Saturday afternoon. After five rounds of racing, Fowler continues to hold onto the points lead by 41 points.
Earning the XC2 Pro-Am class win at round five was PirateMX.com/OBOR Tires/Moose Racing's Branden Owens. Branden will battle for his second overall win of the season but will have to hold off the XC2 points leader BNR Motorsports/Senge Graphics/Houser Racing's Ronnie Rusch.
In the 11 a.m. race 4x4 Pro points leader, OBOR/Can-Am/DeRisi Racing's Landon Wolfe will be aiming to earn his third win of the season and extend his points lead over Kenda/BNR/Nine2/Custom Axis' Cody Collier. Also looking to break into the center spot of the podium for the first time this season will be Can-Am/Tennessee Towing/BNR Motorsports' Robbie Pecorari and HMF Engineering/GBC/BNR Motorsports' Brandon Frazier.
Also, during that morning race, the WXC competitors will be battling for their own top spot in their class. Hannah Hurricane Hunter/OBOR Tires/Fly Racing's Hannah Hunter will once again be looking to claim the number one spot as she did two weeks ago in South Carolina, but she will have some fierce competition from points leader, Action Off-Road/Moose Racing/GBC Motorsports' Katelyn Osburn.
Then on Saturday afternoon the Specialized Turbo eMTB GNCC Round 3 will take place at Ironman Raceway. Gear Racewear/Specialized's Charlie Mullins has earned the first two wins of the season and currently leads the points with Live It Extreme's Kyle Smith earning a pair of third place finishes to hold second in the points. Both riders will be battling at the front once again this weekend, with Smith hoping to put an end to Mullins winning ways.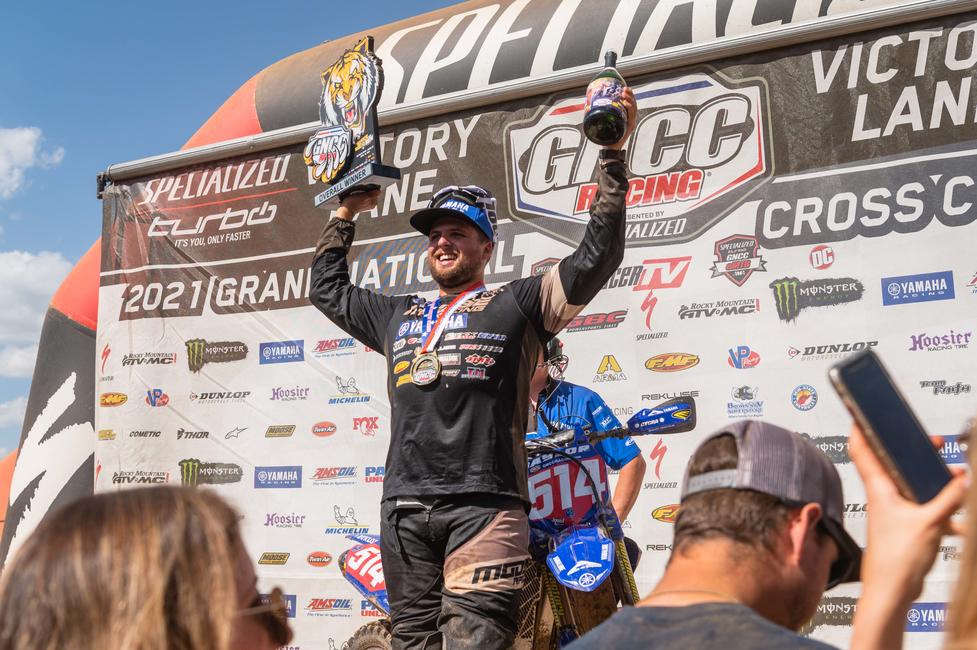 Then on Sunday afternoon the world's fastest off-road motorcycle racers will take to the Indiana woods at 1 p.m. to battle for three-hours of racing. AmPro Yamaha's Steward Baylor Jr. has won the last three GNCC races and has propelled himself into third in the points standings after a rough start to the season. This weekend Steward will be ready to battle for his fourth win of the season and earn some valuable points in his hunt for the number one plate this season.
Coastal GASGAS Factory Racing's Ricky Russell returned the podium last round after battling at the front of the pack for the entire race. That was Russell's first podium appearance since his injury in the beginning of 2020. Russell has been steadily working through the pack this season and will aim to continue to be a front runner at the races.
Continuing to lead the overall points standings is FMF/KTM Factory Racing's Benjamin Kelley. After earning the win at round two, Kelley has been a consistent force throughout the season, but he will aim to earn another win this weekend to hold onto that lead.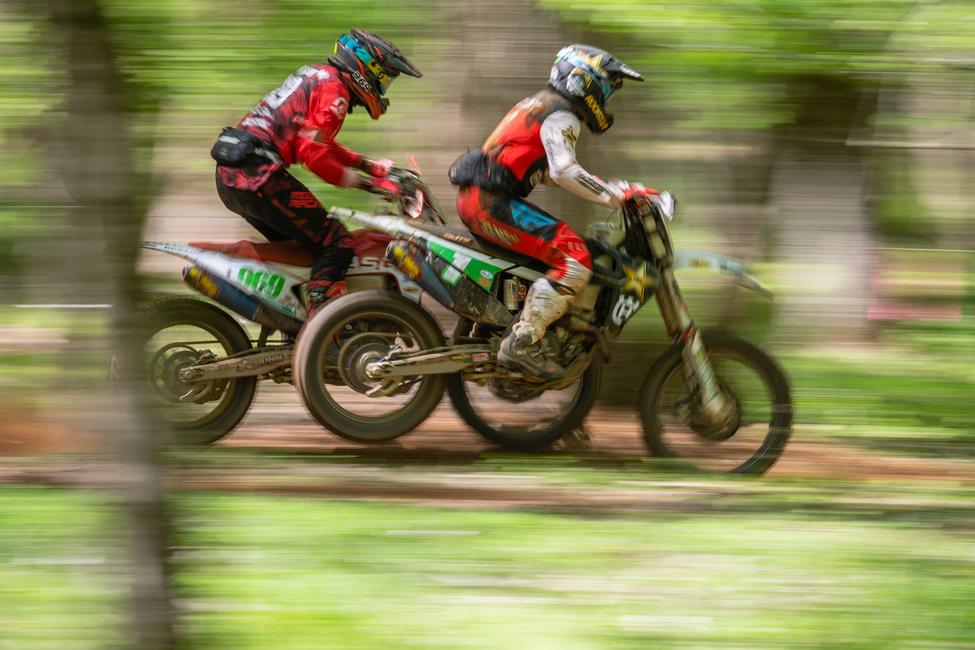 In the XC2 250 Pro class it is Coastal GASGAS Factory Racing's Jonathan Girroir continuing to lead the way after earning four-straight wins. Girroir will lineup ready to battle for his fifth consecutive win of the season, while also hoping to break into the top three overall finishing positions once again. Girroir leads the championship points by 18 over second place.
One rider looking to put a stop to Girroir's success will be Rockstar Energy Factory Husqvarna Racing's Craig DeLong. After finishing runner-up and third throughout the season, DeLong is eager to battle for his own win in the XC2 class this weekend.
Breaking into the top three two weeks ago in South Carolina was Factory Beta USA's Thorn Devlin. Devlin has been steadily working his way towards the front of the class after some bad luck hindered him at the beginning of the season. This weekend Devlin will continue to battle and aim for another podium finish.
Looking to keep his win streak alive in the FMF XC3 125 Pro-Am class will be Magna1 Motorsports/Husqvarna's Jonathan Johnson. With five rounds of racing complete, Johnson continues to keep his momentum going as he has earned each and every win thus far in the season. Lojak Cycle Sales' Chase Colville and Coastal GASGAS Factory Racing's Ben Parsons are eager to put an end to his winning ways though and will aim to break into that top spot this weekend.
In the WXC class, BABS Racing Yamaha/Fly/Maxxis/Pro Circuit's Bike Becca Sheets will look to keep her win-streak as she has taken the win at the past two races. Sheets will also look to get to the front of the morning race and earn the overall win. AmPro Yamaha's Rachael Archer will aim to get back to the front and earn valuable points in the championship hunt. After earning second at the last round Babbitt's Online/Monster Energy/Kawasaki Team Green's Korie Steede is eager to run at the front of the pack once again and hopefully battle for her first win in 2021.
After racing in the Progressive American Flat Track race at Atlanta Motor Speedway, Travis Pastrana and Ryan Sipes will make their way to Indiana to race in the Sportsman A class on Sunday morning. Pastrana will be aiming to beat Becca Sheets of the WXC class, along with all the other fierce WXC competitors.
The GNCC event will begin Saturday, May 1 with ATV racing starting at 8 a.m. featuring Micro (50cc) ATV racers aged 4 to 6 years old, followed by Micro (50cc) bike racers at 8:45 and Youth racers taking to the woods at 9:30 a.m., then the amateurs, 4x4 Pro and Women at 11 a.m., and the top amateurs and pros race at 2 p.m. Round 3 of the Specialized Turbo eMTB National Championship will take place at 4:30 p.m.
Then on Sunday, May 2, the motorcycles will take to the woods of Indiana starting with the youth racing action at 8 a.m., women and amateur riders' race at 10 a.m. and the pros and top amateurs will start at 1 p.m.
For more information on the GNCC series, visit the official website at www.gnccracing.com or call (304) 284-0084. Join the conversation on the series Facebook page, follow us on Twitter and Instagram, and be sure to always hashtag #GNCC.
Dunlop Tires Tiger Run Results and Points Standings
Union, South Carolina
Round 5 of 13
Saturday, April 17-18, 2021
XC1 Pro Event Results:
Brycen Neal (YAM)
Cole Richardson (YAM)
Walker Fowler (YAM)
Hunter Hart (YAM)
Chris Borich (SUZ)
John Glauda Jr. (YAM)
Joshua Merritt (YAM)
Jarrod McClure (HON)
Austin Abney (HON)
Greg Covert (YAM)
*Overall National Championship Standings:
Walker Fowler (136)
Hunter Hart (95)
Cole Richardson (86)
Brycen Neal (85)
Jarrod McClure (82)
Chris Borich (65)
Joshua Merritt (64)
Adam McGill (63)
John Glauda Jr. (58)
Westley Wolfe (56)
*Indicates that the Overall National Championship Standings will determine the 2021 National Champion.
XC2 Pro-Am Event Results:
Branden Owens (YAM)
Ronnie Rusch (YAM)
Ben Kowalewski (YAM)
Wyatt Wilkin (YAM)
Kenny Shick (YAM)
Dylan Walraven (HON)
Grayson Eller (YAM)
Albert Jadosh (HON)
TJ Barrett (HON)
Kristian Meyer (HON)
XC2 Pro-Am Series Standings:
Ronnie Rusch (125)
Ben Kowalewski (117)
Tanner Walker (87)
Branden Owens (86)
Kenny Shick (73)
Dylan Walraven (68)
Wyatt Wilkin (64)
Grayson Eller (62)
Albert Jadosh (60)
Kristian Meyer (55)
XC1 Pro Event Results:
Steward Baylor (YAM)
Ricky Russell (GAS)
Benjamin Kelley (KTM)
Grant Baylor (GAS)
Layne Michael (YAM)
Jordan Ashburn (HQV)
Trevor Bollinger (HQV)
Joshua Toth (KTM)
Cory Buttrick (BET)
Benjamin Herrera (SHR)
*Overall National Championship Standings:
Benjamin Kelley (107)
Grant Baylor (98)
Steward Baylor (97)
Jordan Ashburn (85)
Josh Strang (83)
Ricky Russell (75)
Jonathan Girroir (70)
Joshua Toth (68)
Craig DeLong (63)
Layne Michael (41)
*Indicates that the Overall National Championship Standings will determine the 2021 National Champion.
XC2 250 Pro Event Results:
Jonathan Girroir (GAS)
Craig DeLong (HQV)
Thorn Devlin (BET)
Ruy Barbosa (HON)
Evan Smith (HQV)
Liam Draper (KTM)
Michael Witkowski (YAM)
Cody Barnes (HON)
Jesse Ansley (KTM)
Simon Johnson (KTM)
XC2 250 Pro Series Standings:
Jonathan Girroir (135)
Craig DeLong (117)
Michael Witkowski (91)
Cody Barnes (81)
Liam Draper (74)
Evan Smith (73)
Lyndon Snodgrass (73)
Ruy Barbosa (67)
Thorn Devlin (65)
Jesse Ansley (52)
To get the latest GNCC Racing clothing and merchandise visit https://www.mototees.com.
How to Watch
Racer TV and MAVTV are the official homes for coverage of the Grand National Cross Country (GNCC) events. All 13 rounds, from the season opener in South Carolina to the finale at Ironman Raceway in Indiana, will air in taped-delayed telecasts on MAVTV, while Racer TV provides live streaming coverage of the 2 p.m. ATV and 1 p.m. motorcycle races from each event. Catch all the action at http://www.mavtv.com/ and http://www.racertv.com/.
About GNCC Racing
The Grand National Cross Country Series presented by Specialized is the World's premier off-road racing series. Founded in 1975, the 13-round championship is produced exclusively by Racer Productions. Cross-country racing is one of the most physically demanding sports in the world. The grueling two and three-hour GNCC races lead as many as 2,400 riders through racetracks ranging in length from eight to 12 miles. With varied terrain, including hills, woods, mud, dirt, rocks, and motocross sections, GNCC events are tests of both survival and speed. The series draws talent from all over the U.S., Central America, South America, Europe, Japan, Australia and New Zealand. GNCC Racing is televised live on RacerTV.com. For more information, please visit www.gnccracing.com.
About the American Motorcyclist Association
Founded in 1924, the AMA is a not-for-profit member-based association whose mission is to promote the motorcycle lifestyle and protect the future of motorcycling. As the world's largest motorcycling rights and event sanctioning organization, the AMA advocates for riders' interests at all levels of government and sanctions thousands of competition and recreational events every year. The AMA also provides money-saving discounts on products and services for its members. Through the AMA Motorcycle Hall of Fame in Pickerington, Ohio, the AMA honors the heroes and heritage of motorcycling. For more information, visit www.americanmotorcyclist.com. Not a member? Join the AMA today: www.americanmotorcyclist.com/membership/join.
Media Contact:
Kayla Bolton
(304) 284-0084
[email protected]