Kayla Bolton
Time
Monday, February 22, 2021 | 9:45 AM
FOR IMMEDIATE RELEASE
VP Racing Fuels Big Buck: Motorcycle Race Report
Grant Baylor Earns Big Buck Overall Win Aboard New GASGAS
UNION, S.C. (February 22, 2021) – The 2021 Grand National Cross Country (GNCC) Series presented by Specialized, an AMA National Championship Series, completed round one of racing on Sunday, February 21, 2021 in Union, South Carolina. For the second-straight year cool and partly sunny conditions greeted the GNCC Racing Nation.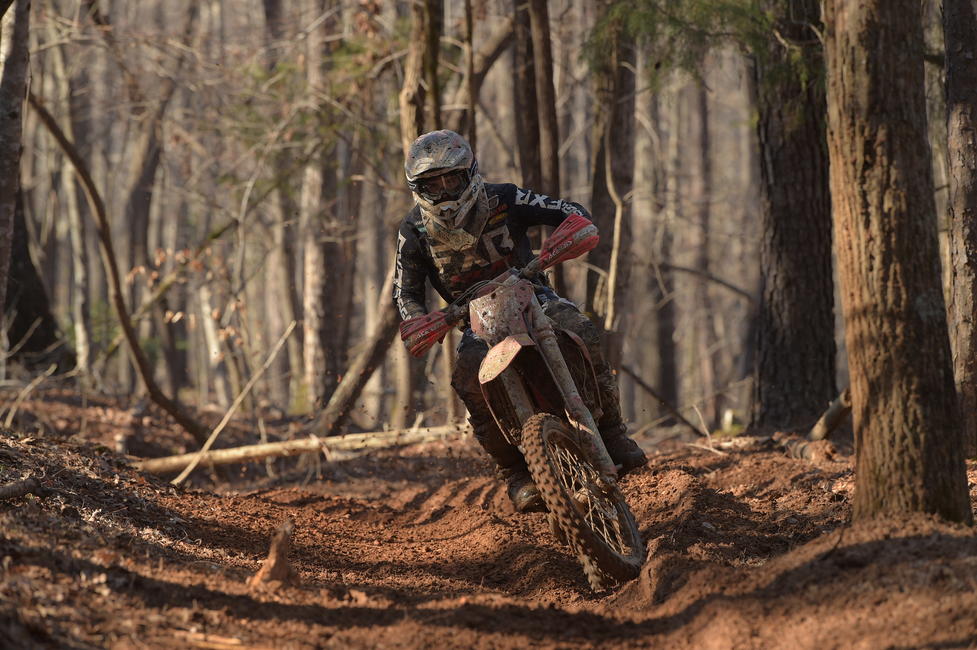 Coming back from a seventh place start to take the first overall win at Big Buck was KLM Milwaukee GASGAS' Grant Baylor. As Baylor steadily made his way through the field of riders, he would make the pass for the lead with three laps remaining. Baylor put his head down and pushed building almost a 20 second lead as he crossed the finish line to a waving checkered flag.
Rockstar Energy Factory Husqvarna Racing's Thad Duvall earned second overall on the day. After missing the majority of 2020 due to injury, Duvall was eager to get back to racing at the front of the pack. Duvall made the move into second after two laps of racing and remained there until the checkered flag flew.
Earning some extra cash was Babbitt's Online/Monster Energy/Kawasaki Team Green's Josh Strang as he crossed the line first for the $250 All Balls Racing XC1 Open Pro Holeshot Award. Strang would battle throughout the race as he made his way back up to third on the last lap of racing.
Jordan Ashburn earned fourth overall aboard his new Magna1 Motorsports/Husqvarna team. Ashburn had a rollercoaster ride of a day as he held the lead at one point, and even managed to hold onto third for majority of the race. However, Ashburn would be unable to hold off a hard-charging Strang and would cross the line 12 seconds behind.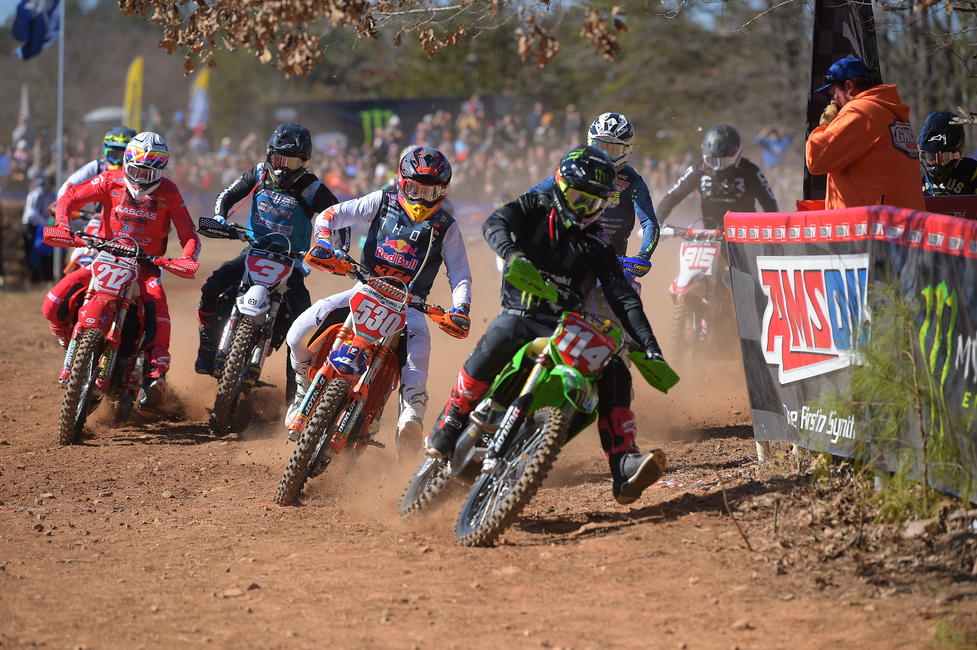 After holding the early lead, FMF/KTM Factory Racing's Ben Kelley would have to make up ground on the third lap as he came through timing and scoring in seventh. As the race went on, Kelley began picking off riders and making the passes stick. By the time the checkered flag waved Kelley had salvaged a top five overall finishing position.
Earning sixth on the day was Coastal GASGAS Factory Racing's Ricky Russell. At the halfway point of racing, Russell found himself running third overall but would be unable to hold off some of his hard-charging competitors as the race wore on. Russell also missed most of the 2020 season after an injury at round four had him on the mend and is now aboard a new GASGAS motorcycle for the 2021 season.
AmPro Yamaha's Layne Michael would come around on the opening lap in the second place position and would continue to battle up front for the first couple laps of racing. As the race worse on Michael would be unable to hold off some of his competitors, ultimately coming through the finish line seventh in XC1 and eighth overall.
Coming through to take eighth in the XC1 class was FMF/KTM Factory Racing's Josh Toth. After starting in the back of the pack, Toth would remain focused and try to push to make the necessary passes towards the front of the pack. However, Toth would run out of time as he crossed the finish line eighth after undergoing hand surgery just two weeks ago.
Factory Beta's Cory Buttrick ran a consistent race aboard his new team. Buttrick would hold onto the ninth place position in XC1 for the duration of the three-hour race. Earning a top 10 in his class and 16th overall on the day. After making his way to the United States just days ago, and being stuck in the Texas ice storm, RedBull/MCS Racing Sherco's Benjamin Herrera rounded out the top 10 finishers in the XC1 Open Pro class. Herrera, who is a hard endure rider, stepped out of his comfort zone to try his hand at the GNCC event and made his way into the top 10.
Grabbing the $100 Hot Cams XC2 Holeshot Award was AmPro Yamaha's Mike Witkowski. As the pack of XC2 250 Pro class riders came through timing and scoring Witkowski would find himself in the fourth place position, as Coastal GASGAS Factory Racing's Jonathan Girroir led the way. Witkowski would put his head down and push, making the pass for the lead stick. After six laps of intense racing Witkowski would cross the finish line first in his class with over a minute gap back to second.
Rockstar Energy Factory Husqvarna Racing's Craig DeLong made his way up to the front after a mid-pack start to the day. DeLong would come through to finish second in the XC2 250 Pro class after battling with his fellow XC2 competitors for multiple laps of the race. DeLong, who is currently defending his 2020 XC2 Championship, was happy to come away with a second place finish and will be ready to battle for a win in Florida.
Rounding out the XC2 podium was Babbitt's Online/Monster Energy/Kawasaki Team Green's Lyndon Snodgrass. After earning a podium at Ironman last in 2020, Snodgrass made his return from Australia to take on XC2. Snodgrass would have a back-and-forth day as he swapped positions multiple times before making a last lap pass to hold onto the last podium position. Max Motorsports/FXR/Forma Boots' Evan Smith brought home a fourth place finish in XC2, with Phoenix Racing Honda's Cody Barnes rounding out the top five. After leading the opening lap, Girroir would finish sixth on the day.
As the FMF XC3 125 Pro-Am class took off it was Lojak Cycle Sales/Yamaha's Chase Colville grabbing the $100 Lojak Cycle Sales XC3 Holeshot Award. Colville would soon feel the pressure from Magna1 Motorsports/Husqvarna's Jonathan Johnson as Johnson would make the pass for the lead on lap one. Johnson and Colville would battle for most of the day swapping the lead around the halfway point. Colville would lead as they came around on the fourth lap, but Johnson would soon regain the lead as the white flag was waving. Johnson came through to take the FMF XC3 class win, with Colville 29 seconds back. The 2020 FMF XC3 Champion and Carolina KTM/Moose Racing/XC Gear's Zack Hayes battled his way back from a fifth place start to round out the podium in third.
Taking home Top Amateur honors from the afternoon race in South Carolina was Open A rider, Nathan Rector, who finished 24th overall and first in his class. Will Sievenpiper placed second in Open A and 25th overall, with Dakota Devore earning 28th overall and the 250 A class win.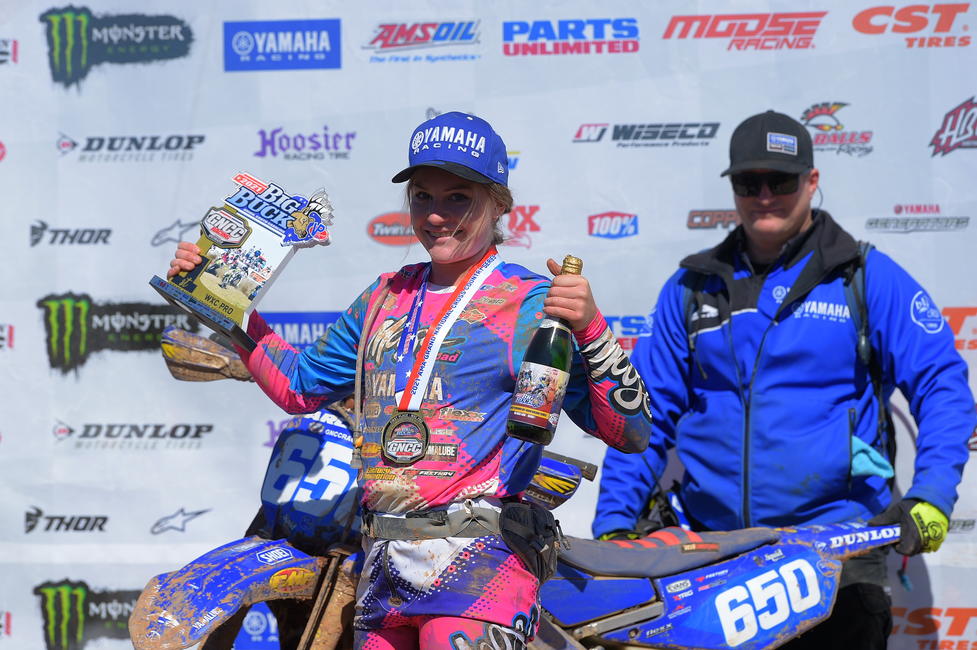 As the 10 a.m. race got underway over 670 riders took to the woods of South Carolina, and as the WXC class took off it was Babbitt's Online/Monster Energy/Kawasaki Team Green's Korie Steede grabbing the $100 Trail Jesters WXC Holeshot Award. As the pack of WXC riders headed into the woods AmPro Yamaha's Rachael Archer would make the pass for the lead and begin to push even harder. Archer would continue place a gap over the rest of the field for the duration of the 2-hour race, as she would ultimately cross the line over a minute ahead of the competition.
Battling her way back for a second place overall and WXC class finish was the WXC defending champion, and BABS Racing Yamaha/Maxxis/Pro Circuit's Becca Sheets. Sheets would start off the day in third as she came around on the opening lap, but she would soon fall back to fourth before making the necessary passes as the white flag flew indicating one more lap to go. Factory Beta's Rachel Gutish rounded out the WXC podium at round one after running at the front of the pack for majority of the day.
It was an YXC1 Super Mini Sr class sweep at the end of the youth race. Cole Forbes would come through to take the overall and class win at round one followed by Caleb Lane and Nicholas Defeo rounding out the overall podium. Both Lane and Defeo also brought home second and third place finishes in the YXC1 class. Chase Landers and Thor Powell battled back to round out the top five overall youth finishers. While Andrew Segars, Peyton Feather and Robert Weiss earned the top three positions in the YXC2 Super Mini Jr. class. Mason Raynor was the first non-YXC rider to cross the line as he took the 85cc (7-11) class win.
Jason Flynn was nominated and awarded the AMSOIL Moto Hero at round one. Flynn served in the United States Marine Corps, both in active duty and in the reserves for 20 years. He was deployed five times to three different continents including Iraq where he was assigned to units in Ramadi and Fallujah. Flynn raced Motocross and was named by Jason Weigandt in 2003 as "The Flying Captain," but in 2004 the USMC moved him to Oklahoma and then onto deployment. After retiring from racing for 15 years, Flynn has reemerged to enjoy the GNCC Series. Flynn raced in the Super Senior B (45+) class at and would bring home the class win. Flynn was awarded a $250 AMSOIL Shopping spree, Kanati Lite Truck tires from GBC, a commemorative American flag courtesy of Columbia Flag & Sign Co. along with a certificate from their store. 100% Goggles also donated a pair of goggles and ARMA will be sending a Black Edition – ProKit full of ARMA supplements and gear. Thank you for your service Jason Flynn!
Two highlight shows featuring ATVs and motorcycles will be featured on MAVTV at a later date.
For more information on the GNCC series, visit the official website at www.gnccracing.com or call (304) 284-0084. Join the conversation on the series Facebook page, follow us on Twitter and Instagram, and be sure to always hashtag #GNCC.
VP Racing Fuels Big Buck Results and Points Standings
Union, South Carolina
Round 1 of 13
Sunday, February 21, 2021
XC1 Pro Event Results:
Grant Baylor (GAS)
Thad Duvall (HQV)
Josh Strang (KAW)
Jordan Ashburn (HQV)
Ben Kelley (KTM)
Ricky Russell (GAS)
Layne Michael (YAM)
Josh Toth (KTM)
Cory Buttrick (BET)
Benjamin Herrera (SHR)
*Overall National Championship Standings:
Grant Baylor (30)
Thad Duvall (25)
Josh Strang (21)
Jordan Ashburn (18)
Ben Kelley (16)
Ricky Russell (15)
Michael Witkowski (14)
Layne Michael (13)
Craig DeLong (12)
Lyndon Snodgrass (11)
*Indicates that the Overall National Championship Standings will determine the 2021 National Champion.
XC2 250 Pro Event Results:
Michael Witkowski (YAM)
Craig DeLong (HQV)
Lyndon Snodgrass (KAW)
Evan Smith (HQV)
Cody Barnes (HON)
Jonathan Girroir (GAS)
Liam Draper (KTM)
Jesse Ansley (KTM)
Ruy Barbosa (HON)
Thorn Devlin (BET)
XC2 250 Pro Series Standings:
Michael Witkowski (30)
Craig DeLong (25)
Lyndon Snodgrass (21)
Evan Smith (18)
Cody Barnes (16)
Jonathan Girroir (15)
Liam Draper (14)
Jesse Ansley (13)
Ruy Barbosa (12)
Thorn Devlin (11)
To get the latest GNCC Racing clothing and merchandise visit https://www.mototees.com.
How to Watch
Racer TV and MAVTV are the official homes for coverage of the Grand National Cross Country (GNCC) events. All 13 rounds, from the season opener in South Carolina to the finale, will air in taped-delayed telecasts on MAVTV, while Racer TV provides live streaming coverage of the 2 p.m. ATV and 1 p.m. motorcycle races from each event. Catch all the action at http://www.mavtv.com/ and http://www.racertv.com/.
About GNCC Racing
The Grand National Cross Country Series presented by Specialized is the World's premier off-road racing series. Founded in 1975, the 13-round championship is produced exclusively by Racer Productions. Cross-country racing is one of the most physically demanding sports in the world. The grueling two and three-hour GNCC races lead as many as 2,400 riders through racetracks ranging in length from eight to 12 miles. With varied terrain, including hills, woods, mud, dirt, rocks, and motocross sections, GNCC events are tests of both survival and speed. The series draws talent from all over the U.S., Central America, South America, Europe, Japan, Australia and New Zealand. GNCC Racing is televised live on RacerTV.com. For more information, please visit www.gnccracing.com.
About the American Motorcyclist Association
Founded in 1924, the AMA is a not-for-profit member-based association whose mission is to promote the motorcycle lifestyle and protect the future of motorcycling. As the world's largest motorcycling rights and event sanctioning organization, the AMA advocates for riders' interests at all levels of government and sanctions thousands of competition and recreational events every year. The AMA also provides money-saving discounts on products and services for its members. Through the AMA Motorcycle Hall of Fame in Pickerington, Ohio, the AMA honors the heroes and heritage of motorcycling. For more information, visit www.americanmotorcyclist.com. Not a member? Join the AMA today: www.americanmotorcyclist.com/membership/join.
###
Media Contact:
Kayla Bolton
(304) 284-0084
[email protected]