Jared Bolton
Time
Thursday, October 1, 2020 | 1:55 PM
Welcome to Quick Fill.
That was yet another great weekend of racing, was it not? It seems like the last several times we've visited Sunday Creek Raceway we've been dealt a poor hand with the weather but this time it was finally dry! In fact, it was really dry and we did have some dust to contend with but overall it was actually really, really good. For me, I felt like that was the best track I've ever ridden there and the conditions definitely helped in that. Not just because it was dry on the track but the fact that the layout felt a lot different than we've gotten used to at The John Penton.
The track crew was able to make that happen because we knew it was going to be dry. We didn't have to prepare for the potential of rainfall making that slick Ohio clay even slicker. Big kudos go out to Ryan Echols for the layout. I had folks come up and tell me how much they enjoyed it and I just simply had to let them know that Ryan was the mastermind behind that layout. I got there Tuesday morning and Ryan said, "I've got a good plan. We can have this thing arrowed this afternoon!" Well, that's exactly what we did, and it turned out awesome.
It also seemed like the layout made for some great racing as well as the ATV guys put on a good race, and how about that long loop for the bikes? I finished the first sweep lap for the PM bike race before the leaders ever caught me and came back to our work area for a drink. Sitting there, I noticed it was a bit quiet. Everyone was out on the course and there were no bikes rolling through the pits for quite some time. The only sounds I heard were just the hum of generators, announcers on the PA and bikes pretty far off in the distance. It was almost like the pit area at an enduro event, which if you've never been to a true enduro event, a lot of times you leave the pits and don't come back until the race is over.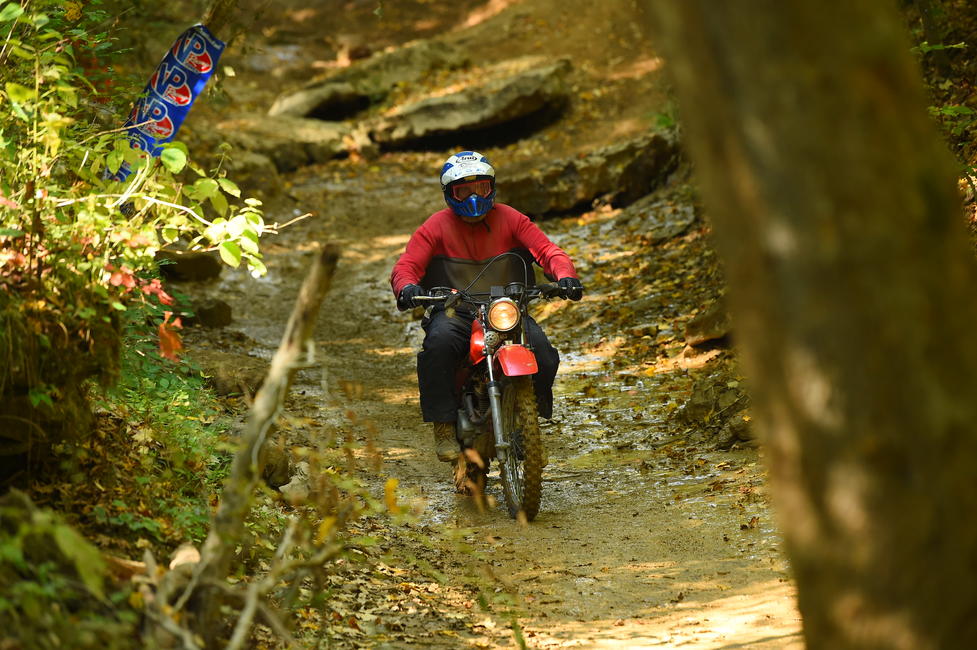 One thing I did notice during that opening sweep lap was that I passed a guy on a vintage Honda wearing a US ISDE Team skunk stripe helmet. Well, as it turns out that was actually Curt Wilcox who is a ten-time ISDE competitor. While it's been a number of years, Curt is no stranger to GNCC competition as he's raced with us many times over the years. Curt turned three laps on that old Honda in just over three hours earning himself a 14th place finish in the 4-Stroke A Lites class. That's pretty impressive considering Curt is actually old enough for the Golden Masters class!
Typically I dread cleaning up the track on a Monday, but I headed out to The John Penton Section and picked the arrows, tape and string out on the majority of that section, minus the spots you were out in the open fields over there. I did it on my KTM 300 sweep bike, which was actually a nice change of pace. We had a little extra help with Monday's clean up as former GNCC competitor, DR Atwood came out and helped us clean the place up. DR won a bunch of Youth overalls, and claimed a good number of A class victories with a few really impressive overall finishes in the days prior to the addition of the XC2 class. It's always cool to see some top talent from the past show up, and it's even cooler to see them lend a hand!
Now we begin to turn our attention to the Mason-Dixon GNCC coming up next weekend. You can expect this one to be a bit different than the High Point GNCC we ran back in early summer. I know a lot of folks really enjoyed the High Point event, so we'll work to have a similar type of course but don't expect the same thing. We'll dive further into the Mathews Farm property where the Mason-Dixon is based out of, and we'll run out across the West Virginia state line as well. This is always a really cool event and this time promises to be just as exciting.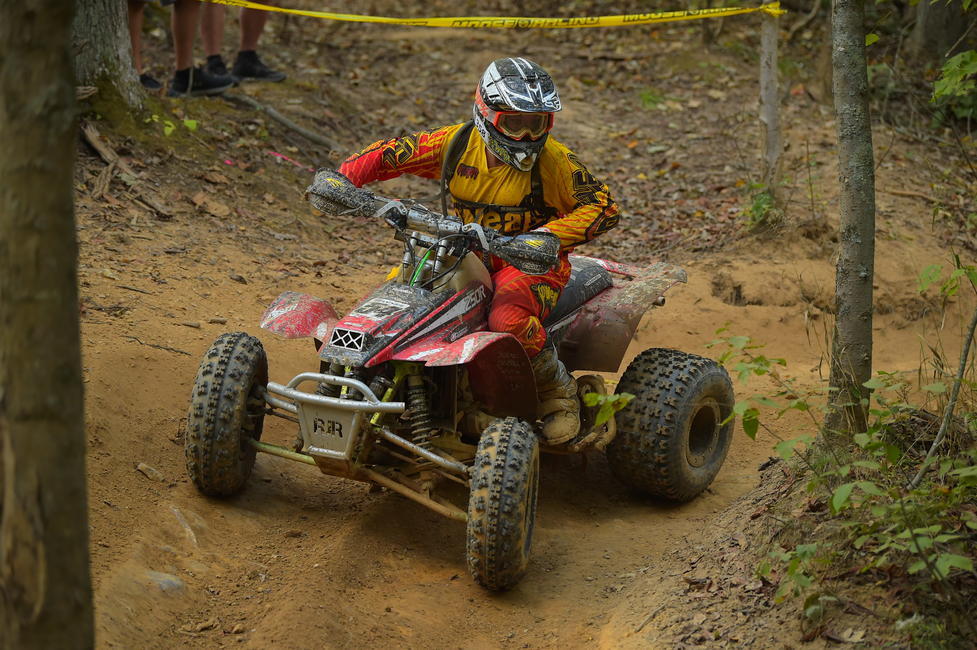 When it comes to excitement, right now the bike ranks just might be full of excitement. Steward Baylor seems to be meshing really well with that Yamaha as he now has back-to-back wins in the previous two rounds. Stu is on fire, and will come into Mason-Dixon with all eyes on him, but the big question surrounds Kailub Russell. A lap two accident left KR with a banged up knee last weekend and we haven't really seen or heard anything about it since the weekend. Kailub still needs to score some points, or hope that Josh Strang scores as few points as possible before he can wrap up the championship.
At the same time, we saw Maggie Duvall's Instagram story where she shared a promo of Mason-Dixon and said that she has "never been so excited to pre-register for a race in her life" So, it looks as if Thad Duvall just might be making his return at Mason-Dixon... That is, unless, Maggie herself has decided to go out and do some racing. Either way, this adds yet another level of excitement and of course makes people wonder if we could also see Thad's teammate, Trevor Bollinger, back as well. This could create the most exciting race of the season.
While all of this is happening, there's also an all-out war going on in the XC2 class. Johnny Girroir now has three-straight wins but Craig Delong, as always, is Mr. Consistent and sits just nine points behind Johnny. To top it off, Mike Witkowski is also in striking distance just 20-points out of the lead. This three-rider battle for the XC2 title is one of the closest XC2 battles we've ever had and adds yet another level of excitement. Yes, I've said "excitement" about 100 times so far in this edition of Quick Fill. Should I bring back the word "epic" that Rodney and I used a whopping 85 million times about eight years ago? Those were epic times.
While we're talking about Mason-Dixon, the dog show is back! Yes, the 6th Annual Mowgli Memorial Dog Show will take place on Saturday evening at Mason-Dixon at 7PM. There are a number of classes for different sizes and ages of dogs and they'll be judged on several different factors including appearance, agility and attire. You can check out the event page HERE for more info.
Also, if you check out that event page please make note of several things. First you will see that there is NO FISHING allowed at this event. Also, the hayfields are private property. So, if you're not in the pit area or on the racecourse, stay out of the fields. It will be easy to tell the difference, as we'll have signage to let you know where you are not allowed to go. Please abide by these rules or you may find yourself disqualified or removed from the event all together. Those hayfields are a big part of how the landowners make a living, so please respect their property and business how you would like your property respected.
Mason-Dixon will be co-sanctioned with our friends at New East Coast XC. The series is ran by our buddy Ronnie Paul Wilson, who helps the track crew out at GNCC events and is a long-time off-road enthusiast as well. They're also hosting one of their Buddy Race events this weekend at High Point, the same time we'll be running a PAMX motocross event. So, if you're looking to do some racing this weekend we've got a few big opportunities to do so right across the street from Mason-Dixon. Check out the High Point website for more info.
Late breaking news as I'm getting ready to post this: We just announced our Virtual Banquets. As you can imagine, there will be no banquets taking place this year but we will have virtual banquet and riders meetings. Check out the Competition Bulletin HERE.
That's all I've got for this week. As usual, next week's edition of Quick Fill will feature a teaser of what to expect at the Mason-Dixon. Until then, enjoy your weekend and we'll see you back here next week.
Catching Up With Ken (Ken Hill)
I must say that I was kind of hyping up the Burr Oak venue in last weeks Quick Fill simply to satisfy my desire to not have to shoot the same venue all over again. There was all truth in what I wrote and I have to commend the crew for providing what I feel was probably the best layout I have ever encountered there. It was fun to shoot even if the lighting was all over the map and we faced some dusty sections but overall a job well done.
The racing itself was pretty spectacular with some new names earning wins or finishing well all through the ranks. Walker Fowler is still pushing hard to get back to where he wants to be and Brycen Neal took full advantage and cleaned house with a win and a hometown favorite joined them both as Adam McGill found the podium yet again. I didn't get to ask Adam what he thought had changed but he was happy and smiling so whatever the reason I am sure he will take it. The morning ATV race saw Hannah Hunter take the WXC championship as she continues her rise to the top tier of our sport. She laughed, she cried and she became the first of many that caught me off guard at the podium with a nice spray of champagne! 4x4 Pro, well it was once again Landon Wolfe powering to a win as he is well on his way to another championship and its well earned as the class has been hunting him down since the first flagged dropped in this insanely crazy season. Overall, the ATV races have really started becoming more exciting as we see some changes in the running order.
The eMTB race was all Charlie Mullins as he cruised to another win and at each race I love seeing the efforts put in by everyone. Its an amazing experience to watch the physical aspect of this style of racing that does it for me, its fun too however not that exciting and that's ok. Winding down a day filled to the rim with racing with some solitude and quiet fits nicely. Speaking of quiet, the electric motorcycles in the Micro classes sneak right up on you! Be careful out there when they are racing or put a bell on them, ha!
On the bike side, Rachel Archer has been on a tear as of late and sealed the deal on another win in the WXC class but the attention and rambling through the pits was all about Steward Baylor. Everyone wanted to see if he could repeat his last round win and the answer would soon come. After the starts I was in a bottom near the Monster Mile section and could hear the leader approaching but couldn't see who it was. The cheers that erupted told everyone Baylor was in control and he kept it that way until the race ended giving him another solid win. While Baylor was winning, Kailub Russell was in the pits after a crash in the John Penton section. I found out that Josh Strang had stopped to help him and if that act doesn't tell you the real story of GNCC rain than nothing will. I am very proud of Strang and hope many follow in his boot prints over the years, a true hero to our sport and industry!
That's about all from me this week as I am running behind playing catch up. Between the fall gardens, deer season, the photo work and generally doing my best chicken with its head cut off routine, this week has flown by. That reminds me, it's also time to work up our meat birds so add another thing to the list. As always, may the good Lord continue to bless us ass and be safe in all you do, see you at the next round!