Jared Bolton
Time
Thursday, March 19, 2020 | 4:25 PM
Welcome to Quick Fill.
Three rounds are down so far in 2020, and we're hoping the rest of the season is just as exciting as these first three rounds. Yes, we know there's a lot of craziness happening right now around the world, and it's had an effect on GNCC Racing as well. If you haven't already read the PR, we've officially cancelled the next event and will most likely be utilizing the rain date in July. That's not set in stone just yet, so keep an eye out for updates as soon as we have a final decision. We'll leave it at that for this week and focus this week's edition of Quick Fill on the good and entertaining news pertaining to GNCC Racing.
As mentioned, we're three rounds in and what an exciting season it has already been. We've seen some great racing from the professional ranks, all the way down to the micros. Walker Fowler and Kailub Russell have been the overall winners at all three events, but both of them have had to fight for those wins at some point. Also exciting is that the XC2 bike class has seen three different winners in these first three rounds. This gets us excited for what to expect out of the rest of the season, and there's no doubt that this could be one of the most entertaining seasons in quite some time!
Last weekend's General GNCC in Georgia really turned out to be an awesome weekend. Some folks were worried about the amount of rain Georgia had received prior to the event, and for a bit there was rain in the forecast during the week leading up to it. However, those rains stayed away and while there were several muddy spots scattered throughout the course, most of the folks I talked to really enjoyed it and had a blast. Walker Fowler seemed to really enjoy it as he was able to establish a bit of a lead on Saturday and take his third straight win of the season. Meanwhile, Brycen Neal and Chris Borich duked it out for the second place position, and Jarrod McClure and Cole Richardson also challenged those guys around the midway point of the race.
This four rider battle for the second place spot was one to watch, but you also had to consider that one bit of misfortune from Fowler during that time would have made it a four or five rider battle for the race win! In the end, Fowler held on with Neal in second and Borich rounding out the podium in third. Undoubtedly, it was still an exciting race and it shows that not only is Neal looking for race wins, but Borich still has a lot of fight left in him as well!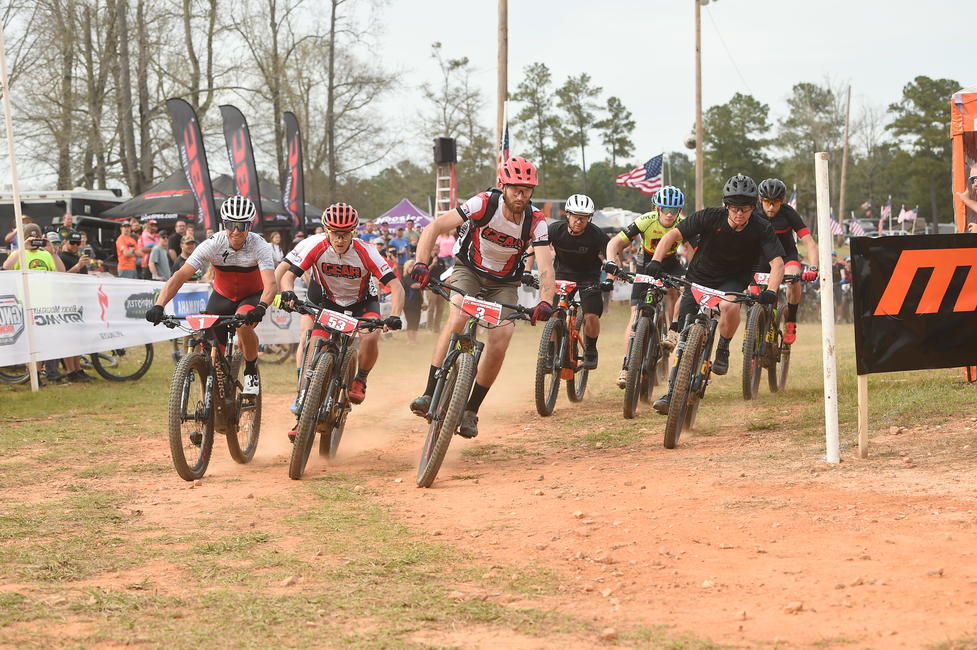 We also saw the Specialized Turbo eMTB GNCC National Championship return last weekend in Georgia for their first round of the season. With 60 eMTB racers taking part in the event, it was also an exciting part of the weekend as well. We really hope to continue to see the type of growth the eMTB racing has seen over the past year, and it's pretty unique for a GNCC event to get quieter at the end of Saturday and still see intense racing happen at the same time. Charlie Mullins picked up right where he left off in 2019 by claiming the overall win, but it wasn't a blow out win.
Charlie's brother in law, John Ayers Jr, would end up in second just a hair over a minute behind Charlie after over an hour of racing. John's second place didn't come without a challenge either as Will Pegram ended up third place just around 17 seconds behind Ayers. Of course, it didn't end there as Seth Stevens finished fourth and was just about 25 seconds behind Pegram. That's definitely some pretty tight racing and if it's any indication of what we could expect from the eMTB side in 2020, then we very well could end up seeing the type of close racing that fans are wanting to see.
Sunday's motorcycle race proved to be a barnburner as Kailub Russell and Steward Baylor would battle through the final corners of the race for the win. I recapped a bit of it for the guys at Racer X this week, so instead of re-writing the entire thing, make sure you check out Four Things We Learned at the Wild Boar and The General GNCCs. If you're low on time and can't read it, and missed the clips so far, essentially Steward Baylor went a little too hard into one of the last three turns, missed a rut and allowed Kailub Russell to make the pass for the win. Stu fully admits that he "blew it" (his own words!) but his performance at The General is nothing to scoff at!
He rode really well, and has shown that the Sherco is capable of running at the front of the XC1 pack. Right now, the toughest thing for Stu is adjusting and working with a new team on a new, much smaller brand. Aftermarket part manufacturers don't offer much in the way of Sherco parts because in recent years the brand has been such a small and niche brand that they simply can't afford to produce those parts and sit on the inventory. However, they've noticeably grown over the last year and these companies will ultimately take notice. It takes time for this all to come together, but we're watching history unfold. This is the time where Sherco grows to be a trusted brand, similar to the competition such as KTM, Husqvarna, Yamaha, Honda and Suzuki.
Outside of the happenings last weekend, things are a little on the quiet side. With all the drama happening in the world today, folks are kind of staying low key and with so many events cancelling or rescheduling, there's not much else to talk about. Thankfully, we've got some folks who still want to keep the entertainment going. Our own Rodney Tomblin has been working on some podcasts, expanding from his Quad Radio project to the 10 Seconds Podcast. He caught up with Becca Sheets, and it's definitely worth the listen. Check it out below!
Rodney also caught up with Josh Merritt, who made time after the Wild Boar GNCC to go try his hand at the ATV Motocross series when those guys went racing at Daytona International Speedway. You can check that one out below as well.
And, for readers who are active AMA members, make sure you check out the interview with Traci Pickens in your latest edition of American Motorcyclist. Traci is so accomplished that it's always cool to catch up on what she has to say!
That's going to do it for this week's edition of Quick Fill. Enjoy your weekend and just remember; just because there's no racing going on, doesn't mean you can't go do some riding!