Kayla Bolton
Time
Tuesday, December 10, 2019 | 10:40 AM
FOR IMMEDIATE RELEASE
Kayla Bolton
(304) 284-0084
[email protected]
GNCC Racing Recognizes Top Racers and Sponsors at 2019 Night of Champions
Over 100 ATV, eMTB and Motorcycle National Champions Crowned
MORGANTOWN, W.Va. (December 10, 2019) – With the 2019 AMSOIL Grand National Cross Country (GNCC) Series presented by Specialized, an AMA National Championship, complete, the annual GNCC Night of Champions took place this past weekend, December 6 and 7, at the Morgantown Marriott at Waterfront Place in Morgantown, West Virginia. Over 1,300 racers and family members from all over the country came together to celebrate the prestigious accomplishments of the top 10 racers in each championship class.
After opening ceremonies and dinners on Friday and Saturday evening, the Masters of Ceremonies, Rodney Tomblin and Mikey Waynes took to the stage to honor each championship class. In addition, a handful of specialty awards and recognition of series sponsors and supporters took place. The best ATV and eMTB racers were honored in front of about 600 people on Friday evening, while over 700 attendees filled the room Saturday evening to honor the top motorcycle races in the series. For a full list of 2019 GNCC champions please click HERE.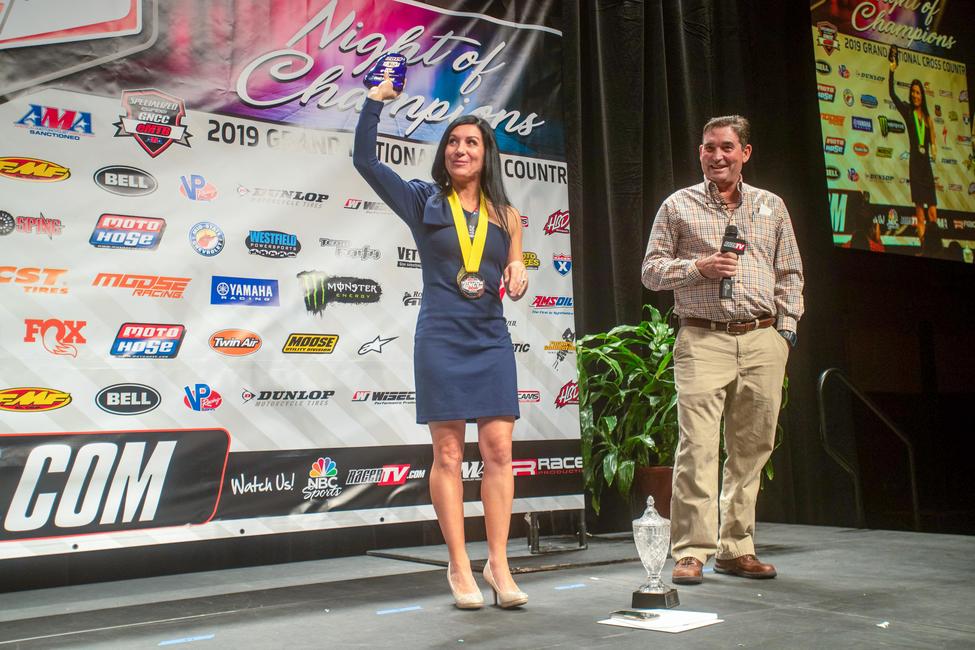 Traci Pickens was named ATV Rider of the Year Friday evening after earning her 12th Grand National Cross Country Series' WXC ATV National Championship this season. Pickens' was also awarded AMA ATV Athlete of the Year on Saturday evening in Columbus, Ohio for her success in GNCC Racing. Pickens is the first female athlete to take home GNCC and AMA ATV Rider of the Year awards.
On Friday evening, Walker Fowler celebrated his fifth-straight ATV GNCC National Championship. Fowler was presented his diamond-studded championship ring, which now has five diamonds placed on it. Kailub Russell took home Motorcycle Rider of the Year honors on Saturday after earning his seventh-straight GNCC National Championship. Russell was awarded his championship ring, with seven diamonds placed in it to represent his championship titles.
The president of KTM North America Inc., John Hinz, was in attendance Saturday evening to support the series and KTM-backed riders. Hinz was presented the Manufacturers Cup, which was awarded to KTM North America for the motorcycle discipline. Yamaha Motor Corp. was awarded the Manufacturers Cup on Friday evening for the ATV discipline. The Manufacturer Cup is presented to the OEM with the most points awarded throughout the year from their two (2) highest placed overall finishers at each round.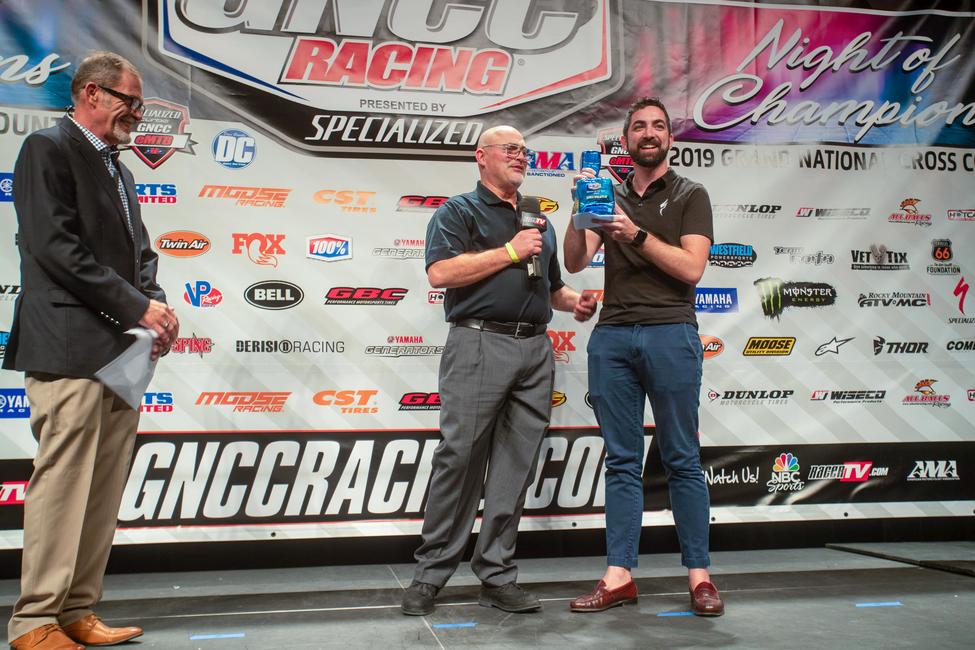 Specialized took home Sponsor of the Year honors for their new role as the Presenting Sponsor, while also becoming the title sponsor of the newly-formed Specialized Turbo eMTB GNCC National Championship Series. Earlin Rosa, Eastern Turbo Channel Developer for Specialized, was on-site to accept the award. Rosa also presented Specialized eBikes to Charlie Mullins for his eMTB XC1 Pro Championship, Kevin Yoho and Simon Johnson for their Amateur of the Year accomplishments, and also to Justin Ison and Tanner Collins, who were randomly drawn as two additional winners.
A full list of the 2019 Specialty Award Winners can be found below:
ATV Night Awards
Bike Night Awards
Rider of the Year – Traci Pickens
Rider of the Year – Kailub Russell
4x4 Rider of the Year – Landon Wolfe
Amateur Rider of the Year – Simon Johnson
Amateur Rider of the Year – Kevin Yoho
Youth Rider of the Year – Joseph Cunningham
Youth Rider of the Year – Parker Henderson
Rough & Ready Pit Crew – Mark Myers
Bad Ass Award – Jake Stratton
Special Achievement – 2019 ISDE Competitors
Manufacturers Cup – Yamaha Motor Corp.
Manufacturers Cup – KTM North America
State Championship – Pennsylvania
State Championship – West Virginia
Sponsor of the Year - Specialized
In Memoriam – Lillian Harris, Joshua Layton, Nathan Martin, Renee Zrebny, Wilma Kiger, Charles Hyde, Russ Bennett
In Memoriam – Ayden Konkler, Susan Horner, Cletis Miller, Margaret Johnston
For the seventh year, Rocky Mountain ATV/MC returned with their Ticket to Ride program. Four lucky winners received a paid trip-for-two to Moab, Utah for a riding expedition with the Rocky Mountain ATV/MC staff to take place this upcoming spring. A congratulations goes out to Friday night's winners, Michael Relyea from High Springs, Florida and Robbie Pecorari from Aston, Pennsylvania, who will be provided with Side-by-Side machines on the trip. Saturday night's winners, Matt Sorge from Atco, New Jersey, Chase Colville from West Sunbury, Pennsylvania and Ryan Echols from Fairmont, West Virginia will be provided motorcycles on their trip in the spring.

Contingency awards were distributed to the top five finishers in each class, with door prizes randomly awarded to racers throughout the evening. Those prizes included 10 FMF exhaust pipes while Monster Energy sent over a Nascar Hood, Guitar, Snowboard, LED Claw sign and wet backpacks. GNCC series sponsors stepped up to distribute several thousand dollars' worth of prizes including, customized Championship jackets, free set of graphics, ATV and motorcycle tires, GNCC series sweatshirts and t-shirts, umbrellas, duffle bags, hats, socks, goggles and more. A special thanks goes out to AMSOIL, HBD MotoGrafx, CST Tires, Moose Racing, Thor/Parts Unlimited, Rocky Mountain ATV/MC, 100% Goggles, FMF Racing, Monster Energy, Dunlop, Wiseco, Cometic, Tire Spine, Twin Air and Moto Tees.
Immediately following the awards, musical entertainment was provided by DJ ELO, as GNCC Racers and their families continued the celebration on the dance floor. GNCC also provided a free photo booth to capture the evening's festivities, as well as a kid-friendly Fun-Zone right outside of the banquet room including an inflatable three-person bungee race and life size Connect Four.
For those racers unable to attend the GNCC Banquet, awards can be obtained by filling out the GNCC shipping form HERE. Racers will be responsible for the cost of shipping and handling prior to shipping the award, and request can be made until December 31, 2019.

The 2020 Grand National Cross Country Series presented by Specialized, an AMA National Championship, will kick off with the Big Buck GNCC in Union, South Carolina the weekend of February 22 and 23. The full 2020 schedule will be released at a later date.
For more information on the GNCC series, visit the official website at www.gnccracing.com or call (304) 284-0084. Join the conversation on the series Facebook page, follow us on Twitter and Instagram, and be sure to always hashtag #GNCC.
About GNCC Racing
The Grand National Cross Country Series presented by Specialized is America's premier off-road racing series. Founded in 1975, the 13-round championship is produced exclusively by Racer Productions. Cross-country racing is one of the most physically demanding sports in the world. The grueling three-hour GNCC races lead as many as 2,400 riders through tracks ranging in length from eight to 12 miles. With varied terrain, including hills, woods, mud, dirt, rocks, and motocross sections, GNCC events are tests of both survival and speed. The series draws talent from all over the U.S., Central America, South America, Europe, Japan, Australia, and New Zealand. GNCC Racing is televised on RacerTV.com, with highlight shows posted after every round of racing. For more information, please visit www.gnccracing.com.
About eMTB Racing
The Specialized Turbo eMTB GNCC National Championship brings off-road racing and pedal-assist or electric bicycles together for an eight-round championship produced by Racer Productions. Much like a typical cross-country racing event, these races feature varied terrain featuring hills, rocks, roots, and more but are limited to electric, or pedal assist model mountain bikes only. For more information, please visit www.gnccracing.com.
About the American Motorcyclist Association
Founded in 1924, the AMA is a not-for-profit member-based association whose mission is to promote the motorcycle lifestyle and protect the future of motorcycling. As the world's largest motorcycling rights and event sanctioning organization, the AMA advocates for riders' interests at all levels of government and sanctions thousands of competition and recreational events every year. The AMA also provides money-saving discounts on products and services for its members. Through the AMA Motorcycle Hall of Fame in Pickerington, Ohio, the AMA honors the heroes and heritage of motorcycling. For more information, visit www.americanmotorcyclist.com. Not a member? Join the AMA today: www.americanmotorcyclist.com/membership/join.