Rachel Gutish
Time
Tuesday, December 3, 2019 | 3:30 PM
Stemming from the grassroots of family racing, Wiseco has over 75 years experience manufacturing pistons, whether it be for fun, weekend riding, or professional racing. Wiseco is one of the few manufacturers forging pistons in the U.S., providing quality and performance you can trust. 
Click here
 to see the latest Tech Tips from Wiseco.
Damien Hawkins is an up-and-coming racer from Bear Branch, Kentucky. The thirteen-year-old won the YXC1 supermini class title this year, and won six consecutive races. He plans to move up to the adult race next season and compete Schoolboy Senior class. Like many promising young riders, he also hopes to go pro someday.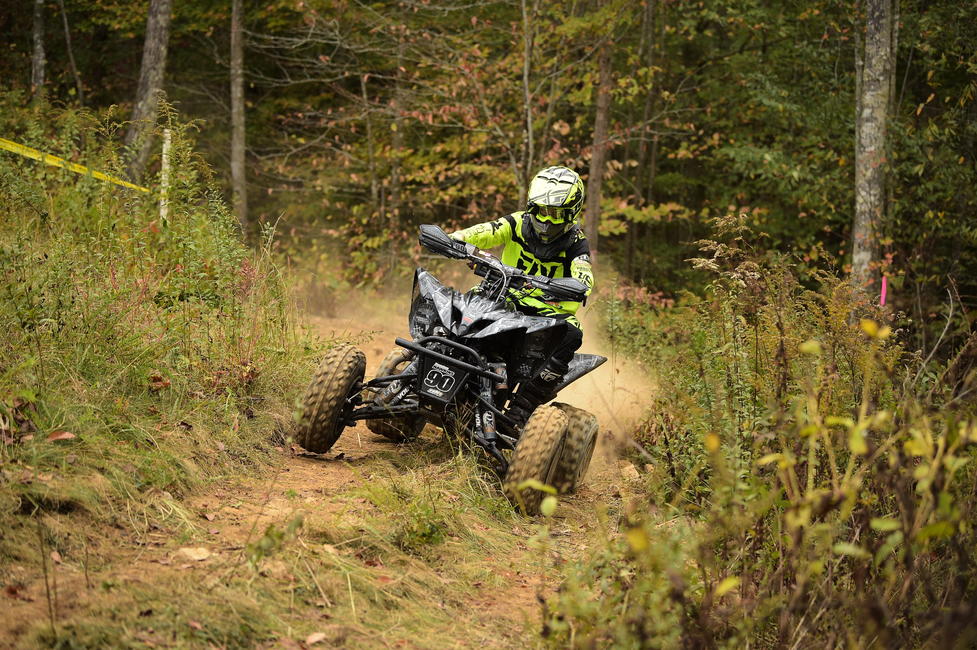 GNCCRacing: Good afternoon! What are you up to?
Damien Hawkins: My dad and I are in the garage working on a practice ATV for this winter and building a new 250 hybrid for the Schoolboy Sr. class next season.
Congrats on your YXC1 championship! How did it feel?
I felt really proud about it! But it wasn't what I wanted overall. We had a couple mechanical failures that knocked me out of the overall championship. I'm still really happy about the class championship though!
What was the highlight of your season?
I barely missed the overall podium in Florida, but then I came out and won six races on a row! That was really cool
What do you think made you so successful this season?
All the great competition over the years leading up to this season. I knew I had to train and workout extra hard over the winter to be ready for the season. I knew I was going up against a lot of good riders. It took a lot of hard work and determination to succeed with the class championship.
What are your plans for next season? You mentioned something about schoolboy senior earlier...
Yes, my plans are to run schoolboy senior next year and finish top three in the class. I know there will be a lot of tough competition in the class, but I think a top-3 is something I can do.
Are you a little intimidated moving up to the adult race as a thirteen-year old? That seems a little young.
No, not really! I'm looking forward to having some harder competition and getting used to the 2 hour race. I hope to be ready to go try for the 201 plate in 2021...
Besides the 201 plate, do you have any longer-term goals? Do you hope to be a pro rider someday?
Oh yeah! After Schoolboy Sr. I'm going to work my way up through college A then to pro-am and then after that I'll be going for that national #1 plate!
What are your biggest strengths and weaknesses as a rider?
My strengths is my determination to put in lot practice and working out and never giving up to get to be #1. I believe that you don't have weaknesses when you put your heart and soul into what you do.
How did you get started riding?
My dad raced when I was little and he bought me my first four wheeler when I was four years old and I've loved it ever since. Riding is something me and my dad love to do together.
Does your dad still ride and race?
He used to race pro in our local series, but he had some health issues. So he doesn't race anymore, he just helps me train and does all my mechanic stuff.
Why did you decide to start racing GNCCs?
I tried some locals right after I got my first quad. I won most of them so dad decided that we should try GNCC and see how good we could do at them. I did my first GNCC at the age of 6 and I was hooked. We've been doing them ever since!
Why are you passionate about racing?
I love the competition, meeting new friends and people from all over and all the family time my family and I spend together on and off the track. We race about every weekend, either a national or a local so we get to see lot new places and see a lot of neat stuff on the road
What is something you enjoy doing outside of riding and racing?
Deer hunting, fishing basketball and hanging out with friends.
Who would you like to thank?
Mom, dad, all my family and friends and all my great sponsors - I couldn't do it without them: 100% googles, Alco cleaner, ATV 4play, BRM off road graphics, DeRisi racing, DpBrakes, Fasst, Fly racing, GoldSpeed, Lonestar racing, ODI grips, Powermadd, Precision Motorworx, Precision Racing, Fox shocks, Ride Center USA, RJR, Streamline, Tire Blocks, TwinAir, Vanilla Gorilla, LFS powder coating, and Sunstar.