Rachel Gutish
Time
Friday, July 19, 2019 | 11:45 AM
High Voltage Youth ATV Race Report
Stewart and Buckhannon Victorious in Pennsylvania
Dunkard, PA. (July 19, 2019) – The High Voltage GNCC, round nine of the 2019 AMSOIL Grand National Cross Country (GNCC) Series, an AMA National Championship, took place July 6th and 7th in Dunkard, PA. While this marked the first-ever High Voltage event, the venue is located close to the Mason-Dixon GNCC, which the series will visit in the fall. Naturally, it has very similar terrain with rolling hills, soil with plenty of clay and tree roots, which gives GNCC racers a familiar feeling while out on the racecourse.
The Youth ATV racers would be faced with a fun but challenging 3.9-mile racecourse while the Micro ATV racers saw some of the same trails on an abbreviated 1.5-mile racecourse. Conditions were fantastic for both races as well. Of the 65 youth riders competing at High Voltage, Cooper Stewart would emerge as the overall winner, while Bodie Buckhannon came out on top in the 27-rider micro race.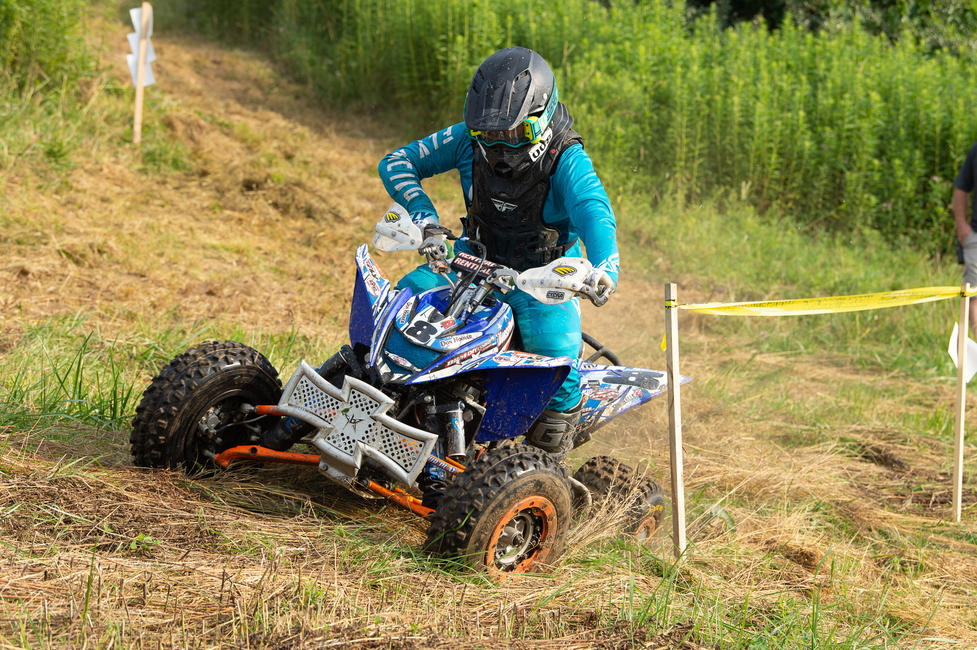 It was a very close race between Cooper Stewart and Parker Henderson for the overall and YXC1 win as the duo would battle back and forth through the entire race. They swapped positions several times and were never further than fifteen seconds apart. In the end, Stewart walked away with the win, but with Henderson right on his rear fender and less than a second behind. Morgan Johnson finished third place. She ran close to the lead pack for the first few laps, though she slowly fell back on the final two laps.
On the first lap, the YXC2 riders all came through tightly packed together, but by the second lap Charlie Stewart had pulled a thirty second lead on the rest of the pack. He rode consistently the rest of the race, and by the end was in fourth place overall and forty-five seconds ahead of the runner-up. Nicholas Dearing had a fairly steady race, reaching as high as second place before dropping back to third after Tyler Cox was able to battle his way up from seventh place. When asked about his race, Charlie Stewart said "When I walked the track Friday I knew it was going to be a good race. I made a few mistakes on the first lap and had to battle my way back to the front. Then I pushed hard to finish strong."
The overall non-YXC rider in the ATV youth race was Andrea Rodgers, racing in the Girls class. She finished 10th overall.
In the Micro ranks, it would be an impressive ride by Bodie Buckhannon who took the MXC1 win by a pretty significant margin over second place finisher Kaleb Shay. This has been a very good season for Buckhannon so far. Out of the six GNCCs he has contested, he has won four and finished second at the others.
Khyler Davis won the MXC2 class by a full lap over runner-up Reed Stevens. Davis has a substantial lead in the MXC2 points standings, as well as holding second place in the 70 CVT (6-11) class in the youth race. There was also plenty of competition for overall finishes as Davis landed in third place on the overall podium, and Stevens finished up with a respectable sixth place overall. Ryder McCormick ended the day with an impressive second place overall out of the 90 Stock class.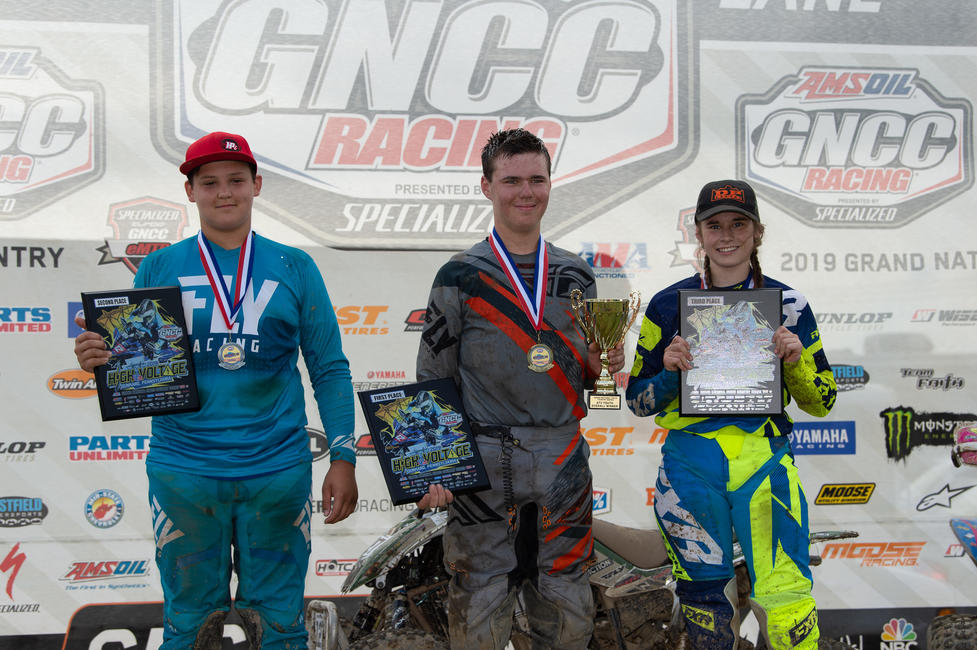 The next round 2019 AMSOIL Grand National Cross Country Series take place on September 14 and 15 in Harpursville, NY, with the Black Sky GNCC. ATV and Micro racing will take place on Saturday while Bike racing will take place on Sunday. We hope everyone has a safe and relaxing GNCC summer break!
For more information on the GNCC series, visit the official website at www.gnccracing.com or call (304) 284-0084. Join the conversation on the series Facebook page, follow us on Twitter and Instagram, and be sure to always hashtag #GNCC.
Facebook: @gnccracing
Instagram: @gncc_racing
Twitter: @gnccracing
YouTube: @racertv
High Voltage GNCC
Dunkard, PA
Round 9 of 13
July 6th and 7th
ATV YXC1 Race Results
Cooper Stewart (YAM)
Parker Henderson (YAM)
Morgan Johnson (YAM)
Damien Hawkins (YAM)
ATV YXC1 National Championship Standings
Parker Henderson (YAM) 168
Damien Hawkins (YAM) 167
Cooper Stewart (YAM) 143
Morgan Johnson (YAM) 136
John Williams (HON) 116
ATV YXC2 Race Results
Charlie Stewart (YAM)
Tyler Cox (YAM)
Nicholas Dearing (YAM)
Shayne Crull (OTH)
Connor Walker (OTH)
ATV YXC2 National Championship Standings
Charlie Stewart (YAM) 167
Nicholas Dearing (YAM) 152
Shayne Crull (OTH) 134
Connor Walker (OTH) 125
Kaden Lambruno (UAM) 122
ATV MXC1 Race Results
Bodie Buckhannon (DDR)
Kaleb Shay (DDR)
ATV MXC1 Championship Standings
Bodie Buckhannon (DDR) 188
Kaleb Shay (DDR) 54
Garrett Cox 39
Hunter Short (DDR) 20
Jacob Smallwood (DDR) 20
ATV MXC2 Race Results
Khyler Davis (DDR)
Reed Stevens (DDR)
ATV MXC2 National Championship Standings
Khyler Davis (DDR) 158
Reed Stevens (DPR) 128
Tyler McLaughlin (DDR) 113
Jacob Smallwood (DDR) 19
Colton Tennant (DDR) 18
About GNCC Racing:
The AMSOIL Grand National Cross Country Series ("GNCC") is America's premier off-road racing series, featuring motorcycles, ATVs and Side-by-Sides, for men, women and children of all ages. Founded in 1975, the 13-round championship is produced exclusively by Racer Productions. Cross-country racing is one of the most physically demanding sports in the world. The grueling three-hour GNCC races lead as many as 2,400 riders through trails ranging in length from 8 to 12 miles. With varied terrain, including hills, woods, mud, dirt, rocks and motocross sections, GNCC events are tests of both survival and speed, drawing talent from all over the United States, Central America, South America, Europe, Japan, Australia and New Zealand. GNCC Racing is televised on NBC Sports and RacerTV.com. For more information, visit www.gnccracing.com.
About the American Motorcyclist Association:
Founded in 1924, the AMA is a not-for-profit member-based association whose mission is to promote the motorcycle lifestyle and protect the future of motorcycling. As the world's largest motorcycling rights and event sanctioning organization, the AMA advocates for riders' interests at all levels of government and sanctions thousands of competition and recreational events every year. The AMA also provides money-saving discounts on products and services for its members. Through the AMA Motorcycle Hall of Fame in Pickerington, Ohio, the AMA honors the heroes and heritage of motorcycling. For more information, visit www.americanmotorcyclist.com. Not a member? Join the AMA today: www.americanmotorcyclist.com/membership/join.