Rachel Gutish
Time
Friday, July 19, 2019 | 11:15 AM
High Voltage GNCC Women's Race Report
Pickens and Sheets take the win
Dunkard, PA. (July 19, 2019) – The High Voltage GNCC, round nine of the 2019 AMSOIL Grand National Cross Country (GNCC) Series, an AMA National Championship, took place July 6th and 7th in Dunkard, PA. While this marked the first-ever High Voltage event, the venue is located close to the Mason-Dixon GNCC, which the series will visit in the fall. Naturally, it has very similar terrain with rolling hills, soil with plenty of clay and tree roots, which gives GNCC racers a familiar feeling while out on the racecourse.
Ground conditions were fantastic for the 11 A.M. ATV racers on Saturday, and despite a short but heavy rain storm Saturday evening, conditions were still great for the 10 A.M. bikes on Sunday, though a little slippery the first lap. A total of 68 women competed at the High Voltage GNCC, with Traci Pickens and Becca Sheets winning the premier WXC classes.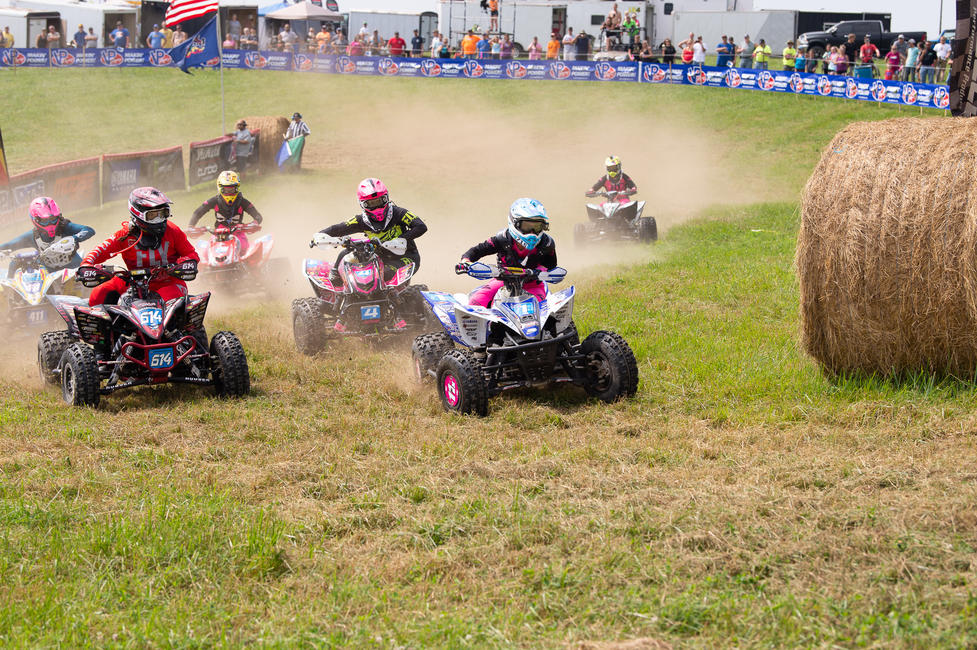 Traci Pickens would pull the holeshot in the ATV WXC class. She held that lead until the four-mile marker, where she was passed by Megan Shepherd in a grass track section. These two riders, as well as Alicia McCormick, spent the majority of the first lap battling each other, though Shepherd still held the lead when they entered the scoring zone.
Shortly after re-entering the woods on the start of lap two, Shepherd made a mistake and was passed by both Pickens and McCormick. She struggled to get back into pace with the leaders and fell just a few seconds behind the lead pack. Eventually she was caught and passed by Katelyn Osburn after a short battle. Pickens still held the lead through the second lap, but McCormick was right on her rear grab bar. Finally, on the third lap McCormick made a pass near the three-mile marker out in a field section.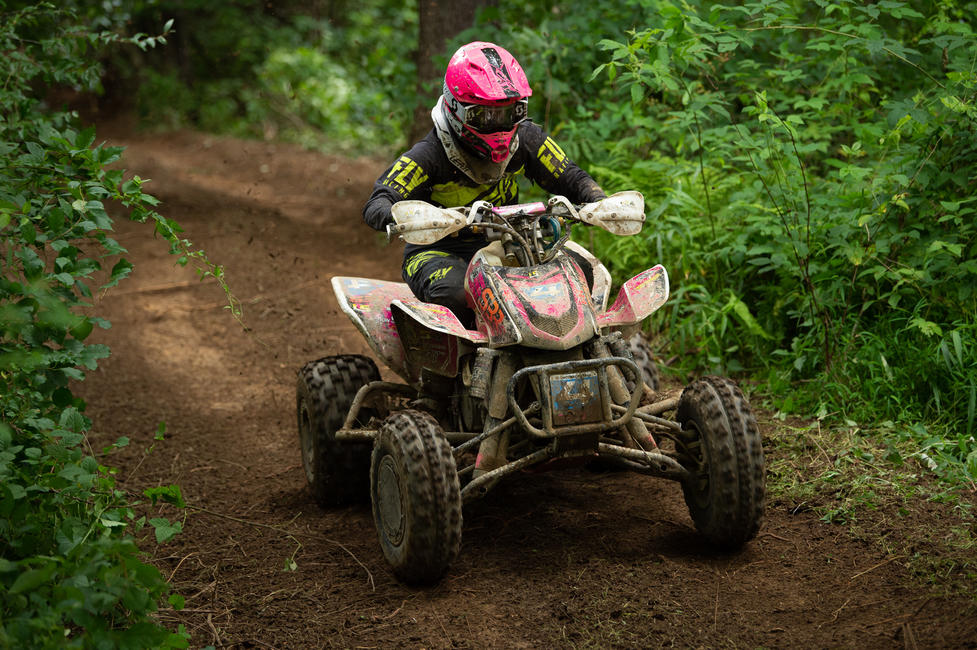 McCormick caught the white flag headed into lap four, and it initially looked like the two of them would have an epic battle for the win. However, McCormick would go to make a pass on a lapped rider, but with too little room she unfortunately found herself stuck off the trail, dropping all the way back to the fourth place position.
The rest of the race was smooth sailing for Pickens, who remained unchallenged through the remainder of the race. When asked about her race, she said "I had a great race with Alicia all day. The track was super fast in some areas super technical in others. Our husbands and the GNCC fans were cheering like crazy watching us battle." Osburn was happy to have a good race after a string of bad luck, bouncing back from a DNF in the previous round at Snowhshoe. "I felt the best I have all season! After the DNF at Snowshoe we now have DeRisi Racing working on my bike. Other than the first lap, I had the fastest time every lap. I was having a blast and the track was sick!" With McCormick's misfortune, Shepherd was able to move up into the final podium spot. She said "It was a successful weekend for us at the High Voltage GNCC! I landed my seventh podium finish of the year, but the most exciting part was watching Luke [Shepherd] earn his first Amateur Overall!"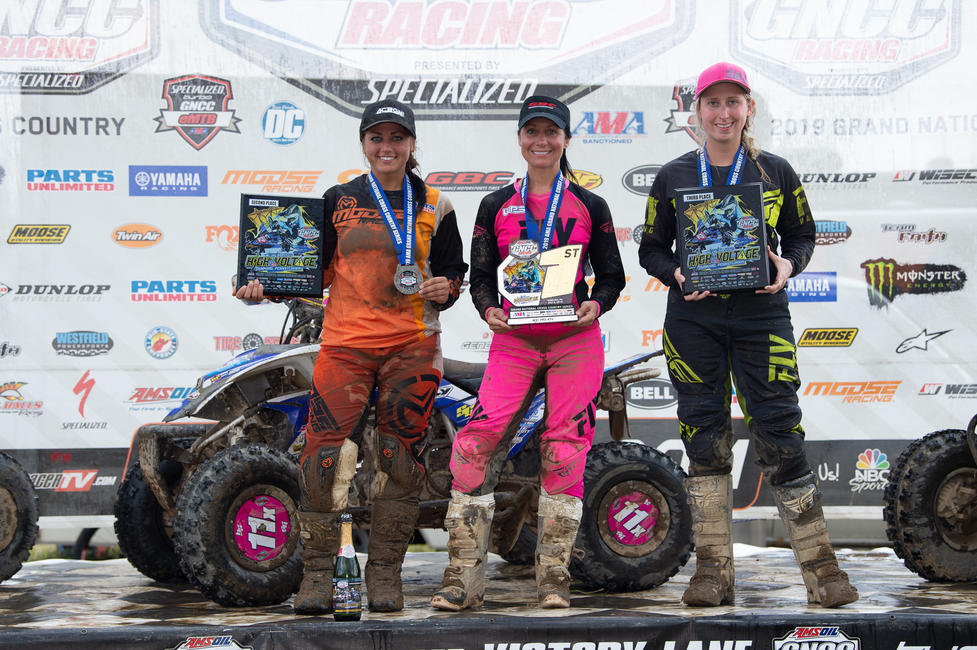 In the WXC bike class, Becca Sheets would grab the holeshot, and led into the woods. However, in the first big grasstrack section she blew a corner which allowed Rachael Archer to take the lead, with Mackenzie Tricker right behind her moving into second place. By the time the riders reentered the woods Sheets had regained the lead. Archer was able to hold second for about half a lap before dropping back into third place. The three riders came through the scoring zone separated by about fifteen seconds each at the completion of lap one.
After the first lap, that lead pack was well ahead of the rest of the field. The next closest rider was Rachel Gutish, who was already over a minute down and would finish a distant fourth place. Gutish rode by herself most of the day, as did Shyann Phelps, who rounded out the top five in the bike WXC class.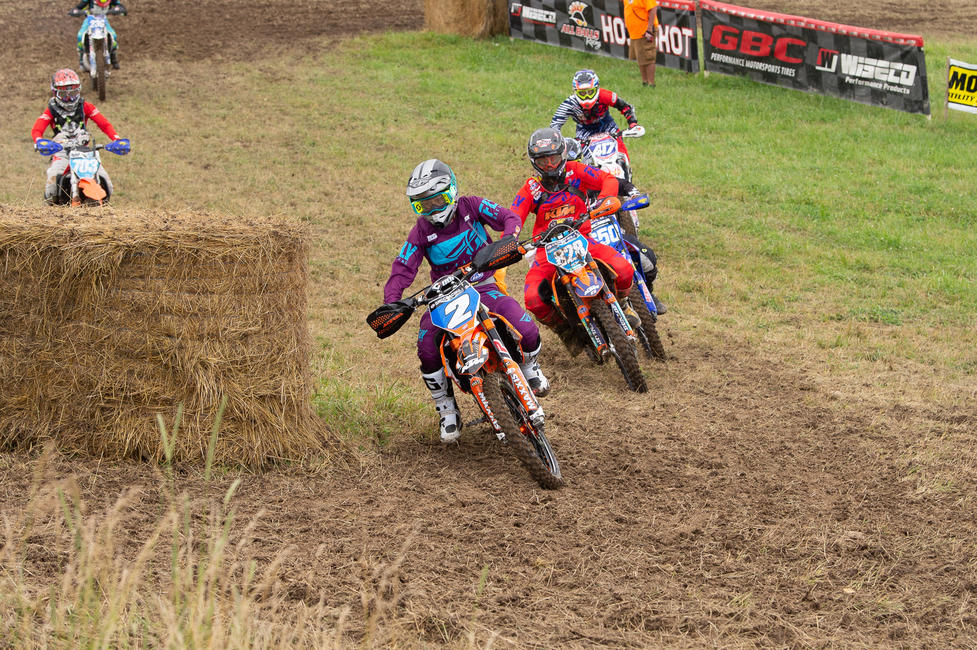 On the second lap, Sheets would briefly lose the lead after going down in a section of grass track, but was able to regain the first place position before the lap was over. Archer moved into second place on the second lap as well, though she was passed again before the end of the third lap. Late that lap, Tricker clipped her foot, resulting in a broken big toe. Despite the pain she maintained a good battle with Sheets for the next several laps.
By lap four Sheets and Tricker had pulled away from third place finisher Archer, who sat about a minute down from the leaders. When asked about her race, she said "It was a very physical race, and definitely wasn't my best performance. I had a few ups and downs throughout the race, and was battling the suspension in the rough tree root sections. When I lost sight of the riders I just tried to ride my own race and get through the heat of the day."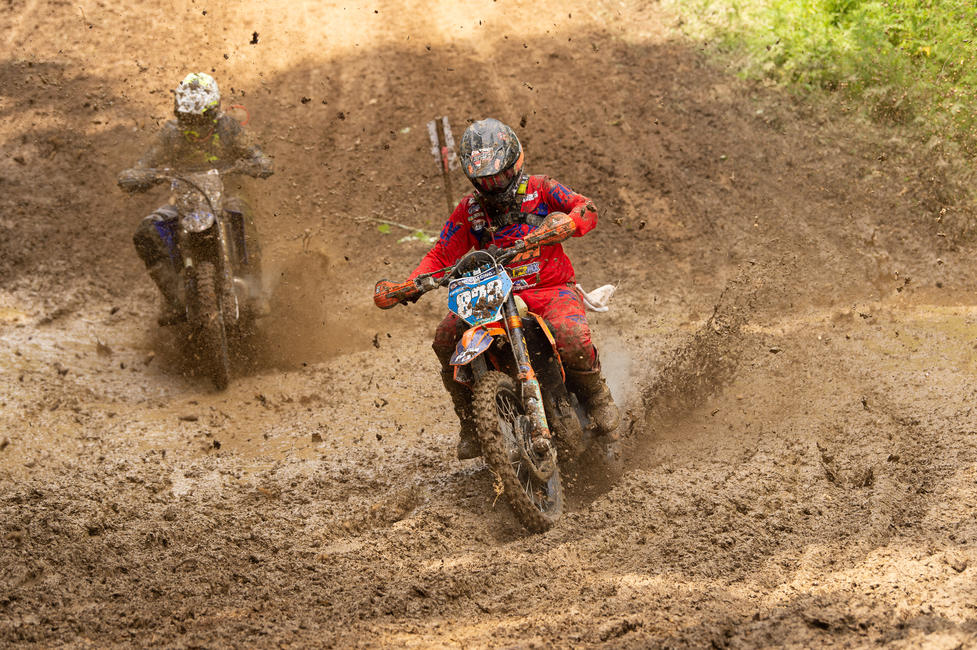 Meanwhile, Tricker and Sheets were still battling, though Tricker was struggling to stay competitive while dealing with the pain of her injured toe on that final lap. She ended up dropping back a bit, but finished safely in second place. Tricker said "It was a pretty good day for me other than messing up my toe. Becca and I went back and forth the whole race, and I am happy to make progress this weekend and finish considering my circumstances." High Voltage was Sheets' fourth win of the season. Three of those wins have come in the last four races, and her current streak has moved her up considerably in the points. When asked about her race, she said "I put in a hard push on the last lap and was able to finally pull a gap. It was a very hard fought battle on a high speed track which made for a pretty fun race!"
In the Girls class, Nikki Russell was back on top of the box after dealing with a mechanical issue at Snowshoe. Gracie Gooch placed second in class, and Trinady Warinner finished third. Prestin Raines recently moved up to the Women's class from YXC1 and won her very first GNCC on a big bike, after capitalizing on a mistake by the points leader Jocelyn Barnes. In the Women's C class, Taylor Murray took home her fourth win of the season.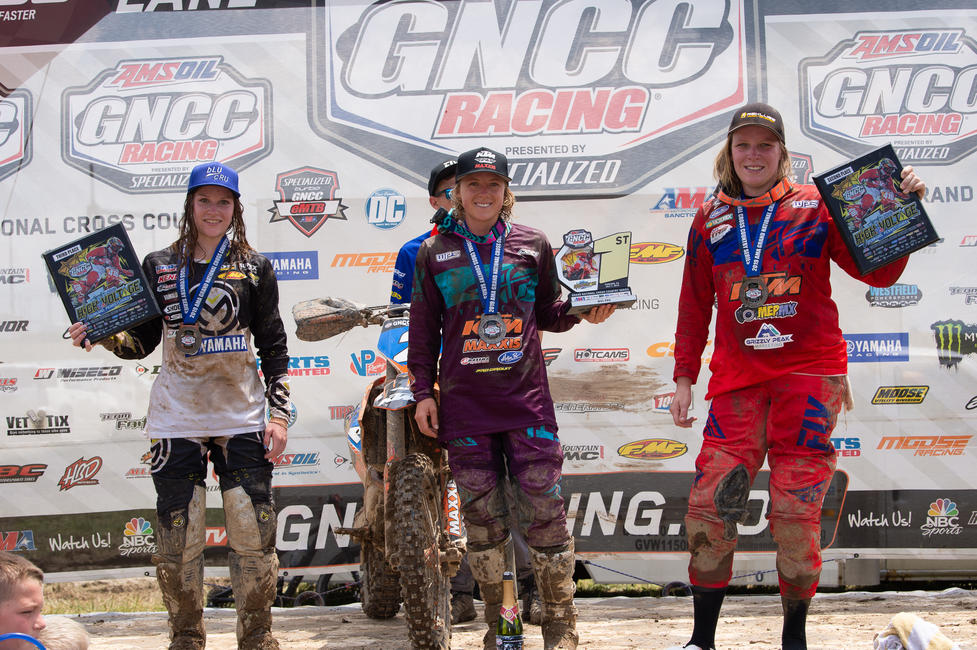 The next round of the 2019 AMSOIL Grand National Cross Country Series will take place on September 14 and 15 in Harpursville, NY, with the Black Sky GNCC. ATV and Micro racing will take place on Saturday while Bike racing will take place on Sunday.
For more information on the GNCC series, visit the official website at www.gnccracing.com or call (304) 284-0084. Join the conversation on the series Facebook page, follow us on Twitter and Instagram, and be sure to always hashtag #GNCC.
Facebook: @gnccracing
Instagram: @gncc_racing
Twitter: @gnccracing
YouTube: @racertv
High Voltage GNCC
Dunkard, PA
Round 9 of 13
July 6th and 7th
ATV WXC Pro Event Results:
Traci Pickens (YAM) GBC/Fly/Yamaha
Kate Osburn (HON) Action Off-Road/Moose Racing/GBC
Megan Shepherd (HON) Stewart Boys. Racing/LS4/Rage ATV/DeRisi Racing
Alicia McCormick (YAM) Ye Olde Cycle Barn/Pierce Performance/Hammer Nutrition/Maxxis
Hannah Hunter (HON) Ye Old Cycle Barn/Texiera Tech/Maxxis
Sadiee Gorrell (YAM) Maxxis /Fivesixo Graphics/Custom Axis/Pierce Performance
Jaida Phillips (YAM) Rekluse/Tirespine/Estes Motorsports
ATV WXC National Championship Standings:
Traci Pickens 216
Megan Shepherd 196
Kate Osburn 187
Alicia McCormick 176
Hannah Hunter 144
Sadiee Gorrell 122
Jaida Phillips 122
Angel Knox 71
Kara Short 56
Sadie Welch 28
Bike WXC Pro Event Results:
Becca Sheets (KTM) FLY/Maxxis/Go-Ko Trucking/KTM
Mackenzie Tricker (KTM) KTM/Mepmx/Fly/Grizzly Peak/Traveler's Rest Speedway
Rachael Archer (YAM) Ampro Yamaha/Moose/PWR
Rachel Gutish (BET) Beta USA/Moose Racing/Arai/Mobius
Shyann Phelps (KTM) Mike Beeler/Racer's Edge
Annelisa Davis (KTM) Ride Free Ministries/Martin Motorsports/Joseph W. Davis
Elizabeth Perez (KTM) Y&S Designs/Factory Connection/Fly
Bike WXC Pro National Championship Standings:
Becca Sheets 245
Mackenzie Tricker 184
Tayla Jones 183
Rachael Archer 174
Shyann Phelps 130
Korie Steede 118
Annelisa Davis 105
Elizabeth Perez 105
Shelby Rolen 96
Brooke Cosner 84
About GNCC Racing:
The AMSOIL Grand National Cross Country Series ("GNCC") is America's premier off-road racing series, featuring motorcycles, ATVs and Side-by-Sides, for men, women and children of all ages. Founded in 1975, the 13-round championship is produced exclusively by Racer Productions. Cross-country racing is one of the most physically demanding sports in the world. The grueling three-hour GNCC races lead as many as 2,400 riders through trails ranging in length from 8 to 12 miles. With varied terrain, including hills, woods, mud, dirt, rocks and motocross sections, GNCC events are tests of both survival and speed, drawing talent from all over the United States, Central America, South America, Europe, Japan, Australia and New Zealand. GNCC Racing is televised on NBC Sports and RacerTV.com. For more information, visit www.gnccracing.com.
About the American Motorcyclist Association:
Founded in 1924, the AMA is a not-for-profit member-based association whose mission is to promote the motorcycle lifestyle and protect the future of motorcycling. As the world's largest motorcycling rights and event sanctioning organization, the AMA advocates for riders' interests at all levels of government and sanctions thousands of competition and recreational events every year. The AMA also provides money-saving discounts on products and services for its members. Through the AMA Motorcycle Hall of Fame in Pickerington, Ohio, the AMA honors the heroes and heritage of motorcycling. For more information, visit www.americanmotorcyclist.com. Not a member? Join the AMA today: www.americanmotorcyclist.com/membership/join.