Rachel Gutish
Time
Tuesday, June 11, 2019 | 5:10 PM
Stemming from the grassroots of family racing, Wiseco has over 75 years experience manufacturing pistons, whether it be for fun, weekend riding, or professional racing. Wiseco is one of the few manufacturers forging pistons in the U.S., providing quality and performance you can trust. 
Click here
 to see the latest Tech Tips from Wiseco.
Megan Shepherd made history last round at the Tomahawk by becoming the first ATV rider to ever win both a WMX and a WXC race! Originally from Splendora, TX, Shepherd is now based out of Marion, OH. The 28-year-old has been running the series for several years now, starting when her husband Luke began chasing the series, but it is really in this last season that she has came into her own. With four other podiums and now finally a win this season, Shepherd is a real threat in the WXC class!
GNCCRacing.com: Congrats on your first-ever WXC win! How does it feel?
Megan Shepherd: Thank you so much! It's a crazy feeling, one that's completely different from any motocross race I have ever won. Even though I started riding in the woods before I ever raced moto, it's so different from GNCC. I really struggled making the switch, and to be honest I wasn't sure I'd ever be able to win a WXC race. Fortunately, I have an amazing support system, and they never lost faith in me, even at the low times where I lost faith in myself. This win is a huge deal for me – people might wonder why I care so much about one race win, but I had to overcome a lot of inner battles and basically relearn how to ride a 4-wheeler in order to be fast in the woods. So, I guess to wrap it up, this win feels like my greatest accomplishment to date!
It's really cool that you finally made that happen! You've been racing GNCC's for a few years now, right?
Yeah, I raced my first GNCC in 2014 at Mountain Ridge in Pennsylvania. The next year is when I started doing the full series.
I noticed you've been on the podium quite a bit this season, so I figured that first win would be coming sooner or later. What do you think finally made the difference in your riding to get you here?
As far as riding goes, I think it was a combination of things. First, finally figuring out my pace and taking a tad more time to make decisions during the race. That way I avoid mistakes and work through bottlenecks instead of blasting right through things like a bull in a china cabinet. It has also been a game changer for me riding for Stewart Boys Racing and having DeRisi build and maintain the quads. It's given me much more confidence and trust in my machine, knowing that it's perfect every race. Before, I always felt like I was fighting the quad and now everything is just clicking. My husband Luke has also been working with me a ton on technique, and I think that has helped as well.
Have you been doing anything different in your off-the-ATV training as well, or do you think most of your improvements have come from what we already talked about?
Well, the biggest change in my training is that I started running a ton. Running is by far one of my least favorite things, but it has helped so much with my leg strength and endurance.
Backing up a bit, how did you get started riding and racing in the first place?
My dad grew up on three-wheelers and raced motocross on quads but had to quit soon after I was born. When I was about eight years old, I found some old pictures of him racing and I decided that's what I wanted to do too. At the time, my parents were big into drag racing and were looking at getting me started in a junior dragster, but I told them I wanted to race four-wheelers instead. That Christmas I got my first four-wheeler and when I was ten or eleven, I finally got to do my first motocross race. Twenty years later I'm still at it!
Tell me a bit about your ATV motocross career and your experiences racing moto as a whole.
I was fortunate to have had a great motocross career. I earned three consecutive National ATV WMX championships from 2014 through 2016, and won the WMX Daytona ATV supercross in 2015 and 2018. I have a few local championships in Texas, and last year I raced a couple nationals and won state championships in Florida and in Indiana. Racing moto was an amazing experience, and I will always love it since it was such a big part of my life for so many years! I am happily retired from doing it full-time though and am pursing new goals and dreams now!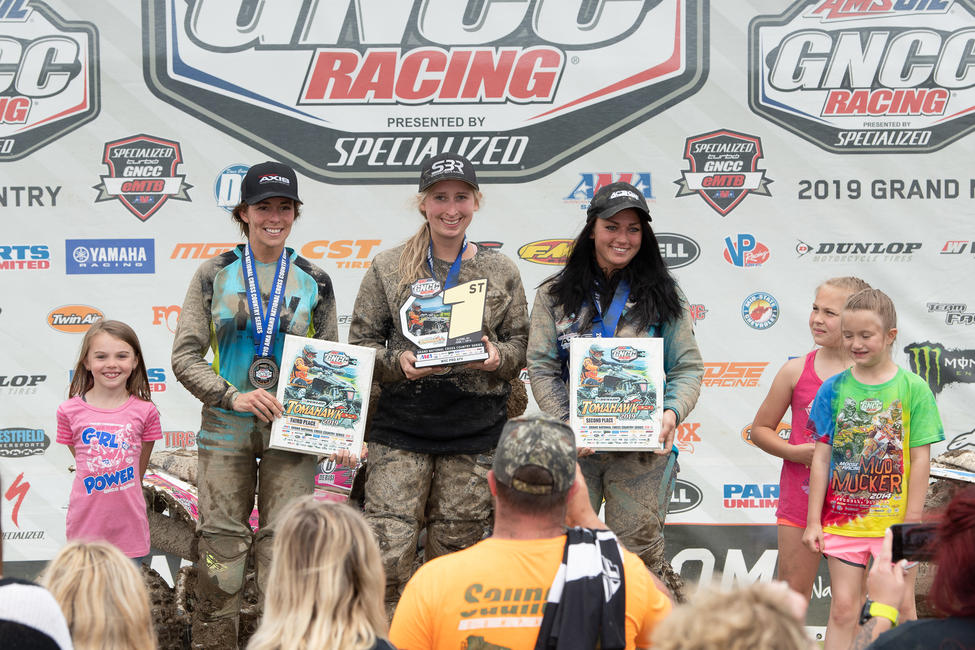 What made you want to start racing GNCCs?
I went to the Loretta Lyn's GNCC with Luke to watch him race, and decided I wanted to try one too. At that time we had just gotten engaged and moved in together. Luke wanted to race both MX and GNCC the following year. I figured if I was going to be at all the races with him I might as well race them all too! So after the MX season was over we stripped down my practice quad and rebuilt it for GNCC.
I'm guessing you and Luke met through racing…?
Yep! We first met in 2013 at the ATV motocross nationals. We became friends and that winter he came to my parents' place in Texas to train with my dad. The two of us grew closer and in 2014 we started dating. He surprised me and proposed that year on the podium at Loretta's when I cinched up my first national championship.
That's really cool how racing brought you guys together! Now, those first couple years you started racing woods, was it a pretty hard transition for you?
Oh goodness, I had a ton of struggles! The hardest was definitely learning how to pace myself for two hours and getting out of that moto-mindset of sprinting the whole time. Also, it took me awhile to have the confidence to go fast in the woods without hitting trees. The trees can be very intimidating at first (laughs)
I get that – they're probably as intimidating as jumps are for a woods rider like me! Having grown up and lived most of your life in Texas, was it also hard learning how to race in the east?
The only thing I really struggled with racing in the east was all of the elevation change and off-cambers. The part of Texas I lived in is super flat, so we didn't have many places with hill climbs or anywhere to practice for that.
What is one interesting thing about you that has nothing to do with motorsports?
One thing that most people don't know about me is that I am a vegetarian.
Is there anything else you'd like to mention?
Yes, actually. Another reason I am so excited about my win at Tomahawk is because I am now the first woman to win both a WMX and a WMX race on and ATV! That's been a big goal of mine, and it really has been a blast getting to compete in the different disciplines.
And who would you like to thank for helping to make all of this happen?
I would like to thank my husband Luke, Stewart Boys Racing and the whole Stewart family, Action tire, LS4, Rage ATV, Action Offroad, Derisi Racing, Goldspeed, Tire Spine, Fly Racing, Houser Racing, SSI Decals, Scott Goggles, Rekluse, HMF, Fasst Company, Fox Shocks, IMS, Honda East, Leatt, Works Connection, Twin Air, Carbsoprt and all of my family and friends who have supported me over the years!