Kayla Bolton
Time
Friday, March 15, 2019 | 7:00 AM
FOR IMMEDIATE RELEASE
Kayla Bolton
(304) 284-0084
[email protected]
AMSOIL GNCC Racing Heads to Georgia For The Specialized General GNCC
Walker Fowler Looks to Earn Second-Straight Victory
MORGANTOWN, W.Va. (March 15, 2019) – This weekend, March 16 and 17, the AMSOIL Grand National Cross Country (GNCC) Series presented by Specialized, an AMA National Championship, heads to Washington, Georgia for The Specialized General GNCC at Aonia Pass MX. The series opened one week ago in Florida with the Wild Boar GNCC, where GBC/Fly Racing/Yamaha's Walker Fowler earned the first victory of the season. Fowler will be looking to continue his success and earn his second-straight win of the season.
Yamaha/AmPro/Action Offroad/GBC's Cole Richardson comes into Georgia sitting second in points after earning second overall in Florida. Richardson came into 2019 healthy and eager to go after earning his first career overall win last season. This weekend Richardson will be aiming to stop Fowler's success and step into the center spot of the podium on Saturday afternoon.
After finishing third overall last weekend, Maxxis/Fly Racing/Ye Olde Cycle Barn's Chris Borich will be looking to halt the Yamaha-duo of Fowler and Richardson. Borich has six National Championships from 2009-2014, and knows what it takes to earn them. This year Borich is going for this seventh one, and will be working to land on the top step of the podium this weekend.
OBOR/Moose Racing/Parts Unlimited/McGill Mafia's Adam McGill finished in fourth overall, 13 seconds behind Borich at the opening round last Saturday. However, after running in the number one position on the first lap, McGill is looking to get another good start and stay at the front of the pack this round.
XC1 Pro Rookie Hunter Hart, Maxxis/Ithaca Recreation Sports/Fly Racing, came through in the fifth overall position at round one. Hart, who earned the 2018 XC2 Pro-Am National Championship, is hoping for a positive rookie year and to run at the front of the pack. After finishing inside the top five at the first round, Hart seems to be on the right track to contest for his first career overall win this season.
Ryland Johnson Racing/GBC Motorsports/Ye Olde Cycle Barn's Westley Wolfe ended the previous round in sixth overall. Wolfe is looking to break through this season and challenge for a top five finish, while aiming for a podium finish. GBC/Fly Racing/HMF/Yamaha's Johnny Gallagher claimed seventh overall, but will also be looking to break into the top five as the race heads to Georgia.
LansMills XC/CST Tires/Houser/Yamaha's Brycen Neal was running a great race last weekend in Florida, looking to set his sights on a podium finish after making his way through the pack. However, on the last lap at the twelve mile marker Neal would run completely out of gas. However, this weekend will bring back a lot of great memories for Neal. This is the event where he earned his first-career overall win just one year ago. So this weekend, Neal is leaving round one behind him and looking forward to earning that victory in Georgia once again.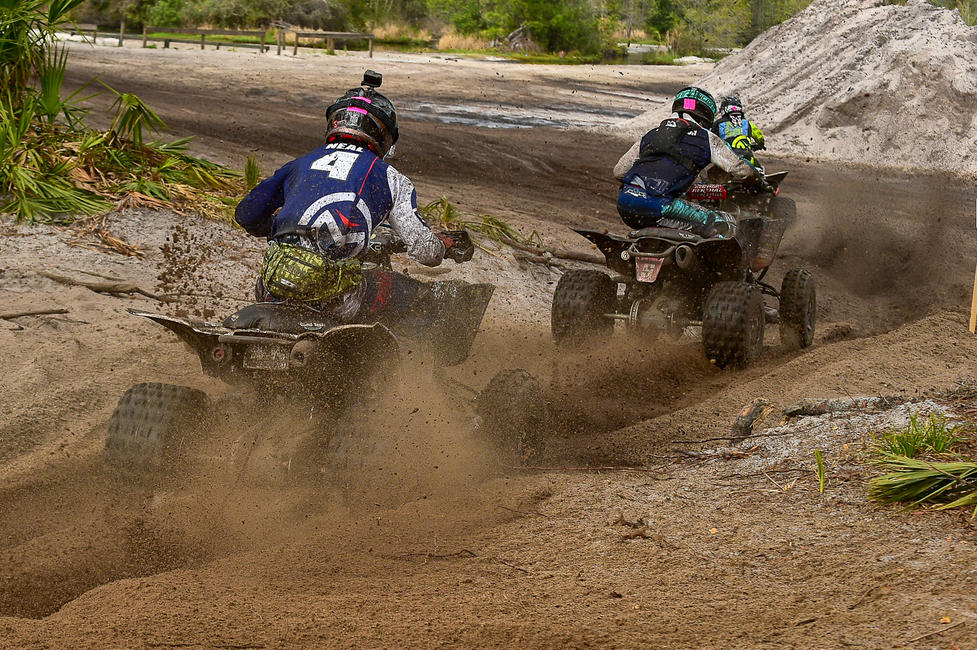 XC2 Pro-Am winner, Pierce Performance/Maxxis/Waynesburg Yamaha's John Glauda Jr. started the season off right where he wanted to be, in the center of the podium. Glauda Jr. is looking to earn his first XC2 Pro-Am Championship this season, and after earning the first round win he is well on his way to accomplishing just that.
LanMills XC/CST Tires/Moose Racing's Drew Landers came through 52 seconds behind Glauda, and is looking to be a threat this season in the XC2 class. Honda's Ben Kowalewski came to the finish sitting third in the XC2 class, and is looking to be a dominate rider this season.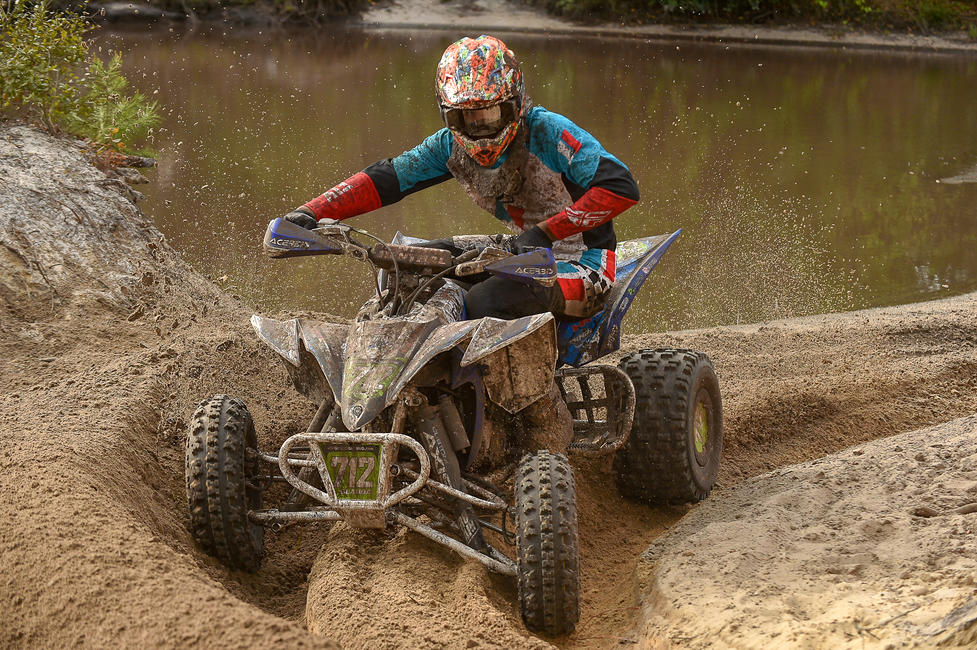 The Specialized General GNCC will also host the first round of the Specialized Turbo eMTB GNCC National Championship. This race will take place on Saturday, March 16 at 4:30 p.m. EST after the Pro ATV race is complete. This series is brand new to the GNCC Racing Nation, and more information can be found by clicking HERE.
The event is co-sanctioned with SETRA, a series that produces local racing events across North Carolina, South Carolina, Georgia, Florida, Tennessee and Alabama, and will ultimately bring out a full slate of local racers. All local riders are invited and encouraged to compete in the event, as GNCC Racing offers classes for riders of all skill and experience levels. The amateur race entry fee is $50 if racers pre-enter or sign up at the track. To learn more about GNCC Racing, refer to the GNCC 101 webpage.
Local Racers who are expected to race on Saturday include: Ryan Thornton (24+C), Kelton Harbin (College A 16-21), Victor Garcia (4x4 Lites), Oliver Radford (50cc Jr. 4-5), Palara Clark (Girls 8-15), Jade Millwood (Junior A 22+), Michael Hayes (Senior A 60+), Colby Clark (College B 16-21), Ben Danner (Junior A 22+), Dwight Pollard (4x4 Pro), Dylan Walraven (College A 16-21), Cody Taylor (Junior B 22+), Christopher Riggin (4x4 Senior 40+), Chuck Horton (Super Senior 45+), Lane Coile (Super Senior 45+), David Pope (35+ C), Dylan Holloway (24+ C), Brian Schrantz (Super Senior 45+), and Van Henley (24+ C).
Spectator passes run $20 for adults and $10 for children (6-11), and kids 5 and under are free for the full weekend (Saturday through Sunday), with pro pit access and pro autographs at no additional charge.
For a complete schedule of the weekend's activities, please visit The Specialized General GNCC event page on the series website by clicking HERE. Camping fees also apply to this weekend's GNCC, 2019 fees are available by viewing the event page.
For more information on the GNCC series, visit the official website at www.gnccracing.com or call (304) 284-0084. Join the conversation on the series Facebook page, follow us on Twitter and Instagram, and be sure to always hashtag #GNCC.
Previous Round Race Results and Standings
Moose Racing Wild Boar
Palatka, Florida
Round 1 of 13
Saturday, March 9, 2019
XC1 Pro Event Results:
Walker Fowler (YAM)
Cole Richardson (YAM)
Chris Borich (SUZ)
Adam McGill (HON)
Hunter Hart (YAM)
Westley Wolfe (SUZ)
Johnny Gallagher (YAM)
Joshua Merritt (YAM)
Devon Feehan (HON)
Greg Covert (YAM)
*Overall National Championship Standings:
Walker Fowler (30)
Cole Richardson (25)
Chris Borich (21)
Adam McGill (18)
Hunter Hart (16)
Westley Wolfe (15)
Johnny Gallagher (14)
Joshua Merritt (13)
Devon Feehan (12)
Greg Covert (11)
*Indicates that the Overall National Championship Standings will determine the 2019 National Champion.
XC2 Pro-Am Event Results:
John Glauda Jr. (YAM)
Drew Landers (YAM)
Ben Kowalewski (HON)
Matthew Lindle (HON)
Jordon Poplaski (YAM)
Tanner Walker (YAM)
Boedy Lamoreaux (HON)
Pierreyves Deneault (HON)
Ronnie Rusch (YAM)
Lance Kope (HON)
XC2 Pro-Am Series Standings:
John Glauda Jr. (30)
Drew Landers (25)
Ben Kowalewski (21)
Matthew Lindle (18)
Jordon Poplaski (16)
Tanner Walker (15)
Boedy Lamoreaux (14)
Pierreyves Deneault (13)
Ronnie Rusch (12)
Lance Kope (11)
About GNCC Racing
The AMSOIL Grand National Cross Country Series presented by Specialized is America's premier off-road racing series. Founded in 1975, the 13-round championship is produced exclusively by Racer Productions. Cross-country racing is one of the most physically demanding sports in the world. The grueling three-hour GNCC races lead as many as 2,400 riders through tracks ranging in length from eight to 12 miles. With varied terrain, including hills, woods, mud, dirt, rocks, and motocross sections, GNCC events are tests of both survival and speed. The series draws talent from all over the U.S., Central America, South America, Europe, Japan, Australia, and New Zealand. GNCC Racing is televised weekly on NBC Sports and RacerTV.com. For more information, please visit www.gnccracing.com.
About eMTB Racing
The Specialized Turbo eMTB GNCC National Championship brings off-road racing and pedal-assist or electric bicycles together for an eight-round championship produced by Racer Productions. Much like a typical cross-country racing event, these races feature varied terrain featuring hills, rocks, roots, and more but are limited to electric, or pedal assist model mountain bikes only. For more information, please visit www.gnccracing.com.
How to Watch
Racer TV and NBC Sports Network (NBCSN) are the official homes for coverage of the AMSOIL Grand National Cross Country (GNCC) events. All 13 rounds, from the season opening Big Buck GNCC in South Carolina to the finale at Ironman Raceway in Indiana, will air in 30-minute, taped-delayed telecasts on NBCSN, while Racer TV provides live streaming coverage of the 1 p.m. ATV and motorcycle races from each event. Catch all the action at http://www.nbcsports.com/ and http://www.racertv.com/.
About the American Motorcyclist Association
Founded in 1924, the AMA is a not-for-profit member-based association whose mission is to promote the motorcycle lifestyle and protect the future of motorcycling. As the world's largest motorcycling rights and event sanctioning organization, the AMA advocates for riders' interests at all levels of government and sanctions thousands of competition and recreational events every year. The AMA also provides money-saving discounts on products and services for its members. Through the AMA Motorcycle Hall of Fame in Pickerington, Ohio, the AMA honors the heroes and heritage of motorcycling. For more information, visit www.americanmotorcyclist.com. Not a member? Join the AMA today: www.americanmotorcyclist.com/membership/join.