Jared Bolton
Time
Friday, January 11, 2019 | 2:30 PM
AMSOIL is proud to be the title sponsor of the GNCC Racing series for the past 7 years. New for 2019, AMSOIL is partnering with the series to bring a GNCC AMSOIL Moto Hero to each and every round. Racers, Fans, and Industry Personnel are welcome to nominate themselves or someone they know who are currently serving in the military, retired from the military, are a first responder or former first responder for this prestigious honor.
Welcome to Quick Fill.
The days continue to tick by and we work our way closer and closer to the beginning of the 2019 GNCC Racing season. At the rate we're going, we'll be kicking things off at Big Buck before we know it, so if you're behind on your pre-season prep then it's time to kick things up a gear and get ready. At the same time, we do hope that the wet weather the entire east coast has been plagued with since last year begins to fade away. I know there are folks who enjoy those types of conditions but at some point, enough is enough!
We're also reaching the point where we begin to see a lot of riders taking advantage of various races happening leading up to round one of the GNCC season. Our friends with SETRA will be hosting the next round of their hare scramble this series at the GTR Complex in Gaston, South Carolina. They'll back that up with the Burnt Gin Hare Scramble at the end of the month, which is at the same location as the Sumter National Enduro, which will be held the following weekend. These events all draw a large turnout of GNCC regulars to get some seat time in before the season begins, so we're excited to see how these races play out.
Also exciting is the first round of the Mid-East Hare Scramble Series, which is ran by our old buddy Buren Hamrick, who worked with the GNCC Track Crew for many years. They'll be announcing their full schedule at their banquet this weekend but we're hearing that their first round will be the weekend before Big Buck at a brand new track on the other side of Union. So that's worth checking out and of course, Mid-East hosts both ATV and Bike races.
Other than that, things have been a bit on the quiet side this past week with the exception of one more announcement. The rumors were flying for quite sometime but it was posted on social media this week that Josh Strang's new teammate on the Monster Energy Babbitt's Kawasaki team will be none other than Jordan Ashburn! Jordan is no stranger to the green machines as he actually rode a KX450 to the Open-A class championship in 2009 and 2010.
Also, we posted the TENTATIVE 2019 Rules and National Classes. Check out all of that HERE.
Ryan Echols and I spent the past couple of days on the road checking out a few different pieces of property that could potentially host the TBA event in October. We've been in the north, the south and somewhere in between and were lucky enough to eat at the Southeast's most popular fast food chain; Cook Out. I grew up eating Cook Out long before they started branching far away from the Greensboro, North Carolina area where they originated but since moving to Morgantown a few years ago I really miss it… Yes, this is why my riding pants fit too tight.
We've still got a lot to consider and there's a lot of factors that will go into making a decision on where to race, but the good news is that we saw some really great places that could make great places to race, even if it's not in the immediate future. I don't want to spoil any surprises, or get anyone too excited for a potential race location that may not happen, so I won't go too far into detail but the places we saw would each have a lot of potential for some really fun racing.
Since we've been busy, this week's edition of Quick Fill will be a bit on the short side but we'll be back next week with all the latest happenings in the world of GNCC Racing. Until then, enjoy the Quick Fill goodies!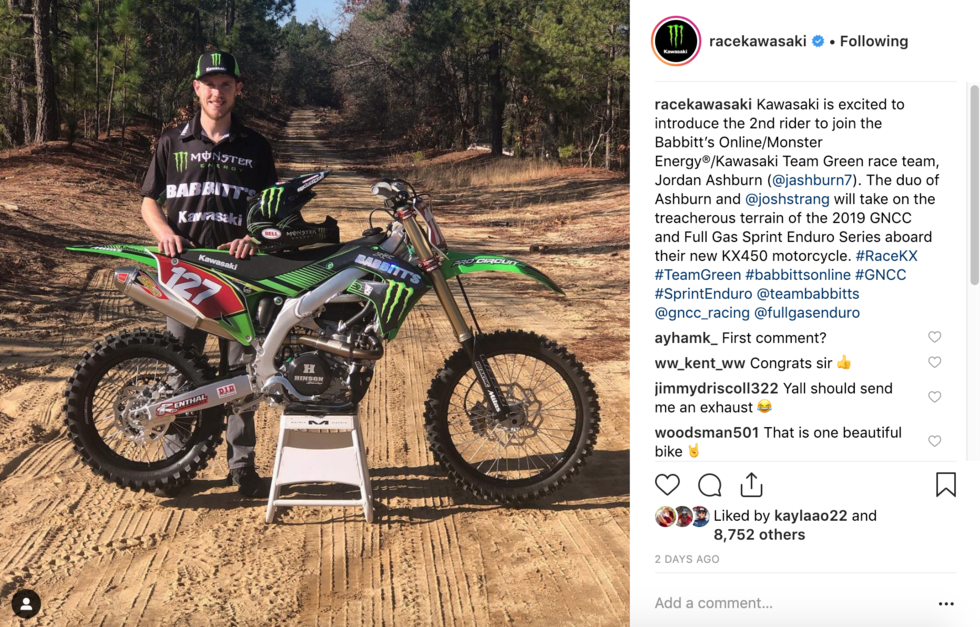 Catching Up With Ken (Ken Hill)
Did I say I would jinx us by talking about the mild weather? I sure did and look at us now as this arctic blast pours down on most of the eastern states! Well heck, we need some cold so that things happen like they are supposed to. I will keep the belly aching to a minimum and find myself writing this before heading out in this glorious winter chill to feed the animals. I think waiting to write it afterwards would have me in a very grumpy mood with fingers so frozen I doubt I could type!
If you follow social media you will have no doubt that many of the series top talent are basking in sunny Florida as they do their pre-season thing and start getting where they need to be before we kick off another spectacular GNCC season. Picture after picture has been popping up and did I mention it looks warm? That's ok; let them bask in the sun. The hardcore racers will show up at round one as hard as hickory posts and mean as a rattlesnake! I feel much better knowing I just inspired many of you to groan, roll your eyes and put on another layer of winter clothes.
Truthfully, going south has been slowly changing with less and less making it a prolonged run up to the season mainly due to the costs and having a way to remain funded. Weekend excursions are becoming the norm and even if it isn't months of training, getting out and about and enjoying things may do more for your sanity than your muscles because once silly season starts, the mental side of this deal kicks in quickly. With points coming down to the final rounds, those in the positions of running for a championship can not afford to have any weaknesses in their program, including how they deal with stress. So make sure you have a way to tame that beast in place.
We are also starting to see banquets getting ready to kick off as supporting series lock down their own year end celebrations and fill everyone in on their 2019 schedules and plans. It is always cool to see everyone enjoying a night of accolades following a demanding race season and spill the beans on new plans for a new year. I think one of the biggest changes I have seen is the continuing support many of the series provide as it relates to our series in the way of scheduling, race formats and all around hospitality to those who are able to make it to a few local or regional races beyond the GNCC series. It is a big deal when a top racer comes to town and races your home track and in most cases, the racer has as much fun in the relaxed atmosphere as the fans do.
While top talent has always run locals and such, the advent of social media allows it to become a spotlighted event for the promoter, the fans and of course for the racer. It adds a new dynamic to things especially if that series or rider has a program in place to keep social media flowing, which is really good for everyone; especially the sponsors. The money isn't too bad either at many of these series so it could be a good deal if you can get in and out without tearing yourself or your ride up and have some pocket change for the way home! The IXCR just released its payout structure for 2019 and I recalled Bill Ballance telling the story of him spending every dollar he had getting to a race and he knew he had to win just so he could make it back home.
Maxxis is still on the look out for a driver/salesman and Impact Solutions is hunting for a new tech so be sure to get with them if you are interested or know of someone. That is about all from me this week; I am just going to bundle up and make the best of it, which is all one can ever do! As always, be safe in your travels and may God continue to bless you all.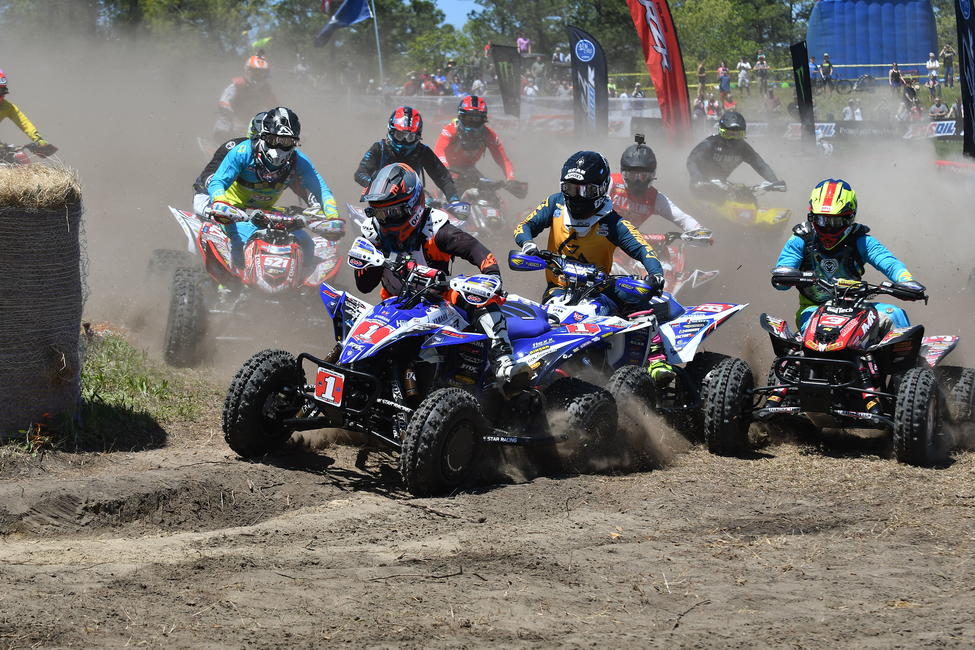 Looking Back on 2018 Part Five (Jared Bolton)
The series would head into its final southern event of the season with round five and the Camp Coker Bullet GNCC in Society Hill, South Carolina. If you've skipped this event in the past, then you're missing out. The event is held at Moree's Sportsman's Preserve, which is large sportsman resort with hunting, shooting, fishing and more. Additionally, the Camp Coker Motocross facility is located on this property and included as part of the course. The motocross track closed a number of years ago, but when they stopped hosting events, they never tore anything down. It's all still there and something about riding on a defunct motocross track is a lot of fun.
Saturday's ATV race would return to the normal theme that fans had become accustomed to. Walker Fowler would get out front early and lead the race wire to wire to take the win. Nothing flashy and not an overly dominant performance but a good enough ride to seal the deal without a lot of work. Cole Richardson would run the second place position early in the race but unfortunately a mechanical issue would take him out of the race on the second lap.
This pushed Jarrod McClure up to the second place position and Brycen Neal into third. Each of these riders was able to establish a lead between them and the rider behind them, so the race would end without any sort of dramatic ending. McClure would end up second ahead Neal in third. Devon Feehan and Westley Wolfe would both have their best rides of the season, ending their day in fourth and fifth.
Sunday's motorcycle race was a similar situation with Kailub Russell checking in the first place spot for each lap. However, the battle for that lead was much different than the ATV race. Thad Duvall would stay close to Kailub throughout the entire race. Each lap they checked in, Duvall would be no more than 2-3 seconds behind Kailub. A charge on the final lap would make for an incredibly tight battle down to the finish. However, Russell was able to hold onto for the win just a mere 0.620 second ahead of Duvall.
Ricky Russell would claim his first podium finish of the season, ending the day in third. Trevor Bollinger and Steward Baylor battled through the final stages of the race to finish fourth and fifth, respectively.
In the XC2 class, it was another Josh Toth and Ben Kelley battle in the late stages of the race. Toth would end up taking the win while Kelley was forced to work his way through the field, coming from 14th on the opening lap to end the day in second. Austin Lee would score his first podium finish of the season taking the third place spot while Liam Draper and Evan Smith both put in good rides of their own the take fourth and fifth place, respectively.
With five rounds in the books, the 2018 season continued to provide some great racing. Things would continue to heat up at the season wore on and we'll discuss that in the coming weeks. So be sure to check back next week, as we'll pick this back up when the series headed to Indiana for the X-Factor GNCC.