Kacy Martinez Announces Her Retirement From Professional Off-Road Racing
Time
Friday, December 7, 2018 | 11:05 AM
KACY MARTINEZ ANNOUNCES HER RETIREMENT FROM PROFESSIONAL OFFROAD RACING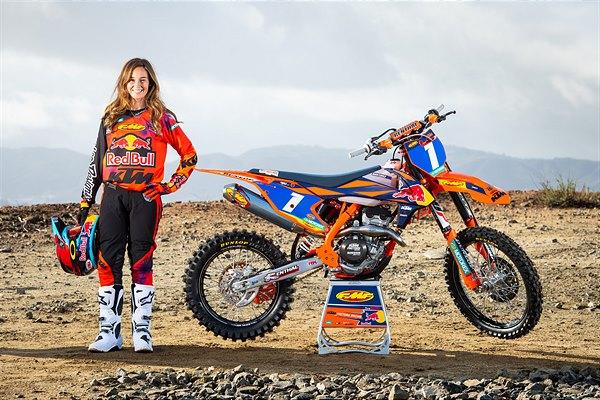 MURRIETA, Calif. – Following an illustrious ten-year career, FMF KTM Factory Racing Team rider Kacy Martinez (Coy) has officially announced her retirement from professional racing.
At 28-years-old, Martinez has accomplished numerous career-milestones and shown incredible versatility in many disciplines of the sport. Martinez most recently wrapped up a stellar 2018 season, claiming the AMA EnduroCross and AMA Big 6 Grand Prix Championships in what would ultimately serve as the final bout of her trailblazing career where she holds 12 titles from seven major off-road racing series in the U.S.
"This has been one of the hardest decisions of my life, but after sitting down with my mom, dad and husband multiple times and talking with my boss, Antti Kallonen, a couple times, I have made the decision to retire from racing," Martinez said. "I turned pro in 2008 and now 10 years later I feel there's no better time to end my career than while on top.I have accomplished everything I set out to do with very minimal injuries, which looking back now I am amazed and so beyond happy with my career. With my long-term goal of winning a championship in every major off-road series in the United States now accomplished, I feel that I have fulfilled my work out on the race course."
Beginning to ride at the age of 8, the Northern California native quickly caught the racing gene and it wasn't long before she was full-on competing in local events. Martinez turned pro in 2008, picked up her second-straight AMA West National Hare Scrambles Championship and then went on to successfully defend it in 2009. All the while, she was continuing to make a name for herself in the World Off-Road Championship Series, claiming the 2009 title and earning the prestigious title of AMA Women's Athlete of the Year. Martinez signed with the KTM-supported RPM/KTM Team Maxxis in 2010 and furthered her success by claiming two more WORCS Championships in 2010 and '11, as well as a 2011 X-Games Bronze in her first-ever Women's Enduro-X competition.
Martinez joined the FMF KTM Factory Racing Team in 2014 and she set her sights on unfamiliar territory with east coast racing. She learned to quickly adapt to the new terrain and riding styles as she dominated back-to-back AMA Grand National Cross Country (GNCC) Championships in 2014 and '15. Martinez also claimed X-Games Gold in 2014 by racing her way to the center of the podium in Women's Enduro-X. In 2016, Martinez went after another career milestone as she solidified the AMA National Enduro Championship in her first full-season of enduro racing. In 2017, Martinez took on the AMA National Hare & Hound Series and came away with yet another title, while also contributing to a second-place team finish at her first-ever International Six Days Enduro (ISDE) in France.
Martinez added, "I have traveled around the world, made so many great memories and have met life-long friends along with my husband. I am so grateful of what this sport has brought to me. My passion for dirt bikes and racing is so big that this won't be the last you see of me. I will never quit riding my KTM. I still plan on being out at the local tracks and riding parks and enjoying everything riding brings to me. You might even see me at some local races, so make sure you come up and say hi!
There are so many great people I'd like to thank, but first and foremost my parents, Mark & Cindy Martinez. They never once doubted my abilities and were my biggest cheerleaders my whole career. Eddie Benson at Fremont Honda & Kawasaki for being the first person to give me my first-ever sponsorship. Mike Hurlbert at RPM Racing Team for bringing me over to the Orange Bleeders. Antti Kallonen for always believing in me and pushing me to be the best racer I can be. The whole FMF KTM Factory Racing Team crew and all my mechanics along the way: Bryan Cirallo, Cody Richelderfer, Allen Gravitt, Robbie Goolsby, Ty Renshaw, Jon Mitcheff, and can't forget our Crew Chief, Tony Hall. To my Husband Travis Coy, thank you for being my best friend, best training partner and for helping me achieve my goals in every way possible. Thank you again and I hope to see you out on the trails!"
Team Manager, Antti Kallonen: "First off, on behalf of KTM Motorsports and the entire team, I would like to congratulate Kacy on a great career. It is truly incredible what Kacy has accomplished from a racing standpoint – she has been able to master each and every major discipline in women's offroad racing, which is something that a man has yet to accomplish. The championships that she has won vary from slow but most intense and technical riding of EnduroCross, to the high-speed desert racing and everything in between like GNCC, WORCS, Hare Scrambles and Enduro. She even had a chance to showcase her skills in front of hundreds of thousands of X-Games fans while winning her gold medal in Enduro-X. She is a very determined rider, a great person off the track and we wish her the best in future endeavors."