Jared Bolton
Time
Thursday, December 6, 2018 | 3:30 PM
AMSOIL is proud to be the title sponsor of the GNCC Racing series for the past 7 years. New for 2019, AMSOIL is partnering with the series to bring a GNCC AMSOIL Moto Hero to each and every round. Racers, Fans, and Industry Personnel are welcome to nominate themselves or someone they know who are currently serving in the military, retired from the military, are a first responder or former first responder for this prestigious honor.
Welcome to Quick Fill.
With the 2018 GNCC Night of Champions Banquets in the books, the 2018 season is officially 100% over. If you missed out on last weekend's festivities, then you should make plans to be there for the 2019 edition because the entire weekend was lots of fun. Between the championship celebrations and the general camaraderie of the entire weekend, there's no doubt that there is a lot of fun to be had at the GNCC banquets and we're already looking forward to the next one.
Of course, what we're looking forward to more than that is the 2019 GNCC Racing season. If you were at the banquet you surely saw the 2019 GNCC schedule printed inside the banquet programs. The official PR on that schedule will be coming very soon so stay tuned for that but it's very similar to the 2018 schedule with one exception. If you were at Powerline Park this year, you probably heard the rumors rumbling that this was the last Powerline Park event. Those rumors did end up coming true and we will not be returning to Powerline in 2019.
For those who aren't familiar with the story, Powerline Park was an old strip mine that had been converted to a riding park. However, they closed to general riding after their 2017 season and the Rover Pipeline will be coming across the property. It's a natural gas pipeline that will span 713 miles when it's finished and transport up to 3.25 billion cubic feet per day of domestically produced natural gas. It's a pretty big project and while we're obviously disappointed to lose the Powerline Park property, this pipeline is a huge moneymaker for employees in that field and we know there's a ton of Gas and Oil Industry workers who are GNCC racers.
So, as of right now our penultimate round of the 2018 season is currently scheduled as a TBA event. We're looking at several different options at this time and hope to have something finalized as soon as possible. Of course, if you know of a facility that you think could be able to host a GNCC event, drop me a line at [email protected] and let me know the details. Keep in mind that it needs to be a fairly large parcel of property with lots of room for good, level parking. We need at least 500 acres and we need somewhere close to 100 acres of parking. Additionally, you really need to be within a reasonable distance to hotels, restaurants, etc and obviously we'd like to stay within the traditional GNCC area. If you know of somewhere that could be a good fit, let me know! Even if it's not in the cards for the 2019 season, it's always good to know of other places.
If you were at the banquet Saturday night then you heard the announcement that Specialized Bicycles has signed on as the presenting sponsor of the series. This is huge and shows the commitment that the Specialized brand has for the eMTB world. An official PR with all the details, including the 2019 eMTB schedule, will be coming soon so stay tuned for that one as well. We know the three eMTB races we had in 2018 turned out to be very muddy and definitely not ideal conditions, but fingers are crossed that 2019 will bring something much, much better.
We've also taken a lot of the feedback we got from eMTB riders and will be working to make the racecourses themselves even better. The biggest suggestion sounds like folks want single track in those courses. I actually cut in a couple of fresh single track sections for the first eMTB race at The John Penton but unfortunately the wet conditions put a damper on those. I'm trying to get out this winter and ride my mountain bike on some real mountain bike trails to get an even better feel for what it should be like, so hopefully that leads to some good ideas. Of course, if you have any feedback just email me at [email protected] and let me know what you'd like to see!
Speaking of eMTB racing, if you're thinking about making a serious run at it next season then our friends at Gear Bicycle Sales are here to help! These are the same folks who run MotoTees, and they have a sponsorship program available for the 2019 season. Rachel Gutish will actually be catching up with Charlie Mullins for a Tuesday Toolbox next week and Charlie will have some more details on their program. If you're interested in applying for their program, you can fill out the application on their website. Click HERE to check it out!
Another recent announcement from the banquet comes from Team Babbitt's/Monster Energy/Kawasaki Team Green. We've heard the rumblings for a while but it's now official that the team will be going GNCC Racing in 2019 with Josh Strang. They will also have a second rider that will be announced soon but both riders will be contesting the series aboard Kawasaki KX450F's and these bikes will look sweet! Strang's bike was on display Saturday night at the banquet and if you didn't see it in person, well, the photos do it no justice. Check out the PR HERE.
We mentioned last week that our friends at Rocky Mountain ATV/MC would be at the banquet once again to give away their annual Ticket to Ride and once again some members of the GNCC Racing Nation will be heading to Moab, Utah for some great riding in the spring! On the ATV side, Justin Kerr and Kara Short will be heading out for the epic UTV ride while "Shotgun" Shawn Remington and Adam Prysmont were the bike winners. Additionally, we also select part of our staff to attend as well. On our side, the father/son duo of Mike and Jeremy Holbert will be heading out to enjoy the best that Moab has to offer. We hope everyone who was picked enjoys themselves because word from everyone who has ever attended is that it's a blast!
As for rules, number confirmations, classes and all of those other updates for 2019 that you're probably waiting on pins and needles for, stay tuned because we'll be working on those soon and will have them posted for you the check out in the coming weeks. It doesn't happen overnight and there are a lot of meetings happening right now across the motorcycle industry, including the annual AMA Congress that will be happening this weekend, so that means everyone is very busy but we'll have it posted soon.
Speaking of AMA Congress, for those who don't know, this is essentially the process that helps to write and amend rules in the AMA rulebook. Commissioners from across the country are selected from various regions to represent their respective disciplines and together these folks are the ones who discuss changes to the AMA rulebook. I actually attended the off-road meeting two years ago as an Industry Observer, but actually have been fortunate enough to become part of the commission this year. This is also held in conjunction with the Motorcycle Hall of Fame Induction Ceremony and the AMA Racing Banquet, all taking place throughout this weekend. I'm pretty excited to check it out and if you're around this weekend, feel free to say hi!
That's going to do it for this week's edition of Quick Fill. We'll have that schedule up very soon, so stay tuned and be sure to check back next week for all the latest happenings in the world of GNCC Racing. Enjoy your weekend!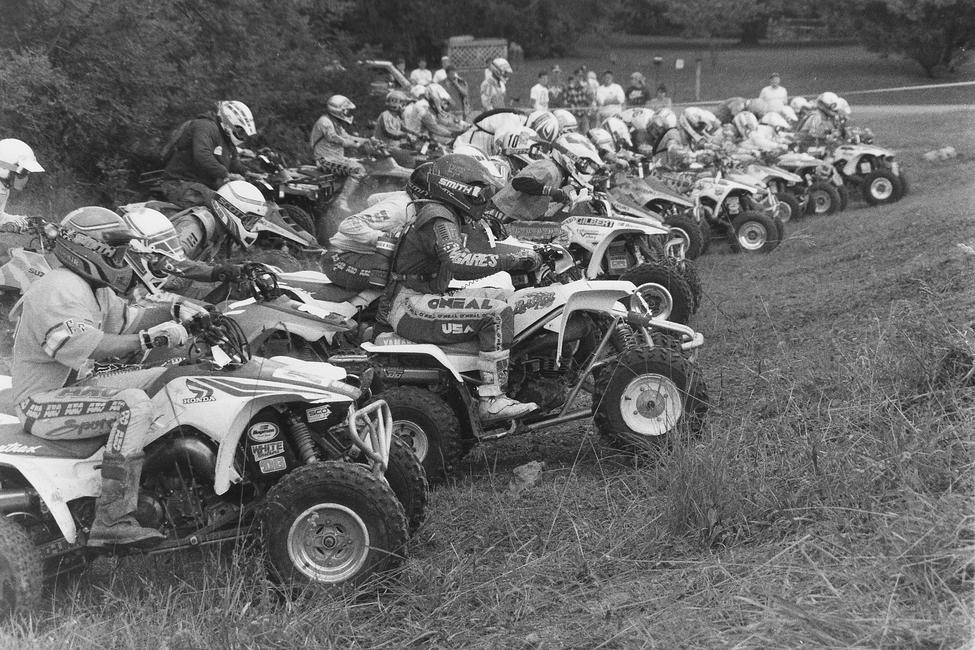 #ThrowbackThursday