Kayla Bolton
Time
Wednesday, December 5, 2018 | 10:30 AM
FOR IMMEDIATE RELEASE
Kayla Olliver
(304) 284-0084
[email protected]
GNCC Racing Recognizes Top Racers and Sponsors at 2018 Awards Banquet
Over 100 Championships Crowned Over The Weekend
MORGANTOWN, W.Va. (December 5, 2018) – With the 2018 AMSOIL Grand National Cross Country (GNCC) Series complete, the annual GNCC Night of Champions took place this past weekend, November 30 and December 1, at the Morgantown Marriott at Waterfront Place in Morgantown, West Virginia. Nearly 1,500 racers and family members from all over the country came together to celebrate the prestigious accomplishments of the top 10 racers in each championship class.
After opening ceremonies and dinners on Friday and Saturday evening, the Masters of Ceremonies, Rodney Tomblin and Mikey Waynes took to the stage to honor each championship class. In addition, a handful of specialty awards and recognition of series sponsors and supporters took place. The best ATV and UTV racers were honored in front of over 680 people on Friday evening, while over 700 attendees filled the room Saturday evening to honor the top motorcycle races in the series. For a full list of 2018 GNCC champions please click HERE.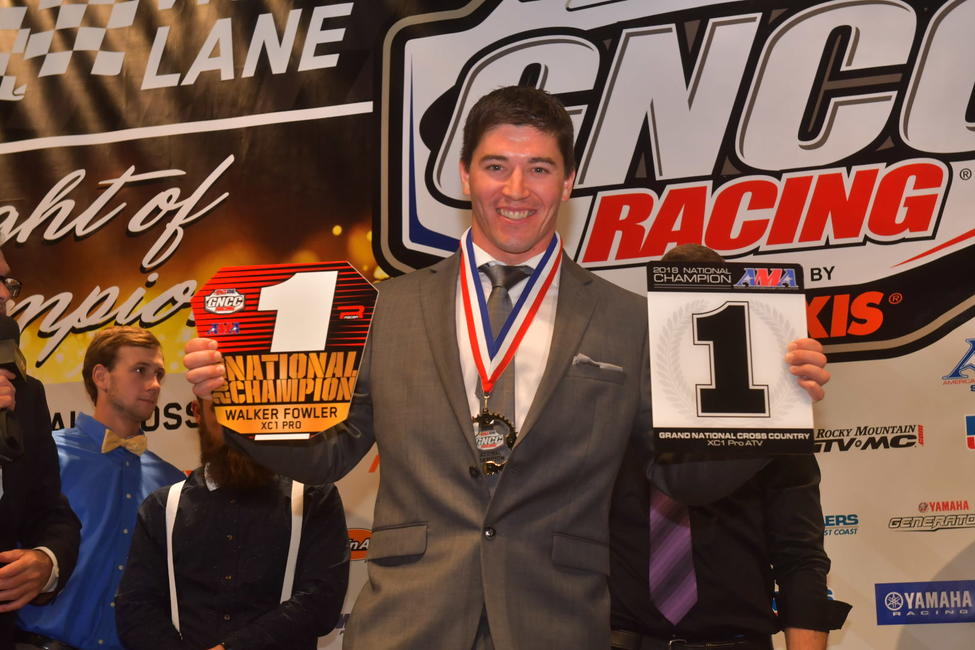 As racers, their families and fans made their way to the banquet room, they had the opportunity to step onto the Racer X Red Carpet. Attendees could take a moment to talk with Racer X about their season, and most importantly talk about why they race as part of the #WhyWeRace campaign on social media. The event was a success both Friday and Saturday evening, as multiple racers made their way down the red carpet answering various questions, and GNCC racers are encouraged to stay tuned to social media to see the outcome.
2018 Specialty Award Winners
ATV Winners
Bike Winners
Rider of the Year – Walker Fowler
Rider of the Year – Kailub Russell
4x4 Rider of the Year – Kevin Cunningham
Amateur Rider of the Year – Brewer Cawley
Amateur Rider of the Year – Jeffrey Pickens
Youth Rider of the Year – Max Fernandez
Youth Rider of the Year – Layne McCormick
Most Improved – Ben Kelley
Bad Ass Award – Alicia McCormick
Rough & Ready Pit Crew – Dave Zimpel
Rough & Ready Pit Crew – Catherine Cook
Media Excellence – Mason Rader
Manufacturers Cup – Yamaha Motor Corp.
Special Achievement – Tayla Jones
State Championship - Pennsylvania
Manufacturers Cup – KTM North America
In Memoriam – Mike Ockerman, Cory Mason, Michael Brinkley, John Jarrett, Robert Reinhart, Dottie Boyles, Catherine Cook, John Hart and Lynsey Cain.
State Championship – North Carolina
Sponsor of the Year – Monster Energy
In Memoriam – Brandyn Smith, Ruth Ann Benson, Robert D'Agostino Jr., Stanley Lojak Jr., Thomas "Hank" Judy II, Debbie Droppleman, Christopher Meadows, Cody Stickley, Brent Cahoon, Ronald Martin and Howard Juckett.
For the sixth year, Rocky Mountain ATV/MC returned with their Ticket to Ride program. Four lucky winners received a paid trip-for-two to Moab, Utah for a riding expedition with the Rocky Mountain ATV/MC staff to take place this upcoming spring. A congratulations goes out to Friday night's winners, Justin Kerr from Waynesburg, Pennsylvania and WXC rider Kara Short from Windsor, New York, who will be provided with Side-by-Side machines on the trip. Saturday night's winners, Shawn Remington from New Salem, Pennsylvania and Kyle Prysmont from West Chester, Ohio will be provided motorcycles on their trip in the spring.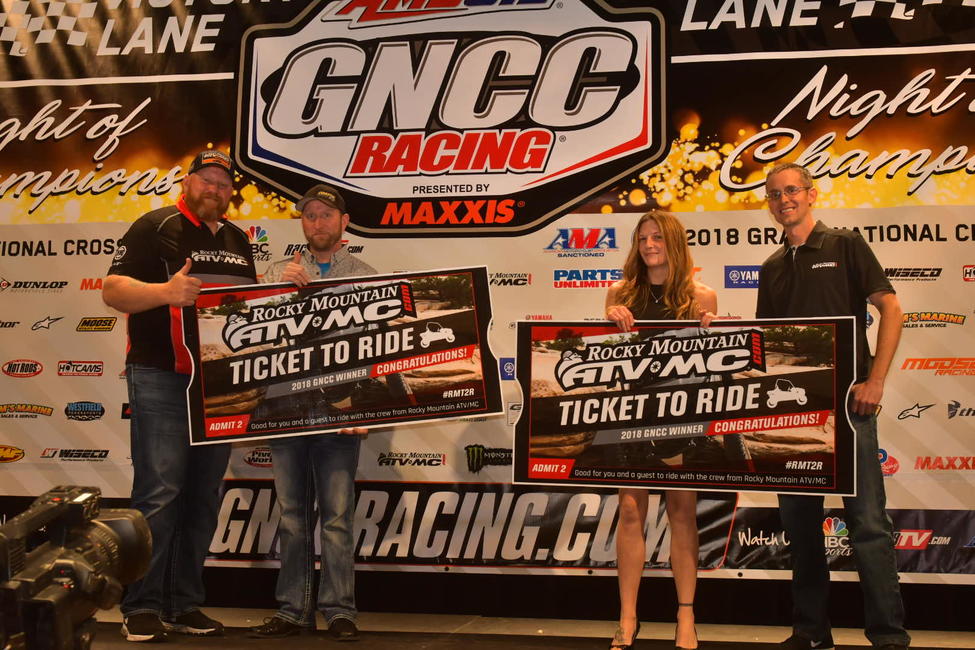 The Ironman Pink backdrop had been hosting an online bidding war that came to an end during the banquet weekend. Jonathan Cook of Veedersburg, Indiana, won the backdrop by donating over $1,000 towards GNCC Racing's Breast Cancer Awareness efforts. With the Cook family donation, this brings GNCC's total donation amount to over $12,480 for the Montgomery County Free Clinic in Crawfordsville, Indiana. Also walking away with the Night of Champions backdrop on Saturday evening was 125 B/C National Champion, Derek Mabe.
Contingency awards were distributed to the top five finishers in each class, with door prizes also being raffled off to racers throughout the evening. GNCC series sponsors stepped up to distribute several thousand dollars' worth of prizes, a special thanks goes out to AMSOIL, HBD MotoGrafx, Maxxis, Moose Racing, Thor/Parts Unlimited, Rocky Mountain ATV/MC, 100% Goggles, FMF Racing, CST Tires, Monster Energy, VP Racing Fuels, Dunlop, Wiseco, Hot Cams, Vertex Pistons, Factory Connection, Cometic, Hinson Clutches, Twin Air, Alco Cleaners and Moto Tees.
Immediately following the awards, musical entertainment was provided by DJ ELO, as GNCC Racers and their families continued the celebration on the dance floor. GNCC also provided a free photo booth to capture the evening's festivities, as well as a kid-friendly zone right outside of the banquet room including a video gaming station, inflatable Alien Invasion and life-size Jenga.
For those racers unable to attend the GNCC Banquet, awards can be obtained by filling out the GNCC shipping form HERE. Racers will be responsible for the cost of shipping and handling prior to shipping the award, and request can be made until December 31, 2018.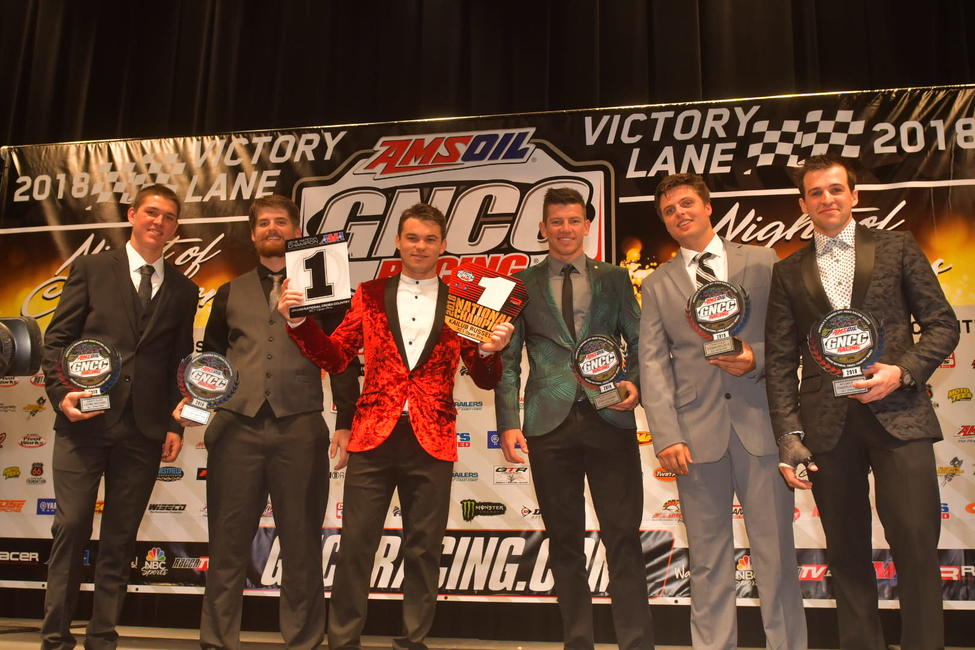 The 2019 AMSOIL Grand National Cross Country Series will kick off with the Big Buck GNCC in Union, South Carolina the weekend of February 23 and 24. The full 2019 schedule will be released within the next week.
For more information on the GNCC series, visit the official website at www.gnccracing.com or call (304) 284-0084. Join the conversation on the series social media channels, along with receiving the most up-to-date news and exclusive content.
About GNCC Racing
The AMSOIL Grand National Cross Country Series is America's premier off-road racing series. Founded in 1975, the 13-round championship is produced exclusively by Racer Productions. Cross-country racing is one of the most physically demanding sports in the world. The grueling three-hour GNCC races lead as many as 2,400 riders through tracks ranging in length from eight to 12 miles. With varied terrain, including hills, woods, mud, dirt, rocks and motocross sections, GNCC events are tests of both survival and speed. The series draws talent from all over the U.S., Central America, South America, Europe, Japan, Australia and New Zealand. GNCC Racing is televised weekly on NBC Sports and RacerTV.com. For more information, please visit www.gnccracing.com.
How to Watch
Racer TV and NBC Sports Network (NBCSN) are the official homes for coverage of the AMSOIL Grand National Cross Country (GNCC) events. All 13 rounds, from the season opening Big Buck GNCC in South Carolina to the finale at Ironman Raceway in Indiana, will air in 30-minue; taped-delayed telecasts on NBCSN, while Racer TV provides live streaming coverage of the 1 p.m. ATV and motorcycle races from each event. Catch all the action at http://www.nbcsports.com/ and http://www.racertv.com/.
About the American Motorcyclist Association
Founded in 1924, the AMA is a not-for-profit member-based association whose mission is to promote the motorcycle lifestyle and protect the future of motorcycling. As the world's largest motorcycling rights and event sanctioning organization, the AMA advocates for riders' interests at all levels of government and sanctions thousands of competition and recreational events every year. The AMA also provides money-saving discounts on products and services for its members. Through the AMA Motorcycle Hall of Fame in Pickerington, Ohio, the AMA honors the heroes and heritage of motorcycling. For more information, visit www.americanmotorcyclist.com. Not a member? Join the AMA today: www.americanmotorcyclist.com/membership/join.