Jared Bolton
Time
Thursday, August 9, 2018 | 2:20 PM
AMSOIL is proud to be the title sponsor of the GNCC Racing series for the past 7 years. New for 2019, AMSOIL is partnering with the series to bring a GNCC AMSOIL Moto Hero to each and every round. Racers, Fans, and Industry Personnel are welcome to nominate themselves or someone they know who are currently serving in the military, retired from the military, are a first responder or former first responder for this prestigious honor.
Welcome to Quick Fill.
It's been a few hectic weeks for us as we've been down at Loretta Lynn's Ranch for the Rocky Mountain ATV/MC AMA Amateur National Motocross Championship last week and we now roll into this weekend's ATV Motocross event. This should prove to be a pretty interesting race as Joel Hetrick and Chad Wienen are locking in an intense battle for the ATV Motocross National Championship, and it all comes down to these final two motos this Saturday. With that said, this week's edition of Quick Fill will once again be a bit on the quick side as we're busy here at the ranch getting things ready for this weekend.
As for the two-wheeled crowed last week, well it was a great week of racing! This year is one of very few years where no rain fell on the event. The crew was busy keeping the track watered, but that's a good problem to have and it made for some great racing as well. I mentioned a few weeks back that we had some familiar names from the GNCC community racing at Loretta's and each of them did pretty well! Former Open-A competitor and current Mid-South Hare Scramble champ, Darin Downs, kicked the week off right with a commanding first moto win in the Vet 30+ class.
Andrew Matusek was also really strong in that Vet 30+ class as he came from a first lap crash in moto one to finish seventh. Matusek would go on to log a second and a third in the final two motos to finish with a solid fourth place overall. Downs would finish fifth and sixth in the final two motos to end the week in fifth overall, while Garrett Edmisten ended up with sixth overall. Mason Raynor also had a great week as he would claim fourth overall in the 51cc (7-8) Limited class. Huge congratulations go out to all of these riders as they showed that woods riders know how to ride moto as well!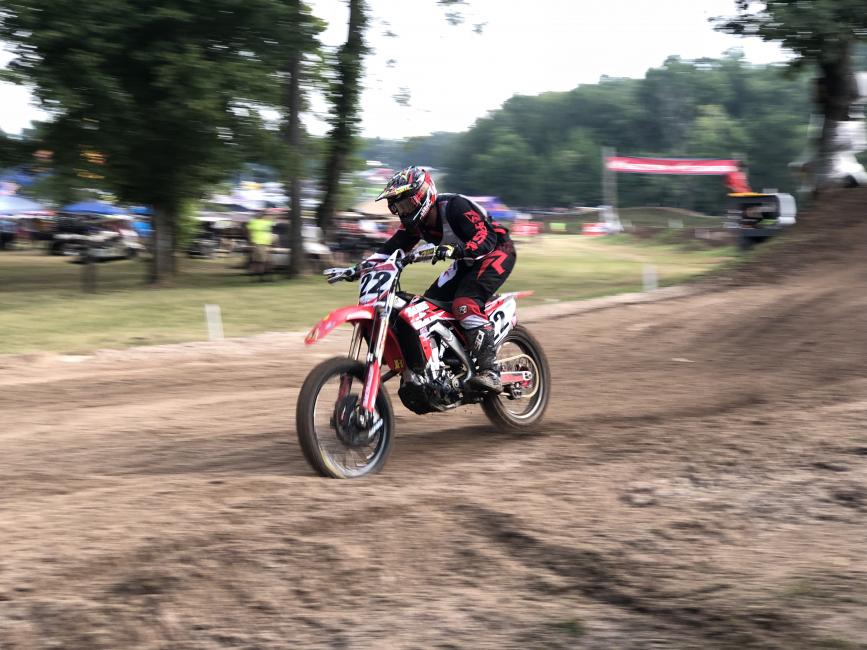 Speaking of woods riders riding moto, in case you haven't already heard, Kailub Russell will be contesting the final three rounds of the Pro Motocross Championship as part of the Red Bull KTM Factory Racing Team. This is really cool to see and many are speculating at the potential for some good performances out of Kailub. He's been training with the motocross guys at Aldon Baker's facility in Florida for quite some time now, so there's no doubt that he's had some top notch training to prepare him for this.
The first of those three rounds will take place at Unadilla this weekend, followed by Budds Creek and Ironman. These are perfect rounds for Kailub given his GNCC experience at Unadilla and Ironman. Additionally, these rounds seem to get rutted deep, making for some gnarly conditions, which may give him a little extra edge against full-time motocrossers. Make sure you tune in and catch the action for each of these rounds, as it will definitely be cool to see things unfold.
In other news, if you're looking for some quality reading, our friend Brent Smith from We Went Fast wrote a great article on GNCC patriarch, Big Dave Coombs. For anyone who is even remotely interested in the history of our sport, this is well worth the read as it chronicles Big Dave's rise from a young musician to his discovery of the sport of motocross, and how it morphed into everything we know now. It's an incredibly well done article and even some of the most studious historians could learn something from it. You can read it HERE, and trust me; you'll want to read it.
One last reminder before we end this week's Quick Fill, we will be hosting three rounds of eMTB racing in our final four rounds. Black Sky, Mason-Dixon and Ironman will all host eMTB racing. We really want this to grow and if you ask anyone who did the first round at The John Penton, it's well worth it to race. It's not only a lot of fun, but it's also a great bit of exercise before you race. Now, you may be thinking, "I don't want to wad myself up before my race" but keep in mind that it's really no different than pre-riding the course on your eMTB. In fact, it's actually a bit safer as the course is designed for an e-bike. So don't miss out because it's a lot of fun!
That's going to do it for this week. Don't forget that summer break is winding down and we'll be back to racing before we know it, so make sure you're ready to get back to it! Enjoy your weekend and stay safe!