Rachel Gutish
Time
Tuesday, August 7, 2018 | 6:00 PM
Stemming from the grassroots of family racing, Wiseco has over 75 years experience manufacturing pistons, whether it be for fun, weekend riding, or professional racing. Wiseco is one of the few manufacturers forging pistons in the U.S., providing quality and performance you can trust. 
Click here
 to see the latest Tech Tips from Wiseco.
Steven Squire, a former pro rider both in motocross and GNCC, has recently expanded his SSR Rider Development program by opening a training facility for both full-time and part-time residents, as well as Indiana locals. Unlike most other facilities out there though, Steven coaches a number of GNCC riders, and focuses just as much on training the woods riders as he does on the moto kids (though several of his riders did recently have stellar finishes at Loretta's), making his facility an interesting development for off-road riding as a whole and GNCC in particular. You can learn more about SSR by visiting their website (www.ssrriderdevelopment.com) or by following SSR on social media (insta: @ssr_rd , facebook: Steven Squire).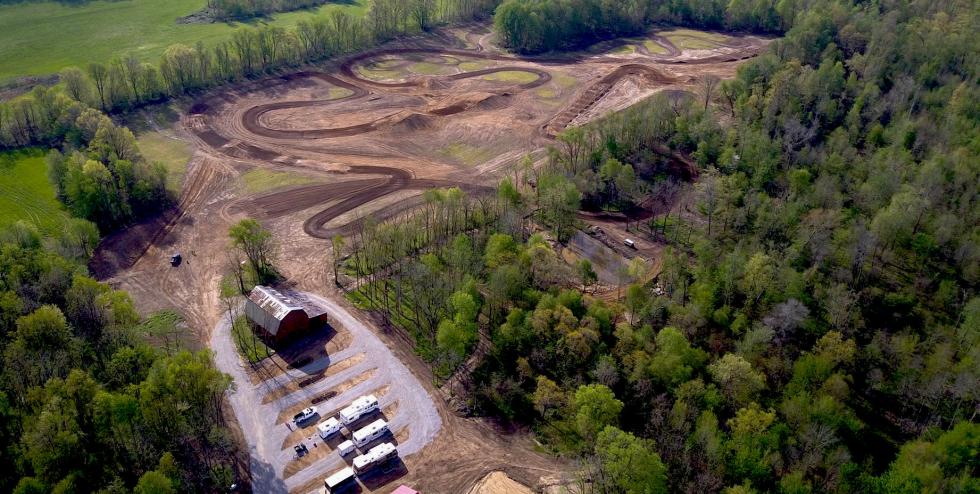 GNCCRacing.com: Tell us a little about your career as a pro rider.
I turned pro racing motocross in 2009 and started racing GNCCs in 2011. I raced GNCCs from 2011 to 2014, and then stepped back from the racing myself so that I could focus more on the coaching side.
Was that initial transition form moto to GNCC challenging?
Yeah, it was for sure! Every aspect, from preparation to recovery is different between MX and XC. It was a lot to learn in a short amount of time. The biggest challenge was staying mentally focused for three hours. It was extremely tough for me, coming over from the shorter MX races. Both MX and XC are challenging in their own way, but since I grew up racing MX I had a lot to learn when I crossed over.
Do you ever miss racing professionally, or do you find coaching to be equally rewarding?
Occasionally I miss racing and being out on the track, but I definitely get the same sense of fulfillment from coaching and helping out riders achieve their goals. When I started SSR it didn't take me long to realize that I had a passion for working with others. I found myself putting more devotion into their programs than my own, and that's when I started to see the bigger picture and the direction my career path should take.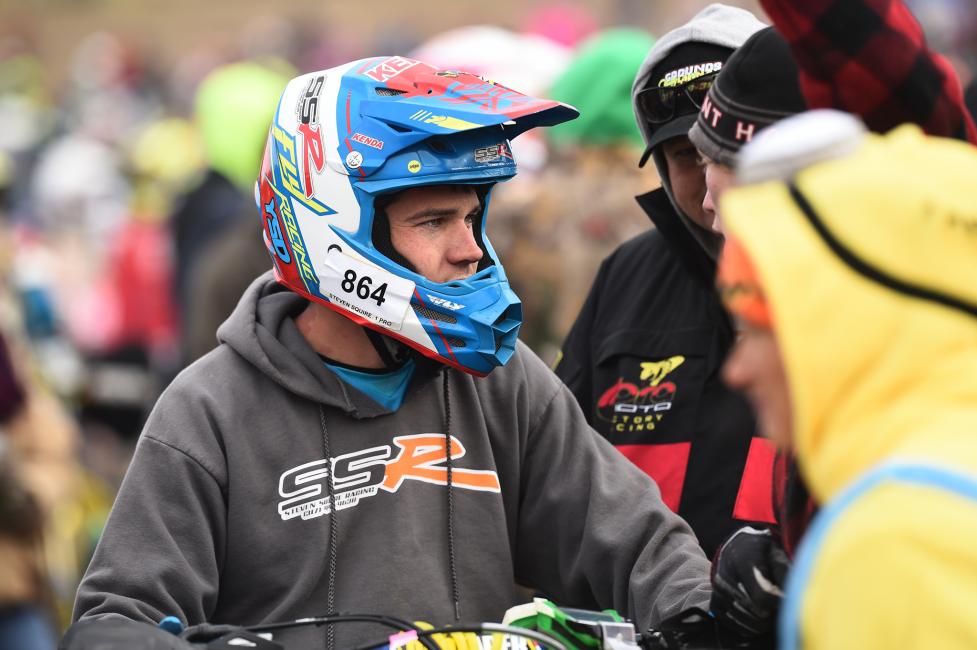 So what gave you the idea to start working as a trainer, and how did you actually get started with it?
While I was racing I had a lot of people ask me over the years if I would work with them or their rider. At the time I was so focused on myself and my own program that I never took advantage of the opportunity. Eventually I got to the point where I wanted to create a source of income, especially when I was injured. As soon as I started, I loved it! From there it was full steam ahead from where it was then and where we are now, and I've enjoyed every second of it.
You've been training riders for a while now – what mistakes, both off and on the bike, do you think are most common?
Off the bike, I would have to say preparation. Whether it's the bike or the rider, a lot of people just wait until the last minute or push stuff off and then suffer during the race because of it. Then they repeat that same cycle, race after race. I do understand that many people just don't have much time to devote to their racing program. But prepping your body with proper diet and hydration is something that doesn't take that much time, it's just something many don't have the discipline to do. As far as on the bike mistakes go, probably not looking ahead is the biggest one. I find that a lot of XC riders struggle to look ahead and read the trail. Foot placement on the bike is also a big one. It's so critical but balance and control, but so often it gets overlooked.
Sounds like you know what you're talking about! Besides your own personal knowledge of racing in both GNCC and moto, what do you think distinguishes SSR from the multitude of other camps and trainers out there?
First and foremost, we aren't just a camp. We don't set something up for a week or a weekend and then pack up and move on. Nothing against the people who do that, we just believe in continuous hands-on training, where we work together the whole season to accomplish each rider's goals. Furthermore, SSR is the first full-time training facility in the Midwest that is devoted to both XC and MX riders. We have everything a rider needs on-site here at out facility, and we train Monday through Friday, week after week after week. There are no long-distance communications with scheduled call times and emailed workouts, punctuated with short training camps. We are here, in-person, with the riders for as long as they want to stay. We work with them and push them every day to be better than before.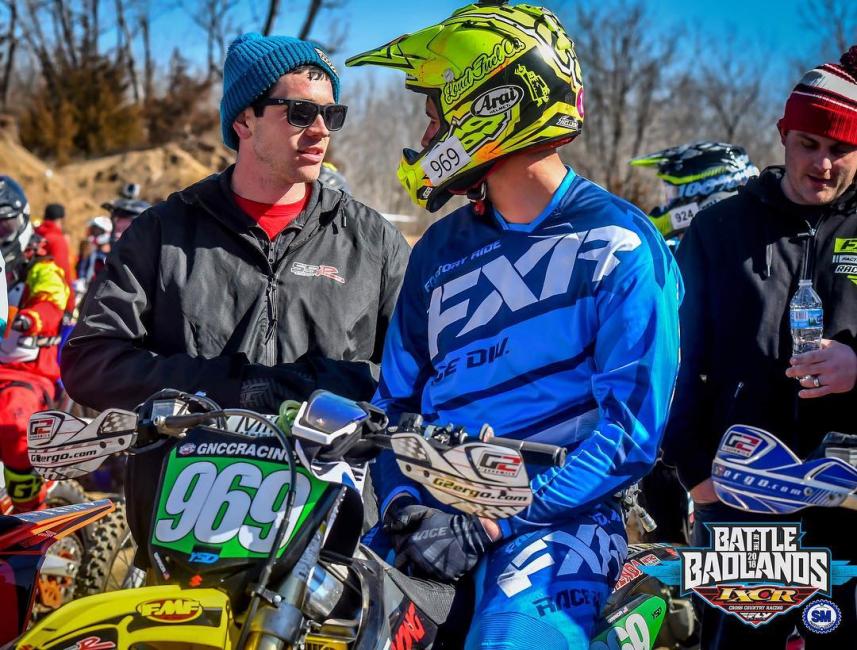 Not only are you there all the time with your riders, it seems like you have a close bond with them. During training sessions, you often talk about SSR as a family. Can you elaborate on that?
Oh man… that's a tough one to put into words, but you are right. We all train together on a daily basis and push each other to keep improving. We stretch, ride, workout and eat together on a daily basis – sometimes we even travel together to and from the races. So naturally we develop close relationships with our riders. We all share an equal passion for racing and want to see our riders succeed as badly as they do. It's not all about yelling and screaming or punishing them when they are unable to fulfill the task at hand or for getting a poor race result. We believe in a positive family atmosphere because this sport is mentally and physically demanding enough already. You don't need a coach yelling at or belittling you and making you feel worse when you're already struggling. As long as the rider is giving us 110%, we try to coach from the heart, and be someone you're excited to call after the race and tell us how it went. I want to make the riders feel great about the work they put in and enjoy the process along the way. With all of that, every rider here is expected to do the same and treat each other as they want to be treated. We have heated battles on the track and competitions in the gym, but everyone here knows that is to make them better. When it's all done, we kick back, relax and laugh about it.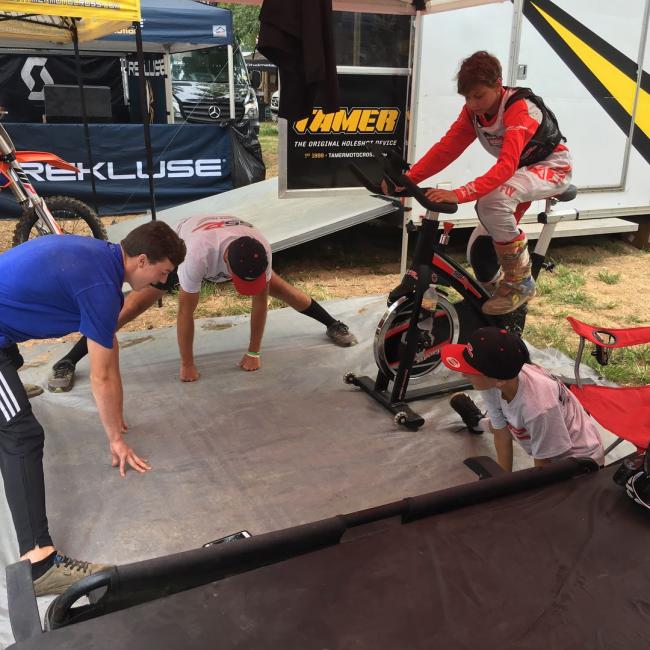 That's a great attitude to take about training, and life in general, really. Now, where would you like to see this go in the future.
Well, obviously I want to see our facility continue to grow and be successful. We pour our hearts and souls into this on a daily basis and it's awesome to see that pay off as we progress every year. We want to create the next generation of top GNCC riders and I believe that we are on the right path to do so. From the peewees to the pros, we have SSR riders in just about every class, and we are here to help them reach their goals, whether it be a class championship this year, or to someday win an XC1 title.
Is there anyone you would like to thank?
First off, I'd like to thank everybody here at SSR that keeps the place up and running. I couldn't do it without you guys, nor would I want to. I want to thank my wife, Whitney, for all the support she's given me over the years. Finally, I'd also like to thank all the riders, parents and families who have supported SSR from day one and have helped me get to this point.