Jared Bolton
Time
Thursday, June 28, 2018 | 2:05 PM
AMSOIL is proud to present the new AMSOIL Garage for the 2018 GNCC Racing season. Located in the Finish Line Village apart of the KR4 Arrive-N-Ride team pit area, the AMSOIL Garage will be the one-stop-shop for all of your oil needs, as well as advice and assistance on minor repairs or installation. Staffed by professional mechanics and an AMSOIL dealer, stop by and visit the AMSOIL Garage at each of the 13 rounds of the GNCC season. 
Welcome to Quick Fill.
With the conclusion of the Snowshoe GNCC this past weekend, that means we roll into the summer break. It's hard to believe we've already completed nine rounds in the 2018 season but that first part of the season is in the books and just four rounds remain. Of course, we've got some time off before those final four rounds and it gives some folks the opportunity to hit the reset button and get ready for a final push towards a championship.
As usual, Snowshoe was tough and muddy but a lot of folks really enjoyed the challenge. Those who didn't race still had a lot of fun between spectating the race, spectating the concerts and other activities, and just generally having a great time. There's no doubt that Snowshoe is a great way to cap off the first part of the season and it serves as somewhat of a last great get-together before we break for the summer.
Another thing that is really cool about Snowshoe is getting to see some folks we don't get to see very often. Once again, our friends from the Japan National Cross Country paid a visit with Ren Ishidoya competing in the XC1 class and Mai Ishimoto in the Women's class. Along with superstar translator Yoshi Kawana, it was great to see our JNCC friends on the mountain and we're excited to visit them on their home turf later this season.
We also want to send huge congratulations out to Josh Strang and his wife Cameron on the birth of their son, Maverick. It would be a whirlwind weekend for Strang as Maverick was born Saturday morning, and he would have to turn around and head straight to Snowshoe to race on Sunday. Thanks to some extra help from Josh's dad, Vince, and Andy Barkley (who promotes some NCHSA events and helps us out at Steele Creek) Josh was able to make it to Snowshoe in time for the race. Congrats Josh and Cameron, we're excited to see Maverick grow up at the races!
That's going to do it for the intro this week. This week's Quick Fill will be a little bit, well, quick, as I'm still working on some clean up from Snowshoe. It's a long summer break, so if you have any Quick Fill contribution ideas or would like to contribute something yourself, drop me a line at [email protected] and let me know what you have. Enjoy your weekend and here's to a great summer!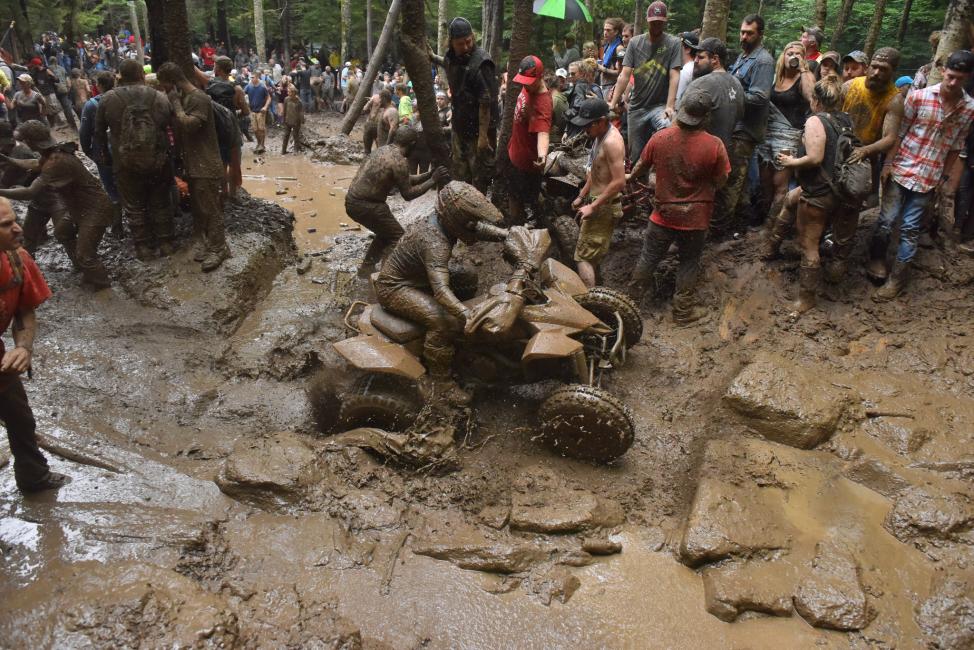 Catching Up With Ken (Ken Hill)
It is now summer break time for the series after a grueling nine rounds of racing! I don't know about you but the break in travel is sure needed, although I would bet money on the fact that the majority of you will still be running and racing every weekend. Even as much as I look forward to things slowing down, I too will be spinning tires as I fill in here and there so the lights can stay on. Maybe the older you get time starts to speed up, or maybe I am just old enough that I can look back through decades of time and remember things because I surely do not recall time moving this fast when I was a younger man! In any event, if you read no further, I want to wish you all a great summer break and pray you all find some down time to enjoy life and the pleasures it can bring far removed from the hustle and bustle of the racing life.
Snowshoe is most definitely a beast of a race; there is no other way to describe it. It could be the facility because let's face it, fancy hotels and hot tubs are not usual amenities at a GNCC race nor is the plushness of a resort. Dining on fine food with the podium out the window sure brings a different vibe to the event as well as a rowdy atmosphere, especially when the concerts are underway and everyone gets a chance to let loose. For me, it is a stressful round that kicks my butt up and down that mountain every year and with this years rain it was of no exception and probably beat me up more than any previous year we have raced here. Each year I learn of a new spot to shoot at or a new way to get into an area. This year I learned what trees provided some relief from the downpours that let us know just who is really in charge! It seems no matter how I tried to plan things out, the rain would fall just as I got set up and would have to retreat to areas where I could try and keep my gear somewhat dry which was a loosing battle.
Saturday is all about Howard's Hole and the fans that make the trek to that rock infested, mud filled piece of property. It is a mud filled, sloppy mess and we love it so! You can barely walk without assistance and trying to get through the crowd is a day's work as so many have made this spot the place to be. You will see it all in that hole, and probably some things you will never forget. However, it is a good time and a great place to be if you want that experience. Trust me, if you get close enough to actually see a quad, you will be muddy and elbow-to-elbow with the true fans of this sport and get to know them in ways you never thought possible. I can't say anymore, you'll have to find out for yourself what all that means!
The racing Saturday was solid with everyone groaning about the conditions but refusing to let Mother Nature ruin a good thing. Some were ear-to-ear grins because they love the mud and slick rocks and the added challenge this race brings. Others were absolutely not happy and were dreading the conditions and with good reason because that place is rough. Layne McCormick met his goal of winning the youth overall and did so in a commanding fashion as he set the tone for other races that followed. Landon Wolfe was able to take win number two in the 4x4 Pro and claim the overall after a real throw down with Kevin Cunningham. How those big quads stay in one piece for two hours for this race is unreal and keeping one at a race winning pace might be the biggest obstacle of all here at Snowshoe.
By the time the afternoon ATV's were lined up on the street, the rain was again falling, the fog was getting thick and everyone was eager to see who would be the winner as so many in the XC1 pro class want to claim they were the best here on the mountain. Row after row of racers took to the pavement and that would be the last time you could tell who was who as everyone became a monochromatic blur of spinning tires and exhaust noise as they disappeared into very wet and slick rocks and mud. My first shooting spot was Howards Hole and I couldn't tell who was who as they ripped through there. Cheers and screaming alerted us that the pro's were coming in hot and in the blink of an eye they were gone and it was business as usual again. Chris Borich came out on top and did so with enthusiasm we have not seen from him possibly ever. It was really good to see him take top honors and even if you aren't a fan of his, you clapped and cheered him on because he had earned this win straight up.
I asked on my social media for some quotes about this weekend and they were pretty funny. The best came from none other than Johnny Gallagher who is healing up from a broken collarbone. Johnny stated:
"If this weekend was a preview of what retirement will be like then I am actively working on contract extensions with my sponsors through 2023! I legitimately couldn't even manage to watch the 1pm race Saturday. I just hid from everyone under an ez-up and kept myself occupied with busy work. It sucked and the only possible good I see out of it is it reaffirms that I am not ready to give up racing yet!"
I know I am not alone when I say I hope Johnny doesn't hang up his helmet anytime soon as he is such an asset to not only this series, but to this industry!
Others had things to say as well; Douggie Hill stated "How many laps until its over". Michael Hayes stated, "After 28yrs of ATV racing, I believe the checkered flag for Saturday's PM race was the best looking one I've ever seen. What a challenging race, loved every minute of it!" David Murray commented "For the PM bikes, course had parts of the course flowing over flowing like creeks right down the course, muddy as it gets, sections with bottomless ruts but course was unbelievably pretty fun even with those conditions, but I love those types of conditions!" Rick Valentine commented "Definitely the first time I've ever had a bear run in front of me during a race!". Hey it is Snowshoe and you never know what you will see!
The overall sentiment was people were glad it was over and the majority of that feeling was the weather and conditions. Sunday wasn't much better but things cleared out half way through the afternoon race but the damage was done. Kailub Russell looked like a deer dancing through the woods as he charged to another win with a big smile producing Grant Baylor taking second and Trevor Bollinger pushing to find the podium one more time in third. Bollinger was let down, maybe even mad because you could see it after the race he knew he could have done better and third place did not sit well with him. I have a feeling after the break he is going to be a real handful!
Thad Duvall was living large and in charge until he took a spill and injured his wrist. I stopped into the medical care center and checked on him and he was outwardly emotional knowing this could end his quest to battle Russell for the championship but at this time I have not seen any info released that states how severe the injury is and we are all praying he will be back when racing resumes in September 100% and ready to take the fight to Kailub.
Well people, that is all from me this week. I am gearing up to head to Ohio for a photoshoot with some street bikes and hopefully the weather remains nice. As always, please be safe in all you do and in your travels and may God bless you all! See you in September!