Rachel Gutish
Time
Tuesday, March 13, 2018 | 12:40 PM
Stemming from the grassroots of family racing, Wiseco has over 75 years experience manufacturing pistons, whether it be for fun, weekend riding, or professional racing. Wiseco is one of the few manufacturers forging pistons in the U.S., providing quality and performance you can trust. 
Click here
 to see the latest Tech Tips from Wiseco.
DeRisi racing is a fixture in the GNCC ATV scene. Their North Carolina-based shop performs a number of different services for ATV and side-by-side riders. Although well-known, their expansion into 4x4 pro racing is a relatively recent one. This weekend I spoke with the shop and team owner Santo DeRisi as well as their three 4x4 pro riders about their program. Both 4x4 riders who competed this weekend turned in good finishes, taking second and fourth in 4x4 pro.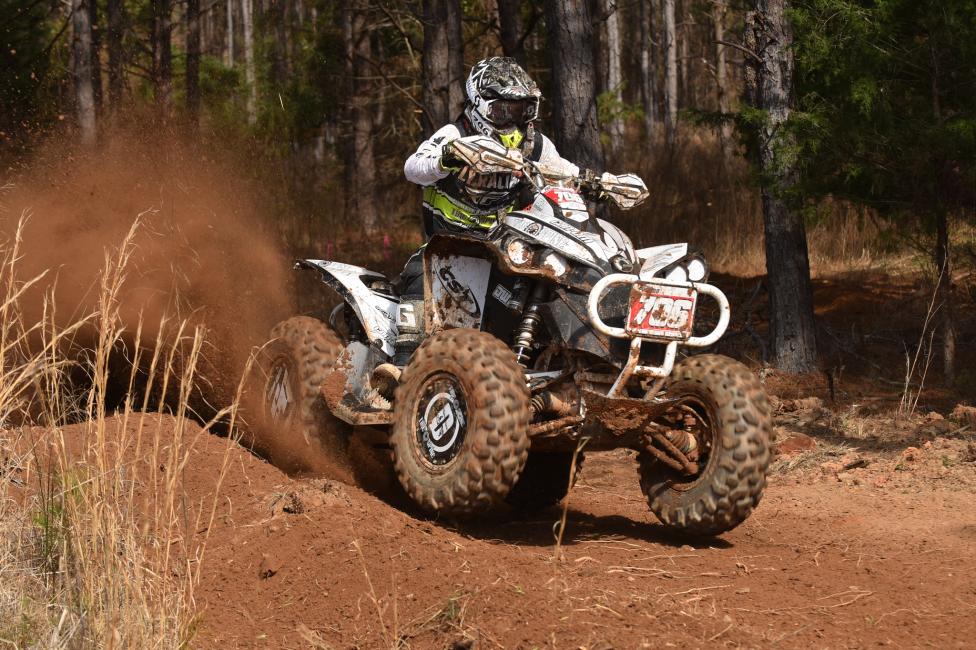 Santo DeRisi
GNCCRacing.com: Good morning Santo! Now you were a racer before you started up your shop and team, correct?
Santo DeRisi: Yep, I raced from '93 up until about 2010. I started the company in January of '99. I did both of them together, but eventually it just ended up being way too much. So I decided to quit racing and focus more on the company. Try to build it up and make it bigger and stronger for the riders.
Can you give me a brief overview of your riding career?
SD: Yeah. I started racing a local series, the Mid-East in '93 and my first national was in Ocala, Florida in 1995. I rode thee A class that year. I never did win a championship although I was close a couple of times. I moved up to the pro class and rode that division for quite awhile. I got to battle with Borich and Ballance and Matt Smiley, all of those guys. It was a lot of fun, y'know. Back in 2004 we had to switch machines since all the manufacturers were wanting to pour their support into the four-strokes, so that's what I rode until I retired from racing in 2010.
Sounds like that was a good time for sure! So what services does your shop provide?
SD: We do a lot of engines and full suspension builds. Basically what we will do is a complete race build. Like we'll have customers bring us stock machines and then we'll do a full chassis build, everything from the ground up to a turn-key, ready to go to starting line machine. We also offer race preps. So if people don't want to or don't have time to prep their own machines from race-to-race, we'll take them back to our place and do a full wash and prep, get it ready to go to the starting line at the next race. And then we bring it to them at that next round, they race, and it comes back home with us.
I'm a little curious about the logistics on that – what kind of trailer or vehicle do you guys have to haul all of those machines around?
SD: Well, we got a new 40 foot goose-neck this year, because our old 26 foot just wasn't cutting it anymore (laughs). So I got a 40 foot thinking that would be plenty enough trailer for us, but we've pulled it to two rounds so far and it's been packed to the gills every time. So now we're thinking geez, we probably should have went with a semi or something.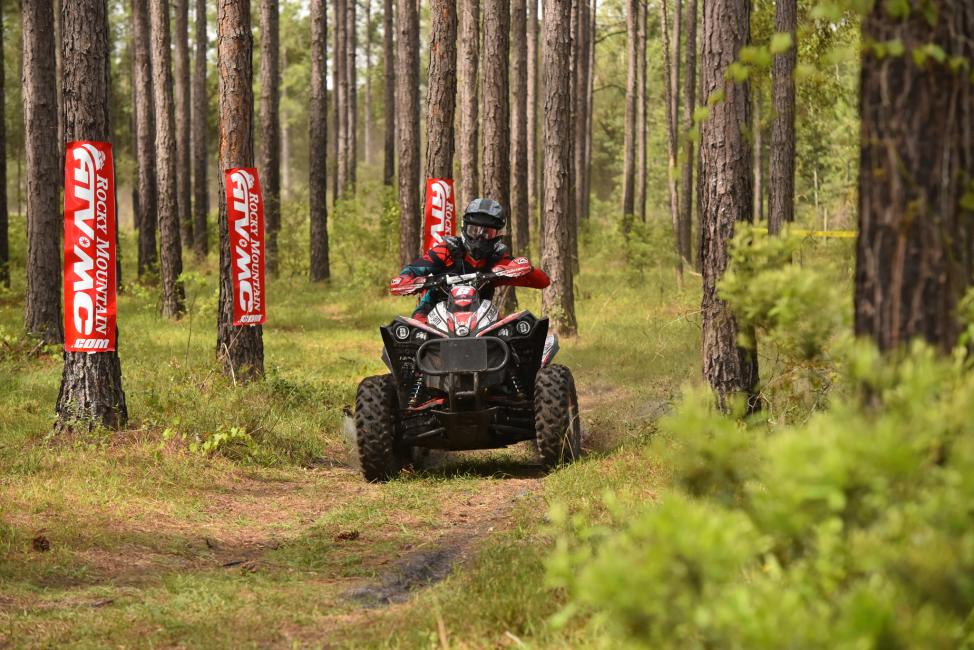 So I take it that business has been pretty good lately?
SD: Really good! We actually have a new facility about 20 minutes away that we are going to be moving to here in a few months. I'm super excited about that, it's a much larger place! The company has been growing strong and we have a lot of great customers. We just needed more room. We also plan to start pushing a little harder on the 4x4s and the UTVs. We want to try to elevate that sport, bring it up to a new level. We want to see as many racers out here as possible, because it's what we love to do and how we make our living.
It looks like your involvement in 4x4 racing is relatively new though. Why did you decide to get involved?
SD: Yeah it is. We knew the sport was growing in that area. We've always been strong in the GNCC since we've been here so long. And we wanted to try to help grow it. We wanted to have our hands in it and help educate the riders. Because it is not an easy machine to work on or to build to be bulletproof for two hours the way a race quad is. It's just not designed from the manufacturers for that, and there's a lot of modifications that we do. We really just wanted to grow the sport. It doesn't just take good riders, you have to have some good companies to back the riders up and help them get into this and be able to afford it.
And what are you hoping to see your 4x4 pro team accomplish this year?
SD: I definitely want to see these guys on the podium every race. They all work so hard and the guys who work for me put their heart and soul and so many countless hours into testing. We all put everything we have into it. And to see these guys get up on the podium and be solid every week is what we want to see. So far it is looking good and we're doing it!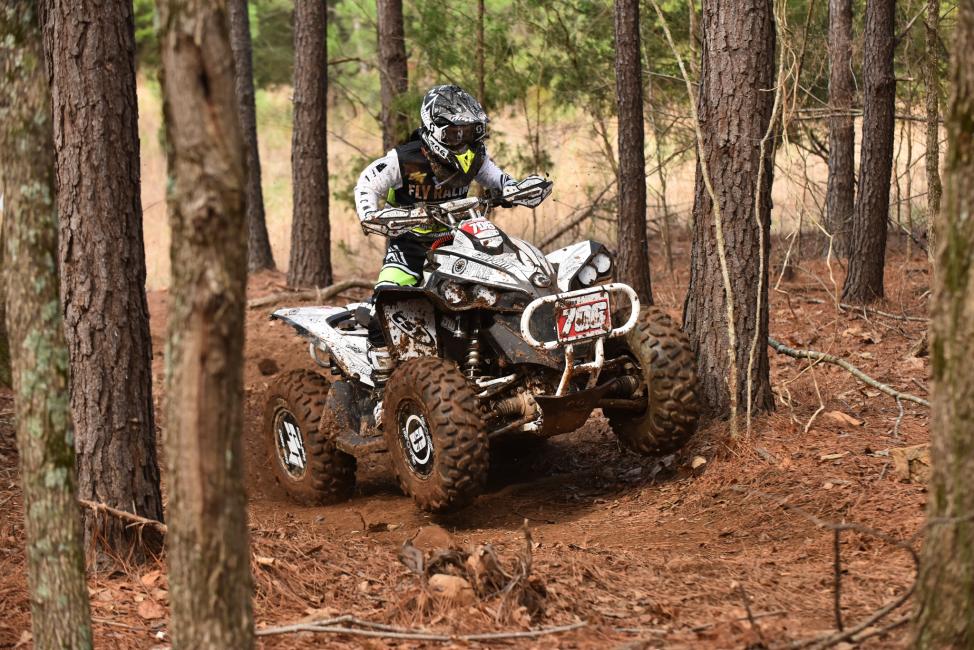 The Riders
GNCCRacing.com: How did each of you get started riding?
Robbie Pecorari: My family was into dirt karting, both my brother and I raced. Unfortunately this came to a stop when the race car funding and sponsorship fell through in 2009. That's when I started looking into the quad scene, and finally ended up doing my ATV first race in 2012.
Dwight Pollard: I started trail riding when I was younger on dirtbikes. Then when I was about 13 I wanted to go up more horsepower, but I still couldn't touch yet on big bikes, so that's why I switched over to four-wheelers.
Landon Wolfe: My dad used to ride when I was a kid. I slowly got into it and then started racing full-time when I was about 13.
And then how did each of you get started racing the 4x4 pro class?
RP: I ran a year in XC2 but just couldn't keep the pace I needed to without having the time to train dung the week. I had actually sold everything and was getting ready to step out of racing but a buddy of mine Matty Lamberti convinced me to give the 4x4 racing a shot, and here we are. I was one of the first of DeRisi's riders to switch over, back in 2016. Given the support provided by Can-Am and the GNCCs for the 4x4 class, it turned out to be the right decision at the right time. I'm glad to see how far it has come in just a few years and excited to see that DeRisi racing has one of the strongest groups of 4x4 racers out there this year.
DP: I ran Pro-Am two years ago. But when you get to that point you have to be able to train in order to do it well, and I'm so busy working full-time that it is hard to dedicate that amount of time to it. It got stressful pushing like I was and eventually took the fun out of it. I wanted to go back to actually having fun again, so I switched to a 4x4 that Robbie actually let me borrow at Ironman in 2016. I loved it right away, so I switched my whole program over to it.
LW: A good friend and now a teammate of mine, Dwight Pollard let me race a 4x4 at Ironman. I ended up winning the race, and then during the winter I was able to put together a deal with Can-Am and DeRisi.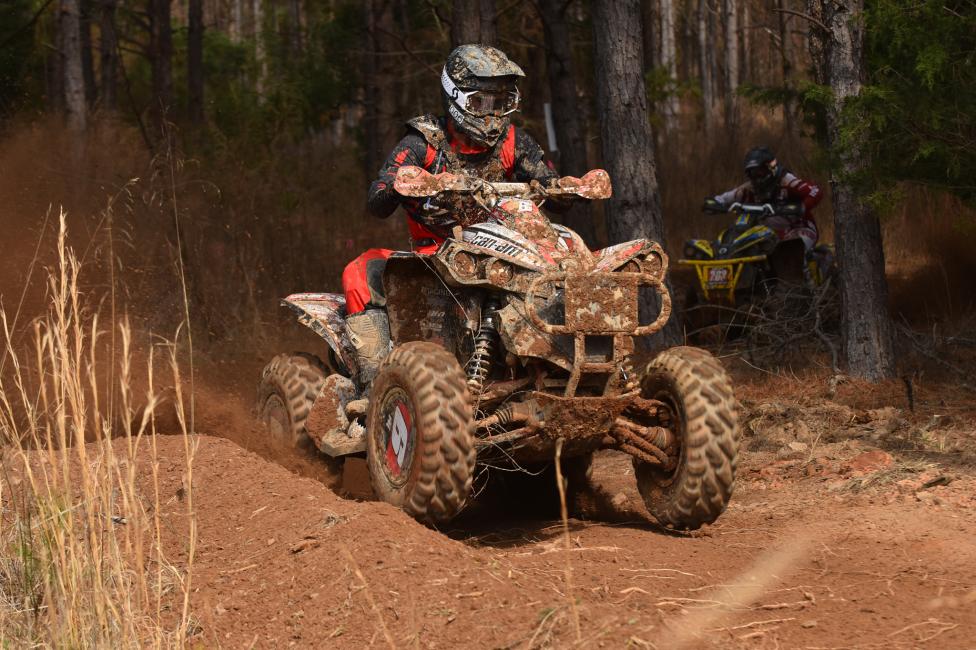 Do you feel like you have been a good mentor to or have been helped out by your fellow 4x4 pro teammates?
RP: I was able to help Dwight out quite a bit when he switched over. I haven't gotten the opportunity to work with Landon much but Dwight has passed along some of that same information. It's great to know that we can all help each other out.
DP: Yeah, Robbie has been a good mentor to me. Like I said he let me borrow a bike and really helped me switch my program over. He gave me a lot of guidance. Gave me a list of the stuff he broke on his 4x4 the whole season prior, that way I would know what things needed to be reinforced. In 2017 I won the 4x4 A class championship, so I really appreciate all of his help he gave me last season.
LW: Dwight helped me a lot with getting the quads figured out and getting us on the right track. He was a huge help with getting me started, and I am very grateful. It's not often that you come across people who would be willing to do what he did for me.
Do you guys get to train together much or do you really only see each other at the races?
RP: It would be great to train together, but unfortunately given my role in our family business it is never easy to get away for practice time. I think the others are all in a similar situation.
DP: It's pretty much just at the races. I was able to spend some time with Landon at his house riding. But it's mostly just here at the track, and as far as training goes, I just don't have time. I ride at the races and that's it.
No, we don't get to do any training together. I stay pretty busy working at my dad's business and we all live hours apart. But maybe come summertime when the series goes on break we can get together and do some riding.
Are you still able to "keep racing fun" in a relatively high stakes environment?
RP: One thing we all like to do is go down to the youth start. We have our gate pick right after, so most everyone comes down. We know a lot of the youth riders because of this. It's nice to be able to cheer them on and maybe put some smiles on their faces before the race starts.
DP: The class is still very aggressive, like it was in the sport quads. But all the 4x4 guys are usually adults or working class guys like myself, so we all are here just to have fun and know that we have to go back to work on Monday. It doesn't matter if we're pushing or hitting or what, as soon as we come off the track it's all fist-bumps and high-fives, just glad that we had a good time racing.
LW: Yeah, I mean when the green flag waves and we take off it isn't just for fun – we are still racing to win. But in the end I usually do end up having fun. All of my friends are at the track and I always have a blast with everyone I race with. This weekend in particular Kevin Cunningham and I had a great battle all day long.
Now for the tricky question – of the three of you, which do you think it the fastest?
RP: For the most part the other two have had really good rides so far. Both of them have already landed on the podium so I guess you could say that it is my turn now. As the season goes on I think we'll be pretty close together and hopefully put on the best racing out of all the 4x4 riders.
DP: To be honest with you, I would probably have to say Landon. He just switched over and was running 6th in the Pro XC1 sport quads before he did. So he already has a lot of natural speed and I feel like this is going to be a pretty easy transition for him. We all come from sport quads, both Robbie and I were XC2 so we have quite a bit of speed ourselves, but Landon is probably the quickest.
LW: (laughs) That is a tricky one to answer. I'm awfully new to the class to be able to give a good answer on that. I think a lot of it depends on the conditions that day, but hopefully we can all have good battles every race.
What are your goals for the season, both for yourself and the team as a whole?
RP: Since I got injured at round one and had to skip round two, my personal goals have changed a little bit. We will be back for round three and the rest of them, but a championship is out of reach at this point. I just want to put in consistent podium finishes and grab my first win by the end of the year. I would like to see my teammates be in the hunt for a championship especially since I am out of the chase now.
DP: I definitely want to see Can-Am take the entire podium and overall of the year. Personally, I would like to see myself also finish in the top three. I don't think I can expect more than that with it being my rookie year in the class and all. It would be cool to beat Landon at one race too – but I think I still have some speed to find before I catch up to him and Kevin Cunningham.
LW: I want to be on the podium each race. I have a lot of people that really gave me a great opportunity this year. I want to do everything possible to thank them for what they have done.
Who would you like to thank?
RP: DeRisi Racing, Tire Spine, Gold Speed, Spider Graphics, Can-Am, Fasst Co., Powermadd, Stm Clutches, mzm performance, hmf exhaust, fly racing, scott motorsports, EVS, Twin Air, S3 Powersports, D6 OG's, QuadTech.
DP: DeRisi racing, first of all. I started out as a customer, we became friends and now they're like family. Santo has always been a big supporter, always helped me out. Everything he does is awesome! Tire spine flat prevention, CST Tires, Spider Graphix, DWT wheels, MZM performance, Quadtech, Alco cleaners, Stacy Mundy Photography Fasst company, DP Brakes and Powermad.
LW: Can-Am, DeRisi Racing, GBC Motorsports, Specialized, Custom Axis, Fly Racing, DP Brakes, Motion Pro, Tire Spine, G2 Ergonomics, MZM Performance, Fasst Company, Quad Tech, Spider Graphix, Vanilla Gorilla racing, Hammer Nutrition, Action Sports, Twin Air, HMF, DWT, and S3.