Time
Sunday, March 11, 2018 | 7:00 AM
FOR IMMEDIATE RELEASE
(304) 284-0084
[email protected]
Walker Fowler Returns to the Podium at Round Two
of the Moose Racing Wild Boar GNCC
Trantham Claims UTV Overall Win
PALATKA, Fla. (March 11, 2018) The AMSOIL Grand National Cross Country (GNCC) Series, an AMA National Championship, returned to competition at the Moose Racing Wild Boar as the XC1 class was greeted with a lengthy 13-mile course that would test the field of racers entered for todays event.
WFR/GBC/Fly Racing/Yamaha's Walker Fowler found himself battling GBC Motorsports/RJR/Solo Pilot's Westley Wolfe for the $250 Wiseco XC1 holeshot. Wolfe powered through the first turn with Fowler racing bar to bar as the pair led the field in an immense battle into turn two as Wolfe edged out the hard charging Fowler, and capturing his first XC1 holeshot. After entering the woods, Fowler would take over the lead and once again control the XC1 class as he took his second consecutive win of the season and his fourth Wild Boar GNCC win in a row.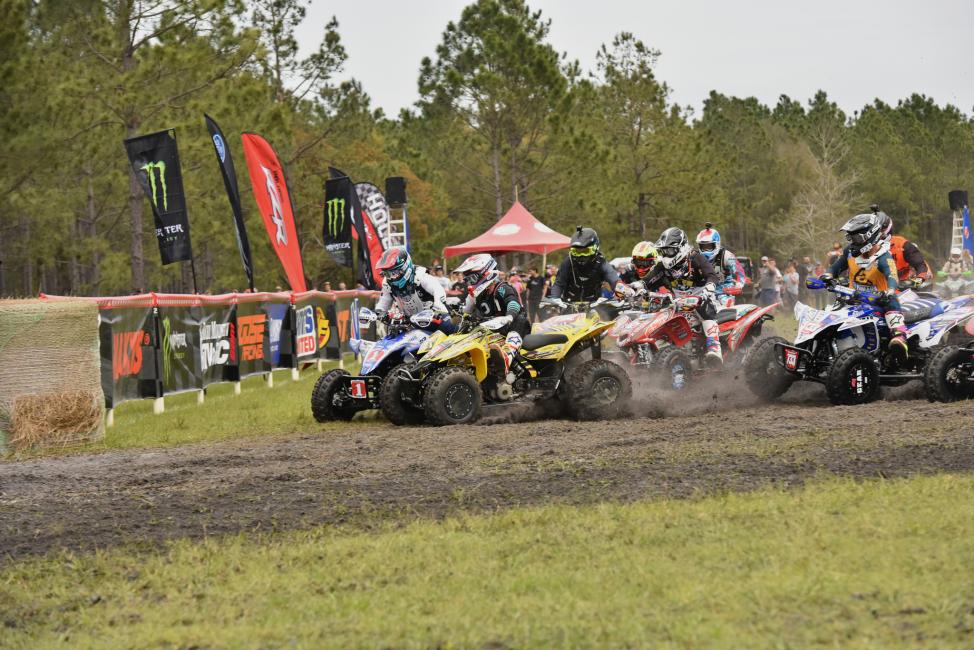 The battles behind Walker Fowler heated up as the McGill Mafia/ CST Tires/ Moose Racing backed Adam McGill looked to be off to a solid race as he tried to run down the leader. After closing the distance and Fowler suffering a crash, McGill's chance disappeared whenever he found a stump and also crashed, setting him back and ending his chances to battle for a win. McGill would cross the finish line taking the second podium position.
JMR/ATVriders.com/Maxxis sponsored Jarrod McClure wasn't running up front early in the two hour race, however he kept charging and would work his way through the pack to find himself within striking distance of a podium finish as the race neared its end. After intense competition, McClure's pressure and drive to the front paid off as claimed the third and final podium position during the GNCC 1 p.m. ATV race.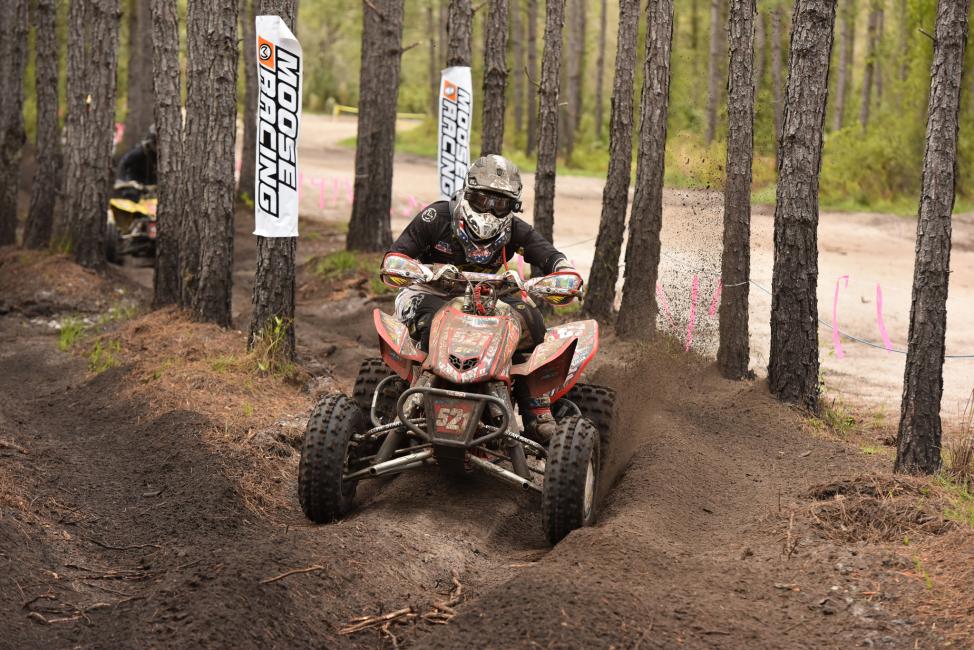 Just outside the top three was Maxxis/Fly Racing/Ye Olde Cycle Barn rider Chris Borich, who raced his way to the a 4th place finish after fighting for position all throughout the event. Borich's fourth place finish follows his podium visit at the opening round as he looks to be eager to keep things interesting this season.
Rounding out the top five was Bneal Motorsports/CST Tires/Houser Racing's Brycen Neal. Following an impressive second place finish at the opening round, Neal was looking to challenge for the overall win, but his fifth place finish still brings valuable points in the hunt for the 2018 GNCC ATV National Championship.
The XC2 Pro-Am class was poised to be an intense battle with new riders moving into the class and looking to contend for race wins. Maxxis/Ithaca Recreation Sports/Fly Racing's Hunter Hart came into round two hungry for the XC2 Pro-Am class win, and after a hard fought battle through the sandy course, he is coming out of this event with his goal met. Hart was joined on the podium by second place finisher Matthew Lindle and John Glauda Jr in third.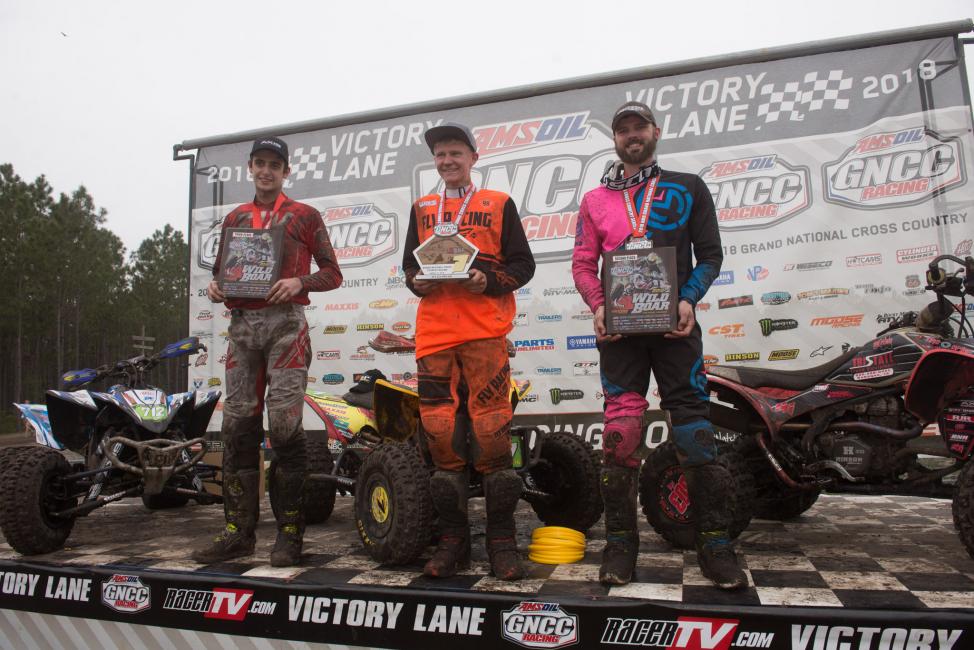 With nearly 100 racers set to compete in the UTV event, it was destined to be an exciting battle before the race even started. When the dust settled, Team UXC driver Kevin Trantham earned the highly coveted overall win. Defending UTV National Champion AmPro Yamaha's Cody Miller would put together a great ride to finish second overall while his older brother Hunter Miller, driving his Miller Brothers Can-Am/Maxxis-backed Can-Am Maverick X3, would end the day third place overall.
Collin Truett would make short work of the single seat UTV race as he put his Polaris ACE center stage on the box taking his second win in as many rounds. Truett was joined by John Baughman in second and Team UXC driver Michael Swift in third.
The 10 am race would enjoy the best weather of the event as a warming sun gave way to seasonal temperatures. The rough and rugged course would be no match for the top 4x4 Pro class racers as a very close battle to the finish would ensue throughout the entire race. Two-time 4x4 Pro class champion, Kevin Cunningham, would claim the 4x4 Pro class win and the overall win in the 10 A.M. race. The win didn't come easy as Landon Wolfe would finish second, just inches off Cunningham's rear bumper and Robert Smith would top off the podium with third.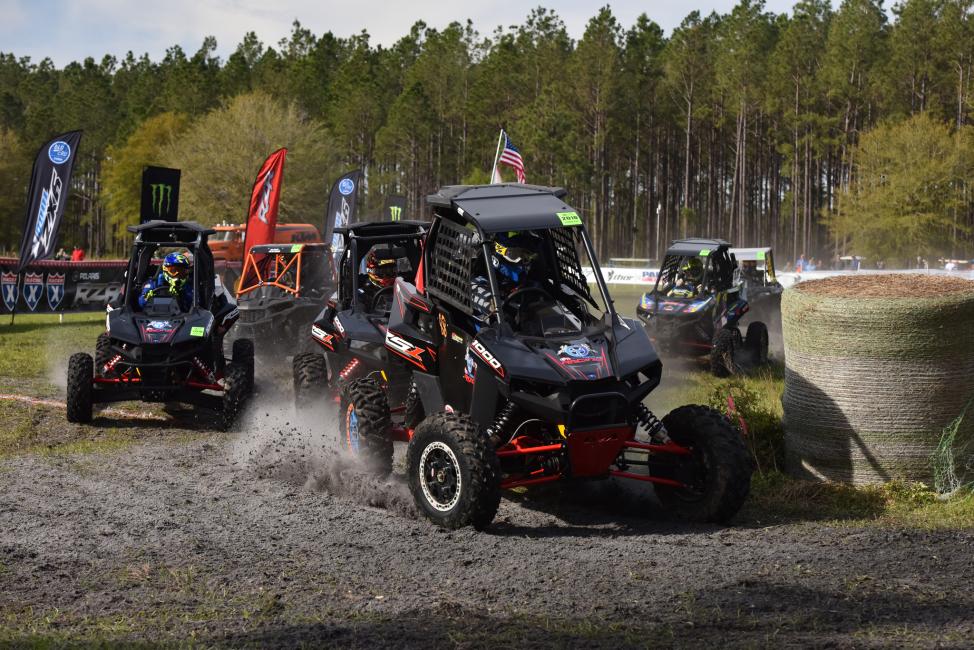 The WXC class turned into a real battle as 10-time WXC class champion Traci Pickens held the lead for most of the race until a hard charging Alicia McCormick overtook Pickens and raced for the class win down to the wire. When the checkered flag flew, McCormick would claim the win with Pickens second and Katelyn Osburn rounding out the podium in third.
The 1 p.m. ATV Pro race was broadcast LIVE in its entirety on RacerTV.com and can be viewed as archived video online by visiting the GNCC LIVE page online. A highlight show featuring the event will be aired on the NBC Sports Network on Sunday, April 21 at 5:30 p.m.
The 2018 AMSOIL Grand National Cross Country Series resumes in one week, March 17 and 1, in Washington, Georgia with the The Maxxis General GNCC.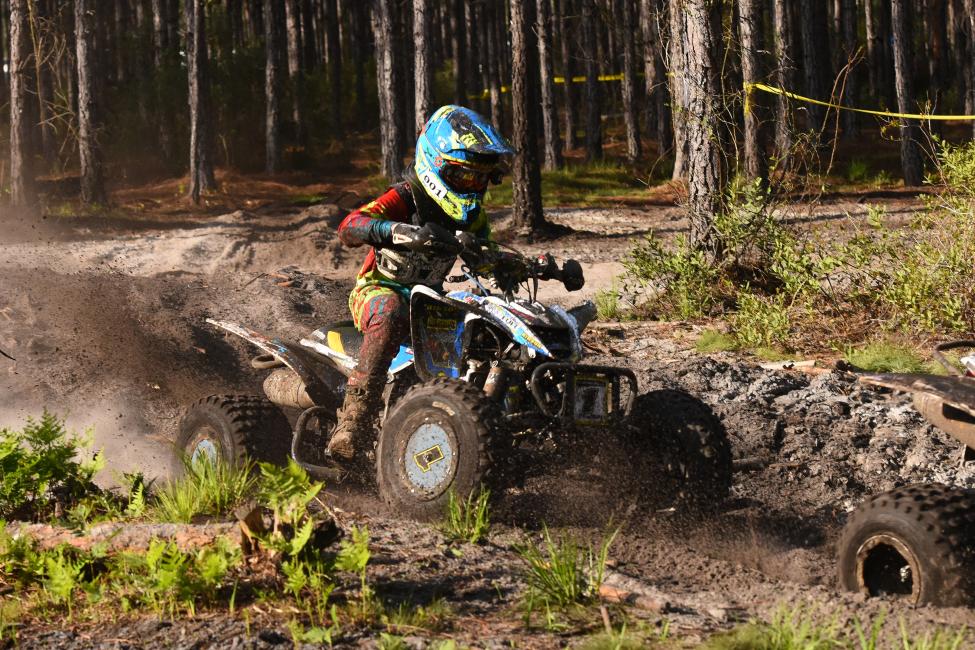 For more information on the GNCC series, visit the official website at www.gnccracing.com or call (304) 284-0084. Join the conversation on the series Facebook page, follow us on Twitter and Instagram, and be sure to always hashtag #GNCC.
Moose Racing Wild Boar GNCC
Palatka, Florida
Round 2 of 13
Saturday, March 10
XC1 Pro Event Results:
Walker Fowler (YAM)
Adam McGill (HON)
Jarrod McClure (HON)
Chris Borich (SUZ)
Brycen Neal (YAM)
Cole Richardson (YAM)
Westley Wolfe (SUZ)
Devon Feehan (HON)
Martin Christofferson (HON)
Tucker Wyatt (HON)
*Overall National Championship Standings:
Walker Fowler (60)
Adam McGill (43)
Brycen Neal (41)
Chris Borich (39)
Jarrod McClure (37)
Westley Wolfe (29)
Cole Richardson (29)
Devon Feehan (24)
Johnny Gallagher (21)
Martin Christofferson (19)
*Indicates that the Overall National Championship Standings will determine the 2018 National Champion.
XC2 Pro-Am Event Results:
Hunter Hart (YAM)
Matthew Lindle (HON)
John Glauda Jr (YAM)
Austin Abney (HON)
Ben Kowalewski (HON)
Kenny Shick (YAM)
Gabriel Naud (YAM)
Drew Landers (YAM)
Brody Livengood (YAM)
Tanner Walker (HON)
XC2 Pro-Am Series Standings:
Austin Abney (48)
Matthew Lindle (43)
Hunter Hart (41)
Drew Landers (38)
Ben Kowalewski (37)
John Glauda Jr (33)
Sam Hough (24)
Kenny Shick (24)
Tanner Walker (24)
Steven Covert (21)
About GNCC Racing
The AMSOIL Grand National Cross Country Series is America's premier off-road racing series. Founded in 1975, the 13-round championship is produced exclusively by Racer Productions. Cross-country racing is one of the most physically demanding sports in the world. The grueling three-hour GNCC races lead as many as 2,400 riders through tracks ranging in length from eight to 12 miles. With varied terrain, including hills, woods, mud, dirt, rocks and motocross sections, GNCC events are tests of both survival and speed. The series draws talent from all over the U.S., Central America, South America, Europe, Japan, Australia and New Zealand. GNCC Racing is televised weekly on NBC Sports and RacerTV.com. For more information, please visit www.gnccracing.com.
How to Watch
Racer TV and NBC Sports Network (NBCSN) are the official homes for coverage of the AMSOIL Grand National Cross Country (GNCC) events. All 13 rounds, from the season opening Big Buck GNCC in South Carolina to the finale at Ironman Raceway in Indiana, will air in 30-minue; taped-delayed telecasts on NBCSN, while Racer TV provides live streaming coverage of the 1 p.m. ATV and motorcycle races from each event, in addition to the six UTV rounds. Catch all the action at http://www.nbcsports.com/ and http://www.racertv.com/.
About the American Motorcyclist Association
Founded in 1924, the AMA is a not-for-profit member-based association whose mission is to promote the motorcycle lifestyle and protect the future of motorcycling. As the world's largest motorcycling rights and event sanctioning organization, the AMA advocates for riders' interests at all levels of government and sanctions thousands of competition and recreational events every year. The AMA also provides money-saving discounts on products and services for its members. Through the AMA Motorcycle Hall of Fame in Pickerington, Ohio, the AMA honors the heroes and heritage of motorcycling. For more information, visit www.americanmotorcyclist.com. Not a member? Join the AMA today: www.americanmotorcyclist.com/membership/join.