Chelsea Taylor
Time
Wednesday, October 11, 2017 | 11:30 PM
FOR IMMEDIATE RELEASE
Chelsea Taylor
(304) 284-0084
[email protected]
AMSOIL GNCC Racing WXC Highlights: Polaris Ace Powerline Park GNCC
Pickens and Tricker Find Success in Ohio
ST. CLAIRSVILLE, O.H. (October 11, 2017) – The penultimate round of the 2017 AMSOIL Grand National Cross Country (GNCC) Series presented by Maxxis, an AMA National Championship, traveled to St. Clairsville, Ohio this past weekend for the 17th Annual Polaris Ace Powerline Park GNCC. Seventy females competed during the weekend with Saturday hosting hot and dusty conditions, while Sunday's rain created for a muddy and slick course.
Sadiee Gorrell jumped out to the early lead, but Dillenger's Celtic Pub's Katelyn Osburn took over the lead position until misjudging a left turn and overshot it leaving the main line open. Meanwhile, Traci Pickens was on a mission after having a bad start and was there to steal away the position from Osburn.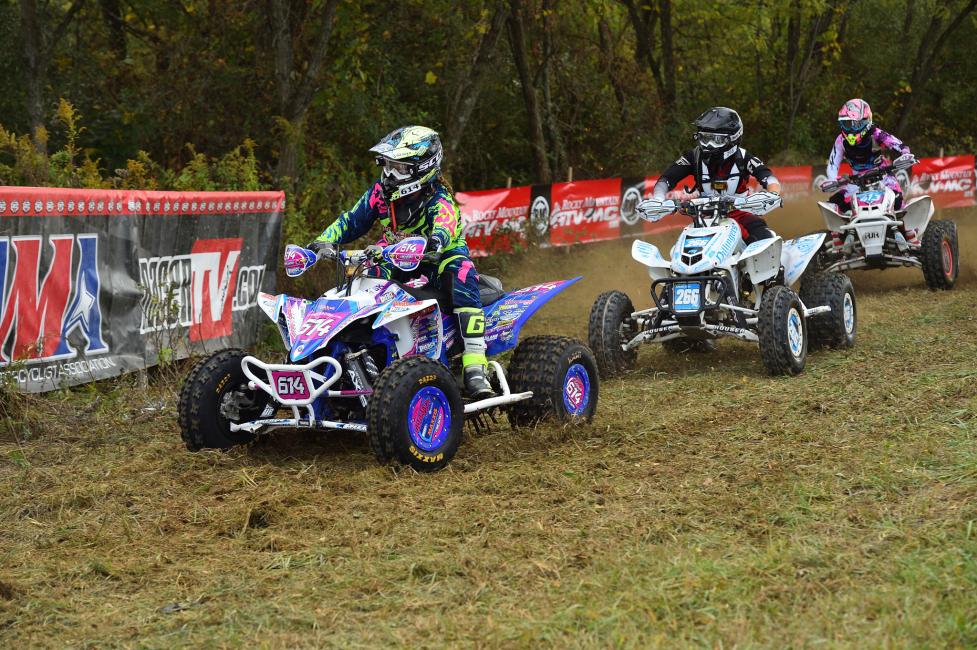 Throughout the rest of the race, Osburn made her way back up to Pickens and got the alert from her pit crew that Pickens was just 25 seconds behind her as the white flag came out. After being forced to take the bypass on the final hill climb every lap before due to lapped riders, Pickens elected to take the main line for the first time where she got hung up on a root.
"All of a sudden this tiny hand appeared on my front bumper and I was unstuck," explained Pickens. "A huge shout out to Laune McCormick for saving my day! From there on Katelyn and I battled to the finish. The track was perfect it had a little of everything in it from fast fields, to flowing trails, to tight technical woods."
Pickens continued to lead the way through the finish with Osburn coming in just two seconds behind in second. "My Custom Axis shocks were working amazing and I felt great, that was my kind of track," said Osburn. "Even though I will be finishing this season in third, Ironman will be very exciting knowing Traci [Pickens] and Angel [Knox] will be battling it out for the championship. This leaves a little less pressure off me and I can just focus on trying to end the season with a win."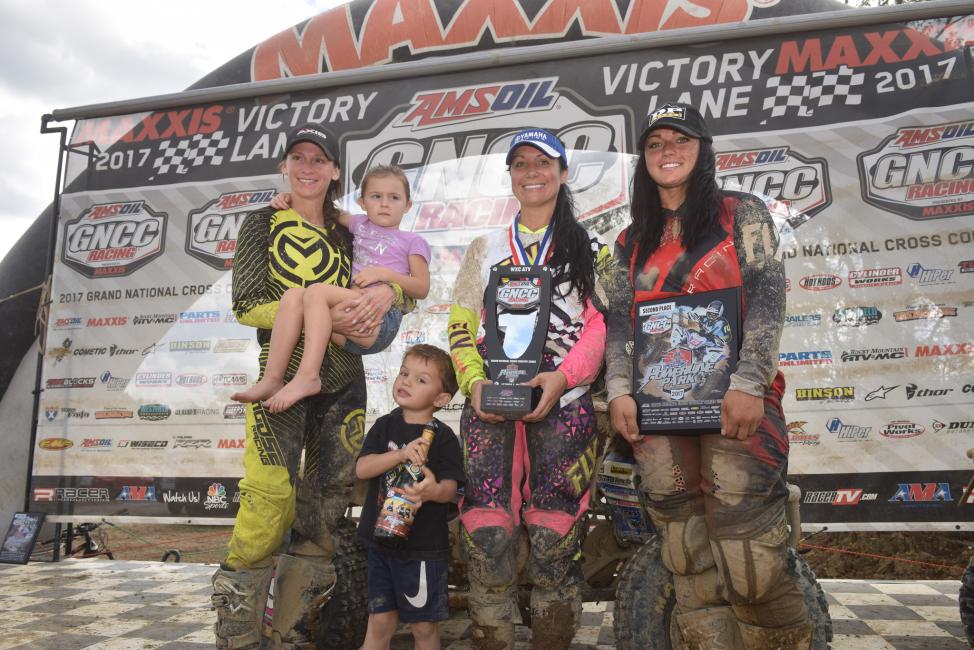 Just one point separates Knox and Pickens in the championship standings heading into the season finale. Gorrell and Kamren Bobb rounded out the top-five. "It was a nice track and beautiful weather," said Knox. "I just had a bad day, couldn't seem to keep my focus on the race."
Bonanza Plumbing/Trail Jester KTM's Mackenzie Tricker jumped out to the early lead on Sunday morning, but suffered from a crash about mid-lap allowing for Fly Racing/Maxxis/Seat Concepts/KTM's Becca Sheets to take the lead. Tricker quickly caught back up and was just three seconds behind Sheets as they checked through timing and scoring on the first lap. The duo were wheel-to-wheel battling through the lapped riders, until Becca had a tip-over and got hung up for awhile.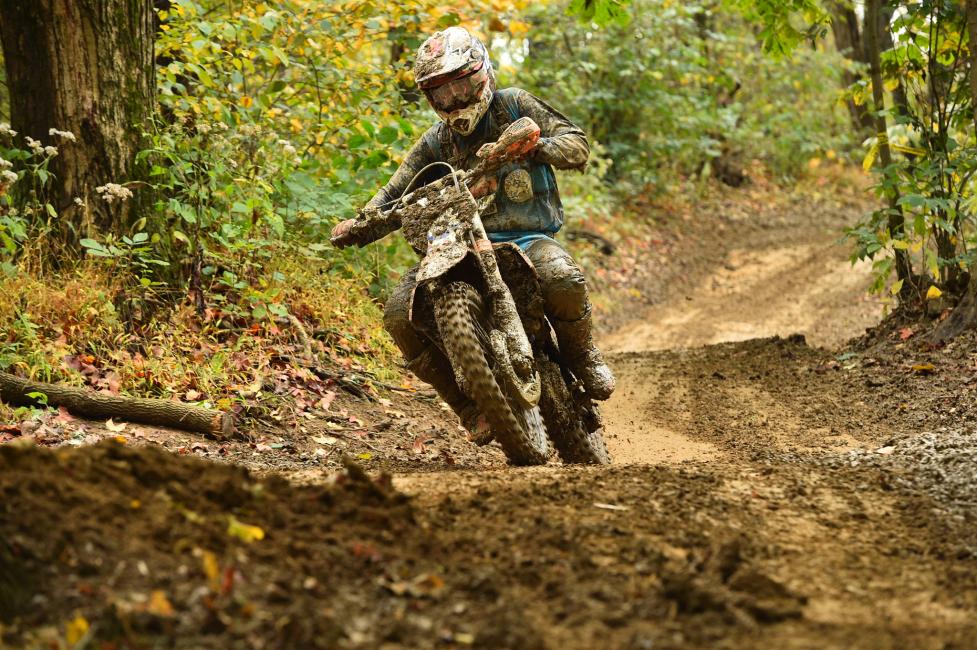 With the race being only three laps, Sheets wasn't able to make up enough time to challenge Tricker, where the Australian took her first overall win of the season nearly two minutes ahead of Sheets.
"It was a great weekend," said Tricker. "I've changed my program so much over the past three months and I've been working so hard, so I'm stoked it finally all fell together!"
Meanwhile, The Motorcycle Shop/Kenda/Bell/V3 Off-Road's Brooke Cosner spent the day working her way up from an unfavorable start. "For loving mud races I was not a fan," explained Cosner. "I had a horrible start to the day with a dead last start, and it just kept going down from there. I'm ready to move on and head to Ironman and wrap this season up."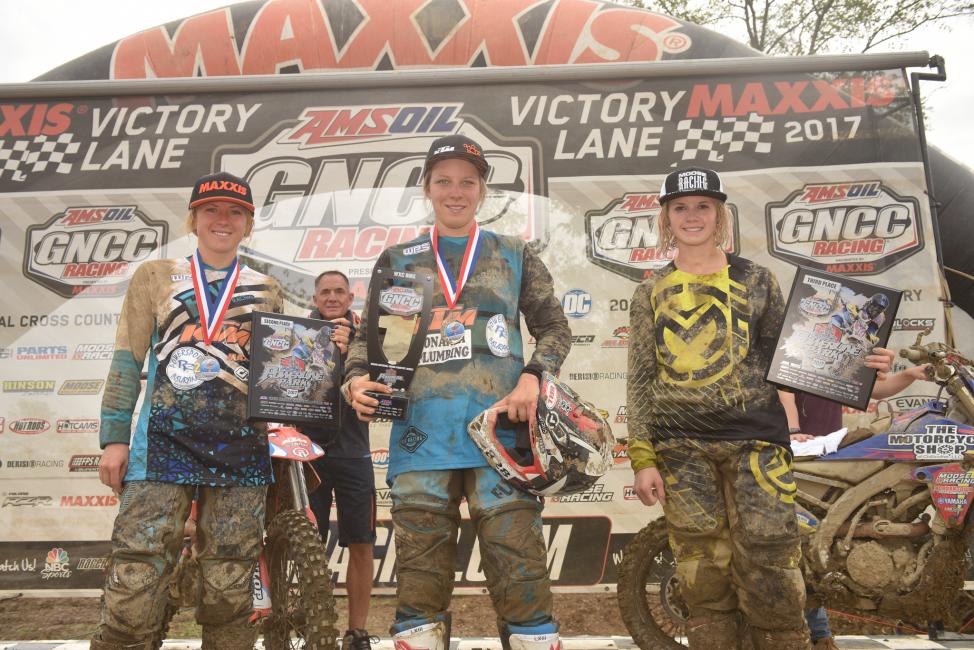 The 2017 AMSOIL Grand National Cross Country Series concludes in three weeks with the popular AMSOIL Ironman GNCC in Crawfordsville, Indiana on October 28 and 29. After setting the record for the largest attended GNCC last year, the Ironman GNCC is a can't miss event with a special Breast Cancer Awareness theme, Halloween activities and more!
Polaris Ace Powerline Park GNCC
St. Clairsville, Ohio
Round 12 of 13
October 7-8, 2017
WXC ATV Event Results:
Traci Pickens (YAM)
Katelyn Osburn (HON)
Angel Knox (HON)
Sadiee Gorrell (YAM)
Kamren Bobb (HON)
Jaida Phillips (YAM)
WXC ATV Series Standings:
Angel Knox (176)
Traci Pickens (175)
Katelyn Osburn (167)
Alicia McCormick (156)
Kara Merritt (143)
Kamren Bobb (139)
Jaida Phillips (125)
Melanie Sill (73)
Megan Shepherd (52)
Abbi Troy (49)
WXC Bike Event Results:
Mackenzie Tricker (KTM)
Becca Sheets (KTM)
Brooke Cosner (YAM)
WXC Bike Series Standings:
Tayla Jones (180)
Becca Sheets (173)
Mackenzie Tricker (166)
Brooke Cosner (140)
Rachel Gutish (100)
Kendall LaFollette (80)
Shelby Rolen (74)
Taylor Johnston (46)
Natasha LaChapelle (31)
Rachael Archer (26)
For more information on the series, visit the official website at www.gnccracing.com or call (304) 284-0084. Join the conversation on the series Facebook page, follow us on Twitter and Instagram, and be sure to always hashtag #GNCC.
About GNCC Racing
The AMSOIL Grand National Cross Country Series presented by Maxxis is America's premier off-road racing series. Founded in 1975, the 13-round championship is produced exclusively by Racer Productions. Cross-country racing is one of the most physically demanding sports in the world. The grueling three-hour GNCC races lead as many as 2,400 riders through tracks ranging in length from eight to 12 miles. With varied terrain, including hills, woods, mud, dirt, rocks and motocross sections, GNCC events are tests of both survival and speed. The series draws talent from all over the U.S., Central America, South America, Europe, Japan, Australia and New Zealand. GNCC Racing is televised weekly on NBC Sports and RacerTV.com. For more information, please visit www.gnccracing.com.
About the American Motorcyclist Association
Founded in 1924, the AMA is a not-for-profit member-based association whose mission is to promote the motorcycle lifestyle and protect the future of motorcycling. As the world's largest motorcycling rights and event sanctioning organization, the AMA advocates for riders' interests at all levels of government and sanctions thousands of competition and recreational events every year. The AMA also provides money-saving discounts on products and services for its members. Through the AMA Motorcycle Hall of Fame in Pickerington, Ohio, the AMA honors the heroes and heritage of motorcycling. For more information, visit www.americanmotorcyclist.com. Not a member? Join the AMA today: www.americanmotorcyclist.com/membership/join.
-RP-