Chelsea Taylor
Time
Tuesday, October 10, 2017 | 1:50 PM
FOR IMMEDIATE RELEASE
Chelsea Taylor
(304) 284-0084
[email protected]
Grand National Cross Country Series Announces 2017 Awards Banquet
Top 10 Racers in Each Class to be Recognized
MORGANTOWN, W.Va. (October 10, 2017) – With only one round remaining in the 2017 AMSOIL Grand National Cross Country (GNCC) Series presented by Maxxis, an AMA National Championship, Racer Productions is pleased to announce details for the end of season banquet celebration. The world's best off-road competitors will be recognized on Friday, December 1, and Saturday, December 2, at the Morgantown Marriott at Waterfront Place Hotel and Convention Center in Morgantown, West Virginia.
Friday evening will be dedicated to the top 10 ATV, Side-by-Side, Single Seat and ATV Micro 50cc finishers in each championship class, while Saturday evening celebrates the top 10 Bike racers and the bike Micro 50cc finishers in each championship class. In addition to the trophy presentations, the top five in each class will receive contingency prizes from series sponsors.
The banquet will feature an array of Specialty Awards as well, including Rider of the Year, the Rough and Ready Pit Crew Award and the "Bad Ass" Award. Attendees are asked to nominate Rough and Ready Pit Crew and Bad Ass Award contenders by attaching a letter to their banquet reservation or voting via the online registration form.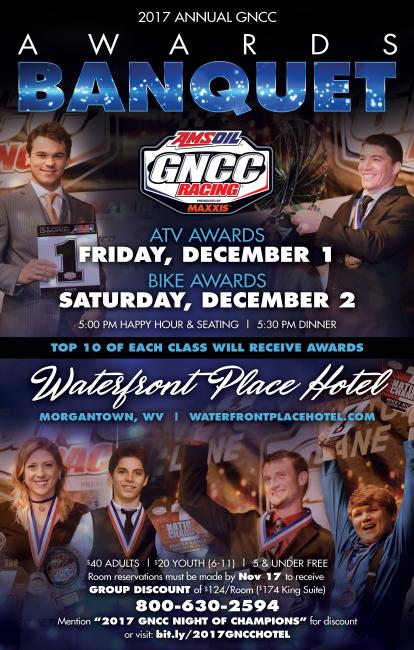 Rocky Mountain ATV/MC will be returning for the fifth year in a row with the Ticket to Ride giveaway. Two winners from each night will be chosen at random to experience a once-in-a-lifetime opportunity courtesy of Rocky Mountain ATV/MC, to a unique riding excursion in Moab, Utah. The top 10 riders in every afternoon class, select upper-level amateur classes, as well as the top 10 in the XC1, XC2 and XC3 UTV classes are eligible for the giveaway. Each winner will be invited to bring a guest on the exclusive trip in the spring of 2018. The winner must be present at their respective banquet night in order to claim the prize.
Also returning in 2017 is the photo booth where guests can capture unforgettable memories with their race friends and family. The set up will be open on both nights from 5-7 p.m. and 9-11 p.m.
The cost of the banquet is $40 for adults, $20 for youth ages six to 11, and kids five and under receive free admission. The celebration will begin at 5 p.m. each day for Happy Hour and seating, and dinner will commence at 5:30 p.m. Advance registration is required.
Rooms at the Morgantown Marriott at Waterfront Place Hotel are available to GNCC Racers and their families at a discounted rate ranging from $124-$174 + tax. To reserve a hotel room click HERE or call (800) 630-2594 and mention "2017 Night of Champions" to receive the group rate. In order to receive the discounted group rate, please make reservations no later than November 17.
In addition to the awards ceremony, competitors and their family members are encouraged to take part in the Riders Meetings scheduled throughout the weekend. The ATV pro meeting is scheduled for Friday at 2 p.m. Meetings continue Saturday morning at 9 a.m. with the ATV amateurs, again at 10 a.m. for ATV youth, followed by side-by-sides at 11 a.m. and pro bike riders at 2 p.m. The amateur bike meeting is Sunday morning at 9 a.m., with the youth bike at 10 a.m. Participants will be able to voice their opinion on class structure, rules, and more for the upcoming 2018 season.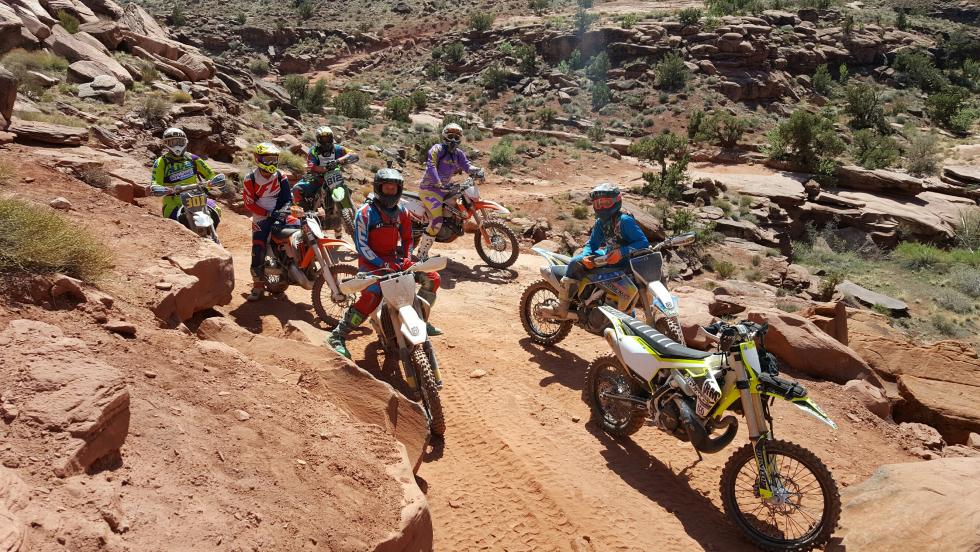 If you plan on arriving early, make sure to check out the Escape Room located just a few blocks away from the Morgantown Marriott at Waterfront Place Hotel. Ranked the #1 Escape Game in West Virginia by Trip Advisor, it makes for a great family-fun activity. The Wharf District is also home to a variety of popular restaurants including Oliverio's, Table 9 and Mountain State Brewing Company.
For more information or to reserve a seat at this year's GNCC Awards Banquet, click HERE or visit www.gnccracing.com. Join the conversation on the series Facebook page, follow us on Twitter and Instagram, and be sure to always hashtag #GNCC.
About GNCC Racing
The AMSOIL Grand National Cross Country Series presented by Maxxis is America's premier off-road racing series. Founded in 1975, the 13-round championship is produced exclusively by Racer Productions. Cross-country racing is one of the most physically demanding sports in the world. The grueling three-hour GNCC races lead as many as 2,400 riders through tracks ranging in length from eight to 12 miles. With varied terrain, including hills, woods, mud, dirt, rocks and motocross sections, GNCC events are tests of both survival and speed. The series draws talent from all over the U.S., Central America, South America, Europe, Japan, Australia and New Zealand. GNCC Racing is televised weekly on NBC Sports and RacerTV.com. For more information, please visit www.gnccracing.com.