Chelsea Taylor
Time
Saturday, September 9, 2017 | 10:25 PM
FOR IMMEDIATE RELEASE
Chelsea Taylor
(304) 284-0084
[email protected]
AMSOIL GNCC Racing ATV Highlights: Parts Unlimited Unadilla GNCC
Walker Fowler Clinches Third Straight National Championship
NEW BERLIN, N.Y. (September 9, 2017) – The tenth round of the 2017 AMSOIL Grand National Cross Country (GNCC) Series presented by Maxxis, an AMA National Championship, took place today, September 9, at the iconic Unadilla MX in New Berlin, New York. Overcast skies left little time for the track to dry out after rain earlier in the week, creating slick racing conditions, but it was no match for WFR/Yamaha/Maxxis/Fly Racing's Walker Fowler who clinched his third straight national championship.
After a two-month long summer break anticipation was at an all-time high as the racers eagerly waited for the green flag to wave at the 13th Annual Parts Unlimited Unadilla GNCC. Six-time GNCC champion Chris Borich jumped out to the early lead and grabbed the $250 Wiseco XC1 Pro Holeshot Award, with Fowler and GBC/Canyon Motorsports/Fly Racing's Landon Wolfe on his back wheels.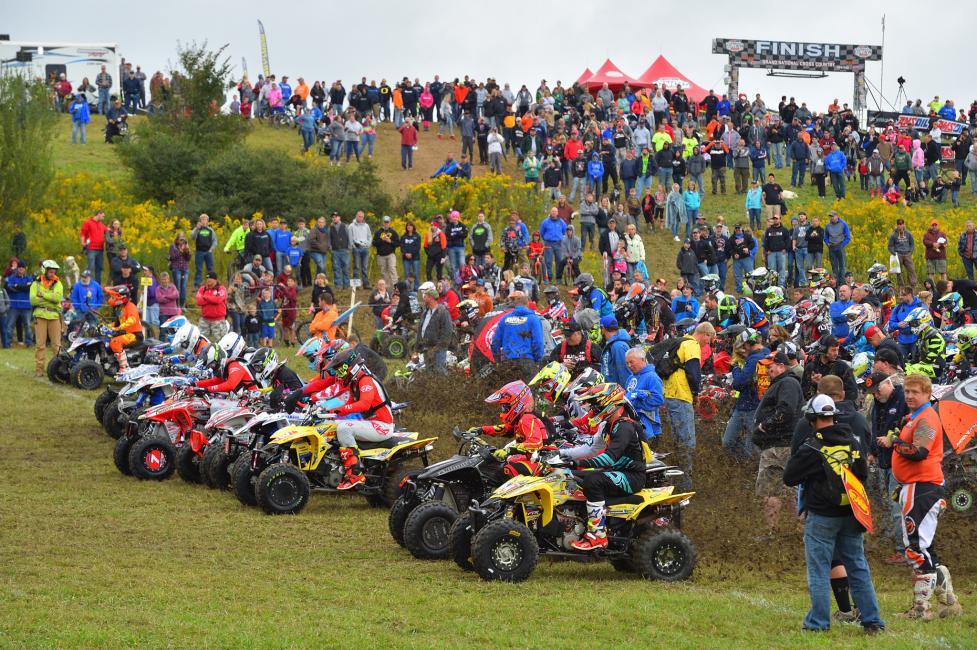 Fowler made quick work of his starting position and applied pressure to Borich through the opening lap. Just before they checked through timing and scoring for the first time, Fowler moved into the lead on a split line. Borich continued in close proximity to Fowler and before too long he found himself busy with JMR/ATVriders.com's Jarrod McClure.
Borich and McClure's pace allowed them to keep Fowler in sight, but Fowler still continued to run his own race in the front. The duo continued swapping positions, until Borich faced a mechanical issue when his rear shock broke on the landing of the infamous "Sky Shot" jump on the motocross track.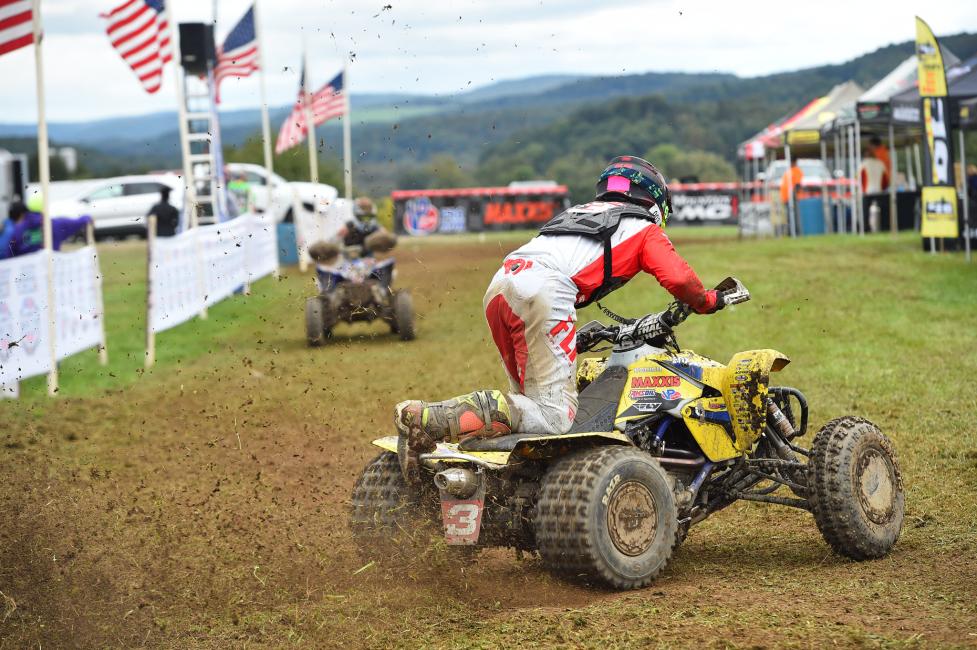 Once the race reached the mid-way point, Fowler began to pull away even more and McClure stayed in a consistent second behind him. Perhaps the biggest update was the fact that ATV Innovations/Solo Pilot's Westley Wolfe had moved into a podium position.
After struggling off the start, Coastal Racing's Brycen Neal had spent the entire race pushing through the pack. With only a few miles left until the finish line, Neal made the pass for the final podium position when Wolfe made a small bobble on a portion of the motocross track.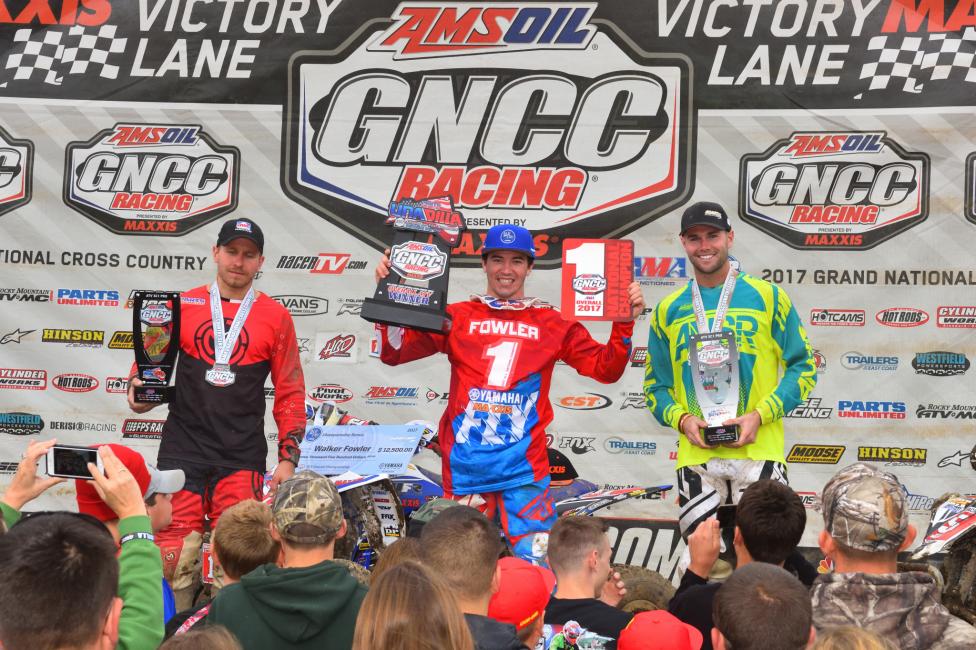 Fowler's win vaulted him to the top of the championship standings, where he was able to claim the title with three rounds still remaining. McClure made his way back to the podium after a six-round hiatus, and Neal rounded out the overall podium.
"Unadilla has treated me very well in the past, so I was coming in confident to keep momentum headed my way. I got off to a fantastic start, and Borich was riding extremely well," explained Fowler. "My first two championships I was beaten the day I won the championship and it was bittersweet to win. Today, winning the race and the championship feels better than I could have imagined. I couldn't be more happy or proud of my WFR/Yamaha/Maxxis/Fly Racing team for their efforts, and also my mechanic Mark Notman, who puts his heart and soul into my program. It's amazing to get out first championship as our own team, and like I said, I couldn't be more proud of our accomplishment!"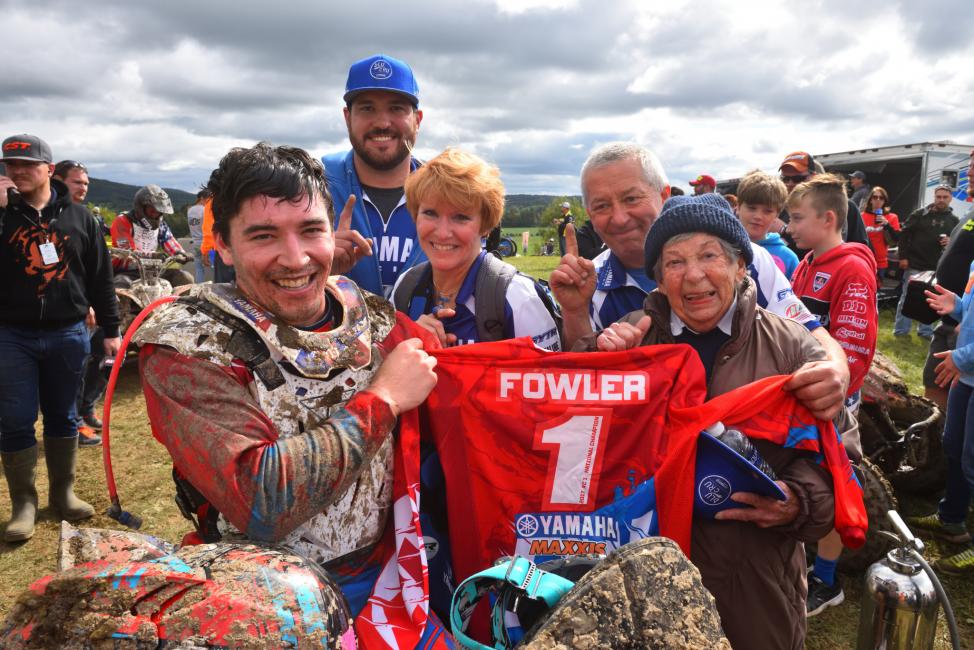 Wolfe quickly remounted his quad and finished just off the podium in fourth – his best finish to date. Landon Wolfe also had a successful day finishing fifth overall.
The $100 All Balls Racing XC2 Pro-Am Holeshot Award was award to Pierce Performance's Levi Coen for his quick jump off the line. Once they checked through timing and scoring for the first time it would be Ithaca Recreation/Maxxis/Quad Tech/Storm Peak Crossfit's Hunter Hart in the lead position. Unlike Fowler, Hart never had breathing room where he felt pressure from M.R. Unlimited/Hygear Suspension/GBC Tires/Tire Spine's Devon Feehan for the entire two-hour race. Hart held onto the lead with Feehan and Hygear Suspension-backed Greg Covert filling the podium – making for a clean New York sweep in the XC2 class.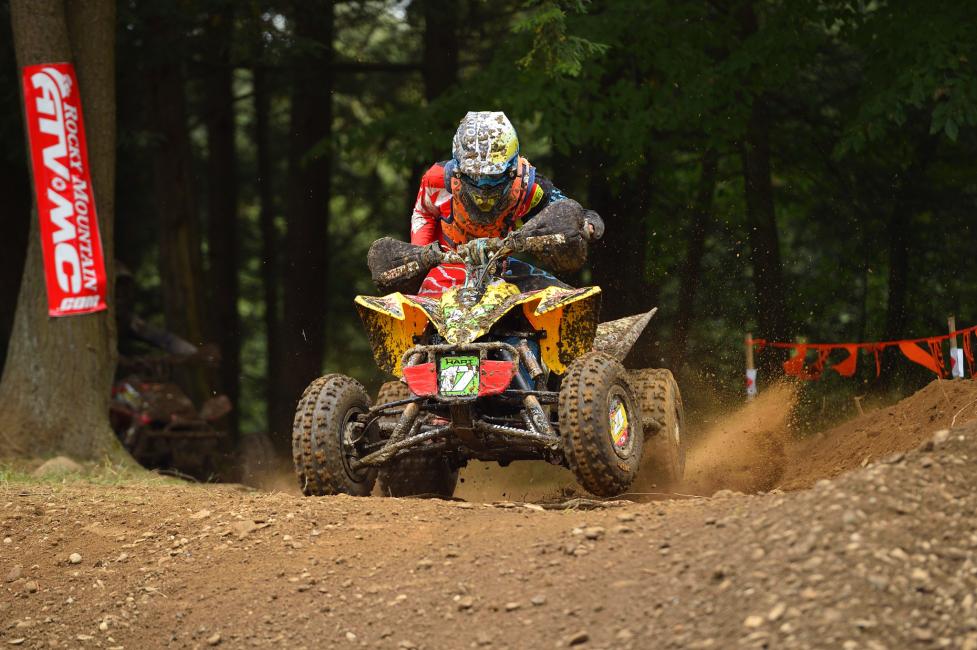 Ben Kowalewski took home top amateur honors with his impressive sixteenth place overall finish and College A (16-21) division win.
The 10 a.m. podium was topped by Cunningham Racing/Can-Am/Maxxis' Kevin Cunningham. Branden Owens and Ronnie Rusch finished second and third overall. Team UXC Racing's Kevin Trantham and BNR's Robert Smith filled the rest of the 4x4 Pro podium.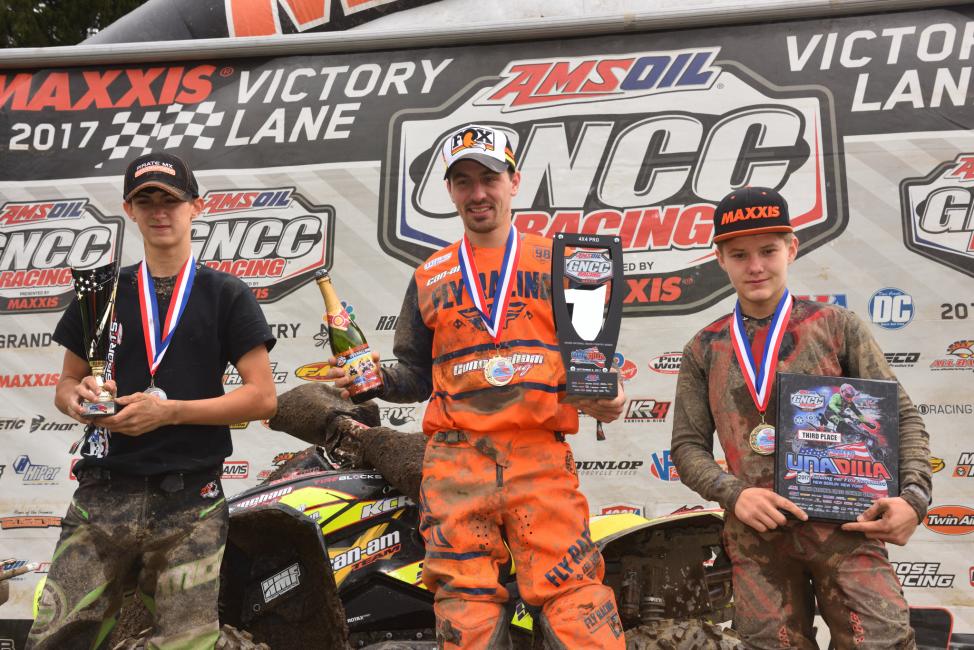 Yamaha's Traci Pickens came out on top in the WXC class, marking her third win and eighth podium of the year. Angel Knox placed second and Dillinger's Celtic Pub-backed Katelyn Osburn placed third.
Layne McCormick took the youth overall win earlier in the day, while Keaton Henderson made his first podium of the year in second. Colton Buck rounded out the overall podium in third.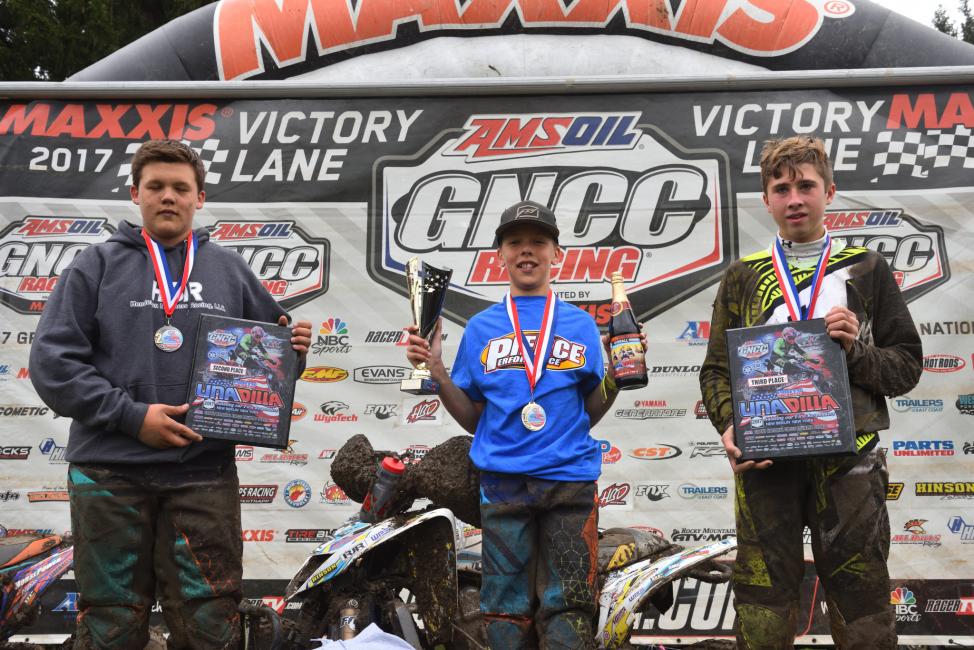 Quinn Bergman was named the 2017 ATV Micro champion, and Carson Hope took home the Bike Micro championship title.
The 1 p.m. ATV Pro race was broadcast LIVE in its entirety on RacerTV.com and can be viewed as archived video online by visiting the GNCC LIVE page. A highlight show featuring the event will air on NBC Sports Network on Saturday, October 28 at 4:30 p.m.
The 2017 AMSOIL Grand National Cross Country Series travels to Masontown, West Virginia in two weeks for the Rocky Mountain ATV/MC Mountaineer Run GNCC on September 23 and 24.
The Parts Unlimited Unadilla GNCC
New Berlin, New York
Round 10 of 13
Saturday, September 9
XC1 Pro Event Results:
Walker Fowler (YAM)
Jarrod McClure (HON)
Brycen Neal (YAM)
Westley Wolfe (SUZ)
Landon Wolfe (HON)
Josh Merritt (YAM)
Marty Christofferson (HON)
Johnny Gallagher (YAM)
Cody Collier (YAM)
Chris Borich (SUZ)
*Overall National Championship Standings:
Walker Fowler (295)
Adam McGill (180)
Brycen Neal (169)
Chris Borich (164)
Jarrod McClure (162)
Landon Wolfe (149)
Johnny Gallagher (108)
Marty Christofferson (107)
Hunter Hart (106)
Devon Feehan (105)
*Indicates that the Overall National Championship Standings will determine the 2017 National Champion.
XC2 Pro-Am Event Results:
Hunter Hart (YAM)
Devon Feehan (HON)
Greg Covert (YAM)
Matthew Lindle (HON)
Kenny Shick (YAM)
Gabriel Naud (YAM)
Levi Coen (HON)
Brandon Icard (HON)
Wyatt Wilkin (HON)
Kenneth Kelly (HON)
XC2 Pro-Am Series Points Standings:
Devon Feehan (248)
Hunter Hart (231)
Greg Covert (221)
Matthew Lindle (188)
Brandon Icard (131)
Kenny Shick (126)
Levi Coen (125)
Sam Hough (98)
Austin Abney (88)
Bryson Hoppes (83)
For more information on the GNCC series, visit the official website at www.gnccracing.com or call (304) 284-0084. Join the conversation on the series Facebook page, follow us on Twitter and Instagram, and be sure to always hashtag #GNCC.
About GNCC Racing
The AMSOIL Grand National Cross Country Series presented by Maxxis is America's premier off-road racing series. Founded in 1975, the 13-round championship is produced exclusively by Racer Productions. Cross-country racing is one of the most physically demanding sports in the world. The grueling three-hour GNCC races lead as many as 2,400 riders through tracks ranging in length from eight to 12 miles. With varied terrain, including hills, woods, mud, dirt, rocks and motocross sections, GNCC events are tests of both survival and speed. The series draws talent from all over the U.S., Central America, South America, Europe, Japan, Australia and New Zealand. GNCC Racing is televised weekly on NBC Sports and RacerTV.com. For more information, please visit www.gnccracing.com.
About the American Motorcyclist Association
Founded in 1924, the AMA is a not-for-profit member-based association whose mission is to promote the motorcycle lifestyle and protect the future of motorcycling. As the world's largest motorcycling rights and event sanctioning organization, the AMA advocates for riders' interests at all levels of government and sanctions thousands of competition and recreational events every year. The AMA also provides money-saving discounts on products and services for its members. Through the AMA Motorcycle Hall of Fame in Pickerington, Ohio, the AMA honors the heroes and heritage of motorcycling. For more information, visit www.americanmotorcyclist.com. Not a member? Join the AMA today: www.americanmotorcyclist.com/membership/join.
-RP-