Chelsea Taylor
Time
Tuesday, July 11, 2017 | 2:45 PM
FOR IMMEDIATE RELEASE
Chelsea Taylor
(304) 284-0084
[email protected]
AMSOIL GNCC Racing WXC Highlights: The Wiseco John Penton GNCC
Katelyn Osburn and Tayla Jones Rise to the Occasion
MILLFIELD, Ohio (July 11, 2017) – There were 63 different female competitors who took part in The Wiseco John Penton GNCC this past weekend, July 8 and 9, in Millfield, Ohio. Highlighting the female racing action were the two WXC classes – both ATV and bike. Dillinger's Celtic Pub's Katelyn Osburn and Rocky Mountain ATV*MC/KR4/Husqvarna Team's Tayla Jones rose to the occasion where they were named the class winners in their respective WXC division.
Saturday morning's 10 a.m. race saw Traci Pickens jump out to the early lead grabbing the WXC holeshot. Osburn also got off to a good jump, and swapped the lead back-and-forth with Pickens on the second lap.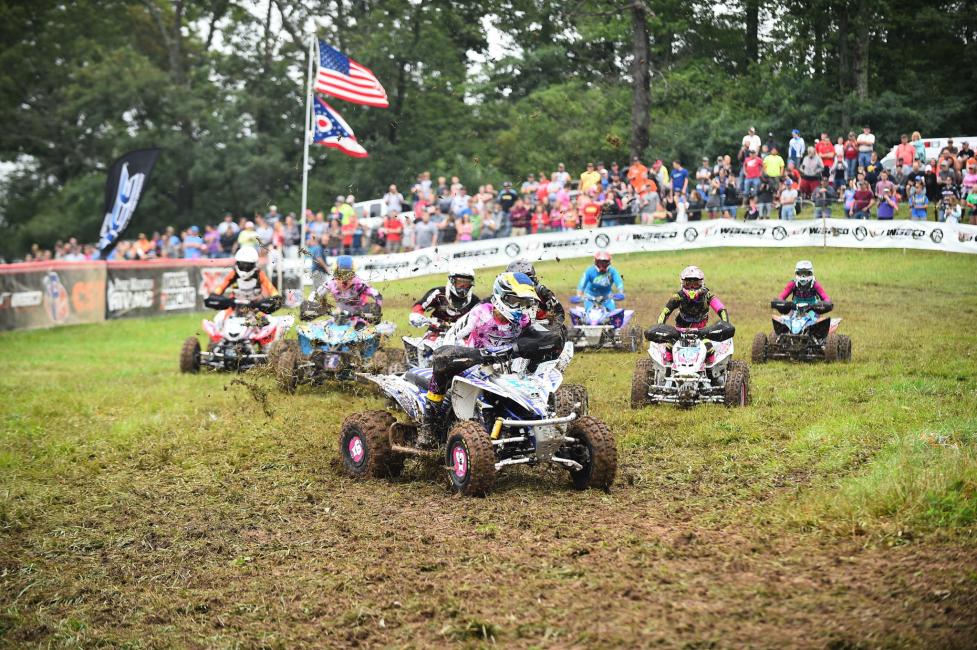 The duo faced a group of lapped riders who were stuck on a hill on the third lap, and as they approached more and more quads were blocking the race track. Pickens and Osburn found themselves involved with a new track obstacle. "Fighting my way through unexperienced lapped riders was a battle all of its own," explained Osburn.
Osburn was saved by a spectator, who pointed her an alternate route. Once she was on a clear trail, Osburn never looked back and took her second win of the season. Meanwhile, Angel Knox was busing working her way through the pack to secure second place. Kamren Bobb rounded out the class podium in third.
"The track was super fun and my quad was working awesome," said Osburn. "I'm so ready for another race in New York after the summer break. Unadilla is my home track and I can't wait!"
Without drops factored in, Knox continues to lead the way in the championship chase, while Pickens sits five points out from the lead. Osburn is ranked third, just eleven points behind.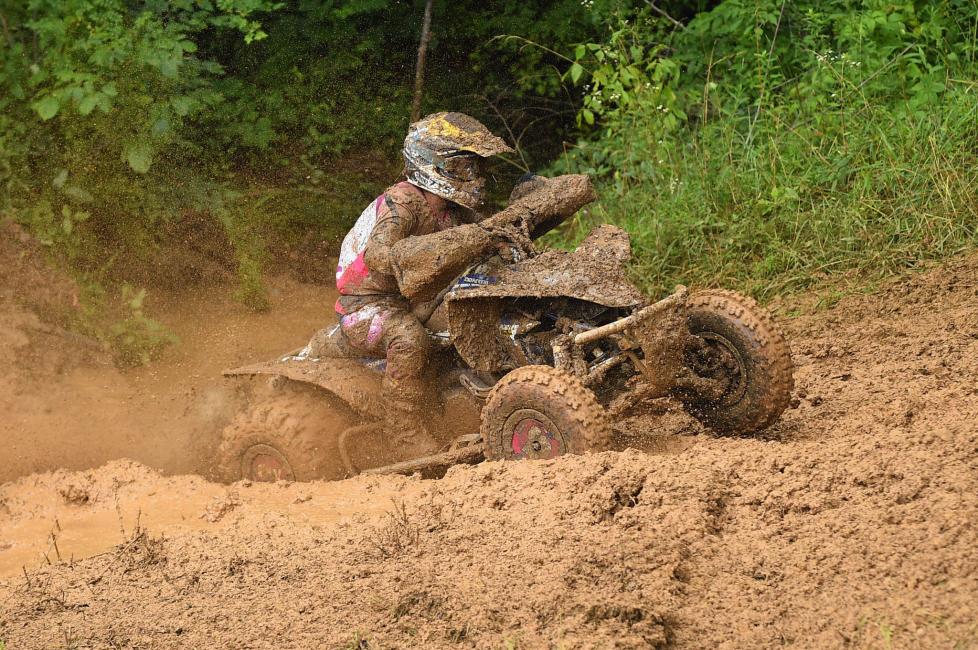 On Sunday morning, Jones found herself leading the way into the Ohio woods, but a small mistake allowed for Fly Racing/Maxxis/Seat Concepts/KTM's Becca Sheets moved into first place. As they emerged on the motocross track, Sheets had a sizable lead. Lapped riders came into play on their second lap and Jones was able to move through the group faster than Sheets where she regained the lead position.
Sheets was right on the back tire of Jones as they approached another bottleneck, which was harder to navigate than the first. "It seemed to take forever to get through and by the time I did, I had no idea if I was still leading or where any of the other girls were until I got my pit board," explained Jones.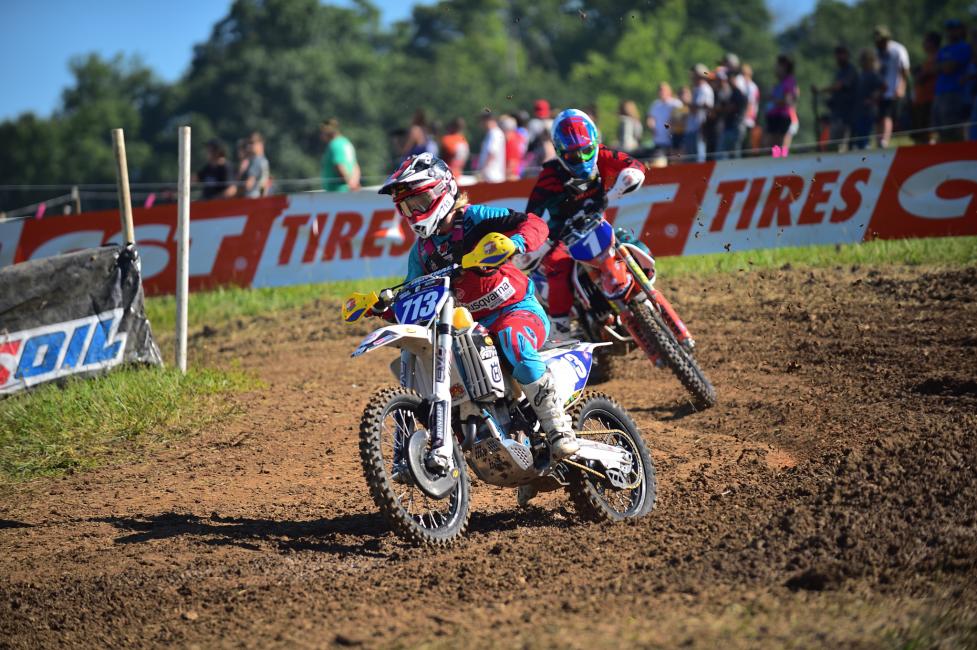 Jones ended up working her way through the lapped riders, eight minutes ahead of Sheets. From there, Jones rode her own race while Sheets rode as hard as she could on the last two laps. However, it wasn't enough to regain the top position. Jones snagged her eighth victory of the season with Sheets earning second.
Trail Jesters' Mackenzie Tricker was in third after battling with her handguard that kept causing her front brake to lock up. After stopping to get it fixed on the second lap she continued facing more issues. "I had a lot of bad luck. But all in all, I'm very disappointed on the result, but we have eight weeks to figure it out – third just isn't cutting it," reported Tricker.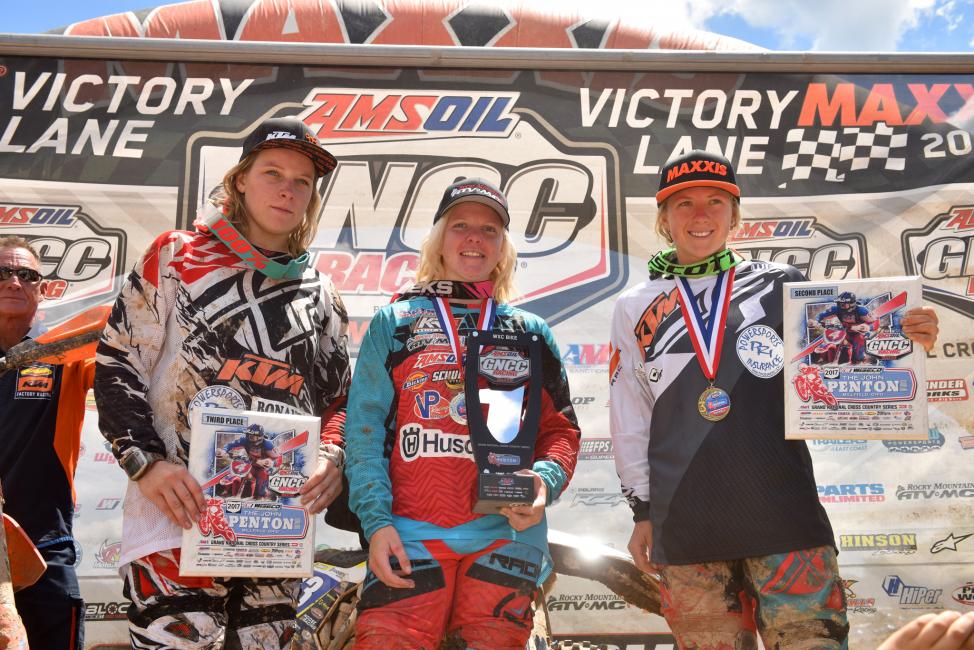 Unfortunately, Shelby Rolen also suffered from mechanical issues, where she was only able to complete one lap.
Veronica Whitesell extended her points lead in the Women's UTV class, with her third win of the season. Vickie Fowler followed with second in class.
AMSOIL GNCC Racing resumes in the fall, September 9 and 10, with the Parts Unlimited Unadilla GNCC in New Berlin, New York. UTV Racing action picks back up on September 23 in West Virginia.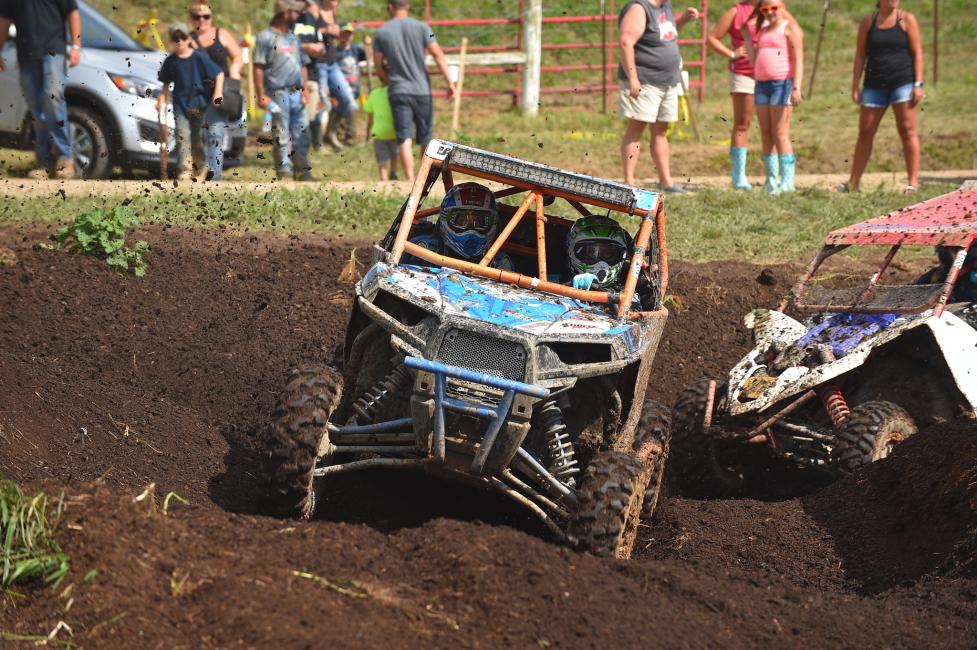 For more information on the series, visit the official website at www.gnccracing.com or call (304) 284-0084. Join the conversation on the series Facebook page, follow us on Twitter and Instagram, and be sure to always hashtag #GNCC.
Wiseco John Penton GNCC
Millfield, Ohio
Round 9 of 13
July 8-9, 2017
WXC ATV Event Results:
Katelyn Osburn (HON)
Angel Knox (HON)
Kamren Bobb (HON)
Alicia McCormick (SUZ)
Traci Pickens (YAM)
Kara Merritt (YAM)
Cheyanne Shadron (YAM)
Jaida Phillips (YAM)
WXC ATV Series Standings:
Angel Knox (174)
Traci Pickens (169)
Katelyn Osburn (163)
Alicia McCormick (149)
Kara Merritt (143)
Kamren Bobb (107)
Jaida Phillips (95)
Melanie Sill (61)
Megan Shepherd (52)
.Abbi Troy (39)
WXC Bike Event Results:
Tayla Jones (HSQ)
Becca Sheets (KTM)
McKenzie Tricker (KTM)
Shelby Rolen (KAW)
WXC Bike Series Standings:
Becca Sheets (170)
Tayla Jones (160)
Mackenzie Tricker (144)
Rachel Gutish (100)
Brooke Cosner (86)
Kendall LaFollette (80)
Shelby Rolen (74)
Taylor Johnston (32)
Natasha Lachapelle (31)
Rachael Archer (30)
About GNCC Racing
The AMSOIL Grand National Cross Country Series presented by Maxxis is America's premier off-road racing series. Founded in 1975, the 13-round championship is produced exclusively by Racer Productions. Cross-country racing is one of the most physically demanding sports in the world. The grueling three-hour GNCC races lead as many as 2,400 riders through tracks ranging in length from eight to 12 miles. With varied terrain, including hills, woods, mud, dirt, rocks and motocross sections, GNCC events are tests of both survival and speed. The series draws talent from all over the U.S., Central America, South America, Europe, Japan, Australia and New Zealand. GNCC Racing is televised weekly on NBC Sports and RacerTV.com. For more information, please visit www.gnccracing.com.
About the American Motorcyclist Association
Founded in 1924, the AMA is a not-for-profit member-based association whose mission is to promote the motorcycle lifestyle and protect the future of motorcycling. As the world's largest motorcycling rights and event sanctioning organization, the AMA advocates for riders' interests at all levels of government and sanctions thousands of competition and recreational events every year. The AMA also provides money-saving discounts on products and services for its members. Through the AMA Motorcycle Hall of Fame in Pickerington, Ohio, the AMA honors the heroes and heritage of motorcycling. For more information, visit www.americanmotorcyclist.com. Not a member? Join the AMA today: www.americanmotorcyclist.com/membership/join.
-RP-