Chelsea Taylor
Time
Tuesday, July 11, 2017 | 1:35 PM
FOR IMMEDIATE RELEASE
Chelsea Taylor
(304) 284-0084
[email protected]
AMSOIL GNCC Racing Bike Highlights: The Wiseco John Penton GNCC
Grant Baylor Takes the Win in Millfield, Ohio
MILLFIELD, Ohio (July 11, 2017) – The ninth round of the 2017 AMSOIL Grand National Cross Country (GNCC) series presented by Maxxis, an AMA National Championship, took place Sunday, July 9, with the 28th Annual Wiseco John Penton GNCC at the popular Sunday Creek Raceway in Millfield, Ohio. The world's fastest off-road racers were put to the test facing hot and humid race conditions, but at the end of the grueling three-hour race Rocky Mountain ATV*MC/KR4/ Husqvarna's Grant Baylor found himself in the middle of the box for the first time in his career.
Once the green flag waved to signify the start of the 1 p.m. Pro race, FMF/KTM Factory Racing's Russell Bobbitt would find himself in the front grabbing the $250 All Balls Racing Holeshot Award. N-Fab/AmPro Yamaha's Ricky Russell wasn't too far behind and moved into the lead on the second turn, but Rockstar Energy/Factory Husqvarna Racing's Thad Duvall lead the way into the woods.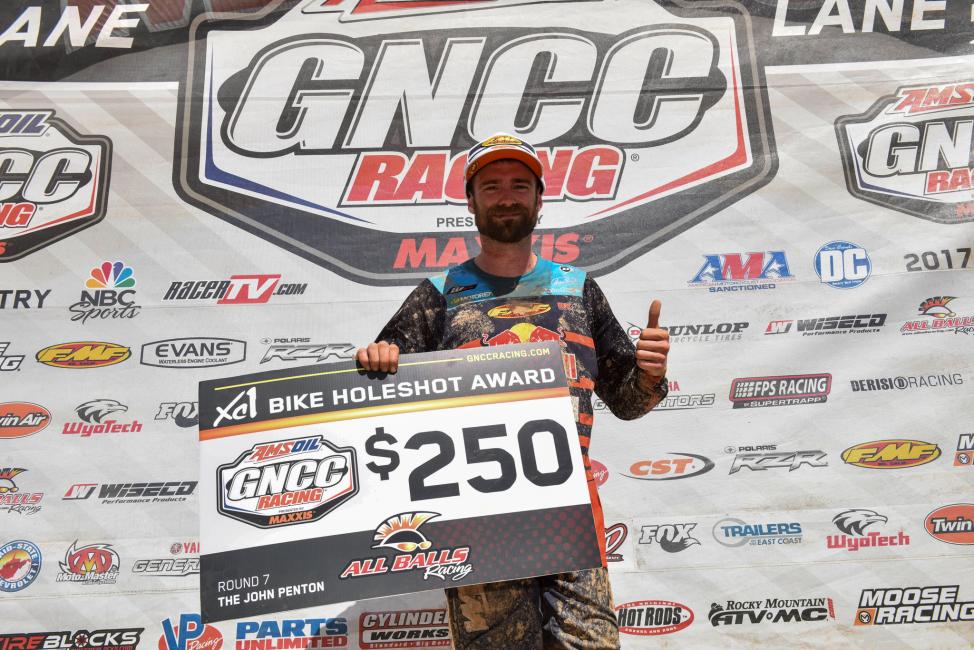 Once they hit the first open field section, Thad continued to lead with Bobbitt in tow and K Russell making a pass for third. Duvall attempted to jump a breaking bump, but ended up off the bike where he lost the lead. By the time the frontrunners reached the hill climb toward the end of the first lap, K Russell had secured the first-place position with Bobbitt and Duvall following.
Just a few short miles later, Duvall was on the back wheel of K Russell as they checked through timing and scoring for the first time. Duvall kept the momentum rolling and found himself back in the lead on the second lap. Duvall was challenged by K Russell who kept right on him. The duo had a large gap on R Russell and the group battling for forth. As they entered the motocross track, R Russell held off Coast Racing/Husqvarna's Ryan Sipes.
With two laps complete, Duvall pitted while K Russell elected not to. Thad's pit worked to K Russell's favor where he once again found himself in the lead. With a clear track, K Russell focused on gapping his competition as much as possible knowing that he would have to pit the next lap.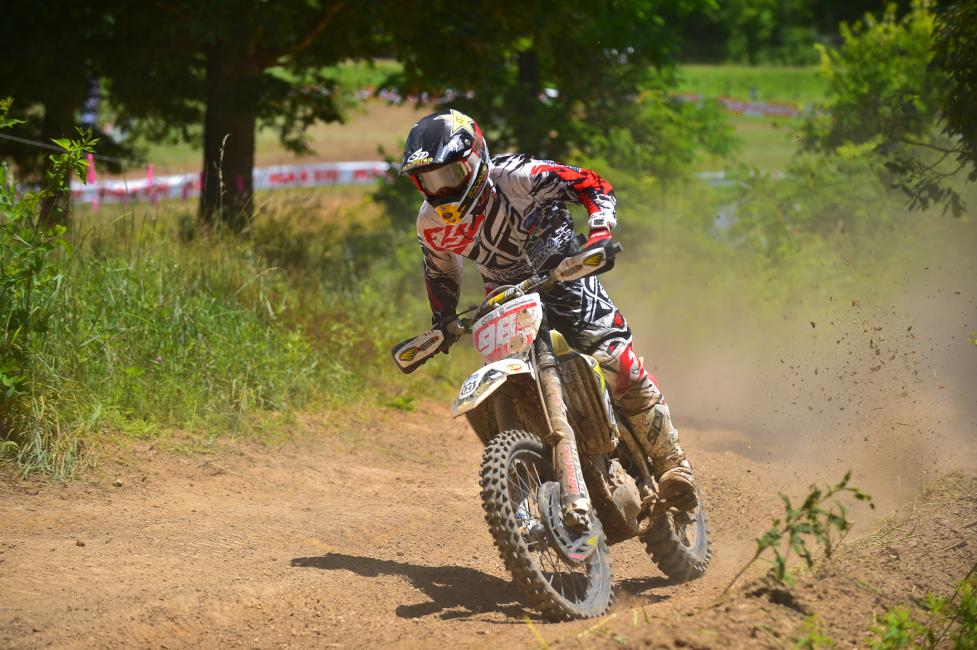 Unfortunately after stretching a little lead, K Russell went down at the bottom of the FMF Power Point. He quickly remounted his bike, but Duvall managed to squeeze by for the lead before he got back on track. Knowing that K Russell had to pit, Duvall chose to pit again and managed to still hold onto the lead as they rubbed plastics exiting Pro Row.
Duvall and K Russell continued to swap positions back-and-forth as Duvall lead the way through the white flag. As fans lined the track watching the action unfold, Duvall bobbled in the same place K Russell went down, but managed to keep it up on two wheels. K Russell came out of the woods in first as they charged through the infamous mulch pile.
K Russell faced a mechanical issue in the exclusive Pro only "John Penton" section of the track and he couldn't get his bike started back. Duvall capitalized on K Russell's misfortune and continued pushing forward. working his way from outside the top ten, through the pack of riders, to be in third once K Russell was having difficulties. Baylor passed for second, and K Russell got his bike running shortly after.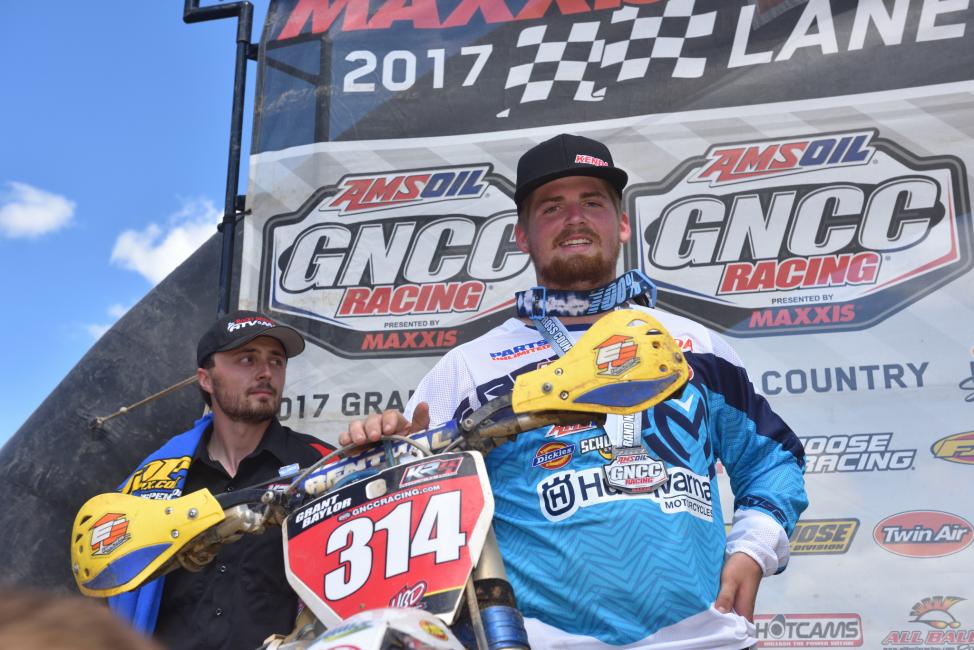 With just a few miles left until the finish, Duvall carried his speed until the checkered flag where he finished two and a half minutes ahead of Baylor in second.
However, after the podium presentation, it came to the attention of race officials that on lap four, both Duvall and RPM/KTM's Chris Bach had taken an illegal line through a TV camera section that had been roped off for that purpose. The matter was caught on film and forwarded to the AMA for review, as GNCC race officials had recused themselves from the decision-making process. It was reviewed by a committee that included representatives of the AMA, and a decision was made to penalize both Duvall and Bach one position, consistent with penalties issued in the past for similar violations. The penalties have not been appealed.
This decision vaulted Baylor to the top of the charts where he took his first-ever overall victory. Duvall and K Russell filled the overall podium on the adjusted results.
"I haven't even broken into the top five all year, so this is an awesome feeling knowing this is where I should be," said Baylor.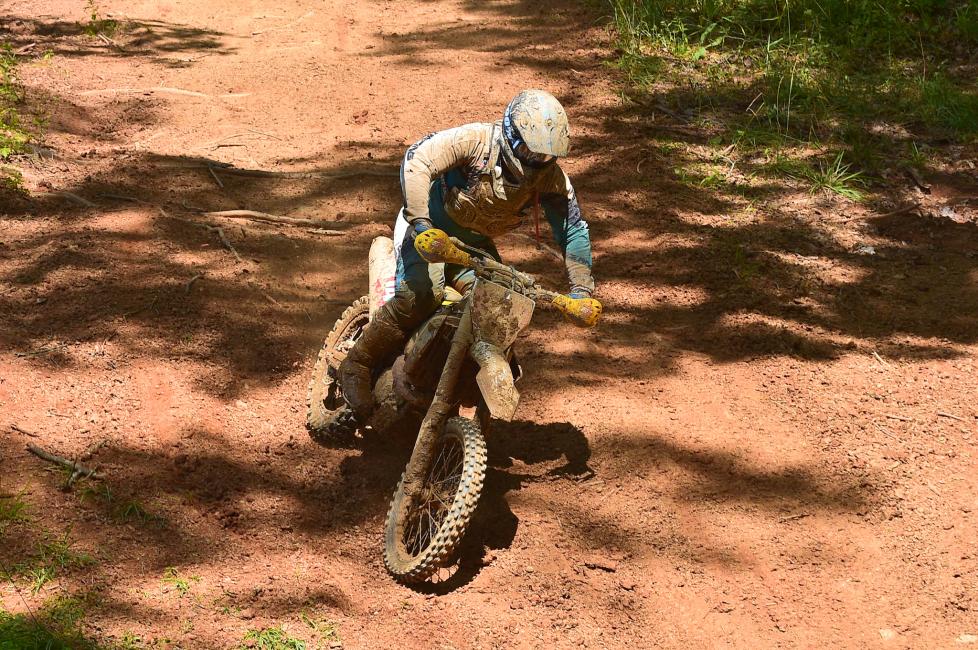 "It's been a bad few weeks, nothing is going right," said K Russell. "I've blown a lot of points and it's a tough pill to swallow. I was making stupid mistakes all race. I finally felt like I was riding really well on the last three laps, and then I ran into some mechanical problems on the last lap. I felt good, and I was riding good. It's not a lack of effort –Things just aren't coming together like I'm used to."
"We are going race by race, we aren't worried about the points championship," said Duvall. "I didn't feel like I was the fastest one out there, but I rode my own race. I really found out how good the KTM's and Husqvarna's are this weekend. I dreaded the John Penton section all day, it just didn't really flow for me. I made a huge mistake the first lap when I tried to jump a breaking bump and flew off into the trees. I figured after that it would be a long day."
Bach had his best finish of the season where he finished just off the podium in fourth. Sipes was credited with fourth, with Bach in fifth. Bobbitt had one of his best races of the season in sixth. JCR Honda's Trevor Bollinger finished eighth overall, and R Russell placed ninth.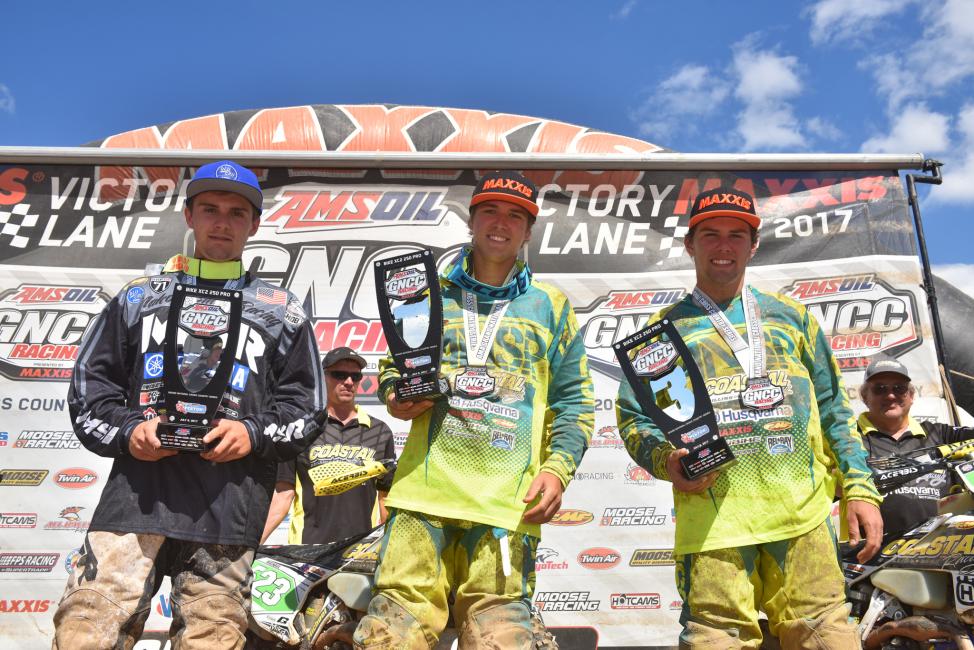 In the XC2 250 Pro division, Harrison Helmick earned the $100 Hot Cams Holeshot Award, but Coastal Racing/Husqvarna's Layne Michael took the early lead and continued leading until crossing the finish line one minute ahead of N-Fab/AmrPro Yamaha's Josh Toth in second. Michael's teammate, Craig Delong, made the class podium in third.
Rocky Mountain ATV*MC/KR4/ Husqvarna Team's Hunter Neuwirth snagged his first FMF XC3 125 Pro-Am class win. Mark Heresco held onto second after an impressive holeshot, with JDP Suspension's Devan Welch in third.
After putting forth an impressive ride and winning the Open A division, Levi Keller earned himself the top amateur honors. Alex Teagarden and Jonathan Johnson rounded out the amateur overall podium after an all-out battle to the finish line.
At the conclusion of the 10 a.m. race it was Rocky Mountain ATV*MC/KR4/Husqvarna Team's Tayla Jones standing on the top spot of the podium taking home the WXC victory and the overall win. Super Senior A class winner, Kenny Hawkins, finished second overall. Fly Racing/Maxxis/Seat Concepts/KTM's Becca Sheets followed in third overall, and second in the WXC division. Trail Jesters KTM's McKenzie Tricker would end up crossing the line third in the WXC class.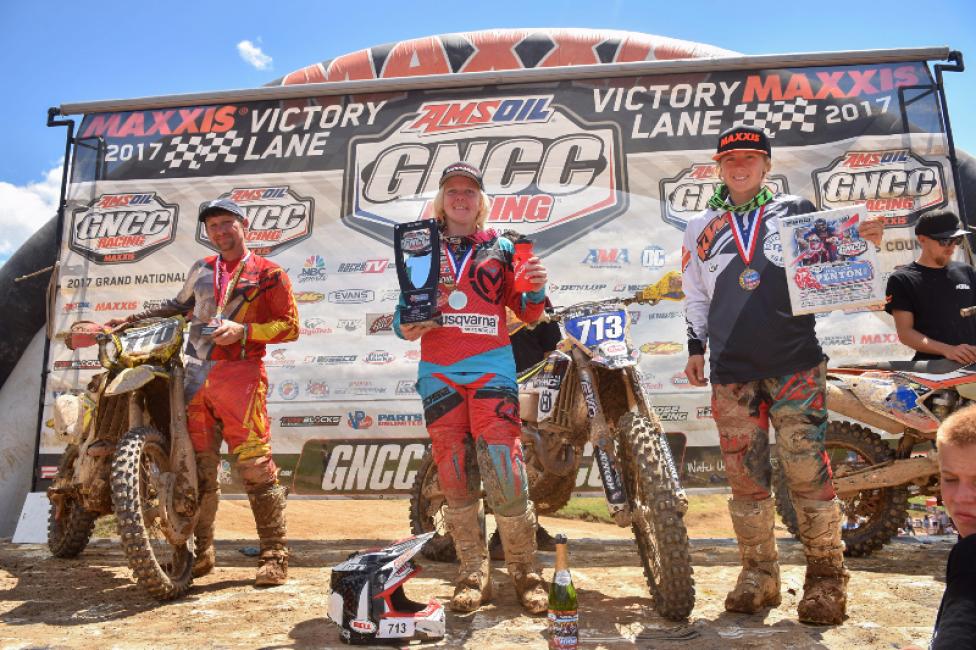 Kicking off the two-wheeled racing action on Sunday was the 8 a.m. youth race. The current points leader, Zack Davidson, took his seventh win of the season here in Ohio. Peyton Whipkey and Mack Riemer followed in second and third overall.
The 1 p.m. race was broadcast LIVE in its entirety on RacerTV.com and can be viewed as an archived video now by visiting the GNCC LIVE page online. A highlight show featuring the event will air Saturday, October 14 at 2:30 p.m.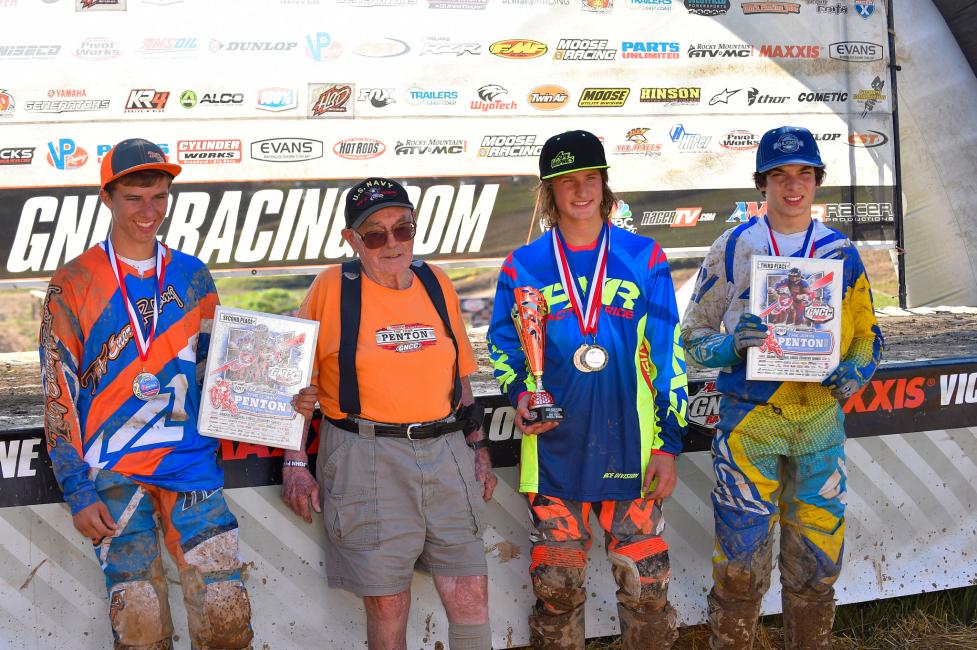 AMSOIL GNCC Racing resumes in the fall, September 9 and 10, with the Parts Unlimited Unadilla GNCC in New Berlin, New York.
For more information on the series, visit the official website at www.gnccracing.com call (304) 284-0084. Join the conversation on the series Facebook page, follow us on Twitter and Instagram, and be sure to always hashtag #GNCC.
The Wiseco John Penton GNCC
Millfield, Ohio
Round 9 of 13
Sunday, July 9
XC1 Open Pro Event Results:
Grant Baylor (HSQ)
Thad Duvall (HSQ)
Kailub Russell (KTM)
Ryan Sipes (HSQ)
Chris Bach (KTM)
Russell Bobbitt (KTM)
Trevor Bollinger (HON)
Ricky Russell (YAM)
Philippe Chaine (KTM)
Josh Strang (HSQ)
*Overall National Championship Standings:
Kailub Russell (205)
Thad Duvall (202)
Steward Baylor (152)
Ricky Russell (147)
Josh Toth (137)
Grant Baylor (119)
Trevor Bollinger (100)
Jordan Ashburn (99)
Josh Strang (89)
Craig Delong (87)
*Indicates that the Overall National Championship Standings will determine the 2017 National Champion.
XC2 250 Pro Event Results:
Layne Michael (HSQ)
Josh Toth (YAM)
Craig Delong (HSQ)
Benjamin Kelley (KTM)
Mike Witkowski (KTM)
Jesse Groemm (KTM)
Austin Lee (HON)
Sam Evans (KTM)
Zack Hayes (KTM)
Drew Higgins (BET)
XC2 250 Pro Series Standings:
Josh Toth (243)
Craig Delong (186)
Layne Michael (186)
Mike Witkowski (159)
Jesse Groemm (140)
Austin Lee (126)
Ben Kelley (118)
Zack Hayes (109)
Sam Evans (85)
Zach Nolan (79)
FMF XC3 125 Pro-Am Event Results:
Hunter Neuwirth (HSQ)
Mark Heresco Jr. (KTM)
Devan Welch (YAM)
Jason Thomas (HSQ)
Jaryn Williams (YAM)
Josh Adkins (YAM
FMF XC3 125 Pro-Am Points Standings:
Jason Thomas (232)
Mark Heresco Jr. (180)
Hunter Neuwirth (180)
Jack Edmondson (145)
Josh Adkins (115)
Jaryn Williams (114)
Devan Welch (97)
Paul Whibley (67)
Dustin Gibson (61)
Nate Smith (47)
About GNCC Racing
The AMSOIL Grand National Cross Country Series presented by Maxxis is America's premier off-road racing series. Founded in 1975, the 13-round championship is produced exclusively by Racer Productions. Cross-country racing is one of the most physically demanding sports in the world. The grueling three-hour GNCC races lead as many as 2,400 riders through tracks ranging in length from eight to 12 miles. With varied terrain, including hills, woods, mud, dirt, rocks and motocross sections, GNCC events are tests of both survival and speed. The series draws talent from all over the U.S., Central America, South America, Europe, Japan, Australia and New Zealand. GNCC Racing is televised weekly on NBC Sports and RacerTV.com. For more information, please visit www.gnccracing.com.
About the American Motorcyclist Association
Founded in 1924, the AMA is a not-for-profit member-based association whose mission is to promote the motorcycle lifestyle and protect the future of motorcycling. As the world's largest motorcycling rights and event sanctioning organization, the AMA advocates for riders' interests at all levels of government and sanctions thousands of competition and recreational events every year. The AMA also provides money-saving discounts on products and services for its members. Through the AMA Motorcycle Hall of Fame in Pickerington, Ohio, the AMA honors the heroes and heritage of motorcycling. For more information, visit www.americanmotorcyclist.com. Not a member? Join the AMA today: www.americanmotorcyclist.com/membership/join.
-RP-