Jason Weigandt
Mullins Fires First with Florida Win
Tuesday, March 3, 2009 | 7:30 PM
Mullins Fires the First Shot At GNCC Opener in Florida
Whibley, Kanney on Podium, Russell Wins XC2 Class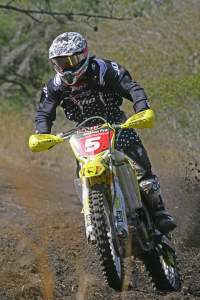 LAKE WALES, FL (March 3, 2009)
- In a wide-open Can-Am Grand National Cross Country Series, FMF Suzuki's Charlie Mullins made the first statement by taking a dominant wire-to-wire win at the Parts Unlimited River Ranch GNCC in Florida. After nabbing the $250 MotorcycleUSA.com Holeshot, Mullins put in a perfect day on a rough, sandy race track, with GEICO Monster Kawasaki's Paul Whibley and Shock Doctor KTM's Nathan Kanney taking the next spots on the podium.
"It was just one of those days where I couldn't make a mistake even if I tried to," said Mullins, and Ohio native who now lives in North Carolina. "I worked really hard to get this done, I'm pumped."
Behind Mullins, a variety of challengers stepped up to try to win the race. Whibley put on his typical late-race charge to net second in his first race for Kawasaki. "I usually don't get good starts, but this Kawasaki starts so well I started thinking holeshot," said Whibley. "So then I gassed it too quick and it didn't start. The first few laps, you couldn't go fast, it was dusty and there were too many guys. Once I finally got some traffic to clear, I could move up and start pushing it."
Whibley climbed from the back of the top ten into second with two laps to go, but Mullins upped his pace to keep the New Zealander at bay.
Kanney ran second early, and then 2000 GNCC Champion Shane Watts moved into second and put on an inspired charge until fatigue set in a few laps later. Am-Pro Yamaha's Barry Hawk ran with the lead pack, until his rear shock began to fade. Kanney ran into trouble, too when his rear brakes went out, leading to an extended pit stop. This opened the door to a hard-charging Whibley and Mullins' FMF Suzuki teammate Josh Strang. When Kanney stopped in the pits, Strang, who was way back early, moved all the way up to third. But then disaster struck for Strang when he ran out of gas on the last lap, the result of a problem with his dry break fuel system.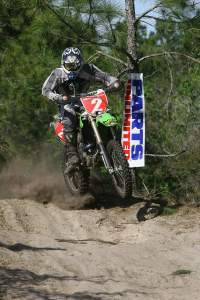 Kanney then mounted one more charge to get back into third. "At no point today did I plan on going out and just catching Charlie," said Kanney. "He rode phenomenal today. I feel good though. I worked hard to fill in the little holes in my training program, and it paid off today."
Mike Brown, the 2001 AMA 125 National Motocross Champion, rallied all day after a bad start to finish fourth. "It was good, I kept charging and honestly, when the white flag came out I had a good amount left," said Brown. "I sure had a bad start, though."
Hawk pulled through for fifth despite rear shock issues. "I felt great, I was having so much fun, and I was right where I wanted to be," said Hawk. "Then it started going away. Once Whibley passed me, I tried to stay with him and almost threw it away in the whoops. There was nothing I could do."
Hawk's teammate Thad DuVall suffered an even worse start to the year when he crashed halfway through the event and broke his wrist. DuVall's timetable for return is not yet known. Husqvarna's Glenn Kearney also had a hard day. The Australian broke his leg three weeks ago and managed to race anyway, finishing a valiant 13th overall and 10th in the XC1 class.
Similar to Mullins, Shock Doctor KTM's Kailub Russell rode to a dominant win in the XC2 Lites class by capturing the $100 Cometic Holeshot Award and riding away from his competition. "I've done some off-season races, but it seemed like I always had bad luck," said Russell. "I knew I would be okay if it just came together. I just kept my head down and rode my own pace."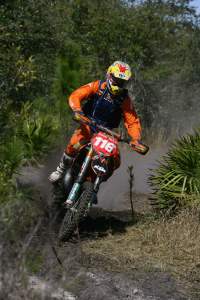 Monster Energy Andrews Yamaha's Jason Thomas ran second all day. "I tried staying with Kailub early on, he was running a fast pace," said Thomas. "Then one of those sand whoops ate me up. I crashed hard, everything was a little fuzzy after that, so I just tried to bring it in."
New England's Jake Korn nailed third for his first GNCC podium. "This track was tough, it had everything," said Korn. "I liked it, though, you know, I'm from New England so I ride on sand."
Over 1200 different riders competed throughout the weekend.
The Can-Am Grand National Cross Country Series continues with the Maxxis General GNCC in Washington, Georgia, this weekend, on March 7 and March 8. For more information and full race results, log on to www.gnccracing.com
Results:
Parts Unlimited River Ranch GNCC
Lake Wales, Florida
March 3, 2009

XC1 Class
1. Charlie Mullins (Suz)
2. Paul Whibley (Kaw)
3. Nathan Kanney (KTM)
4. Mike Brown (KTM)
5. Barry Hawk (Yam)
6. Jimmy Jarrett (Kaw)
7. Kurt Caselli (KTM)
8. Dustin Gibson (HBG)
9. Jesse Robinson (Kaw)
10. Glenn Kearney (HSQ)
XC2
1. Kailub Russell (KTM)
2. Jason Thomas (Yam)
3. Jake Korn (KTM)
4. Cory Buttrick (KTM)
5. Scott Watkins (Kaw)