Jason Weigandt
Quick Fill #9: This Week in GNCC
Thursday, February 26, 2009 | 5:15 PM
Welcome to Quick Fill. And now all of a sudden tons of news is coming in.

Yeah things were quiet and people were being coy all winter long, and then, starting on Monday morning, info started rolling in. And my goal was to make this Quick Fill short and sweet so everyone could read it before they hit the road. So much for that!

Maxxis, ITP, Dunlop, Michelin and Klotz announced their contingency programs for 2009-check the contingency page for updated information there. Can-Am announced that their contingency program has expanded. Husqvarna announced their guest rider program, with Terry Cunningham on board for Florida, and Mark Melton tackling round two on a red and white machine.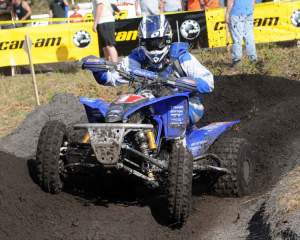 And then even crazier news came this morning when Jeff Russell called me from West Gate River Ranch and said "Bill Ballance is going to race a horse on Saturday night!" This is no joke-we'll host the first-ever Horse versus Horsepower battle on Saturday night in the River Ranch Rodeo Arena. That arena is worth checking out, it fits 1200 people and the Ranch routinely draws at least 1000 on Saturday nights. So just imagine how big it will be when Bill Ballance brings his YFZ450 out for the barrel race at 8 p.m., and we put the nine-time GNCC Champion up against a horse and the stopwatch!
Click here for the press release.

Even better, the folks from Can-Am have set up Chris Bithell to race the event, so now we'll have two ATVs barrel racing on Saturday. When that's over, we've invited a DJ to come on down to the little Western town in front of the Rodeo Area, and we'll hold an outdoor dance party for kids (and adults if they want to dance). The western town also has a saloon, so if you adults would rather do adult stuff, you can. The rodeo will charge its normal ticket price, which is $15 for adults and $6 for kids on Saturday (full pro rodeo that night). The DJ dance party is on us. Have fun!

We'll do it all again on Monday. Parts Unlimited will host a dinner at the track at 5:30 p.m., then we'll bring back the popular Moose Racing Mechanic's Challenge at 6:30 p.m., and then the rodeo will run again at 7:30 p.m. on Monday night. We're looking for a few good bike volunteers to run the barrels on Monday night. Feel like you can handle it? Get a hold of Tim Cotter on Monday (go to Rider Registration and they'll track him down via radio) and we might be able to get you in. On Monday night, the rodeo costs $8 for adults and $4 for kids. We'll also have the DJ dance party for kids on Monday night, as well.

Should be an awesome time down there. We're excited and we hope you are, too. Read our interview with Rita Coombs if you want a little more motivation to come on down. You never, ever, ever see interviews with our company president, and it took a long time to track her down. But I think it was worth it. Read her interview to find out.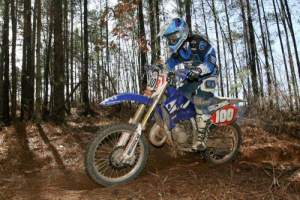 This just in! Laz Sommers and the folks at GT Thunder have signed on as our new sponsor for the Morning Race Overall Winner Award. They'll hand over $100 to the rider who wins the morning race-although sportsman and industry class riders are ineligible for the award, it should be a good race between our Women and 4x4 riders for this one. Thanks, GT Thunder!

We have more news on Ballance. Remember the rib problem he was suffering from last year? Well, that injury ended up causing some complications, and Bill had to go under for some surgery to fix it up. He lost some training and testing time due to it, but he says he'll be ready to go this weekend-both for the barrel race and then for the real thing on Sunday.

In other news, it's now official that GNCC veteran ATV pro Matt Smiley is hanging it up. Matt finished the 2008 season in the top ten, but that will be his last in the final rankings. He may show up for a race or two, but it looks like Mighty Matt's title hunting days are over-he'll be missed. Mr. Consistency will go down as one of the all-time ATV greats.

Last weekend Paul Whibley and Charlie Mullins hooked up one last time for an off-season battle, and it sounded like a good one. You'll enjoy Paul's race report:

Race Report: FTR XC
Rider: Paul Whibley
Team: JG Off-Road, GEICO, Monster Kawasaki
Bike: Kawasaki KX 450F
Result: 1st

I've been in Florida for a couple of weeks now preparing for the start of the GNCC series. Part of this prep led me to race the latest round of the FTR XC series. This race was held at the Gatorback MX Park near Gainesville.

I lined up on the start confident my Kawasaki would get me a good start. I didn't get the holeshot but was a close second round turn one and quickly took the lead and control of the race. Charlie Mullins moved into second behind me and we set out on our own private race. I led the first two laps and was feeling comfortable aboard my new GEICO sponsored steed. Midway round the third lap a couple of lappers blocked the track and Charlie capitalized on this and snuck past and into the lead. I gave chase and managed to put a move on Charlie at the end of a 5th gear straight, out breaking him into the corner. At the end of the lap we dove into the pits for a quick splash of gas. I stalled my bike while being fueled and Charlie left the pits leading the way. He made a small mistake in the sand and I was able to retake the lead. We raced hard and pushed each other all the way to the finish. I was able to pull about ten seconds over the last lap and took the win.

The bike ran great, the new team is a fun bunch of guys and awesome to deal with.

I'm looking forward to a great season.

Thanks for the continued support from my great sponsors here in NZ and America.
Kawasaki, GEICO, Moose, Shoei, Sidi, Smith, CTi, RG3, Pirelli, Silkolene, EBC brakes, Motion Pro, Enduro Engineering, BRP, Renthal,  Works Connection, Leo Vince, RG3, Vortex Ignitions, Tsubaki chains, No Toil, G2, IMS, ProMoto Billet, Fastway, WER, Stringfellows, MotoSR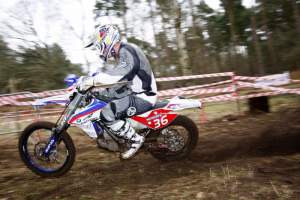 I also ran into Whibley's new GEICO Kawasaki teammates Jimmy Jarrett and Scotty Watkins at the Atlanta Supercross, and they're pumped on the new year and the new team. They're staying in an RV park "in the middle of nowhere" Florida, and Jimmy says it's so far away from anything, that all they can do is train. "When you are an hour from the movies, you might as well go for another run!" says Jarrett.

Also, congrats to Jimmy Woodford, who is a long-time A class rider who will now move over and become Jarrett's mechanic. Good for Woodford.

Unfortunately, we did the get the word this week that David Knight will not be racing in Florida. BMW didn't send any bikes over for him to race in the U.S. Hopefully we'll get him to a race at some point, I know he likes Loretta's and is also eying up that $50,000 purse at Snowshoe. Knight had already planned to come to Florida, anyway, since he's now dating Women's Motocross X Games Champion Tarah Geiger, who lives in the area. So Knight may just be at the race hanging out, anyway.

Here's an update on Joe "Dirt" Scherer!

Joe came home Saturday for PT to get walking and back on track, he is happy to be home and wanted to thank everyone for the cards and calls. He is planning to spectate at the NC race to see everyone and cheer on his team. We want to thank everyone for their thoughts and prayers.
- The Scherer's

Good to see Joe is getting around. He is tough! Here's another note: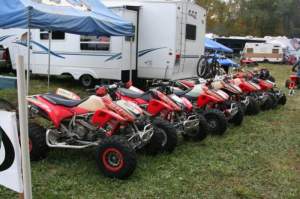 Jason, I saw where you mentioned in Quick Fill to send you info on teams and riders, so here you go with the plans of the Team SICC (Southern Indiana Cross Country) ATV Race team.

Our Team Captain will again be Todd Demaree, riding on the front row.  Todd has been working in the off-season on his fitness and I think he is going to turn some heads this year.  James Cobb will be running the Vet A class.  Jim has really stepped his training as well, along with lots of new go fast goodies on his quad.  Fred Marley has a date with the Junior A class for 2009 and hopes to be sitting on top at the end of the season.  Jake Stonebraker will be back in the College B Class.  Jake had some tough luck in 2008 but showed he has the speed to be a competitor there.  Garon Davis decided to move over to a 400ex and run the morning Sport Class so that he can help pit all the afternoon guys.  Mike Marley has had some job changes, but hopes to be at the front of the college B class when he is able to race.  Harry Stonebraker will be our Pit Boss, working to get everyone in and out of the pits as quickly as possible.  The Team has a lot of great sponsors this year who have been great to work with.  Some of the sponsors include Demaree Motorsports, Spider Grips, Fox Shocks, Derisi Racing, DP Brakes, Clarke Tanks, Silkolene, KBC Helmets, Moto X Nutrition, HMF, Hygh Octane Graphics, Fly Racing, Rekluse, and many more.  We are known for having a good time in our pits, so feel free to stop by and share a few laughs with us.  We will be at all 13 rounds in 2009 and hope to make our presence known on and off the track.

-- Garon Davis

Take it from Garon, people. These Indiana boys have a good time so don't be afraid to visit!

Here's a new website to check out: http://holeshottv.webs.com/Â  Rumor has it that Shane Watts is going to do some shows on there, and the site will provide good GNCC Coverage.

Although we're going to race all of our youth classes, the lead law issue continues, as you still can't buy the machines or parts for them. Here's a new movement worth checking out:

myspace.com/savemx

Hello! My name is Krystle Watson, and I have created a myspace page dedicated to keep up to date info on the lead laws, links for petitions to be signed, and gathering as many friends as possible to take a stand. I have had the myspace up for a week, and have pulled over 600 people including celebrities such as Holly Madison from "girls next door", Kat Von D, Ashley Fiolek, etc. PLEASE help me keep this site going. I have had parents, kids and  teenagers sending me their pics, videos and stories for what racing has done for them. I have designed a flyer that I have in my photos for people to freely print as many copies as they want to hand out at tracks, shops, and wherever else they would like. I am also going to be producing bumper stickers THIS week that I will be selling, and have already had a high demand for them. So please, again, check out my site. Let's fight this!

-- ӬKrystle Watson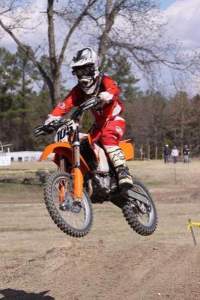 One more note:

We would like to congratulate Trevor Barrett for winning the Youth Overall at the opening round of the Mid East Harescramble Series in Bishopville, SC on 2/22/09.  Trevor has been training this winter with the likes of Kailub Russell, McKinnon Wellborn & Garrett Wellborn at what we call the WTF, also known as the Wellborn Training Facility, in North Carolina.  Congratulations Trevor on your WIN - hope there are many more of these to follow this year.
Also congrats out to Cory Buttrick, who collected third overall at the AMA National Enduro last weekend in Georgia. Besides Enduro killers Russ Bobbitt and Mike Lafferty, Buttrick topped the rest. This is going to be a good year of action in XC2.

Okay gang, that's it, get on the road. We're outta' here. It's time to go racing. See ya. I can't believe it's here. SEE YOU AT THE RACES!